highly recommended vanity mirror
By
whitney W.

(fulshear, TX) - August 2, 2012 (
See all reviews by this customer
)
Great size, beautiful, elegant, very happy with my purchase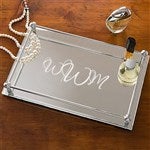 beautiful vanity tray!
By
Shopper

(Red Bank, NJ) - June 24, 2012
This was my first purchase from personalizationmall.com. I am very pleased with the quality of this item as well as the design. I use it on my dresser and find it to be a perfect size--not too big nor too small. Having the monogram makes it that much more special. It was well worth the money and arrived in perfect condition. I will return to make future purchases.

Happy customer
By
Connie D.

(Lakewood, CA) - June 4, 2012 (
See all reviews by this customer
)
I love it...I was very impressed and well worth it.

Beautiful Tray
By
Shopper

(Odenton, MD) - May 6, 2012
Ordered this to sit on top of my new ottoman/coffee table. It is beautiful and adds the elegant look I was after to my beautiful leather sofa/ottoman. One thing I would advise is to make sure of measurements before ordering, I did think it would be larger (my fault, didn't look at measurements, I normally do) but the beauty of it makes up for smaller size.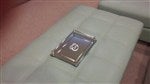 Love it
By
Shopper

(Philadelphia, PA) - April 30, 2012
This is much nicer than the picture. High quality

Graduation gift a hit!
By
Debbie H.

(Guilford, IN) - April 16, 2012 (
See all reviews by this customer
)
I purchased the tray as a graduation gift for my niece, with her initial engraved on the front. My daughter had a similar piece on her vanity where she displays vintage perfume bottles. My niece was very impressed with the gift. I also included a perfume bottle to get her collection started. The workmanship was excellent and it was shipped in a very safe and secure box. I would order again.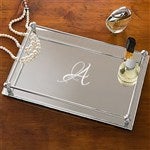 Gift for Nana
By
Shopper

(miami, FL) - March 30, 2012
Great birthday gift for your nana and her many cosmetics!And the initials make it more personal and thoughful! Couldnt be more pleased!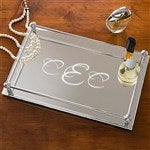 Great purchase!
By
christina B.

(syracuse, NY) - March 12, 2012 (
See all reviews by this customer
)
After searching all over for a new mirrored vanity tray I found this one and was a little hesitant to buy it because of the price. At first I thought it was a bit expensive but then decided to order it anyway. Am I ever glad I did! It is so much nicer than I thought it would be and definitely worth the money. The quality is great and the monogrammed initial really adds a special touch. It's larger than what I previously had and I have more than enough room to hold everything I need it to and it looks so nice on my dresser. If you're on the fence about this for any reason, you won't regret it.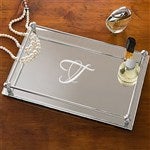 Vanity Tray
By
Susan S.

(Buellton, CA) - March 10, 2012 (
See all reviews by this customer
)
Recieved today. Shipped quickly, just in time for my daughter birthday. It is beautiful and just what she was looking for and really great with the initials.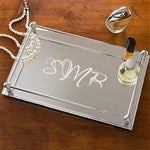 Beautiful
By
Shopper

(Chicago, IL) - March 5, 2012
This tray is beautiful. It will look lovely anywhere you place it. I placed it on my dresser and I just love it.

Even better than I expected
By
Shopper

(Marshall, TX) - February 17, 2012
Beautiful vanity tray. The personalization gives it an extra special touch. I've been looking for some time for a tray for my perfumes; everything I found was too small and too expensive. This is large enough for all my perfumes (and I have A LOT!) and a beautiful decorative touch to my dresser. Perfect!!!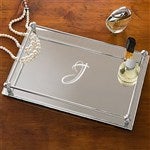 Beautiful!!!
By
Shopper

(Albany, NY) - February 2, 2012
Looks really pretty...Getting one for my best friend and sister!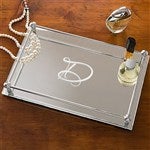 BEAUTIFUL VANITY TRAY
By
Shirley M.

(Louisville, KY) - January 31, 2012 (
See all reviews by this customer
)
The Vanity tray arrived much quicker than expected and it looks beautiful in the bathroom. I highly recommend this tray especially with your initials etched on it, you will not be disappointed.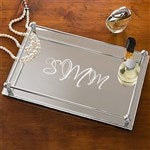 Finally a beautiful place for my perfume collection!
By
Daniel M.

(McKinney, TX) - January 30, 2012 (
See all reviews by this customer
)
The monogram turned out great, and the quality of the item is impressive. It's a heavy sturdy piece, and the bordering rails keep my perfume collection from tipping over. Now the housekeeper can move my stash easily to clean the counter without fear of breaking a pricey bottle.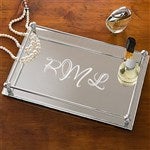 Classy and beautiful
By
KATHLEEN R.

(LANSDOWNE, PA) - January 15, 2012 (
See all reviews by this customer
)
I love this Vanity Tray...this was a gift I purchased for my daughters birthday.My daughter loves it as well and the fact that her initials are etched into the tray makes it so extra special.This gift along with everything else I have purchased from you guys never ceases to amaze me....thankyou so very much,I'll be a very satisfied customer for life,I'm sure.

Delivery Service
By
Shopper

(Oakland, CA) - January 8, 2012
The product was excellent; however, the delivery service was very poor. I suggest your company try another delivery service other than FedEX.

Jan from Connecticut
By
Shopper

(Waterbury, CT) - December 29, 2011
Excellent quality for the price - perfect size for the top of my dresser
Beautiful Initial Impression job

Very nice product
By
Shopper

(Medway, MA) - December 29, 2011
Nice product, fits perfectly on my vanity. The only thing I did not like is the little rails spin and seem a little cheap but all in all I really like the vanity tray.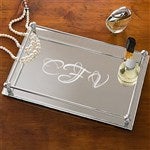 Stunning purchase
By
Shannon B.

(Auburn, WA) - December 27, 2011 (
See all reviews by this customer
)
My daughter asked for a perfume tray for Christmas and this one was perfect. She couldn't have been happier.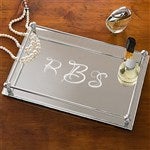 BirthdayGift
By
LINDA B.

(PHILADELPHIA, PA) - December 16, 2011 (
See all reviews by this customer
)
I was very pleased with the purchase of the Mirrored Vanity Tray. It is a very nice gift and the monogramed initial showed up nicely. It is of good quality and I think I may want to order another one as a gift to myself.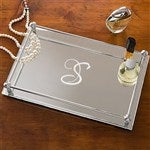 Beautiful!
By
Shopper

(Pleasant Valley, NY) - November 22, 2011
The vanity tray is gorgeous. Looks more expensive than it is. Great gift. Very happy with purchase hope my friend loves it as much as I do.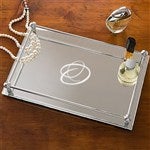 Mirrored Vanity Tray
By
Helen F.

(Willowick,, OH) - November 20, 2011 (
See all reviews by this customer
)
Absolutely beautiful and beautifully initialed and of high quality. Plenty of space for jewelry and personal items and a decorative asset. Makes a welcome and lovely gift.

Very Elegant
By
Shopper

(Kure Beach, NC) - November 8, 2011
This is the perfect tray for my daughters vanity. The initials make it stand out and I know she will cherish this forever. I am very happy and I know she will be surprised at Christmas. The delivery was before scheduled and the package was very sturdy. I am very pleased with ordering from Personalization.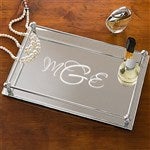 very lovely
By
elizabeth M.

(estero, FL) - October 23, 2011 (
See all reviews by this customer
)
was very satisfied with the quality so i purchased one for myself and my daughter.

great value and very pretty
By
Valerie H.

(Kernersville, NC) - September 30, 2011 (
See all reviews by this customer
)
The trays arrived in perfect shape, earlier than promised. Well made, engraving was perfect, feet were covered securely to prevent scratching. Loved the contemporary look. Price was very reasonable for this quality product. The tray is perfect size, should hold about a dozen perfume bottles.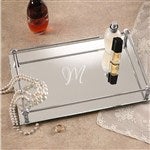 perfect gift
By
agnes T.

(philadelphia, PA) - September 7, 2011 (
See all reviews by this customer
)
Perfect gift to my daughter as she just bought her first bedroom furniture, looks great.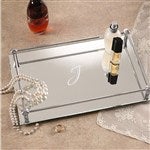 Very attractive and convenient.
By
Martha M.

(Johnson City, TN) - August 26, 2011 (
See all reviews by this customer
)
I ordered this cosmetics tray after my cat knocked my other one off the dresser and broke it, and I am very happy and satisfied with my replacement. This tray is quite beautiful--mirrored, and the initial adds a nice touch. The tray has bars all around, which hold items in place and keep them from sliding off. The tray keeps all your cosmetic and/or toiletry items together and organized, and that makes for a very neat dresser.

Great Gift
By
Pat P.

(Brandon, MS) - July 25, 2011 (
See all reviews by this customer
)
I received excellent service, faster shpping than promised, the tray was lovely and the friend I purchased it for was estatic!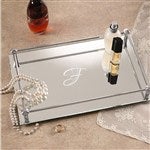 beautiful
By
Sharyl R.

(Clovis, CA) - July 24, 2011 (
See all reviews by this customer
)
We found a similar tray on a different website for alot more money. So thankful we kept looking and found this tray. Just beautiful and just what we wanted.

Dressy Vanity Tray
By
Shopper

(LaGrange, GA) - July 19, 2011
The mirrored vanity tray is just right for my bathroom vanity. Excellent quality for the price. Very pleased.

Very Vanity Mirror
By
Shopper

(Canada) - July 5, 2011
I purchased 2 of these vanity Mirror and I really loved it. It's smaller and heavier than I thought, but it is still very nice. The initial in the middle is very nicely done. I couldn't direclty ship the product here, although I'm not sure why, but other than working around this obstacle it was well worth the wait.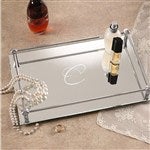 Great vanity tray.
By
Jamon J.

(Torrance, CA) - July 1, 2011 (
See all reviews by this customer
)
I was looking online for a mirrored vanity tray to purchase as a gift for my wife's birthday. She already had one but it was slender & all the available space was used up. So as I was searching I came across this beautiful tray. Folks, let me tell you that the photos online don't do this vanity tray justice!! She opened it the night before her birthday(yes, I allowed her to cheat & open her gifts early)and she absolutely loved it!! The detail with the personalized letter was great. Not to mention the entire tray itself. The tray came in handy as she received a few more bottles of perfume from family & friends for her birthday. I greatly recommend this for a gift to anyone.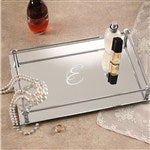 Made an excellent gift
By
Shopper

(Odenton, MD) - June 13, 2011
I ordered this mirror tray for my best friend and neighbor for her birthday. The tray arrived well packed, with a lovely "L" imprinted on it in cursive writing, just as I had ordered. It arrived in a timely manner and seems well made in person. My friend was really happy with the tray and was so excited that she made special shopping trips to get new perfumes and trinkets -- specifically to set on the tray. :)

I suggest this as a gift for anyone who is feminine and loves treating themselves to some finer things now and then. My friend and I were very pleased by this product.

Exactly what I Needed and Expected
By
Shopper

(Monkton, MD) - May 19, 2011
Shipped on time.
Well packaged to prevent breakage!
Product was exactly as measured and what I was looking for as a "new house" present for my Son and his Wife!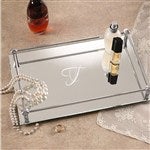 Initialed Vanity Mirrored Tray
By
Susan P.

(Flower Mound, TX) - May 15, 2011 (
See all reviews by this customer
)
I bought this mirrored tray for a client of mine. I am an interior decorator in TX., and I had been searching for just the "right size" mirrored tray for this lady's Master Bath. This one from PersonalizationMALL.com arrived exactly as predicted, was sturdily packaged, and reasonably priced. The initial inscribed on the mirror, was an "extra special" surprise that she LOVED! I would highly recommend this beautiful initialed tray, and this website to everyone.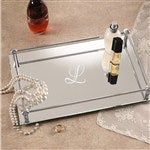 Beautiful!
By
Michelle B.

(Vista, CA) - May 10, 2011 (
See all reviews by this customer
)
I ordered this along with the small jewelry box for my mother for Mother's Day and my mother was very pleased! I searched many websites and I couldn't find anything that came close to the quality of your vanity tray or that came close to the price. I loved the fact that it came engraved with her initial on it as well. I am extremely pleased with the items I ordered and I will be telling my friends and family how exceptional your service was. Thank you so much!

Mirrored Vanity Tray
By
Shopper

(Wilmington, DE) - May 7, 2011
Tray is attractive, just the right size, and beautifully monogrammed. It perfectly met my expectations.

Beyond Expectations
By
Shopper

(Lynnwood, WA) - May 7, 2011
It adds a touch of glamour to my bedroom, and is much prettier than featured. Love it.....

Mother's Day gift
By
Shopper

(San Antonio, TX) - April 26, 2011
Nice product. I'm satisfied with the quality and the price. My wife has a lot of purfume so I bought two. One with her first initial and another with the last. I'm sure she will like them too.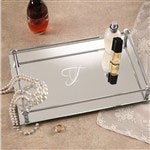 nice gift
By
Shopper

(laguna niguel, CA) - April 8, 2011
Very nice. My wife likes it very much.