So Nice!
By
Teri H.

(Littleton, CO) - November 16, 2013 (
See all reviews by this customer
)
I'm very happy with the quality of these bowls. They are so cute, and they are the perfect size for a family sharing a bag (or two) of popcorn! I can't wait to give these to my kids!

Superb
By
Rickey C.

(McKenna, WA) - November 15, 2013 (
See all reviews by this customer
)
Just as advertised. Too bad they are being discontinued.

Love that personalization was available for these bowls
By
Shopper

(Grand Island, NE) - October 20, 2013
I got the matching big red popcorn bowl personalized for my son & daughter-in-law a few years ago and it turned out great! I was so pleased to find that you offered the personalization on the small ones too. The love them all!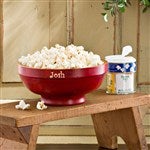 Gift
By
Shopper

(Haslet, TX) - October 14, 2013
Nice heavy bowl. Ordered as a gift and it was a big hit.

Couldn't Be Happier
By
Shopper

(Jacksonville, FL) - October 13, 2013
I purchased this item as a housewarming gift along with the 4 matching smaller bowls and had them personalized with the family name and individual family member names. They are perfect. The craftsmanship is outstanding, and the wooden interior of each is beautiful. They are sturdy and attractive and were packed wonderfully. This site was a great find, and I have told all my friends about it.

Great Family Gift - Or Male Gift
By
Jean N.

(Summerfield, FL) - September 30, 2013 (
See all reviews by this customer
)
Since I don't live close to my married sons, I like to treat their families to "surprise" gifts every once in a while to show them I am thinking of them. These popcorn bowls were a smashing success.

They also make a great gift for males that love popcorn. I find choosing a male gift is very difficult at times but this gift went over very big.

My sons stated that they were well pleased with the quality. Being able to personalize the gift made it extra special.

The shipping and tracking was EXCELLANT. All in all -- I couldn't be happier with the product or the customer service.



Really cute!
By
Shopper

(AMBRIDGE, PA) - September 24, 2013
Didn't know what to expect as far as size and it is perfect. Nice, sturdy and cute bowl. Would recommend it.

special shower gift
By
Ann J.

(Overton, NE) - September 22, 2013 (
See all reviews by this customer
)
Several years ago, a young lady came to live with us for her senior year in High school...she was a good friend of our daughter. While living with us, I showed her a way to pop popcorn. She moved after Graduation to Tennessee..many many miles away. She recently got married and in one of her recent conversations, she told me she never forgot our lesson, and that her fiancee did not want popcorn any other way now. I researched many many personalized popcorn bowls and decided on this one. I was so happy when I rec'd it as the quality was great...the coloring was perfect, the personalization was great. I sent it to her as a shower gift, and after recieving she was very pleased and excited...this was much more that a gift between us, it meant a very special memory only we had shared....It was PERFECT. Thank you.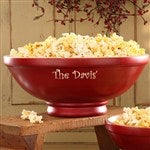 treat bowls for grand kids/
By
Shopper

(Lakewood, CA) - September 17, 2013
Grand kids will love having there own treat bowls with there names on them!

Popcorn Bowls
By
Shopper

(San Jose, CA) - August 24, 2013
I bought the large bowl and 5 small bowls for a wedding gift for my nephew. I had their name personalized. I was very please with the product and looking forward to giving it to them for their wedding gift. I was surprised at the durable quality of the wooden bowls and the uniqueness of the whole set.

Wonderful Old Fashion Bowl
By
Dyan S.

(Rockford, MI) - June 3, 2013 (
See all reviews by this customer
)
I love this bowl. My dad used to have a brown wooden type bowl that we put popcorn in when I was little and this bowl brings back all those wonderful memories.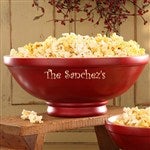 Popcorn Bowl
By
Shopper

(Lubbock, TX) - May 17, 2013
I loved how this bowl turned out. It is beautiful and was a great gift

Love it
By
Shopper

(Milford, OH) - March 11, 2013
It was even better than pictured. I was really happy with the end result and the personalization showed up great.

Nice Quality Product!
By
Shopper

(WAUKESHA, WI) - January 22, 2013
We bought this to go with a themed wedding gift-popcorn bowl, popcorn gift set, movies, candy, and air popper. The bowl turned out great! So nice-we ordered one for ourselves. The inside of the bowl is beautiful and the personalized name is etched into the wood. Well worth the price.

Perfect !!
By
Shopper

(Dallas, TX) - January 14, 2013
I purchased this for my husband who is a popcorn fan. He loved it!!! The quality was great as is everything we order from this site!!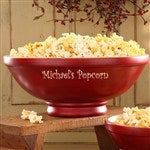 Love the Popcorn Bowl!!!!!
By
Shopper

(Moon Township, PA) - January 7, 2013
I just love this old-fashioned popcorn bowl. Plan to use it for so much more - primarily a large salad bowl. I loved it so much, I ordered another one for a birthday gift for a family member. Also, ordered the small matching bowls - for a gift and for myself.

Popcorn Bowl
Just received it as a gift...LOVE IT! I only wish that is was dishwasher safe.

Just the perfect Classy Fun Gift!
By
Shopper

(Mundelein, IL) - January 2, 2013
We bought this as a Housewarming gift for a friend who has a great home entertainment center in their new house. They loved it. It really looked nice and I was impressed with the quality. It even came earlier than promised!

Exceeded expectations
By
Shopper

(Sterling, VA) - January 1, 2013
Gift for husband, who loves popcorn. Exceeded expectations. Personalization is etched into wood. Very nice. Would definitely buy again. Perfect gift.

Great product and very helpful staff.
By
Shopper

(BROOKLYN, NY) - December 29, 2012
The first bowl I received had a crack in the wood and when I called the woman was extremely helpful. They sent out a new bowl right away. My sister loved the bowl!!! Thank you so much. I will definitely use personalization mall again.

I AM IN LOVE WITH THIS COMPANY
By
Gail R.

(Lansdale, PA) - December 21, 2012 (
See all reviews by this customer
)
Dear PersonalizationMall.com.............
I ordered an item from you early in December as a gift. It was so wonderful that I came back and ordered all my presents from you!!!!
This bowl is adorable, the cookie jar, wall hangings, canvas bags, door matts, kozis, key chains, pet tags, etc., etc., etc., so exceeded my expectations that I will have a hard time going anywhere else....and the shipping is amazingly fast.
Thank you so much for having a place I can always go to get my friends & family keepsakes that they will love!!!!!!!!!
I will be back!!!!!!!!!!!!!!!

Beautiful bowl
By
Juanita M. B.

(Fort Worth, TX) - December 17, 2012 (
See all reviews by this customer
)
This attractive bowl should be very useful for a sports-oriented family!

This will make the perfect gift
By
Shopper

(Redding, CA) - December 17, 2012
The quality of the bowl is beyond what i expected. I am very excited to give the bowl as a gift to our friends for Christmas.

Sweet
By
Lee A.

(Rochester, NY) - December 14, 2012 (
See all reviews by this customer
)
This bowl was nice to give to anyone who loves popcorn or other snacks. The color of the name was a little lighter then in preview photo but still very nice!!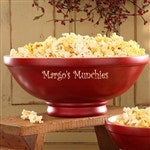 Great customer service, lovely bowl
By
Shopper

(Danielson, CT) - December 13, 2012
I purchased this bowl as a gift. The first bowl came damaged, I emailed customer service and they shipped a new bowl immediately. The new bowl was great. I was not only impressed with the quality of the bowl but the way in which the exchange was truly hassle free. I would recommend both the product and the company.

Pasta serving bowl
By
Shopper

(Santa Barbara, CA) - December 12, 2012
I just want to say that this was the perfect gift. It will be used to serve pasta on Christmas Eve and most of all made two very special people very happy!
Thank you so much for making it easy to shop for someone that has everything.

Perfect Gift!
By
Shopper

(Dallas, TX) - December 12, 2012
I ordered 2 of these, and am going to fill each with some candy, popcorn, and a movie, to create the perfect movie night! The bowls are even more beautiful in person, and they look expensive.

Old Fashion Popcorn Bowl
By
Stefanie B.

(Fort Worth, TX) - December 11, 2012 (
See all reviews by this customer
)
Awesome, very nice and just the right size. Most that I looked at were to small, this one is perfect.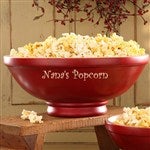 Popcorn Bowl
By
Shopper

(Erie, CO) - December 6, 2012
I ordered two of these as gifts. They are even prettier in real life. Very classy bowls. I am very pleased with my purchase.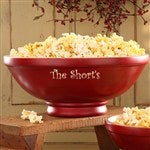 Best bowl ever!
By
Sheilagh M.

(Canada) - December 5, 2012 (
See all reviews by this customer
)
The quality of the bowls I ordered far exceeded my expectations! I am sure that my gift idea this year will beat anything else!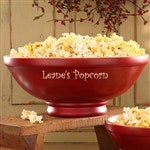 Great Quality
By
Shopper

(Indianapolis, IN) - December 4, 2012
I thought the text was engraved on the bowl but it looks like the bowl is painted and the letters are not painted. The bowl i got looks rough on the outside, but it still looks great, just not what i expected. Will make a fantastic popcorn bowl for Grandma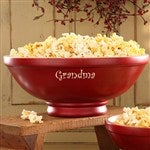 Great buy!
By
Heather S.

(Baxter, KY) - November 25, 2012 (
See all reviews by this customer
)
Perfect gift!!!!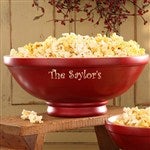 Popcorn bowl
By
Robin A.

(Canute, OK) - November 20, 2012 (
See all reviews by this customer
)
Perfect gift! Top qualitiy!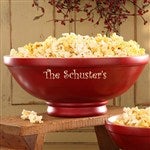 Amazing product
By
Megan S.

(Mount Pleasant Mills, PA) - November 14, 2012 (
See all reviews by this customer
)
It is a beautiful popcorn bowl that will look amazing on display when not in use. Great value.

Old fashioned Popcorn Bowl
By
Shopper

(Odessa, FL) - November 13, 2012
Would recommend this bowl to anyone looking for a reasonably priced gift. Good quality and good looking.

Very Classic
By
Shopper

(Fayetteville, PA) - November 12, 2012
I ordered this item as a family gift instead of buying separate gifts. I was very pleased with the quality and sleekness of the bowl.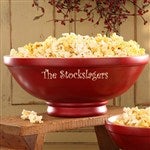 Great Purchase
By
Shopper

(Houston, TX) - November 9, 2012
The bowl is a great purchase. Although this is called a popcorn bowl, it really has so many other uses and is of great quality. I am also pleased with the shipping, it took less then a week for me to get the item.

Great Bridal Hostess Gift
By
Blake A.

(Los Angeles, CA) - October 1, 2012 (
See all reviews by this customer
)
I ordered four of these bowls as part of my bridal party hostess gift. The Bowl is great quality and the etching on the bowl is fun yet classy. The quality is so good I could have given just the bowl and it would have been enough. Beautiful bowls-classic gift.

Great Item!
By
Shopper

(Englewood , CO) - September 23, 2012
High quality bowl and the personalization makes it even nicer. I bought for a family Christmas gift filled with popcorn bags and flavorings.

Classy looking bowl!
By
Gina J.

(Dothan, AL) - September 21, 2012 (
See all reviews by this customer
)
Bought one of these several months ago as a gift... it's looks so awesome on my friends counter top, I just purchased another one for another dear friend. Very nice quality with a unique personal touch!