Just plain Cute!!!
By
LEE N.

(BEVERLY, MA) - December 10, 2009 (
See all reviews by this customer
)
This is about the cutest doormat ever! And isn't it the truth? In, out, in, out!! I bought this for a Christmas present for "us" but it would be a great gift for anyone that has a pet! Did I say how cute it was?

Adorable!
By
Sandra M.

(White Plains, NY) - November 20, 2009 (
See all reviews by this customer
)
I absolutely love this mat and the humor of it. Great quality and will definitely be a hit at Christmas.

Very cute
By
Julie Z.

(Bloomingdale, IL) - October 9, 2009 (
See all reviews by this customer
)
This is just plain cute....We actually put our dog's food bowl on it. It blends in nice. Again, really cute. Thanks.

very cute
By
MaryJane V.

(Bennington, VT) - December 13, 2013 (
See all reviews by this customer
)
Very cute item. Lovely design,although I thought mat was a little thin.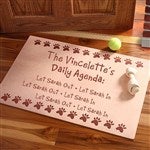 CUTE!!
By
Stephanie C.

(lakewood, OH) - September 20, 2012 (
See all reviews by this customer
)
I purchased this doormat for my Grandmother for christmas. So i still have it & she doesn't. But, it is so Cute and well made. I know she will love it. The reason I gave it 4 stars instead of 5 is because the colors were more orangey than the Red and taupe it looks to be in the picture. The taupe is more orangy and so is the Red. Which is not my favorite but the fact that it is SO cute anyways makes up for that. I can't wait til Christmas & I can see her face!! She loves her little Toby so much & she does just that "let him out, let him in" all day long. Too funny. LOL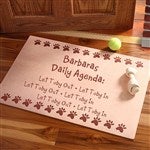 How PERFECT?!!!
By
Elizabeth F.

(Framingham, MA) - March 21, 2012 (
See all reviews by this customer
)
The mat has become the hit of the neighborhood! SOOO appropriate for our older dog's behavior! My only criticism is that an apostrophe is needed at the end of our name!

Eye catcher
By
Shopper

(Lodi, NJ) - October 31, 2011
Everyone thats walks out my back door starts laughing! Telling me "only you would have a personalized mat with your dogs name on it".....which then gets followed up with I got to get one for mine, where did you get it!!!
Its a great quality mat, my only compliant is, I wish I had the option of getting a larger sized one.

great gift
By
Jaclyn C.

(Irvine, CA) - October 9, 2011 (
See all reviews by this customer
)
I bought this for my parents they loved it but it is more for decoration. It would not last long if people actually walked on it.

Great conversation piece !
By
Shopper

(Visalia, CA) - January 25, 2011
Everyone gets a good chuckle out of this one. I rated it a 4 because it would have been better if it was a dark color with light writing since it is a door mat and gets dirty easily.

Very cute
By
Amy B.

(San Jose, CA) - February 19, 2010 (
See all reviews by this customer
)
This is a very cute item and our dogs think it is really cool that we know our job duties.

liked it
perfect housewarming

Color misleading
By
Kelly G.

(Missouri City, TX) - December 16, 2013 (
See all reviews by this customer
)
Overall I think the mat is very cute, but the mat I received is not all one color as it appears in the picture. Mine sort of fades from dark brown/black on the edges to a mix of pink/orange/yellow for the majority of the mat. And the fading is not even. There is a much larger area of dark brown/black on the bottom left corner. I kept the mat, because my dog is going to track mud on it anyway and the fading may help disguise it better, but I was a little disappointed initially on opening it because it was not what I expected. Also the wording is a dark brown color, not the red it appears to be in the picture.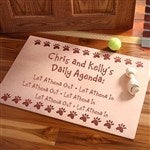 Doormat
By
Linda L.

(Jeffersonville, IN) - August 10, 2013 (
See all reviews by this customer
)
I loved the mat but the color looked smeared. It looked like it was an old mat.

Cute but orange
By
JENNIFER M.

(Darien, IL) - February 21, 2014 (
See all reviews by this customer
)
I love the phrase on it, but the mat is actually orangish color, not the off white with brown letters that it looks in the picture. Pretty disappointing so now using for a les trafficked doorway, rather than the regularly used one I was hoping to display it on.

cute, but cheaply made
By
Shopper

(Saint Peters, MO) - March 28, 2011
the design and layout were very cute but the quality of the mat was poor.
This doormat was as thin as a placemat.

Looks Different In Person
By
Genevieve M.

(Fort Riley, KS) - March 3, 2011 (
See all reviews by this customer
)
I am not as happy with this as I thought I would be. I have been shopping witn Personalization Mall for a few years now and I have always been happy with their products, until I ordered this. For $25, I thought I would get a really good quality doormat, but I was less than amazed when it arrived. First of all, the color is completely different than what is portrayed in the picture. It is a tan color with brown writing (to me the picture almost looks on the pink side). I thought it would be a little thicker than it really is. Also, it's almost like a cheap felt texture, which hasn't been very good for a entry way (I slipped already on it because of the texture). It's not soft to the touch at all...it just feels cheap. Honestly, I have found better welcome rugs at discount stores (like Dollar General). The only thing I really like about it is the nonstick backing. It hasn't moved AT ALL, which is really important to me with two kids under 4.