Great gift
By
b J.

(pgh, PA) - January 4, 2011 (
See all reviews by this customer
)
I got this for a fried for Christmas. The personalization really makes it a wonderful gift to give. The site was quick to respond to questions, and the product shipped promptly. I will likely continue shopping here for future gift needs.

Unique, great gift idea but not the best quality.
By
Alison R.

(Madison, WI) - December 15, 2010 (
See all reviews by this customer
)
I ordered this as a gift. I was surprised at how quickly the item shipped! The frame displays nicely and was much easier to find pictures to fit inside the letters than I thought it would be. The frame itself however does seem cheaply made. The corners look as if they may come apart and mine came with a piece of tape on it that, when removed, took off a metal piece from the back. The frame really does look nice, just don't plan on inspecting it too close!

Excellent gift
By
Jerilyn W.

(Box Elder, SD) - November 27, 2010 (
See all reviews by this customer
)
I purchased this frame for my sister in law with her new last name on it. I was very pleased with the quality though it was smaller than I had expected. I plan on buying one for myself in the future. Overall I think its an excellent frame.

great shower gift
By
Jordan F.

(Clarendon Hills, IL) - July 16, 2010 (
See all reviews by this customer
)
I ordered this item for a friends shower and was very happy with it when it arrived. One note, make sure you order 4 x 6 photos as 5 x 7 will be too big.
I can't wait to give it as a gift, I am sure it will be a big hit!

Neat
By
kimberly L.

(belleville, IL) - June 17, 2010 (
See all reviews by this customer
)
Very cute! Bought it as a wedding gift for friends and wanted one for myself when I received it! Good quality and price. The only problem I had is when I received it the glass was broken, but when I contacted the company I was sent a new piece within 2 days!

Nice!
By
Linda C.

(Polson, MT) - May 14, 2010 (
See all reviews by this customer
)
I ordered the collage frame in March 2010. It was delivered quickly and looks nice, although I did tea-stain the white mat to make it match other frames.

Amazing Idea
By
Shamsa A.

(Springfield Gardens, NY) - January 31, 2010 (
See all reviews by this customer
)
This is a lovely frame for putting pictures with great memories, it's not the 1st time I order it. I always order it and yet I'll still keep ordering. I love this item, its one of my favorite items, I find it an amazing gift.

The Frame is Ok
By
Paz H.

(Fresno, CA) - January 12, 2010 (
See all reviews by this customer
)
We got the frames as a partial wedding thank you gift to our parents. They look ok and will look good once hung up. However, the frame itself is a little on the cheap side. I am glad we got this on sale and did not pay full price. The mat is great. The frame is Wal-Mart quality.

Your customer for Life !
By
Gogi H.

(Brockton Ma, MA) - December 18, 2009 (
See all reviews by this customer
)
You have a new customer for life!!! The personalized collage frames I ordered are fantastic! And I was so impressed with the customer service I received! One of the four frames I received had the wrong name upon arrival. I was shocked when I called you to explain the issue. I received my new frame in a matter of days, I really cannot thank you enough for the experience I have had. I have been personalizing them with pictures for each of my children,with they're families the frames are Christmas presents,I am so exited to give them out !! the only one thing I had wished was that the cover was glass and not plastic,but I still love them !! thank you and Merry Christmas from my family to all of yours !


not great quality
By
Sunshine S.

(Pattison, TX) - November 30, 2013 (
See all reviews by this customer
)
I ordered this as a Xmas gift. It arrived quickly and wrapped very nicely protected. But it seems to be low quality. The glass won't lay in the frame straight. The little tabs on the back of the frame are very loose and won't hold in place. I'm hopeful that when pictures are inserted and hung on the wall it will hold. Its just not good quality.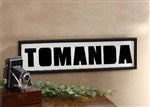 Needs bigger letters that fit 4'6 pictures
By
Shopper

(Valencia, CA, CA) - September 18, 2013
I really love the idea of this frame, but the letters are so small, it is difficult to cut, crop, and place the pictures exactly where you want them behind the letters. There should be enough room behind each letter for a 4'6' picture. Also, it's a bit overpriced for the quality of frame that you get.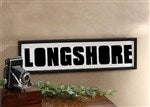 FRUSTRATING
By
Shopper

(SAN ANGELO, TX) - February 10, 2013
MY ORDER WAS PUT ON BACKORDER TWICE. IT DID NOT SHIP WHEN I WAS TOLD IT WOULD. THE PHOTO COLLAGE FRAME ITSELF IS OK. CHEAP BUT OK. THE CUT OUT NAME IS NOT A CLEAN CUT.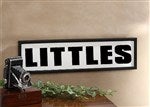 Sad to Say , Southfield MI
By
Karen G.

(Southfield, MI) - April 26, 2010 (
See all reviews by this customer
)
The idea looked great at first. When I received the frames I found that the size of the letters were much smaller. It was extremely hard to fit the pictures in the frames without making photo modifications at a photo store. I also found the same kind of frame for much less at Michael's craft store. The letters on their mats were outlined in black which made them more attractive. I would have returned the frames if I had a substitute plan for the gifts. Sorry