Wonderful gift!
By
Shopper

(Woodstock, GA) - December 26, 2011
Great job with the letters; they are cut clean and neat. Strong, nice black frame with all the hardware needed to hang. A great way to personalize a space!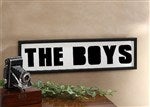 What a Great Company and Item
By
John W.

(Waynesville, MO) - December 22, 2011 (
See all reviews by this customer
)
I purchased 4 of these frames for Christmas gifts. One was delivered to my Dad badly damaged by the post office. This company days before Christmas is shipping a new one out to him (on their dime). Amazing customer service and top notch care for customers. They are willing to except and replace something that wasn't even their fault. Please keep up the great work. And thank you for caring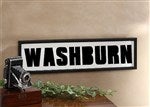 Good but need 5" x 7" photos
By
Shopper

(Aurora, OH) - December 16, 2011
This is a nice Frame however unless you have vertical 4" x 6" Photos, you need 5" x 7" photos to fill in the letters.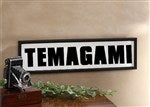 Great family keepsake
By
Michelle C.

(Revere, MA) - December 15, 2011 (
See all reviews by this customer
)
This frame was a great idea. Good quality and great etching of our name. The only flaw is that the height of the letter openings is just inder 4in so you can only fit 4x6 photos if they are vertical. I have to go try some in 5x7 and make sure the subjects fit nicely in the openings. It is a bit tricky, but it will be nice when it's up I'm sure! (If they fix that I would give it 5 stars)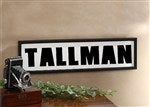 Great Gift!
By
Shopper

(Pocatello, ID) - December 5, 2011
This is a great gift idea for any individual or family! It's personal and looks great with its black frame and white outline. It's perfect for any household. I gave these as Christmas gifts for all of my friends and they loved them. I also bought one for myself.

The frame works best with vertical photos, but I used mostly horizontal and you can't really notice. You will have to trim the photos, so make sure to use photos that are replaceable.

As always, quick service and reasonable prices with the site.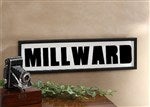 Perfect Wall Piece
By
Jaimi H.

(Lutz, FL) - December 4, 2011 (
See all reviews by this customer
)
I created a whole wall of frames in my hallway and this was the finishing touch. The pictures all look awesome in it! I was scared thinking, "what if where the letter cuts it ruins the picture?"... but it didn't happen. Every picture looks awesome in it! Highly recommend, and the quality of the frame is great too! Perfect gift for coaches and babysitters if you have multiple kids to incoorporate.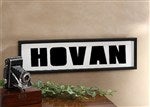 for daughter
By
barbara D.

(philadelphia, PA) - November 20, 2011 (
See all reviews by this customer
)
For my daughter with her baby pictures in it. Thanks. Love it..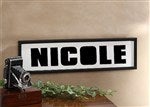 Great Quality Item
By
Stephanie W.

(Sugar Land, TX) - November 15, 2011 (
See all reviews by this customer
)
GREAT purchase - Got this with my brother and sister-n-laws last name. Great quality and clean cuts for the letters! Perfect for the picture lovers in your life!!!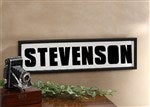 Excellent 1st birthday gift!!
By
Frency R.

(Magnolia, DE) - July 14, 2011 (
See all reviews by this customer
)
I bought this for my son who just turned one on 7/10. I put his pictures from birth til now and everyone loved it! They said it was cute and unique. Really wonderful purchase.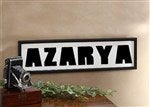 Creative, Fun Gift Idea
By
Kathleen B.

(Washington, DC) - June 6, 2011 (
See all reviews by this customer
)
Absolutely love this frame and personalized matting! Gave it to my sister for her birthday and it was a huge hit (she always reminds my two small children that she is their "FAVORITE" aunt - not a problem to find photos that fit behind the different letters. My only disappointment is that the back of the frame is secured by the small metal tabs that bend up and down, would rather see the nicer tabs that rotate to secure the back in place. Other than that, VERY pleased!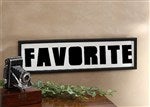 Absolutely Perfect
By
Matthew O.

(Middleport, NY) - June 6, 2011 (
See all reviews by this customer
)
My wife loved it so much she was in tears, thank you.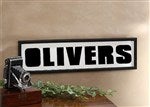 L BARROS
BENFICA

absolutely wonderful
By
Ashley M.

(High Point, NC) - January 10, 2014 (
See all reviews by this customer
)
I purchased this frame as a baby shower gift and it was a big hit! I am very pleased with this product.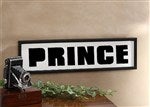 Fantastic!
By
Megan F.

(Schaumburg, IL) - December 31, 2013 (
See all reviews by this customer
)
I gave this frame to my mom as a gift and she loved it. The frame is perfectly cut and is an idea I have been wanting to do for a long time.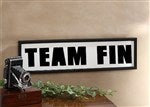 Great gift!
By
Shopper

(Olathe, CO) - December 26, 2013
This is a great gift! The Grandparents loved it! Received it quickly too!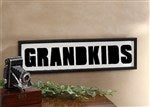 That's Me!
By
Teri G.

(South San Francisco, CA) - December 11, 2013 (
See all reviews by this customer
)
that is what my grandchildren say when they see their pictures in a frame with their name spelled out. It is a good sturdy product and each of my eight grandchildren has their own frame grouped with their siblings. They have fun showing friends and other family members as well.

Personal Frame
By
Shirley D.

(Bath, NY) - December 1, 2013 (
See all reviews by this customer
)
Very nice. Havent attempted to put pictures in yet...but LOVE LOVE the idea. Quick to ship as well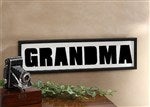 not great quality
By
Sunshine S.

(Pattison, TX) - November 30, 2013 (
See all reviews by this customer
)
I ordered this as a Xmas gift. It arrived quickly and wrapped very nicely protected. But it seems to be low quality. The glass won't lay in the frame straight. The little tabs on the back of the frame are very loose and won't hold in place. I'm hopeful that when pictures are inserted and hung on the wall it will hold. Its just not good quality.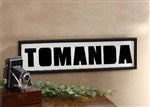 Great gift!
By
Roza P.

(Staten Island, NY) - October 23, 2013 (
See all reviews by this customer
)
Let me start off by saying that I never take the time to review products I've purchased, or restaurant/places I've visited. With that said, I was EXTREMELY pleased with this gift. I ordered two frames that said "THE PIPKO FAMILY" as an anniversary gift for my parents. I ordered black and white prints and filled them in. The result was insanely impressive. I've had countless people ask me where I thought of such a creative idea and where I ordered the frame. The size is perfect and it looks very nice hanging in my parents living room.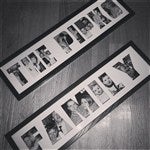 Unigue
By
Deborah Z.

(Ramsey, NJ) - October 18, 2013 (
See all reviews by this customer
)
My daughter bought and made a collage of pictures for my son as a surprise and presented it to him at his Bar Mitzvah - it was wonderful that she shared and got to remember many memories that they have shared together. My son loved it.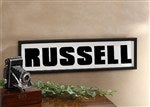 Needs bigger letters that fit 4'6 pictures
By
Shopper

(Valencia, CA, CA) - September 18, 2013
I really love the idea of this frame, but the letters are so small, it is difficult to cut, crop, and place the pictures exactly where you want them behind the letters. There should be enough room behind each letter for a 4'6' picture. Also, it's a bit overpriced for the quality of frame that you get.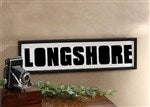 Loved it!
By
Marcia O.

(nashville, TN) - September 17, 2013 (
See all reviews by this customer
)
I received my collage frame so quickly. It's beautiful. I also bought a beautiful Lenox punch bowl that your company monogrammed for me for my daughter's wedding. It was perfect also. Thanks so much for the great customer care and the quality of your merchandise. I will definetly be returning for more great gifts for my family.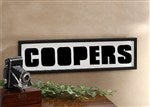 great summer memory keeper
By
Shopper

(Randolph, NJ) - August 9, 2013
I wanted to give my nephew a gift after seeing his performance in a summer musical. The picture frame with the name of the summer workshop was the perfect thing. He can choose the pictures the wants to make the joy last. Also next year he can add new and different shots from his next performances. The mat was cut perfectly and the gift arrived very quickly.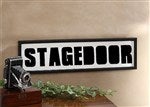 photo collage frame
By
Shopper

(cary, NC) - June 20, 2013
I was worried the product would be delivered with a flaw or broken but it was perfect and just in time to personalize with photos for a gift. Yes I was pleasantly surprised by overall appearance and quality. I added another piece of mat board in the back to tighten closure. I would order this again. Great gift idea!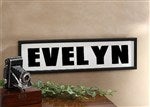 Photo frame
By
Renee K.

(Olathe, KS) - March 22, 2013 (
See all reviews by this customer
)
This frame will make a great retirement gift. Very nice size.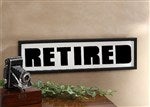 FRUSTRATING
By
Shopper

(SAN ANGELO, TX) - February 10, 2013
MY ORDER WAS PUT ON BACKORDER TWICE. IT DID NOT SHIP WHEN I WAS TOLD IT WOULD. THE PHOTO COLLAGE FRAME ITSELF IS OK. CHEAP BUT OK. THE CUT OUT NAME IS NOT A CLEAN CUT.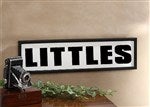 Loved This...
By
Shopper

(Brighton, CO) - January 14, 2013
Perfect gift idea for anyone and everyone... Shipping time was great... looked great!!!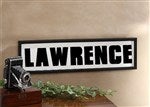 Awesome picture frame
By
Shopper

(Ocean, NJ) - January 9, 2013
I absolutely loved my frame! it looked exactly like the proof that was given before i ordered it! Great gift at a great price!

Perfect
By
Shopper

(Paoli, IN) - January 1, 2013
We have ordered these personalized frames for our senior wrestlers for three years now. Our kids and their families love this gift as it is a special reminder of their career. We will continue to order this item every year.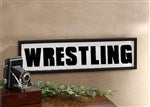 Nice Gift
By
Shopper

(Peshtigo, WI) - December 26, 2012
Got this for our cabin "Up North"--can't wait to see it with pictures in it.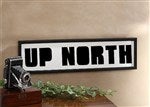 The best gift
By
Yoelcy P.

(Miami, FL) - December 15, 2012 (
See all reviews by this customer
)
The best gift to a friend...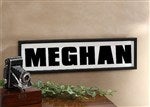 Beautiful Gift
By
Diane W.

(Westhampton, NY) - December 11, 2012 (
See all reviews by this customer
)
My co-workers and I bought two of these for our bosses. We put their children's names as the cutout and did a collage in each letter. It came out wonderful. Absolutely beautiful! Cant wait to give them their Christmas presents : ) The frame is a nice size and the letter cutouts are nice and big which let us put several cutout pictures in each. I would recommend this product, it makes a great gift!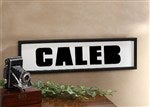 Gift for Granddaughter
By
Patricia C.

(Clayton, CA) - December 7, 2012 (
See all reviews by this customer
)
I was amazed at the great quality for the price! Received it faster than I expected! Will definetely purchase again!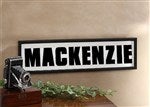 love this picture frame!
By
natalie F.

(Canada) - November 29, 2012 (
See all reviews by this customer
)
I just got this picture frame, and it's amazing! its a decent size frame and letters are big enough to put a few pictures in.

Perfect
By
James A S.

(Bassett, NE) - November 18, 2012 (
See all reviews by this customer
)
I had seen a "FAMILY" frame at a friends house years ago. I looked in the mall and then online for a NEBRASKA frame without finding one. Some how I found this site. It took a while because I didn't think to look for a "personalized" frame. Well, I am so very happy with my new frame. The letter size its bigger than I anticipated. My pictures are in. and I can reuse the shipping bubbles and box to send out to my grandson. I would send a picture of the finished product if I could.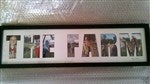 Great!
By
Christine B.

(Indianapolis, IN) - November 12, 2012 (
See all reviews by this customer
)
Ordered this frame as a gift. Was so pleased with the Quality, Price and how quickly it arrived after placing the order! Thanks!

Frame was really nice!
By
Shopper

(Avondale, AZ) - November 6, 2012
I purchased this frame for one of my Hubby's Anniversary gift from me, and needless to say he loved it! My friends loved it aswell. It's a neat way to display your pictures!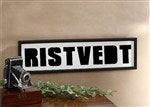 Original gift idea
By
Shopper

(Plainfield, IL) - November 6, 2012
The quality of this frame is great. Will be giving it as a wedding gift. It is so cute, I may just have to order one for myself!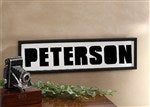 Love it
By
MARILYN E.

(Frankford, WV) - September 28, 2012 (
See all reviews by this customer
)
I absolutely love this. I bought it as a gift and now I want to give one to everyone I know.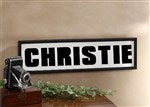 Great Product
By
Shopper

(Burleson, TX) - August 3, 2012
The frame was of great quality and workmanship. It came quickly and loved it. Plan on ordering more in the future.