Heart or star
By
Shopper

(Tallmadge, OH) - November 8, 2013
Love the frame however with a 5 letter name it leaves 2 huge gaps on the side of the name! I couldn't believe that you didn't have a heart or star or something that could fill in there if needed. Couldn't imagine if it was less than 5 letters! Your site shows that "Jacob" takes up the whole frame which isn't proven to be true since it's 5 letters.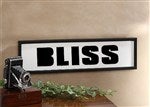 Gift
By
Linda B.

(New Britain, CT) - May 27, 2013 (
See all reviews by this customer
)
Gift for new baby Logan. Absolutely loved it with the pictures in it. It's great with or without pictures. I would have liked it if there was a very slight mat inside each letter so that each letter stands out even when using light colored pictures that have a tendency to disappear from far away. That would have made this perfect.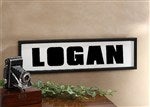 Perfect condition
By
Shopper

(Natchitoches, LA) - February 10, 2012
It came to me in perfect condition. It looks very nice. I bought it for a friend's wedding gift, but haven't given it to them yet. I'm sure they will LOVE it though!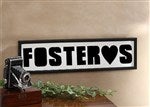 Great Gifts
By
Shopper

(Baxter , MN) - January 9, 2012
The personalized collage frames are going to work out great as special gifts for some people close to me. I am excited to put a variety of pictures of those closest to them in a word that means so much to them too! Thank you for these items!

Collage Frame
By
William C.

(Arab, AL) - September 16, 2010 (
See all reviews by this customer
)
The frame itself was cheap looking, but the mat is beautiful! The personalization and shipping time was awesome!

Name fram
By
Sue W.

(Grinnell, IA) - May 10, 2010 (
See all reviews by this customer
)
The frame came quickly.
Very nice overall look.
Matt was cut nicely, wood just a little rough, but not really bad.
Happy with the look when finished.

Looks great but took some effort
By
Lorrane M.

(Douglasville, GA) - January 18, 2010 (
See all reviews by this customer
)
I bought this item for my boyfriend. I found that the end result looked really nice. But for the wider letters like B and O that you should still stick with vertical pictures and not wider. It makes it harder because you have gaps and you have to try and cover them.

Great Item
By
Kathi W.

(Redondo Beach, CA) - October 9, 2009 (
See all reviews by this customer
)
It so cute but the only pictures that fit good in the spaces are vertical ones. If you have a horizontal picture there is a little space left.

Personalized Collage Frame
By
Bitz R.

(Minnetonka, MN) - October 9, 2009 (
See all reviews by this customer
)
it looks nice i'm now trying to pick out photo's for it. pleased with the items i've purchased

Good product but had a red dot
By
Shopper

(Overland Park, KS) - January 1, 2012
It was a good product and it looked cute...it did have a tiny redish blemish on the mat. I didn't have time to deal with any sort of return since it was a gift and the person i gave it to said it was fine... but I wish it would have come in with no markings on the mat.

Good but a little over-priced
By
Shopper

(Newburgh, NY) - May 10, 2011
I bought this for my grandma for mother's day. She seemed to like it. It shipped well and was packaged well. However, I was disappointed with the back of the frame. For the price, the back of the frame should be easier to take out and install/remove pictures. The back is cheaply done in my opinion. Also, it would be nice if there were other color frames available, like brown, cherry, etc.

Not what I expected.
By
rebecca J.

(ghent, WV) - February 11, 2010 (
See all reviews by this customer
)
I have purchased 2 of these and I was disappointed in the size & quality of the frame. If I knew it was plastic instead of glass, I wouldn't have ordered them.

Awesome idea. Horrible quality.
By
Brooke S.

(South Elgin, IL) - May 17, 2010 (
See all reviews by this customer
)
I ordered three of these as gifts for my sisters for mother's day. The personalized mat is awesome, but the frames are awful quality. One of the three frames cracked in shipping, and another was so bowed and misshapen that I would never give it as a gift. Even the frame that stayed in one piece was so cheap looking that I had to replace it. So after spending the money on these three items, I had to go spend more to get all 3 mats reframed at a custom frame shop. They looked really great once in good quailty frames. After contacting customer service at Personalization Mall to express my dissatisfaction, I was reimbursed only $20 (just over $6 per frame!) of the $120 I spent. Goes to show that the frames are literally worth nothing. For such a cool product idea, you'd think the company would give the option of a nice frame, or of just buying the personalized mat. So keep in mind before buying...the frame is junk!

Not the best quality for the price
By
Lauren W.

(Chicago, IL) - December 10, 2009 (
See all reviews by this customer
)
I was a little disappointed when I received this frame in the mail. The idea of it is cute but it is made out of plastic. I thought for $40 bucks it would at least have a glass front! Now I am a little embarrased to give this as a gift by itself. It seems cheap.

a cheap worthless frame
I got this frame as a present from my mother-in-law. As soon as I opened, I found out that its just a cardboard punch out and an inexpensive frame. The back of the cardboard was dirty or had some water spots on it (odd). Its too expensive for what you get. Also note that you should use as many letters as you can (like all 9) or else you are mainly hanging up cardboard on the wall.

I Also note that the cardboard is just plain - a good idea would be to have some stock decals, like balloons on the right and left portion of it. This product is nothing special.

Colin
good