Very Nice Frame
By
Shopper

(Jasper, IN) - November 20, 2011
I am very pleased with the quality of this frame. I ordered two of them, and both are heavy-weight with a flawless black finish. The glass was not broken as some other reviewers mentioned. They are a very good value for the price.

LOVING THIS FRAME
By
Shopper

(Redwood City, CA) - September 27, 2011
Absolutely LOVING this personalized frame! Got it to give as a gift and loved it so much I'll be getting everyone on my list one for the holidays!

awesome wall hanging
By
Karli M.

(Constableville, NY) - September 19, 2011 (
See all reviews by this customer
)
This is a great picture frame, a nice way to incorporate many pictures of the ones you love. The only downfall is the letters are too tall for a horizontal picture, there is always a tiny gap at the top or bottom.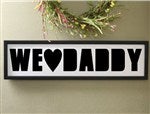 Perfect gift for anyone...
By
Shopper

(Johnston, RI) - July 29, 2011
Love, love, love this product!!! I haven't seen this made anywhere else and especially not for the price! The wonderful part about it is that you can personalize it with any name. My kids call their grandmother gaga. That's not something you would find in any store. So this really was a truly personalized gift! Great quality and such a creative way of displaying your favorite pictures. Loved it so much I'm ordering one for myself. Would highly recommend this product!!!

Always satisfied!
By
Shopper

(metairie, LA) - July 27, 2011
This is my favorite frame. I've ordered two so far as gifts & everyone loved them. I'm never worried about my orders from this website, I order from here often & the products are fabulous!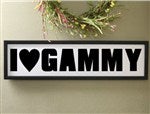 First Father's Day Gift
By
Shopper

(Kirkwood, MO) - June 28, 2011
I bought the "Daddy" frame for my brother to celebrate his first Father's Day.
His daughter was born in February. He absolutely loved the picture frame & the best part is, he can change the pictures as his daughter grows.

Grandpa
By
Shopper

(Saint Michael, MN) - June 21, 2011
I love these picture frames. I purchased one for my mom for Mother's Day and knew I had to get one for the dad for Father's Day. I love that even though I ordered it a week before Father's Day (I procrastinate a little!) I received the frame within a couple days of ordering it.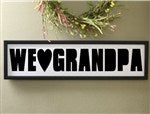 Awesome
By
Shopper

(Albuquerque, NM) - June 11, 2011
I absolutely love this frame because u can customize it to fit your intentions. I got two so far one after I visited Alaska and one after our trip to Hawaii. Best idea ever !!!!!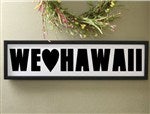 very happy with the purchase
By
Shopper

(Kennesaw, GA) - May 30, 2011
I am very happy with the purchase and arrived verry fast.I recommend it!

Great Piece
By
Scott C.

(Clifton Park, NY) - May 10, 2011 (
See all reviews by this customer
)
Got this for my wife for Mother's day; she loved the frame filled with pictures of our boys. They have changed it so that it now ships with glass instead of plastic. Her sister emailed me the same day after she shared the picture of the frame with her, "The MOMMY frame with the pictures is awesome! Good Job", so it seems that is was liked by all.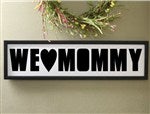 great gift
By
Sara S.

(Independence, MO) - May 9, 2011 (
See all reviews by this customer
)
i got my mom a i heart grandma frame for mothers day and she LOVED it!!! she even teared up when she opened it!!! thank you for helping me with the perfect gift!!!

frame
By
Miranda H.

(Anderson, IN) - April 26, 2011 (
See all reviews by this customer
)
I bought this the same day it shipped, And it arrived in perfect condition. Personalizationmall hasn't let me down yet. I love shopping here!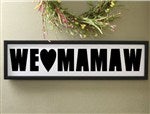 Collage
By
Shopper

(Chicago, IL) - March 29, 2011
The Loving Them Collage was for my son to give to his wife. She gave him one (Daddy) after the birth of their first son and he wanted to surprise her on their second son's first birthday. I got to put it together so it was a surprise. The collage came in great shape and was very easy to put the pictures in. I will buy some other things from here for myself.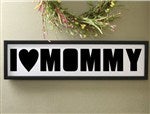 Beautiful!
By
Shopper

(Sunrise, FL) - March 21, 2011
I got this frame for my mother-in-law. The frame is great quality. The only complaint I have is that the height of the letters is just a LITTLE too tall to fit a 4x6 picture horizontally. I still used 4x6 pics, but you could see about 1/8 of an inch of the black backing above and below the picture.

Great Birthday Present!
By
Katherine N.

(Orlando, FL) - March 7, 2011 (
See all reviews by this customer
)
Great birthday present idea when I was struggling to find a creative and unique way to say I love you to a friend! It arrived on time and my friend loved the present! It came out just how I wanted it to.

Great Customer Service
By
Shopper

(San Jose, CA) - February 28, 2011
The frame arrive with a crack glass and I reported to PersonalizationMall and they immediately replace the defective item with no questions ask. In additional, the quality of the cut our words and frame are wonderful. Definitely will recommend and use again in the future!

Cute idea!
By
Alexa D.

(Vista, CA) - February 16, 2011 (
See all reviews by this customer
)
I bought this for my mom's 52nd birthday last week. My husband and I had a little girl almost 7 months ago, and all our family lives 2200 miles away. I got the frame sent to my house, added the pictures, and mailed it to my mom. It turned out SO cute, and my mom loved it!!!

Loved by reciever
By
Shopper

(Menlo Park, CA) - February 11, 2011
This was given as a birthday gift and sent directly to the receiver so I was not able to see it in person, however the b-day girl loved it! She raved about how wonderful it was and immediately added photos and hung it up. On another note, the original order was damaged in shipment (never seen by me or b-day girl, sent back by shipper) and when I called customer service they we very kind and immediately made a new one and sent it out, 5 stars for them too!

Very sleek!
By
Arynn S.

(Boise, ID) - December 18, 2010 (
See all reviews by this customer
)
This product was shipped and delivered to my house extremely quickly ! That made me think that the Quality may not be as good, but the Quality was actually phenomenal.

I'm excited to put the pictures in it and give it as a Christmas present :]

love it
By
Kimmesha D.

(New York, NY) - December 18, 2010 (
See all reviews by this customer
)
My mother is going to love this gift. Whats not to like? All of her grandkids will be in the frame for Christmas. It will brighten up her wall.

We love Grandma !!
By
Linda A.

(Centralia, WA) - December 12, 2010 (
See all reviews by this customer
)
Well constructed with quality materials. Nicely done !

Great Product!
By
Hsuan Yu K.

(West Covina, CA) - November 17, 2010 (
See all reviews by this customer
)
The frame looks spectacular! I can't wait to put in the pictures already! I have purchased several products from Personalization Mall, and my experience has been great thus far. Keep up the good work!

Daddies Day
By
Nichole S.

(Austin, TX) - June 21, 2010 (
See all reviews by this customer
)
I ordered this for my husband on Fathers Day. It was our first one together so we were all very excited. I had my printed to say "I<3MYDADDY" the final product cam out great and my husband loves it. The only thing I would say is the Y and M were hard to find picture to work but when i did find the right one it was awesome! would totaly recomend to anyone looking for a new and unique picture frame

Awesome Gift
By
Jamey M.

(Gilbert, AZ) - June 17, 2010 (
See all reviews by this customer
)
Great gift! Was a little harder than I thought it would be to find the right pictures. Had to use some 5x7, some 4x6 pictures. I would love it if I could get photo mat in black due to many of my photos having lots of white in them, which makes the mat & photo blend A LOT! Still, totally worth every penny!

Brilliant!!!!
By
Nancy G.

(Menomonee Falls, WI) - May 31, 2010 (
See all reviews by this customer
)
This will be the most awesome gift ever! Thank you!!

love it!
By
Christopher M.

(Vienna, VA) - May 17, 2010 (
See all reviews by this customer
)
very nice and personal. Just a tip - the letters are longer than 4 inches, so my horizontal 4x6 pics were too small - I had to get 5x7 to fill the whole letter.

Love it!
By
Julie D.

(Saint Peters, MO) - May 5, 2010 (
See all reviews by this customer
)
So sweet...and received it on my doorstep the day after I ordered it!!!

BEST GIFT!!
By
Brett R.

(Clarksville, TN) - December 10, 2009 (
See all reviews by this customer
)
Perfect in every way! My mom said it was the best gift! It shipped really fast too.

Awesome!
By
Christy H.

(Layton, UT) - October 12, 2009 (
See all reviews by this customer
)
My boyfriend loved his frame. :) It's on his wall! The shipping was very quick, too.

Awesome frame!
By
Jennifer H.

(Worcester, MA) - October 8, 2009 (
See all reviews by this customer
)
Totally satisfied with the frame and its quality. It was a great gift with our perfect pictures!

Love these
By
Joy P.

(Lowell, AR) - October 8, 2009 (
See all reviews by this customer
)
These personalized frames are an incredible gift for a loved one. I love that you can personalize them to whatever name you wish (we created one for our boys' grandma and grandpa, using their "special names"). The final outcome when you get your pictures behind the mat is really incredible. I will likely be doing this again.

Great frame
By
Belinda G.

(Canada) - November 12, 2013 (
See all reviews by this customer
)
I bought this as a gift for my mother and she loves it. It appears to be very good quality and very well put together and great for the price.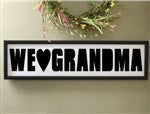 Really great idea!
By
Shopper

(Frisco, TX) - December 11, 2012
This collage mat/frame is really cute! My only criticism is that some characters, such as I and ! are much narrower than other characters, so trying to fit similar pictures in each "window" is more difficult for the narrower characters. Other than that, this is an awesome gift!

Very pleased
By
Shopper

(Harrisburg, PA) - January 9, 2012
I was very pleased with the way this product turned out. The letters were cut/burned out precisely. However there were some burn marks that made it through it to the front of the matte board. It wasn't too terrible so I didn't mind it. Overall it's a great gift idea.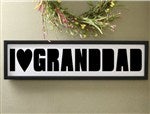 Great Gift!
By
Shopper

(East Brunswick, NJ) - July 7, 2011
We gave it to daddy for father's day and he loved it! Unlike the other reviews, the frame was made out of glass and we were happy with that. The quality of the wood frame itself is not the greatest, but satisfactory. The customer service was great. The glass was broken upon arrival and they sent another one right away! Great gift, great customer service. We are very happy with our purchase.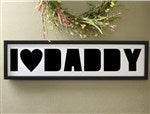 Looks great
By
Shopper

(Secaucus, NJ) - July 5, 2011
This is a very cute gift. I plan to buy more of them for other relatives.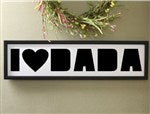 Gift
By
Shopper

(SANTA ROSA, CA) - May 17, 2011
Makes a very nice gift

Nice frame!
By
Kendra S.

(Westland, MI) - March 30, 2011 (
See all reviews by this customer
)
I ordered this for a special birthday gift from my kids. It was very nice but the frame had a little nick in it. Since I rec'd it just before her birthday I did not have time to exchang it. The quality of the mat is nice as well.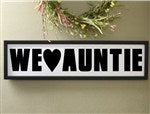 Almost perfect - use vertical 4x6 pictures
By
Rebecca S.

(Coatesville, PA) - June 21, 2010 (
See all reviews by this customer
)
Product and quality were what I expected (good), however, only reason I did not rate it 5 stars was the frustration I had trying to make the pictures fit the letters. Horizontal 4x6 pictures are just not tall enough to cover the complete opening. The space was not much, but I wanted the frame to look good, not shoddy. Once I realized this, I cropped all the pictures to be vertical 4x6 pictures and everything went much easier and quicker.

Nice, but not worth price
By
Alisen C.

(Belleville, IL) - May 4, 2010 (
See all reviews by this customer
)
This is a nice gift becuase it is personalized (used grandma's special name) and I was impressed with how quickly it was delivered. The mat was cut well, but the frame is cheap and it isn't real glass. It is bigger than I'd expected and if you are using 4X6 pictures, only vertical pictures will work. I'm having to reprint several horizontal pictures as 5X7s to make them fit.