Awesome!
By
Christy H.

(Layton, UT) - October 12, 2009 (
See all reviews by this customer
)
My boyfriend loved his frame. :) It's on his wall! The shipping was very quick, too.

Awesome frame!
By
Jennifer H.

(Worcester, MA) - October 8, 2009 (
See all reviews by this customer
)
Totally satisfied with the frame and its quality. It was a great gift with our perfect pictures!

Love these
By
Joy P.

(Lowell, AR) - October 8, 2009 (
See all reviews by this customer
)
These personalized frames are an incredible gift for a loved one. I love that you can personalize them to whatever name you wish (we created one for our boys' grandma and grandpa, using their "special names"). The final outcome when you get your pictures behind the mat is really incredible. I will likely be doing this again.

Great frame
By
Belinda G.

(Canada) - November 12, 2013 (
See all reviews by this customer
)
I bought this as a gift for my mother and she loves it. It appears to be very good quality and very well put together and great for the price.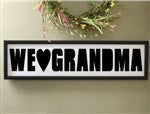 Really great idea!
By
Shopper

(Frisco, TX) - December 11, 2012
This collage mat/frame is really cute! My only criticism is that some characters, such as I and ! are much narrower than other characters, so trying to fit similar pictures in each "window" is more difficult for the narrower characters. Other than that, this is an awesome gift!

Very pleased
By
Shopper

(Harrisburg, PA) - January 9, 2012
I was very pleased with the way this product turned out. The letters were cut/burned out precisely. However there were some burn marks that made it through it to the front of the matte board. It wasn't too terrible so I didn't mind it. Overall it's a great gift idea.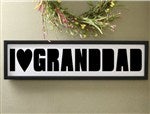 Great Gift!
By
Shopper

(East Brunswick, NJ) - July 7, 2011
We gave it to daddy for father's day and he loved it! Unlike the other reviews, the frame was made out of glass and we were happy with that. The quality of the wood frame itself is not the greatest, but satisfactory. The customer service was great. The glass was broken upon arrival and they sent another one right away! Great gift, great customer service. We are very happy with our purchase.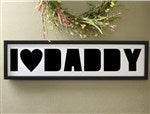 Looks great
By
Shopper

(Secaucus, NJ) - July 5, 2011
This is a very cute gift. I plan to buy more of them for other relatives.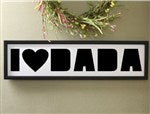 Gift
By
Shopper

(SANTA ROSA, CA) - May 17, 2011
Makes a very nice gift

Nice frame!
By
Kendra S.

(Westland, MI) - March 30, 2011 (
See all reviews by this customer
)
I ordered this for a special birthday gift from my kids. It was very nice but the frame had a little nick in it. Since I rec'd it just before her birthday I did not have time to exchang it. The quality of the mat is nice as well.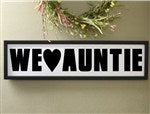 Almost perfect - use vertical 4x6 pictures
By
Rebecca S.

(Coatesville, PA) - June 21, 2010 (
See all reviews by this customer
)
Product and quality were what I expected (good), however, only reason I did not rate it 5 stars was the frustration I had trying to make the pictures fit the letters. Horizontal 4x6 pictures are just not tall enough to cover the complete opening. The space was not much, but I wanted the frame to look good, not shoddy. Once I realized this, I cropped all the pictures to be vertical 4x6 pictures and everything went much easier and quicker.

Nice, but not worth price
By
Alisen C.

(Belleville, IL) - May 4, 2010 (
See all reviews by this customer
)
This is a nice gift becuase it is personalized (used grandma's special name) and I was impressed with how quickly it was delivered. The mat was cut well, but the frame is cheap and it isn't real glass. It is bigger than I'd expected and if you are using 4X6 pictures, only vertical pictures will work. I'm having to reprint several horizontal pictures as 5X7s to make them fit.

Very very nice.....
By
Siobhan M.

(Maspeth, NY) - April 6, 2010 (
See all reviews by this customer
)
As always the shipping was very fast indeed! The frame was perfect- I loved it! Yes it was not glass but plastic and, although I read some reviewers were not happy and indeed maybe glass would be a little more stylish,the plastic was actually perfect for us. My husband loved it and was amazed that I could find such a thing!! I am always pleased with my purchases from Personalization Mall and have recommended them to many friends. Thanks guys!

very cute
By
Elizabeth B.

(Somerset, NJ) - November 17, 2009 (
See all reviews by this customer
)
This frame is really so cute, however the frame isn't the best quality and it's not covered in glass, just a very heavyweight plastic. For the amount I paid I would have like glass. However, the frame is still absolutely adorable!!!!

Personalized Frame
By
Shopper

(North Babyloo, NY) - December 22, 2012
The frame is nicely made but I found the holes were cut in such a way that it is impossible to nicely fit any of the picture openings. I used 4x6 pictures or else the pics were too zoomed in. Either the pic opening was exposed at the top and bottom or on the sides. Wish it had been better for the price I paid.

A Little Disappointed
By
Cassandra L.

(Augusta, ME) - December 19, 2010 (
See all reviews by this customer
)
I really liked the frame, however I feel that when i pay about $40 for a frame I should not recieve it chipped. Only complaint I have otherwise

Great Idea
By
Diane S.

(Las Vegas, NV) - February 7, 2010 (
See all reviews by this customer
)
Very good idea. Could be a little better on quality. Instead of plastic, should be glass,

Not exactly what I thought it would be
By
Holly F.

(Okeana, OH) - December 5, 2009 (
See all reviews by this customer
)
Overall I think the frame is great. I was a little disappointd as to the way the letter were not big enough to fit most pictures in, I really had to search and I was limited to vertical pics, which narrowed my choices even more. Maybe chunkier letters...?? I would have preferred it to have glass instead of plexi-glass, but I can deal with that. It makes for a wonderful way to view memories.

Not as nice as I thought it would be.
By
Ryan R.

(San Jose, CA) - December 20, 2011 (
See all reviews by this customer
)
The matte is very thin and has no bevel on it. Because of this it looks cheap / poorly made. It is such a cool idea, if the matte was anything like a photo frame you would buy at the store it would be awesome.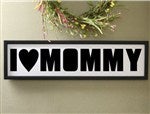 A bit disappointed
By
Kristi K.

(West Mifflin, PA) - October 21, 2009 (
See all reviews by this customer
)
Love the concept and matt, but a bit disappointed on the frame and lack of glass. For $40 I would have expected it to be glass (not clear plastic)and a nicer frame. Super fast shipping as always.

Frame is so-so
By
Laura L.

(Terrell, NC) - October 8, 2009 (
See all reviews by this customer
)
The mat is great...very cute and you can fit a decent sized photo in each opening. The frame, however, is of mediocre quality. Also, it does not have glass, but a heavy duty plastic front...nice that you don't have to worry about damage, but both of ours arrived with visible scratches on them. The frame and plastic front were just not of the quality that I was hoping for...I found some for about the same price at a local store and they came with beautiful wood frames, so I know that the price on these should not have compromised the quality of the frames.