Christening rattle
By
Shopper

(Belmont, NC) - October 1, 2013
I ordered two silver plated and monogrammed baby rattles as Christening gifts for our great niece and nephew and am very pleased with both of them. Their delivery was very prompt and I can highly recommend them.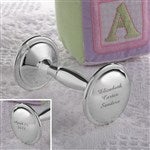 BEST GIFT EVER!!
By
Jessica L.

(Port arthur, TX) - September 30, 2013 (
See all reviews by this customer
)
We presented our Godchild's Father, and Mother. with the this gift after the Christian ceromony, and they melted! And our gift was the talk of the day! I was able to have the Christian date and the baby's full name on one end of the rattle, and her birthday on the other. We're very please, thanks.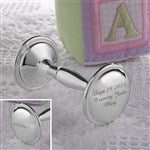 My #1 go-to baby gift!!
By
Shopper

(Bechtelsville, PA) - August 16, 2013
This gift has never disappointed and has always met with appreciation from the recipient. I'm a repeat customer on this one!! Good job.

BEAUTIFUL
By
Mary V.

(Westlake, LA) - July 30, 2013 (
See all reviews by this customer
)
THIS IS THE THIRD RATTLE THAT I HAVE ORDERED. EVERYONE THAT I HAVE GIVEN TO JUST LOVES THEM AND SAID THAT THEY WOULD TREASURE THEM FOREVER. THANK YOU FOR OFFERING SUCH A PERFECT GIFT.

Perfect!
By
Tracy S.

(West Milton, OH) - July 12, 2013 (
See all reviews by this customer
)
I am really glad I found this site on line. The quality of all gifts ordered was great, baby rattle is perfect! Bought as a gift, it came in a little box; Great for keepsake!

Super cute and great price
By
kassandra M.

(north versailles, PA) - June 24, 2013 (
See all reviews by this customer
)
I purchased this rattle for my nieces baptism and it was perfect. I received it ver y quickly, within 2 business days, and it was in a white satin lined box with a silver bow. The rattle was adorable and a great quality. They did a perfect job on the engraving too. I was not expecting it to be as nice as it was because of the low price. A lot of times online you get what you pay for so when this arrived I was pleasantly surprised.

Beautiful product
By
Shopper

(Hammond, LA) - June 11, 2013
We have ordered several of these rattles as baby gifts, and the price is fantastic for the product you receive. Before we found these, we were paying more than double at a jewelry store! Beautifully done, all engraving centered. Will order again!

Great Gift
By
Shopper

(El Centro, CA) - May 17, 2013
The rattle was perfect for a baptism gift. Given as a momento for this very special day. The engraving was in script and was even. I was happy with my purchase!

Beautiful keepsake
By
Marcina W.

(Alexandria, VA) - May 8, 2013 (
See all reviews by this customer
)
I was very impressed with the quality of the silver rattle. The engraving was very visible and it looked way more expensive than what I actually paid for it. Definitely a winner!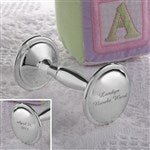 beautiful
By
Shopper

(DENHAM SPRINGS, LA) - April 3, 2013
I have bought 2 of these rattles. I absolutely love them !! I bought the first one for my nephew and my sister loved it. bought the second one for my boyfriends friend wife and she loved it as well :) you can't go wrong with this gift

Beautiful rattle
By
Marilyn K.

(Coker, AL) - February 4, 2013 (
See all reviews by this customer
)
This a beautiful rattle. It is the perfect size for my 10 month old grandchild to hold, and she loves ths sound it makes when she rattles it. The engraving is lovely.

AWESOME
By
Shopper

(Eau Claire, WI) - January 22, 2013
Awesome product and service !! A+++++

Very pleased!
By
Shopper

(Ponchatoula, LA) - January 14, 2013
The rattles were beautifully done, and in appropriate packaging. Very satisfied, and will purchase again!

Great value for the money
By
Shopper

(Charlotte, NC) - December 29, 2012
I purchased this for my nephew's Baptism, and it came out perfect. He loved shaking it and is a keepsake he can have for a long time.

Excellent quality, outstanding service
By
MICHAEL B.

(ANGIER, NC) - December 27, 2012 (
See all reviews by this customer
)
My wife and I had three new grandchildren late this year and we were looking for the perfect gift for each. Personalization Mall came through for us with bells on. The personalized heirloom silver baby rattles with the babies' full names on one end and their birth dates on the other surprised and delighted the parents - and at least ONE of the babies immediately grabbed her rattle and stuffed one end into her mouth with a broad grin. Seems you made EVERYONE happy with this Christmas delivery, Santa!

Beautiful herloom
By
Shopper

(CORAL GABLES, FL) - December 15, 2012
A beautiful rattle for a special baby.
Excellent quality.

love it
By
Shopper

(ELIZABETH, NJ) - December 13, 2012
IT WAS PERFECT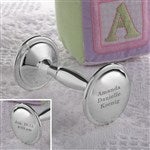 Love this company
By
Debra H.

(St. Charles, IL) - November 3, 2012 (
See all reviews by this customer
)
I can't express enough how impressed I was with the quality and quickness my order came! Thank you so much. I will be ordering from you again.

Love It
By
Shopper

(washington, DC) - October 2, 2012
I had ordered this rattle before and loved it, so when it came time for another baby gift I knew what to get. The parents also loved it, so I got the right gift again.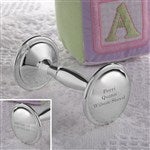 personalized baby rattle
By
Laurie S.

(New Smyrna Beach, FL) - September 16, 2012 (
See all reviews by this customer
)
I love the rattle! It is well made & the engraving is easy to read. The box it came in impressed me, also. I'm very satisfied.

Impressive gift
By
Shopper

(Indian Shores, FL) - August 28, 2012
Recipients were very impressed with gift for baby.

Sam's rattle
By
Shopper

(Chesapeake,, VA) - August 26, 2012
The item arrived in record time and was perfect in every way. The cost was very reasonable.

Love it!
By
Shopper

(New Iberia, LA) - August 26, 2012
I've been looking EVERYWHERE for the perfect keepsake rattle for my 16-month old son. I'd always wanted the coveted sterling silver Tiffany rattle but was extremely disappointed when I found out that they were discontinued. This has proven to be the next best thing!

Beautiful
By
Shopper

(Eggertsville, NY) - August 21, 2012
Purchased this item for my grand daughter's Christening.
The item is Beautiful. The engraving and gift box were perfect, as usual.
You have become my favorite place to find the perfect gift.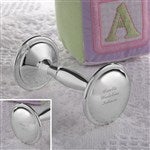 It was LOVED
By
LA VONNE G.

(BEDFORD, TX) - August 21, 2012 (
See all reviews by this customer
)
It was LOVED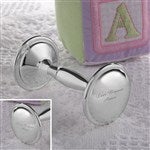 Beautiful
By
Joyce I.

(Jackson Center, OH) - August 2, 2012 (
See all reviews by this customer
)
Very pleased with this purchase. It is just beautiful and the printing is very clear.

Perfect!
By
jennifer D.

(Allentown, PA) - August 2, 2012 (
See all reviews by this customer
)
Awesome and reasonably priced!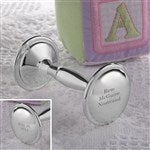 What a great gift
By
Jessica C.

(Lowell, MA) - June 18, 2012 (
See all reviews by this customer
)
I bought this for my god son's baptism. On one side I put his name and birth date and the other said baptised and the date. The parents loved it.

Grandmaw
By
Shopper

(Shreveport,, LA) - May 18, 2012
Very professional and quick!

Great Service
By
Renee P.

(Lake Charles, LA) - May 8, 2012 (
See all reviews by this customer
)
Lovely rattle, Mom-to-be loved it! Good price & fast service made me love it too. It is always my "go to" gift for baby showers.

baby rattle
By
Shopper

(Fayetteville, PA) - April 13, 2012
I was very happy to receive the personalized rattle. It looks great and has a soft lovely sound. It even has a padded box with it for gifting. I am giving it to my grandson as part of his gift for his Christening. Thank you for the very nice product.

Personalized Baby Rattle
By
Kenneth E.

(Fall City, WA) - April 8, 2012 (
See all reviews by this customer
)
Over the past years, I've ordered 5 personalized baby rattles as gifts, including one for our grandson two years ago. The product is beautiful with baby's name on one end and dob on the other, it's a keepsake gift to be cherished. The item comes in a smart gift box. I can't say enough about this website-I love it!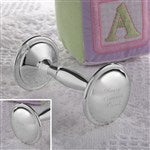 Lovely Baptism Gift
By
Shopper

(Brooklyn Park, MN) - March 31, 2012
I have bought this rattle for both of my Granddaughters, one 3 years ago and one recently. I was pleased with both purchases the engraving was well done.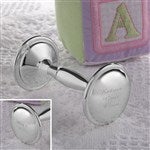 Sweet gift!
By
Brandi W.

(Belton, TX) - March 25, 2012 (
See all reviews by this customer
)
This item was the perfect gift for my expectant friend. The engraving was perfect and the quality of the item was great!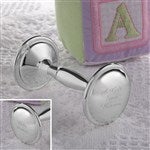 A SPECIAL GIFT
By
Marie C.

(Norwalk, CT) - March 20, 2012 (
See all reviews by this customer
)
This is the second rattle I have purchased, and I think for the price, its a beautiful gift... The quality, and the engraving is just beautiful, my granddaughter's will have a beautiful keepsake from their Grandma and Pa Pa. I plan on buying a few more items for them for special occassions...

Exceeded my expectations
By
Shopper

(visalia, CA) - February 8, 2012
I was looking all over the Internet for something like this and everything was well over $100 and up then I found this one. It was exactly what I wanted and more. The price is so reasonable. When I got it in the mail it looked even more amazing then it did on line. I love the quality. It's made so nice and it came in a special keep sake box. I especially loved how the personalization was free. I order from this company all the time and I have never been disapointed. The product arrived 3 days after I ordered it and I did standard shipping. I love this company!!!!!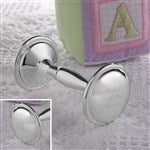 As pretty as in the picture.
By
Bernice R.

(Mentor, OH) - February 2, 2012 (
See all reviews by this customer
)
The gift was just as pretty as in the picture. The engraving was perfect
It is a perfect keepsake of a very special day.


Beautiful rattle
By
Patty L.

(Chesterton, IN) - January 24, 2012 (
See all reviews by this customer
)
Just received the rattle today for my new grandson, it's beautiful. I had it ingraved, nice but I wish the ingraving was bigger, really have to look for it, something for my grandson to keep for years to come. Glad I purchased this. Thanks

perfect baby gift.
By
Shopper

(Las Vegas, NV) - January 21, 2012
My son receieved a similar rattle from a friend when he was a baby. I was his favorite toy. The metal is cool so he teethed on it. It still has his teeth marks on it. I wanted to do something that meaningful for my friends miracle baby. She loves it. It was beautiful!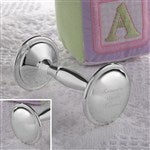 Lovely keepsake
By
Shopper

(Murfreesboro, TN) - January 17, 2012
This is a lovely keepsake, a stunning rembrance to mark a special occasion. The size, weight, gentle "tinkle" of the rattle, packaged in a fitted box are beautiful- a superior product; the engraving is outstanding, with the added reassurance of being able to view the finished item and comparing fonts BEFORE completing the ordering process. We are very pleased with our purschase.