Better than I could have dreamed!
By
Edwin S.

(Lake Stevens, WA) - December 11, 2011 (
See all reviews by this customer
)
When I received the Canvas Art with the personal poem that I had written for my Sweetheart, I couldn't believe the fine quality and beauty. My Sweetheart and I have been together for twelve years, and know that we are soulmates. But for her to see my heartfelt feelings expressed so beautifully brought her to tears.
She placed it in a location where we will both see it often and be reminded of our deep love. I would certainly reccomend this item to even the most articulate of my friends. You will get as much enjoyment from giving this gift as the recipient does from reeiving it.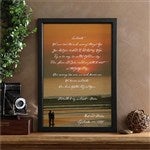 Memories on Canvas
By
Madeleine T.

(Teaneck, NJ) - December 11, 2011 (
See all reviews by this customer
)
I ordered this lovely canvas as an anniversary gift for my boyfriend of four years....we are always sending these types of loving cards to one another. The scentiments expressed on the cards have always been endearing to us. When I saw this item, I knew it was the perfect gift to surprise him with. I have not as yet given it to him, but I know he will love it when he receives it NYE. Since our song is "Unforgettable", I added this word in our message on the card. I look forward to his expression when he receives it! The company was extremely nice to do business with and I would order another item should the time be appropriate. The canvas also arrived in a very few days and looks beautiful.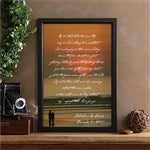 What is Love -Canvas
By
Jakeya M.

(Woodbridge, VA) - November 26, 2011 (
See all reviews by this customer
)
Great Item. Make sure you air out before you gift to friends or family.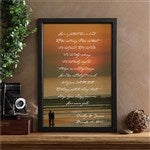 gorgeous canvas art
By
alfiya K.

(yonkers, NY) - November 5, 2011 (
See all reviews by this customer
)
I purchase this art for my son and his girlfriend. They loved it so much- the picture , the collars and the beautiful poem! As they say canvas is going to go with them wherever they move !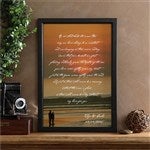 Perfect Wedding Present
By
Stacy S.

(Chester, MD) - July 7, 2011 (
See all reviews by this customer
)
I purchased this item as a present for the couple of a wedding that I am in. It matched the decor of their home and I used the lyrics to their wedding song to personalize it. I was worried about the font as other reviews had said it is hard to read but I purchased the 16x24 and it is readable. While a better font could be selected, the style does fit the picture. The product shipped fast and was in good condition when it arrived.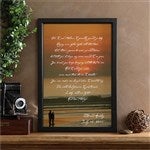 Canvas Art
By
Shopper

(Roanoke, VA) - June 3, 2011
I was looking for a unique wedding gift and this was just right for the occasion. I was also very pleased with how quickly I received the item. Will be sure to recommend your company to others.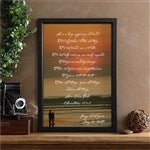 Great Wedding Gift Anniversary Gift
By
Lynn P.

(Norwalk, CT) - May 2, 2011 (
See all reviews by this customer
)
Gave this to friends who are both yoga devotees as a wedding gift ... my husband and I had used the "namaste" verse as our own wedding vows at our wedding. Was going to get a second one for us as an anniversary present and was SO DISAPPOINTED that personalization mall had discontinued the item. A few weeks ago received an e-mail and you can imagine my ABSOLUTE DELIGHT to see the item once again being offered. The quality is amazing, the price unbelievable, and the service prompt and timely. I loved being able to "personalize" the beautiful print with a verse that was meaningful to us ... would HIGHLY recommend this item and hope it is kept permanently as a product offering ...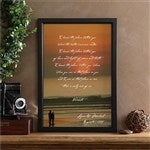 Wedding Gift
By
Jennifer M.

(Bayonne, NJ) - April 25, 2011 (
See all reviews by this customer
)
I bought this product as a wedding gift for a friend of mine whose wedding I can not attend. The scene itself reminded me of their save the date card which was similar to the wall art and I also loved the poem. When I spoke with him, he told me his wife to be teared up when they opened it and that it was very beautiful.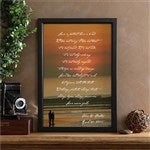 Awsome gift and very unique
By
Marcie F.

(Ft Worth, TX) - March 27, 2011 (
See all reviews by this customer
)
The item arrived and was just beautiful

Shipping was fast and the price was great as well Thank you so much.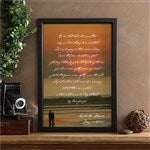 Great Gifts reasonable prices
By
Shopper

(plymouth, MI) - March 21, 2014
This was very easy to find and create what I was looking for in this instance.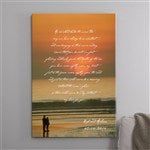 Beautiful wedding shower gift
By
Shopper

(trumbull, CT) - May 12, 2013
This item is beautiful! I received it in a few days. I bought it for a niece who is getting married , it's gorgeous!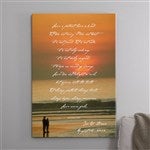 Canvas print
By
Donna H.

(Bethlehem, PA) - July 30, 2012 (
See all reviews by this customer
)
I couldn't be happier! and I know when my husband gets this for our 3rd aniversary he will love it too!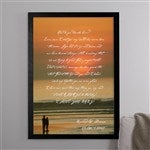 love it
By
Shopper

(Carey, OH) - May 17, 2012
i love this canvas I choose to create my own saying and put the art of doing nothing is really something we have our master bedroom done up like a tropical paradise and this canvas is perfect for the theme because we didnt want blue.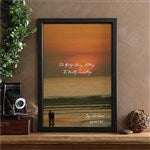 Nice canvas
By
Donna L.

(Archer, FL) - May 7, 2012 (
See all reviews by this customer
)
I think this is nice, however I wish the font was easier to read.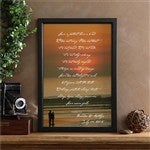 For ower wedding
By
Michael M.

(McKees Rocks, PA) - April 14, 2012 (
See all reviews by this customer
)
i got this for my future wife and it is wonderful. Think and hope she will love it. It got shipped out in and received in a short period of time, alot faster than expected. I got it in the black frame and it looks sharp. My thanks gos out to personalization mall for helping make ower special day even more special for us.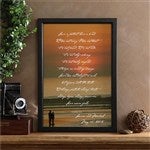 PERFECT FOR OUR DECOR AND PERSONAL
By
Shopper

(ODENTON, MD) - April 4, 2012
We love this picture. We purchased it without the frame and it displays well. Is goes perfectly with our color theme/decor for our bedroom but we love the personalization of it. It will give a great touch to any room and the size was perfect!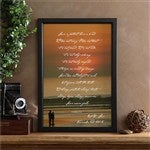 Very nice gift
By
Shopper

(Dallas, GA) - February 21, 2012
nice workmanship.. great quality and looks great too..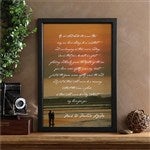 Satisfied Customer!!!
By
Jackland G.

(Leesville, LA) - February 20, 2012 (
See all reviews by this customer
)
I was absoultley pleased with this product and this company!! I know I was at first not so sure if I should purchase this becasuse some companies lie an say it is bigger then what it really is. But It is in my home on my wall. I got it for my fiance Valentines gift and I called and asked if it would get to me before Valentines Day an the company reasured me it would arrive on or before that day an sure enough it was 4 days early!!! This is a great product, I have future plans of returning to purchase some other items.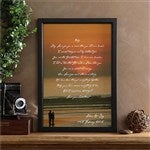 More Beautiful than Expected
By
Vivian E.

(Seattle, WA) - February 14, 2012 (
See all reviews by this customer
)
I am very pleased with this product. The color and printings are stunningly beautiful! I ordered the large size when I was thinking Medium but now that I'm looking at it, I think it's perfect. Really beautiful.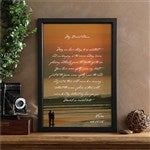 amazing
By
Renee M.

(Wayne, NJ) - January 28, 2012 (
See all reviews by this customer
)
I love all the stuff I buy from personalized, I dont buy from any place else! Everything is always beautiful! And fast shipping! I cant wait to give this to my boy friend i hope he loves it as much as i do!
Thank you,
Renee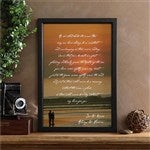 Beautiful
By
Maria M.

(Monroe Township, NJ) - October 10, 2009 (
See all reviews by this customer
)
I used these as our favors for our destination wedding. They came wrapped in bubble wrap and packaged very securely. The frame is great. It was a lovely favor that everyone adored.

A Wonderful Gift for Yourself or Others
By
Jennifer R.

(Burkburnett, TX) - October 8, 2009 (
See all reviews by this customer
)
The canvas is beautiful and the sides are nicely covered with the same look as the front. I purchased this for my husband for our fourth anniversary. He loved it, and all of our friends ask us were we got something so beautiful that was personalized with our names, fourth anniversary, and the date. This is truly a one of a kind gift, because it will be different for each individual due to what is inscribed. Personalization also allows for your own wording to be put on the canvas. I recommend all of my friends go here when they are shopping for a special gift!

A beautiful addition to any couples home!
By
Kristin L.

(Jacksonville, FL) - November 12, 2009 (
See all reviews by this customer
)
I got the largest size because I was worried about the font being legible and I am glad I did. This is a beautiful show piece in brother and sister-in-law's living room. They were married on the beach so it was perfect! A wonderful gift for newleyweds or a wonderful anniversary present. Was shipped very securely in bubble wrap. I opted for no frame and it looks fine to hang on the wall as is, it even came with mounting hardware.

Overall VERY SATISFIED first time customer!

Love It!!!
My husband gave me one of these as his gift to me on our wedding day...and he personalized it with part of his wedding vows that he wrote for me. I LOVE IT...it is absolutely gorgeous. I am going to buy another one with the vows I wrote for him and hang both of them in our bedroom. HIGHLY RECOMMENDED!!

Amazing quality
By
Jacquelyn M.

(Wakefield, RI) - November 21, 2009 (
See all reviews by this customer
)
I ordered this as a way to display a poem my husband made me. The "write your own" feature is wonderful, which allows you to create a very unique piece. I am thrilled, its been hanging in my living room for a year and it looks amazing., the quality is top notch,.

Great Product
By
Sudhindra C.

(East Brunswick, NJ) - March 22, 2014 (
See all reviews by this customer
)
The only reason I am not giving it a 5 sstars rating is because of lack of personal review by someone before machine printing the text. Again not something the company can be blamed for however doing a in-person glance over could have made the product perfect!!

Personalized, Heart from the Inside
By
Shopper

(Roseburg, OR) - September 22, 2013
I really love this scene and I was able to fit my own quote in the lines and spaces provided. I would have easily given this a 5, but I am not crazy about the font. A great customer service rep gave me some hints which made it better but I do like other fonts more and would have chosen one if I had that option.

Favorite Wedding Gift
By
Shopper

(Swampscott, MA) - August 26, 2013
My husband and I gave the What Is Love? Canvas Print, personalized with names and wedding date, to my best friend and her new husband as part of our wedding gift to them. They absolutely loved it!!! When she called to thank us, she told me it was her favorite gift and that they couldn't wait to hang it up in their bedroom over their bed.

My husband and I loved the look of the unframed print; it truly is a beautiful piece! The only thing we would have changed on the print was the font of the text, which was a bit difficult to read, and the reason for a 4-star rating as opposed to a 5-star rating.

very nice........
By
Linda M. H.

(Hondo, TX) - October 8, 2009 (
See all reviews by this customer
)
I got this gift early.....For my sisters daughter...She is getting married next June 2010.....I had it mailed to my sister...They really liked it....Thought it came out real nice....She & I have Skype so I got to see it....Im going to the wedding next year....Im sure the print will make a real hit with everyone....Thank-you....Linda Herwig

What Is Love Canvas
By
Linda B.

(Edison, NJ) - October 1, 2009 (
See all reviews by this customer
)
Beautiful colors in picture and even nicer in person!

Love it
By
KIMBERLY M.

(BELTON, MO) - December 13, 2009 (
See all reviews by this customer
)
My husband got me one of these with part of his vows that he wrote to me on our weddding day....so i just got him one with the vows i wrote for him...and we love them both. we have the smallest size and have no problems reading it.

FANTASTIC GIFT!!!!
By
YOUSI C.

(OKLAHOMA CITY, OK) - February 28, 2010 (
See all reviews by this customer
)
I got this for my boyfriend's and I first year anniversary, he loved it, he put it up on his wall the minute he got home, but before he did he showed it to his mom and she also loved it, I chose to write my own poem, the finished work looked wonderfull, it looked so profesionaly done and so expensive; he kept asking me how and where I did it, he even said that he didn't know you could do something like this. I will be buying from you guys again for sure, and soon, Im very satisfied with my purchase and the delivery time. LOVE YOU GUYS.....

Awesome Gift
By
Trevor W.

(Toledo, OH) - March 1, 2010 (
See all reviews by this customer
)
This canvas art turned out great, much better than I expected.
I used my own poem for this and it looks fantastic, the recipients of my gift are going to love it!
Thank you personalization mall, great gift for sure.

Our anniversary
By
Hannah S.

(Chandler, AZ) - January 9, 2010 (
See all reviews by this customer
)
I purchased this canvas for a present for my fiance on our 1 year anniversary. I chose the format where I could create my own saying and let me say... it turned out beautifully! I would recommend this site to anyone wanting to say and personalize your thoughts in any way. The quality of the work, cost and time it took to recieve were exceptional. My fiance was so surprised with the quality but the fact that I wrote what was important and special for me, to him. We have it hanging in our room and needless to say, he and I both love it!

30th Anniversary Gift to my Husband!
By
Maria L.

(Orlando, FL) - February 11, 2010 (
See all reviews by this customer
)
I ordered the larger size,framed with our wedding song and I can't wait to give it to him. I never though to have something so personal done on a canvas and it came out beautiful.

Mrs.ML


WEDDING
By
joyce M.

(charlestown, IN) - February 1, 2010 (
See all reviews by this customer
)
I RECEIVED THE BEAUTIFUL CANVAS ART. THIS IS A WEDDING GIFT TO THE COUPLE. THEY ARE GETTING MARRIED ON A BEACH,I THOUGHT THIS WAS A VERY APPROPIATE GIFT TO THE COUPLE. I AM VERY PLEASED WITH THE QUALITY AND I AM LOOKING FORWARD TO SHOPPING WITH MALL PERSONALIZATION IN THE FUTURE.

BEAUTIFUL
By
Jeanne L.

(Malden, MA) - February 1, 2010 (
See all reviews by this customer
)
I just received my order and I love it. It really goes nicely in the living room. The quality of it is great. It is not made cheaply. I got the one with the frame and it is really nice. I would definitely order again. It also came very fast. Within a couple of days from when I placed the order, it was at my door. I am very happy with my order.

Love this product
By
Jennifer N.

(Elizabethtown, KY) - February 17, 2010 (
See all reviews by this customer
)
This product turned out absoultely perfect I would really recommend this product. I bought this for my husband as a Valentines Day/Anniversary present and he absolutely loves it.

What an impressive gift!
By
Sharon R.

(Clayton, CA) - February 20, 2010 (
See all reviews by this customer
)
I ordered two (at the same time) of the 16x24 sized artwork w/out a frame. This size is more than generous and would possibly order smaller if not looking for a centerpiece sized item.

They arrived in 7 days from the date of order. Everything printed accurately and nicely (I chose the write your own option to use another bible verse).

I am off to the Wedding shower today and look forward to the bride's reaction as she was proposed to on the beach! The second one is for our 15th wedding anniversary and I put the lyrics to our first dance on it. It will bring us right back to that wonderful day each time we read it!

Definitely a wonderful gift!
By
Katelyn M.

(Land O Lakes, FL) - December 23, 2009 (
See all reviews by this customer
)
I purchased a 16 x 24 of this canvas art, and personalized it with my mother and father's name and the date of their wedding. I cannot wait until Christmas when they open it! It's definitely a wonderful gift, and was exactly as depicted on the website. This is the second item I have purchased from Personalization Mall, and I will continue to do business with them in the future!