Memorial
By
Shopper

(Lake Forest, CA) - December 12, 2013
A very touching sentiment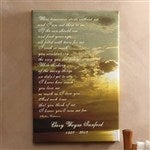 Memorial
By
Shopper

(Franklin, IN) - April 13, 2013
This is an excellent gift for someone that has suffered a loss. It is something they can hang and have in their home for years to come. It is in such colors that goes in every décor.

Very Comforting
By
Shopper

(Carnation, WA) - January 18, 2013
Due to reviews posted concerning the legibility of the small canvas, I opted to purchased the 12" x 18" Sunset Memorial Canvas. The recipient said that it was very legible and she liked it and found it comforting. Others who saw it were impressed with how nice it was.

Worth every penny
By
Diana R.

(Armagh, PA) - December 4, 2012 (
See all reviews by this customer
)
Excellent service....Fast shipping.....Thank you so much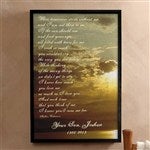 Sunset Memorial Canvas
By
Shopper

(Roseburg, OR) - October 21, 2012
The special note we typed for inclusion with the gift was not included. Recepient told us that they looked everywhere to see who sent this gift but couldn't find a note or our names. We had typed a nice note but if it was included it was well hidden. We didn't purchase a card because none were correct for this sympathy occasion.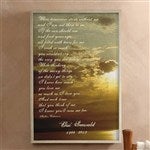 EXCELLENT IN EVERY WAY!!
By
Karen R.

(Moundsville, WV) - September 8, 2012 (
See all reviews by this customer
)
THIS IS THE BEST PLACE TO GET A PERSONAL GIFT TO SPECIAL PERSON AT A VERY REASONABLE PRICE AND SHIPPING IS SUPER FAST. IT IS JUST A GREAT SITE AND THIS MEMORIAL CANVAS MAKES THE BEST GIFT FOR SYMPATHY THAT I HAVE EVER FOUND!! I HAVE SENT 3 OF THEM JUST THIS SUMMER AND I HAVE EVEN BOUGHT THE SMALL ONE AND THEY ARE GREAT TOO!! I WOULD RECOMMEND THIS AS A GIFT FOR ANYONE!! GREAT SERVICE!!

Nice
By
Shopper

(Lorton, VA) - May 21, 2012
This was very nice. It was purchased for a friend who lost a loved one. I sure he will love it and reflect on the memories.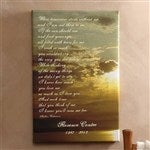 Sunset Memorial--Terrific!
By
Steve S.

(Marysville, WA) - January 1, 2012 (
See all reviews by this customer
)
I purchased the Sunset Memorial for my Mother-In-Law, who lost her new husband. It was shipped quickly, looks terrific, and M-I-L loves it. Also, there was an error that I made, which was taken care of at no cost to me, by the great customer service staff. Thank you, Personalization Mall!

Such Service!
By
Lisa M.

(South Park, PA) - December 16, 2011 (
See all reviews by this customer
)
I purchased this memorial canvas and a personlized card for my mother as a gift of rememberance, on behalf of my father that passed away earlier this year. I was shocked when they were at my doorstep 3 days after I placed the order! Both the canvas and the card were perfect and i am certain my mom will treasure these items forever. I highly recommend Personalization Mall.com and I will certainly return for any personalization I need in the future.

Well Liked.
By
Shopper

(Cookeville, TN) - December 13, 2011
It was a very hard item to purchase. But I was pleased with the way it turned out.I especially was pleased with the quick delivery.Service was great.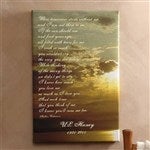 Wonderful Gift
By
Shopper

(Lexington, SC) - July 27, 2011
I ordered the print on Thursday and received it on Monday. Wow, what a great turn around time. I'm very pleased with my order and will recommend Personalization Mall to others.

Sunset Memorial Canvas
By
June B.

(Old Orchard Beach, ME) - May 13, 2011 (
See all reviews by this customer
)
Bought two of these. They are so beatifull. If you lost a loved one. This is very comforting.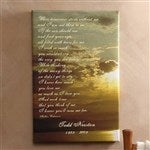 HOW BEAUTIFUL
By
Shopper

(Staten Island, NY) - April 3, 2011
I purchased this canvas in memory of my newborn son that passed away 5 months ago. It was the most beautiful thing I have ever seen. I ordered the 24" x 36" and the size was perfect for the space. I will definitely order from Personalization Mall again....thank you.again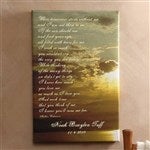 Perfect for the loss of an unborn child
By
Shopper

(Fairview, PA) - January 4, 2011
My best friend lost her baby during the final month of her pregnancy. How devestating! During a time when you can't find the right words to say, but you know you want to say something, the Sunset Memorial Canvas said it all. Of course it made my best friend cry, but they were appreciative tears. She said it was beautiful, absolutely beautiful and that she couldn't thank me enough for it. The personal inscription with the baby's name and date of transition just added the special touch to make it that much more special. I would HIHGLY recommend this gift to anyone.

pleased with my order!!!
By
Loretta K.

(Welsh, LA) - September 30, 2010 (
See all reviews by this customer
)
I'm glad I accidently stumbled across your web-site,i am pleased with my "Sunset Memorial Canvas" and the prompt service you gave.I recommend it to anyone looking for a nice gift. Thank you!!

MY HUSBAND'S BEST FRIEND
By
PATTI M.

(BELEN, NM) - April 29, 2010 (
See all reviews by this customer
)
Your work is just amazing. This could not have been more
fitting. My husband's best friend of 26 years had passed away. His wife was over-joyed when we presented this to her, and the children.
Thank You
Sincerely,
Patti Moore

canvas art memorial
By
Nancy B.

(Orland Park, IL) - November 19, 2009 (
See all reviews by this customer
)
Beautiful memorial. Mounted nicely on canvas, easy to frame. Shipped quickly.