Grammar
By
Lois K D.

(Suwanee, GA) - August 30, 2014 (
See all reviews by this customer
)
I was disappointed, maybe because I misunderstood. I thought I could correct the grammar in the framed part. "Birthday" should not be capitalized and it should be followed by a comma. So when I submitted my entry, I started with the correct version of that. Unfortunately, the bottle I ordered ended up with two "happy birthdays", the first one incorrect in the frame and the second one on the line below correct. So the text is redundant and contains a grammatical error. Grr! In our family, that is not cool.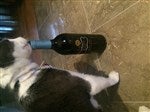 Outstanding
By
Rainer V.

(RAINIER, WA) - June 7, 2013 (
See all reviews by this customer
)
The engraved bottle I bought for my mother's 90th birthday is gorgeous, she is going to love this so much. Thank you, well worth the price.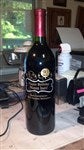 Great gift for a wine enthusiast
By
Julie R.

(Port Saint Lucie, FL) - April 28, 2012 (
See all reviews by this customer
)
I was not sure what to get for my sister who was turning 50. She enjoys wine with her husband, they even made their own vintage. I googled gifts for people turning 50 and was lead to this site. I am sure glad i was because she really thought this was a cool gift. She took a pic and posted it to facebook to show her friends what her little sis got her. So I know she liked it but she has not tried the Merlot yet, says she's letting it settle.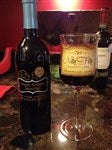 30th B-Day present
By
Wendy J.

(Barrington, IL) - February 5, 2011 (
See all reviews by this customer
)
It is such a creative gift. It is for my daughter. She can keep the bottle forever. You always want to give something that they will have forever and remember the day. This is it!!

One of a kind
By
Shopper

(Jackson, MS) - May 28, 2011
I got this as a gift for a special Birthday. It was the perfect one of a kind gift to remember that special person.

Love the art work
By
Shopper

(Miramar, FL) - June 1, 2011
Had it for my niece's 21st birthday, everyone loved it, it was actually pass around for all the guests to see. Delivery was prompt

Amazing gift and awesome timing of delivery
By
Sayed A.

(Richmond, VA) - April 15, 2011 (
See all reviews by this customer
)
The gift was wonderful. Although I ordered it very late, they were able to deliver it right on time without extra charge. You will really enjoying doing business with this site.

Incredibly unique
By
Tami S.

(Warren, OH) - February 28, 2011 (
See all reviews by this customer
)
Wow, what a great job. It should be a unique and memorable gift. The quality is superb. Thank you very much. Highly recommended.

Perfect Present for the hard to buy for
By
Shopper

(Hot Springs National Park, AR) - February 12, 2011
I have a client that "has everything", if she wants something she gets it. This makes it tough for present time. This bottle was the perfect gift for those that are hard to buy for. It arrived with in perfect condition and absolutely gorgeous. The detail is excellent and I can't wait to give it to her.
The shipping was incredible. I had the bottle in a week.

Fantastic Gift
By
Shopper

(Lake Delton, WI) - March 21, 2011
I just ordered this for my mom's 50th birthday and it was such a great purchase. I couldn't be happier! She is going to love it. It's a very classy and special gift!

great birthday gift
By
Shopper

(Bogata, TX) - July 13, 2011
I got this for my dad for his 50th birthday because he loves wine. He absolutely loved it. I looked at it before I gave it to him to see how nice the bottle looked and it was great. He hasn't opened it yet to taste it because he wants to save it. It's a great gift for wine drinkers.

50 birthday review
By
HERBERTA O.

(SAN BERNARDINO, CA) - August 6, 2011 (
See all reviews by this customer
)
The bottle was a big hit with the party goers. My son loved the bottle because the inscription was made into the glass on the bottle and not a tatoo. He refused to open the wine to share with others. He plans to keep the wine forever.

Absolutely wonderful gift
By
Kathy P.

(Powell, OH) - December 12, 2011 (
See all reviews by this customer
)
gift arrived as described, beautiful presentation.

Top of the Line Product
By
Shopper

(San Jose, CA) - June 25, 2011
I got this gift for one of my coworker's birthday. I loved it when he showed it to me. The design was top-of-line. It was beautifully handcrafted; so professional! In addition, I was absolutely pleased with their delivery service. The item says it takes 7 days to deliver so I ordered it exactly a week before his birthday (I was having it shipped to his workplace), but I was bummed when, at check-out, it said to "allow an additional 3-5 days for shipping." Well, the wine bottle got to our workplace in 6 days, so it gave me time to wrap it up :) I highly recommend doing business with this website as I was absolutely pleased with the quality of the product and their service.

Unique and pleasing, with great service!
By
Ron A.

(Deptford, NJ) - June 6, 2011 (
See all reviews by this customer
)
I bought this for a female attorney friend of mine, who like many women is very hard to buy for. She loved it and gave it very high marks. Phew! I ordered a tad late, and not that I would expect it, they delivered prior to the 7 days they needed to produce.

A special different gift
By
Patricia P.

(Pawling, NY) - June 13, 2011 (
See all reviews by this customer
)
Quality etching makes this a great gift to give. I'm looking forward to giving this to my father for his birthday, a man that has everything and I struggle every year trying to find him something different. I can't say for certain on the quality of the wine itself, but the bottle with my own personalized message will be something he will cherish.
Thank you to this site for helping me find that something different I was looking for!

Great quality and Unique, just a bit pricey
By
Shopper

(Scottsdale, AZ) - June 18, 2011
The quality was great, it looks great and I'm sure will be appreciated when given as a gift. I think it's a bit pricey, but bought it anyway as I was looking for a gift for a hard to buy for family member's 60th birthday and wanted something unique. I wonder it they'll drink it or just save it??

Great product
By
Shopper

(Warren, NJ) - August 31, 2012
This was great, got there right on her birthday, put it up on Facebook, and everyone loved it. Definitely a cool present, especially for a 21st

Great Keepsake gift
By
Shopper

(Kennewick, WA) - January 27, 2013
I was looking for a unique keepsake gift, and this fit the bill. I was very satisfied with the finish product when it arrived. I was disappointed during the ordering process to find I couldn't use a symbol as a part of the personalization (I suggested they indicate that on their page). Also disappointed that I took the time to write my thoughts for the gift card and it was left out. This was a bit spendy, not sure if I would re-order.

Very nice. Where's the gift card?
By
Joseph S.

(Fayetteville, NC) - April 1, 2013 (
See all reviews by this customer
)
This was a gift for gf 26 birthday. She loves it. The only issue was the long message I wrote did not get sent for some reason. She loves collecting cards so that was only bad part. Other than that, it's a nice gift.

PAY ATTENTION
By
Angela C.

(Chicago, IL) - May 4, 2012 (
See all reviews by this customer
)
I BOUGHT THIS AS A BIRTHDAY GIFT AND I DIDN'T PAY ATTENTION THAT THE WINE BOTTLE ALREADY HAS HAPPY BIRTHDAY IN THE ENGRAVING AND I HAD IT PLACED ON THEIR AGAIN IN THE MESSAGE :-(
WELL, FEELING BAD THAT I HAD MESSED UP THE GIFT, I ASKED SEVERAL INDIVIDUALS AROUND THE OFFICE WHEN THE GIFT CAME AND THEY LOVED IT! THEY EVEN WANTED TO KNOW WHERE I ORDERED IT FROM. I NOW FEEL BETTER BECAUSE I KNOW THIS WILL BE A GREAT GIFT TO RECEIVE.

I DON'T HAVE A PHOTO TO SHARE BECAUSE I HAD THIS GIFT WRAPPED ALREADY. THE BIRTHDAY IS TODAY (05/04/12). I'M SO EXCITED TO GIVE THIS GIFT.
THANK YOU PERSONALIZATION FOR PACKAGING THIS GIFT JUST RIGHT AND FAST DELIVERY.

Looks Good
By
Melissa D.

(Hazelwood, MO) - June 14, 2010 (
See all reviews by this customer
)
I purchased this for my mother in laws 60th b-day. It is very nice and professional, but when it came it said 60 Year not 60 Years which I thought was weird. I am still working on this with customer service.

Recipient was very excited!
By
Karnika C.

(Aurora, CO) - December 17, 2011 (
See all reviews by this customer
)
I purchased this gift for a friend for her 30th birthday. I had it wrapped in a wine container but when she took it out, her jaw dropped. She thought it was the most amazing and thoughtful gift ever! The wine however, the Cabernet Savignon (I hope I spelled that correctly), was not appealing to the party. It was a very dry red wine and I think they were expecting a sweet red wine. I wish there were more wines to choose from. That's why I gave it 4 stars!

Birthday Wine
By
Shopper

(Atlanta, GA) - February 28, 2012
My uncle was very pleased with the personalized bottle of wine. He hasn't opened the Merlot yet, so I can't say if he liked the wine yet.

JBL
By
Jan L.

(Flower Mound, TX) - February 1, 2010 (
See all reviews by this customer
)
Great gift! Especially for milestone birthday. It was the hit of the party and something she will keep forever, even after the Merlot has been enjoyed. I am ordering more soon...just such a delightful way to celebrate those special occasions! Thank you Personalization Mall!

Birthday Wine Bottle
By
Lucretia P.

(Belleville, NJ) - December 1, 2010 (
See all reviews by this customer
)
I ordered the bottle with the balloons, my husbands name, age and a quote..the bottle was etched beautifully!!It is a gift you can keep forever.

21st birthday
By
Shopper

(moorestown, NJ) - January 28, 2011
the wine came in a very timely fashion and the artwork on the bottle was beautiful. I was looking for something unique for this very special bithday and our first celebratory drink together.

Better than expected
By
Bryan W.

(Vicksburg, MS) - January 26, 2010 (
See all reviews by this customer
)
Ordered this for a friend. I left the friend's age off of the bottle on purpose. A representative from the company called to confirm my design before it went to production because of this. Great customer service! I am very impressed with the design and detail of the bottle engraving (no labels here!). I am very tempted to order one for myself. Best of all was the shipping. I was told 10 business days and it arrived in 6!! I'm sure my friend will LOVE this!

Personalized wine bottle
By
Shopper

(Jacksonville, NC) - September 4, 2013
This bottle of wine looks great. I would've rated it 5 stars but I didn't get to taste the wine...it was given as a gift... So I made it 4 stars. The engraving is very nice!

Excellent Personalization
By
Miriam C.

(Jacksonville, FL) - August 19, 2014 (
See all reviews by this customer
)
Ordered this for my Daughter's 35th Birthday she loved the bottle the wine was pretty good also.

Great Gift Idea
By
Courtney H.

(Lockport, IL) - October 9, 2009 (
See all reviews by this customer
)
I bought this for my friends birthday and it was such a great gift. I thought it was going to be a label and the bottle came engraved. She has not opened it- and keeps it out on display.


Well Done!
By
Kelly K B.

(Little Rock, AR) - November 16, 2012 (
See all reviews by this customer
)
The quality of the personalization is well done. Very elegant.

Great keepsake
By
Tom L.

(Kirkland, WA) - November 19, 2012 (
See all reviews by this customer
)
Very nice and elegantly engraved bottle, haven't opened the bottle so not sure how the wine is, but the bottle is beautiful and the recipient loved it.

Personalized 40th Birthday Wine Art - Baloons
By
Elaine C.

(Dartmouth, MA) - February 16, 2013 (
See all reviews by this customer
)
We wanted something special for our son's 40th b-day. This bottle of wine was scripted so awesome, it was more than we expected. We were so pleased! It is such a gorgeous gift. It was a bit pricy, but worth every cent. Thanks for a memorable keepsake!!!

Awesome b-day gift for a 21 year old!
By
Shopper

(Walton, KY) - November 6, 2012
I had many compliments on my gift to my 21 year for her b-day! She loved it as well for a keepsake. Have others now interested in getting this for their children when their special day comes!

Personalized Wine Bottle
By
Jenni W.

(Hatfield, MA) - September 9, 2012 (
See all reviews by this customer
)
I was so happy with this product. And my friend was absolutely speechless. I was so glad I ordered it.

Great Birthday Gift!
By Shopper (Rantoul, KS) - September 22, 2012
I have purchased 2 of the personalized wine bottles for 60th birthday gifts for girlfriends, and not only was the wine tasty, but the girls loved them! I was able to personalize them with very special messages. Love it!

Wonderful and Unigue Gift
By
Virginia M.

(Brick, NJ) - October 28, 2012 (
See all reviews by this customer
)
This is the 2nd time I purchased this bottle of wine as a special birthday gift. Both times the recipients went wild over it. Main reason was it was personalized and not just with a label but actually etched into the glass. Price was a little high but no more then a nice size bouquet of flowers. This is something though that will last alot longer. I don't know how good the wine inside tastes because neither person wants to open it. When and if they do, I will add that onto this review, if not than when I order my next bottle hopefully. The only downside to this purchase was that they never enclosed the gift card I had written, so that my recipient took awhile to find out it was me who sent it. Hopefully it was just an oversight and at least for this instance, it worked out. Other than that, everyone involved was completely happy with this purchase. Thank You

Lovely gift
By
Shopper

(Maynard, MA) - May 10, 2013
I purchased this bottle for a friend's birthday and weeks later, she is still raving to everyone about it!

Beautiful Presentation
By
Jim P.

(Houston, TX) - November 19, 2013 (
See all reviews by this customer
)
We were looking for a unique and memorable gift for our Son's Birthday and found the Art Wine Bottle on line. It is expertly done and makes a wonderful gift. Our selection was the balloon design since it offered a place to put the age of the recipient. We added crystal red wine glasses to complete the presentation. I highly recommend this as a special gift to someone who enjoys wine and gifts showing thoughtfulness and uniqueness.