Any Season Gift
By
Shopper

(West Boylston, MA) - January 11, 2013
The first ornaments I ordered were nicely cut, but the underlying wood was so light you could barely read the inscriptions or see the designs. I contacted Personalization Mall, submitted a photo, and they sent me replacement ornaments that were perfect!
This ornament can not only be used for Christmas, but anytime for that avid hunter in your life. It is not embossed in green or red, so it fits in with any decor. You can have whatever you like cut out, not just a name. The year is already on there so I had the actual date of their successful hunt, as well as Doe/Buck cut out on the bottom. Every hunter loved them!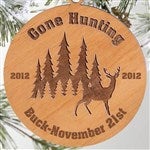 Beautiful ornament
By
Shopper

(Hernando, MS) - October 29, 2012
The ornament arrived in great condition in a beautiful velvety bag. The engraving was flawless and it was exactly as I had specified.

Great Ornament
By
Shopper

(Leominster, MA) - December 23, 2011
This ornament came out great. Going to make such a great gift. Creation and shipping time was super fast.

Loved it
By
Shopper

(Derry, NH) - December 14, 2011
I ordered this for my husband and I was very pleased with how it came out

"In the woods" ornament
By
Shopper

(KINGSTON SPRINGS, TN) - December 13, 2011
This is a great ornament that fits the sentiment I am conveying. Thanks for this option with the wonderfully carved effect. Thanks!

wood ornament
By
Shopper

(Middletown, CA) - November 30, 2011
Great wood ornament, love how I can personalize everything. Great gift for anyone:)


christmas ornament
By
judy S.

(annandale, MN) - November 20, 2011 (
See all reviews by this customer
)
I ordered the Gone Hunting personalized ornament for my granddaughter and it is beautiful! Very well crafted with excellent detail. I will be ordering more next year!

wonderful Christmas gift!
By
Michael H.

(Birmingham, AL) - December 31, 2010 (
See all reviews by this customer
)
I got this for my brother-in-law who is an avid hunter on his leisure time. He absolutely LOVED this and is going to use it year-round (e.g. leaving it out at work when he's off). Thanks so much!

The gift is of good quality (light but not cheap wood), the engraving is seemingly all uniform (it doesn't look like his name was added after the fact). I've never been dissatisfied with anything from this website, and they've never failed to disappoint once again.

Highly recommend
By
Christina S.

(Charleston, IL) - December 28, 2010 (
See all reviews by this customer
)
Wonderful addition to our tree. My son and daughter took their first hunting trips this year and we wanted a ordament that would symbolize this for years to come. I looked at many but seemed cheep, this one looks exactly like it does on the site and our kids couldnt be more proud to see it on the tree. Thank you for quality work :0)

Good quality
By
David H.

(Pascagoula, MS) - November 30, 2010 (
See all reviews by this customer
)
Very pleased with ornament. Better quality than I even expected. Nice addition to my grandson's ornament collection.

hunting
By
Janet S.

(Cape Coral, FL) - November 9, 2010 (
See all reviews by this customer
)
This is for my son. He enjoys hunting so this is so perfect for him. It is so cute......and manly which of course he will appreciate.

Nice gift to make a memory.
By
Gary K.

(Lake Havasu City, AZ) - December 17, 2009 (
See all reviews by this customer
)
Nice way to start a new tradition for my son and grandson

Ornament
By
Sharon S.

(Steubenville, OH) - December 7, 2009 (
See all reviews by this customer
)
I purchased this for my niece and her boyfriend for a Christmas gift. I gave it to them early so they could hang it on their tree. They really like it and it fits into their decor as they decorated their tree in a deer hunting/sportsman's theme. A friend of theres saw it and also ordered one for a Christmas gift.

Hunting
By
Shopper

(Chardon, OH) - December 19, 2011
I buy this for my son and it was very good quailty. I would recommend it.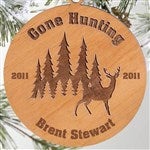 gone hunting ornament
By
Denise U.

(Chillicothe, OH) - December 8, 2010 (
See all reviews by this customer
)
This was not my first purchase of this item. Each year I purchase a special ornament for family members marking an accomplishement or special meaning. Love it because it marked the year too. What a great way to recognize my son's first hunting season & my nephew's last year. Both enjoyed it so much! A real treasure to add to the tree.

Thin and cheap looking
By
Fran U.

(Austin, TX) - January 11, 2010 (
See all reviews by this customer
)
I was embarrassed and disappointed by the thinness of the wood, the laser etching did not have as much contrast as the picture. This ornament has less quality than the other ceramic ornaments I purchased.