Perfect little snowman!
By
Carrie C.

(Salem, VA) - December 3, 2013 (
See all reviews by this customer
)
I ordered this as a gift for my nephew. I was very pleased with the ornament when it arrived.
Please note, if you're giving this as a gift, it arrived in a cute velvet-ish bag, but the bag says PersonalizationMall.com on it. Not liking that so much. Of course, I didn't pay for the gift wrapping so .. maybe I should've. Just wished the bag didn't have a logo on it.
Other than that though, love the ornament.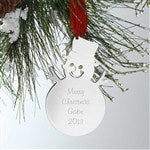 VERY CUTE
By
Barbara E.

(Fox Lake, IL) - December 1, 2013 (
See all reviews by this customer
)
THIS ORNAMENT IS MADE VERY WELL AND IS A GOOD SIZE. I WOULD ORDER THIS AGAIN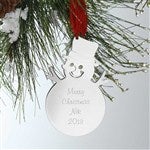 Very pleased.
By
Karen L.

(Casa Grande, AZ) - November 8, 2013 (
See all reviews by this customer
)
Exceeded my expectations. Very nice quality. Will not tarnish. I will be buying more of these in the future!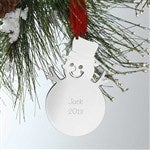 Very Nice Quality
By
Shopper

(Newark, OH) - November 7, 2013
We ordered this ornament as our son's 1st Christmas ornament and we are very happy with it. The metal is strong enough that it will not bend or break if dropped and the engraving is nice enough that you can see it clearly. The red tassel to hang it from is a nice touch. The ornament also comes in a nice little bag for easy storage. Very pleased!

Such a cute ornament
By
Shopper

(Cloquet, MN) - October 27, 2013
I've been buying ornaments from this company for quite a few years now. This one along with all the others will surely be loved.

Great holiday item!
By
Shopper

(Columbus, OH) - December 17, 2012
Makes a charming holiday gift for anyone! Highly recommend.

Engraving was crisp and clear
By
Tinesha J.

(Des Moines, IA) - December 17, 2012 (
See all reviews by this customer
)
This product looks exactly like the picture. There are times that you order these things from other vendors and you can barely see the engraving. Not the case here, beautifully made and well worth the money.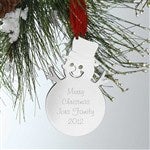 Beautiful
By
Shopper

(Thornton, CO) - December 13, 2012
Such a simple and beautiful ornament! Love the engraving font used. This was perfect for our daughters 2nd Xmas ornament!

brilliant
By
margaret K.

(bellerose, NY) - December 7, 2012 (
See all reviews by this customer
)
A very special ornament for anyone, it is cute and nicely done

grandchild
By
Shopper

(Bloomfield, CT) - November 28, 2012
I love snowman! I was very excited that you had a silver-plated snowman ornament. My grandchild will also love it. I hope you offer this ornament for a long time. I would love to order this again for more grandchildren.

Silver Snowman Personalized Ornament
By
Shopper

(Great Bend, KS) - November 17, 2012
Each grandchild gets a personalized ornament from Personalization.com each year. They are always a perfect way of saying, "WE love you".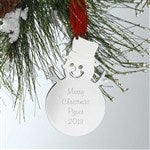 My favorite ornament!
By
Shopper

(Naples, FL) - November 6, 2012
I ordered a few different personalized ornaments & this one is my favorite! It came out very pretty and is shiny and easily read.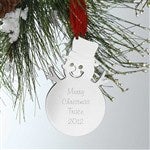 Great Keepsake
By
KASI G.

(ABBEVILLE, GA) - November 6, 2012 (
See all reviews by this customer
)
I ordered this same snowman for my first child, so I had to get one for my second. My grandmother always had silver engraved ornaments on her tree for each of her grandkids and I felt like this one would carry on that tradition. It did not disappoint!! The quality is great, easy ordering process, and I like that I can see the finished product before purchase.

Beautiful ornament
By
Shopper

(Hernando, MS) - October 29, 2012
The ornament arrived in great condition in a beautiful velvety bag. The engraving was flawless and it was exactly as I had specified.

Becoming a Family Tradition - great quality for a keepsake
By
Shopper

(Hampton, GA) - October 28, 2012
My grandson was born on Christmas Day, so engraving a "happy birthday" on the Christmas snowman each year is a special way for him to celebrate both... This year marks his third birthday (thus the third ornament) and I plan on keeping the tradition going each and every year ... I may have to "order ahead" to make sure this ornament isn't discontinued at some point! :o)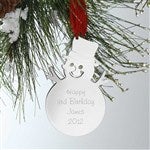 Love this item!
By
Shopper

(Pleasant Prairie, WI) - October 16, 2012
This product is the perfect size! I love snowmen and this ornament is adorable. It is a good quality too, not cheap looking at all. I highly recommend it!

nice quality!
By
Jennifer O.

(Hopewell Junction, NY) - August 2, 2012 (
See all reviews by this customer
)
We usually go to the engravably yours place in the mall and spend $15 for the ornament, then like 25 cents per letter, extra $ to have a nice font, have to wait a few days then come back with receipt and hope they got it right. (always something wrong) This was the same nice quality and less then 1/2 the price! I am sold on getting our yearly ornament here from now on! Even comes with a nice felt baggie! Thanks Personalization Mall!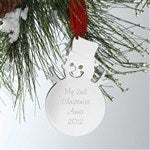 xmas ornements
By
Shopper

(Fort Lauderdale, FL) - August 1, 2012
Each year I purchase xmas ornaments for my grandchildren.
I try to get each one the same ornament (3) and this site is super fast with shipment and the quality has been excellant.

Perfect
By
Michelle G.

(North Pole, AK) - January 24, 2012 (
See all reviews by this customer
)
This is a great ornament for my son thanks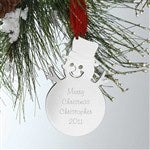 Awesome
By
Carol N.

(Belleville, NJ) - January 20, 2012 (
See all reviews by this customer
)
This is the second time I purchased from Personalization Mall, and I haven't been disappointed. I love the look and clean cut of the ornaments I've purchased plus the eloquent packaging it comes in. I will be visiting Personalization Malls' website often to find just the right gift at great prices.

Adorable keepsake
By
Jennifer M.

(Kalamazoo, MI) - January 16, 2012 (
See all reviews by this customer
)
I bought this ornament for my nephew's son, who celebrated his 2nd Christmas with us this year. I bought everyone else personalized ornaments at the store, but they didn't have this little guy's name (Kaden) available. They love this ornament and the way it preserves a memory of Christmas this year for our almost 3 year old angel!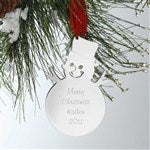 Ornament for Nora
By
Shopper

(Great Bend, KS) - January 15, 2012
I've decided to give my granddaughter a personalized ornament each year. PersonalizationMall.com will help me do just that:)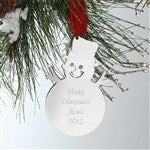 Great Gift Idea
By
Jackie D.

(Stanford, KY) - January 14, 2012 (
See all reviews by this customer
)
What a great gift idea, I suggest this item to anyone looking for gifty gift.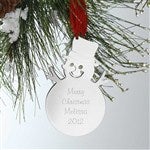 nice ornament
By
Shopper

(Yarmouth Port, MA) - January 9, 2012
nice quality, prompt delivery, great price-I ordered this for next Christmas

First Christmas
By
Shopper

(LONG BEACH, CA) - December 31, 2011
I ordered this as a gift to my niece. I thought the quality was great and it made for an excellent keepsake for her. The customization was great, too.

So cute!
By
Shopper

(Worcester, MA) - December 28, 2011
This ornament arrived exactly as I expected! The font is big and easy to read, and the ornament is really cute! I would definitely order this ornament again.

snowmwn ornaments
By
Shopper

(Buckhannon, WV) - December 28, 2011
They were of great quality. The engraving was wonderful shipping turn around was quick. Thank You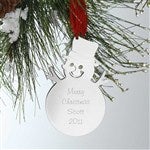 awesome gift
By
Shopper

(Austin, TX) - December 27, 2011
I gave this ornament to family and they loved it. Not only was it shipped right away - my brother asked me where I purchased it because he thought it would be great to give as a gift. It was inexpensive and personal. Definitely recommend this!

Snowman
By
Shopper

(Levittown, NY) - December 25, 2011
for the daughter's BF loved it


Perfect
By
Shopper

(Everett, WA) - December 21, 2011
I have been shopping for a while for a "My First Christmas" ornament for my son. This was perfect. It is adorable and, most important, not breakable! It will last for years and years, probably forever. And it says exactly what I want it to say. Also, I think the snowman's face looks better in person than it does in the picture. The only negative is that the tassels that came on the ornament string are not tied on and they come out very easily. I just pulled them out all together, and I prefer the ornament without them.

silver plated snowman ornament
By
Shopper

(seattle, WA) - December 13, 2011
very pleased with the quality of the product! i bought them for new grandsons as "my first christmas" ornaments. also, they were shipped/received quickly- very good service.

it would be lovely to have more choices, i.e.,reindeer, candy cane, stocking, or such in sliver plate made just like this snowman.

Great Keepsake
By
Shopper

(Carrboro, NC) - December 9, 2011
It's a lovely keepsake ornament. It is a nice weight and size, and the engraving was done very well. I'm very pleased with the result.

Great quality
By
Shopper

(Rockwall, TX) - December 2, 2011
We order something similar every year for friends. Great quality. Will not break or bend.

Also Perfect
By
Shopper

(Wyoming, MI) - November 29, 2011
2nd one I've purchased - Great job - looks great and seems to be good quality.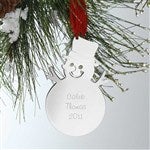 Our Tradition
By
Shopper

(Yuba City, CA) - November 28, 2011
My husband and I give our grandchildren an engraved (with name and date)Christmas Tree Ornament every year. We can always count on Personalization Mall to have just what we need. This is our fourth year ordering from Personalization Mall. We usually get our items within just a week after ordering. Thanks P.M.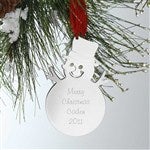 Nice sized...use smaller font
By
Donald I.

(Fulton, NY) - November 26, 2011 (
See all reviews by this customer
)
I love this ornament....brilliant silver and a good size, however the font that was used is much larger than the preview picture shows. My grandsons name appears crowded. So other than the font issue, I am very happy with the product.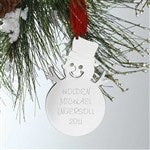 silver snowman
By
Shopper

(West Des Moines, IA) - November 14, 2011
I loved the snowmen, engraving was perfect. My grand daughters will love them! Speedy delivery too.

Just beautiful
By
Cheryl C.

(Wilmington, DE) - January 10, 2011 (
See all reviews by this customer
)
The item arrived and looks just like the image online. The engraving was very nice as well. I was amazed at how fast the order was completed, shipped, and received. This site has given me some wonderful ideas for future gifts.

priceless
By
Shopper

(BALTIMORE, MD) - January 9, 2011
What a wonderful ornament. The personalization made it a special gift to my godchild.

wonderful, thank you!
By
SUZANNE B S.

(HARLEYSVILLE, PA) - January 3, 2011 (
See all reviews by this customer
)
I can tell you, I WILL save your website for future use. You are wonderful to deal with. In the middle of the Christmas Holiday my friend had a grandson and you came through for me.

I love the Snowman and will order more in the future, thank you. ss