Baby Gift
By
Joyce M.

(San Antonio, TX) - December 28, 2011 (
See all reviews by this customer
)
We started a tradition where my husband works of getting these elephants when a member of his staff had a baby...
We also got one for each of our two children. They are great as a keepsake or a plush toy to play with!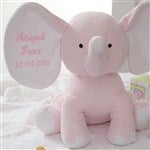 Pink Elephant
By
john S.

(Menomonee falls, WI) - December 19, 2011 (
See all reviews by this customer
)
I needed a graduation present for a collage grad who likes elephants.I had the schools name ,year,and her name put on it.It turned out better than I could imagine.It is priceless.Thank you.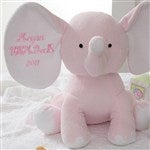 Too Cute!
By
Shopper

(Grand Forks, ND) - December 7, 2011
I have ordered one of these elephants for a second time, one for each of my neices and they are just so darn cute and durable! It is a great keepsake that will last years and years. I will continue to purchase these for any new additions to our family :)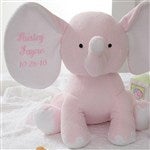 Awesome
By
Tonya C.

(Walkersville , MD) - December 4, 2011 (
See all reviews by this customer
)
Got this elephant for my niece as a personalized gift, it is so cute, I love it and I am sure any child will love it too!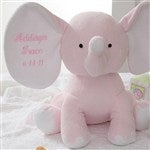 Blue Elephant
By
Evelyn J.

(Horn Lake, MS) - October 10, 2011 (
See all reviews by this customer
)
Ordered this cute fellow in blue and it was the perfect gift for the new born I bought it for. The embroidery was perfect too. It came in a timely fashion and I will olrder from this company again.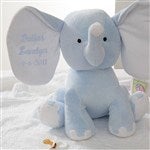 The Perfect Baby Gift
By
Shopper

(Bellingham, WA) - September 17, 2011
This is the most darling elephant! Big size, very plushy and so, so cute. Something to display and then save for years to come. Very high quality! It is the second time I have ordered this for a new baby, and both have just loved it. I would order this over and over again for every new arrival!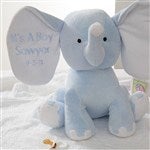 Exactly what I expected
By
Shopper

(San Antonio, TX) - August 15, 2011
This is an adorable toy and comes exactly as you would expect. It is plush, presents beautifully, and the personalization on the ear is a great feature. I am very happy with the product and the transaction.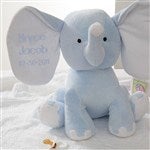 Simply Irresistible
By
Chris W.

(Columbus, GA) - August 13, 2011 (
See all reviews by this customer
)
The item arrived exactly as personalized on your site..My girlfriend will love this on her birthday. You guys are awesome!!! Thank you so much! I will recommend to all my family & friends!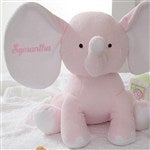 My toddler's birthday gift
By
Lindsey B.

(Houston, TX) - July 29, 2011 (
See all reviews by this customer
)
My 2 year old daughter is in LOVE with elephants at the moment so I found this item and thought it would be perfect!! On the ear, I had embroidered "Happy 2nd Bithday Bailey!" It arrived in a timely fashion and it is SO adorable and a really nice size. The elephant looks a little funny due to the huge ears, but if it wasn't like that you wouldn't be able to see the embroidery and besides that the big ears are kinda cute!! I absolutely LOVE this and my daughter will too! :)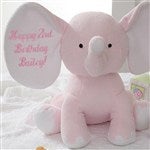 Great grandchid baby Shower
By
Bonnie G.

(Memphis, TN) - June 27, 2011 (
See all reviews by this customer
)
This was a hit, because I collect elephants and this gift was so adorable! Everyone knew it was from me, but when they saw the name on the ear all of the ohhs and ahhs spoke loudy about the love of the idea. I will always give this as a gift.

Best buy ever!
By
Shopper

(lexington, AL) - May 26, 2011
I gave each grandaughter one of these, one pink and one blue at their baby shower. They were the hit of the shower.Would recommend these to one and all for shower gifts.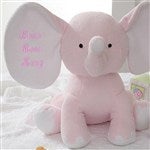 Great!
By
Shopper

(Marshall, TX) - May 2, 2011
This elephant arrived better than expected love it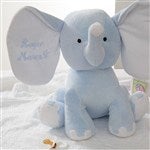 New Baby Niece
By
Emily M.

(Chippewa Falls, WI) - April 12, 2011 (
See all reviews by this customer
)
Great gift! I never expected the elephant to be so large, especially based on the price! I will definitely order from this website again, as I have a wedding coming up next year and have already found the perfect wedding party gifts.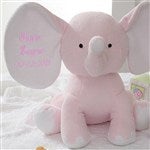 Grandson's Elephant
By
Shopper

(Katy, TX) - March 21, 2011
Super soft! Great buy, very well made, delivered time and date it was supposed to, packaged in a plastic bag and since it was blue it was tied with a blue bow. The engraving was also awesome. Very well done. Very cute. I was very impressed with everything. This web site is awesome on all the things I have ordered from them. Great quality stuff! Would very highly recommend this site to anyone!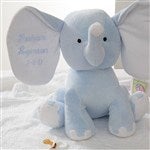 Cute, Soft and Wonderful!!!!
By
Norma N.

(Esperance, NY) - November 18, 2013 (
See all reviews by this customer
)
This elephant is adorable and I am very pleased to be giving it as a gift.
The embroidery is beautifully done. It is so soft and precious I am sure it will be loved and that makes me feel good - happy I purchased it.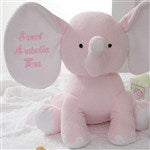 Absolutely adorable!
By
Shopper

(Martinsville, VA) - September 15, 2013
I didn't realize how cute and big this elephant was until I opened it - and those ears are even bigger. Absolutely adorable!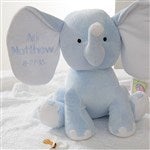 Absolutely Adorable!!
By
Eileen B.

(Philadelphia, PA) - August 31, 2013 (
See all reviews by this customer
)
I ordered this elephant for a girlfriend and was super excited when it arrived. They wrapped it so the ear was showing with the beautiful writing and they even put a pretty pink ribbon on it. The size was just as large as the picture made it seem which made me even more happy about the price I paid. I was so satisfied with this purchase, when my other girlfriend had her daughter, I had to order her one as well!!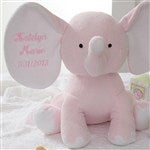 Pink Elephant
By
Jean D.

(Chatham, NJ) - August 30, 2013 (
See all reviews by this customer
)
This is adorable. In the picture it shows the ears sticking out so you can read the personalization. I couldn't get them to stay out so the ears were flat and unless you turned the elephant sideways you couldn't read the name. Otherwise it's perfect.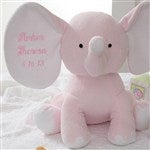 Great baby gift!
By
Diane S.

(Bluefield, VA) - August 26, 2013 (
See all reviews by this customer
)
I did not see this gift in person, as I had it shipped to the recipient. But I received a picture and it is adorable.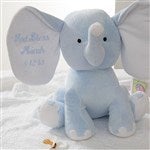 just what i ordered
By
Shopper

(Clayton, NJ) - July 8, 2013
have ordered these before and everyone loves them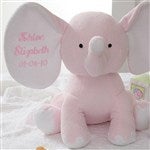 Perfectly adorable!
By
Brittany C.

(Monrovia, IN) - June 21, 2013 (
See all reviews by this customer
)
Some coworkers and I wanted to find a special gift for our friend and his wife to celebrate the birth of their little girl. We personalized this nicely-sized, extra soft, pink elephant with their daughter's name and birth-date. They both loved it! His wife loved it so much that she wanted to re-do their family pictures they had just taken so the elephant could be included. This gift is highly recommended!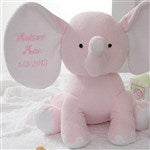 Always terrific!
By
Shopper

(West Bloomfield, MI) - June 19, 2013
I have ordered this item several times for a baby gift. Each time, the parents tell us how much they love this item.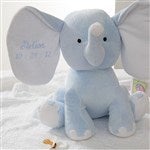 monagram elephant
By
betsy M.

(boynton beach, FL) - May 16, 2013 (
See all reviews by this customer
)
really happy! was bigger than I thought, and excellent quality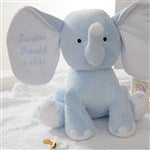 My go to gift for a new baby
By
Courtney C.

(Clifton, NJ) - April 1, 2013 (
See all reviews by this customer
)
I love this elephant! Whenever someone has a baby this is automatically what I send. Everyone who has received it loves it! It's super cute and ships very quickly. I highly recommend it!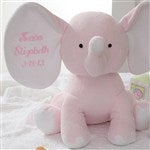 Pink Elephant
By
Shopper

(Schaumburg, IL) - March 30, 2013
I have given this gift to all new babies that have come into my life. Every parent loves it and says it will be treasured keepsake.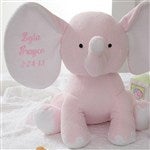 gift for girlfriend
By
Michelle M.

(Naples , FL) - February 4, 2013 (
See all reviews by this customer
)
My son's girlfriend loves elephants and when I showed him this elephant he loved it. We thought it would be smaller however was pleasantly surprised how big it was. The only reason why I did not give it a 5 star was because I could not put any symbols on the elephant. My son wanted to put (&) instead of a plus sign he used.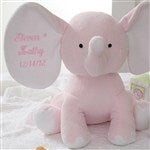 Adorable!
By
Bonnie L. W.

(Bedford, NH) - February 3, 2013 (
See all reviews by this customer
)
This is the second time I have ordered this adorable elephant for a new baby gift! It is the cutest thing, and the quality is great. The lettering is large and easy to read. I will order again when another new baby arrives!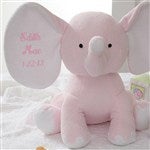 Perfect!
By
Shopper

(Sunman, IN) - December 18, 2012
This elephant is so cute! And much bigger than I expected it to be. I am expecting another grandson in January. I will be buying one for him as well. Perfect!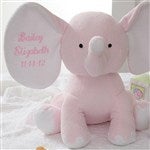 Adorable baby gift
By
Shopper

(Greenville, SC) - December 16, 2012
I have ordered many of these as baby gifts over the years, and everybody just loves them. I highly recommend this product, and I always know what I am going to get as that perfect baby gift.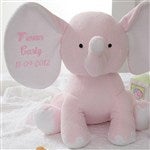 Precious Elephant
By
Shopper

(branford, CT) - December 9, 2012
Loved the little guy. It was much larger than expected, very well made and the personalization-perfect. Highly recommend and will probably give again in the future.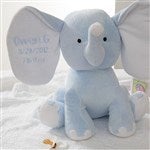 It's a GRET GIFT.
By
Andrew T.

(Windber, PA) - November 20, 2012 (
See all reviews by this customer
)
this is the 2ns one we bought as a gift. These are so soft and babies love them. Makes for a very special gift. You will love it.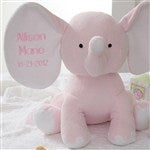 Just perfect ! ! !
By
Monika S.

(Linden, NJ) - November 13, 2012 (
See all reviews by this customer
)
So happy with the purchase. Couldn't have been better and the elephant is just adorable :-)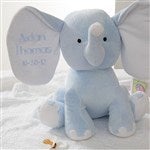 perfect baby gift
By
Shari F.

(Fridley, MN) - November 11, 2012 (
See all reviews by this customer
)
I have purchased 5 of these elephants, (2 pink and 3 blue) all have been perfect. They are a great new baby gift. I have gotten super feedback with each gift. They are a unique way to celebrate the birth and be a lifelong keepsake.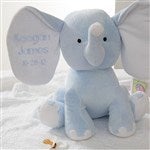 AWESOME!
By
Shopper

(Bonney Lake, WA) - September 10, 2012
This is so perfect! Bigger than what I thought and so soft! I can't wait to give it to my friend at the hospital when Evelynn is born! She will love it too!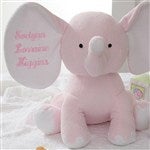 Perfect Gift!!
By
Shopper

(Bexley, OH) - August 3, 2012
I bought this for my niece when she was born with her name and birthdate on the ear. Her parents absolutely love it and I know she will too one day! It is very soft, not stiff like some stuffed animals can be... and it is Soooo adorable! I would definitely recommend this product to anyone. I have already been asked several times where I got it. I have bought many different items from this site and they have all been exactly what I wanted!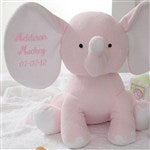 So cute!
By
Lindsay T.

(Martinsville, IN) - August 3, 2012 (
See all reviews by this customer
)
I bought 1 for my 1st daughter 3 years ago and course had to get 1 for baby sis. They are super cute and I picture them having them for many years to come, what a great keepsake.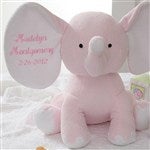 baby elephant
By
edna M.

(dryden, VA) - May 9, 2012 (
See all reviews by this customer
)
I loved it and im sure my grandbaby will lovr it too.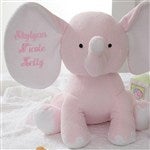 Tough Grader
By
Shopper

(Ringwood, NJ) - April 13, 2012
Very nice item. Cute, nicely made, packaged attractively and ready to be given. I'm partial to personalization. I feel it makes an item (if it is a good item) extra special and a keepsake.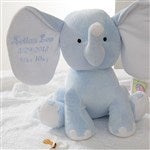 Big, Cuddly & Good Quality
By
Diane D.

(Plano, TX) - March 23, 2012 (
See all reviews by this customer
)
Had this shipped to me in another city. It arrived quickly (as all my PM shipments have!) and was packed nicely. I was glad to see that if I send items as a gift, they would be packed well with an unobtrusive packing slip. The adorable, soft, big and cuddly elephant was wrapped in a cello bag with a blue ribbon and ready for gift giving. My niece, and especially my 7 month old great nephew, loved it! He was attracted to it's big size and softness, and played with it for an hour before giving any of us attention again. The embroidery came out just as entered, was nicely stitched and looked great.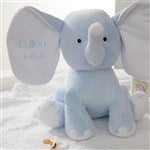 Lovely present!
By
Theresa B.

(Huron, TN) - March 8, 2012 (
See all reviews by this customer
)
This was a baby shower gift for one of my best friends. Her nursery is jungle themed so this was the perfect present! She received hundreds of presents, and this was the stand out piece! Everyone was asking me where I got it made. Now, I know that you could probably buy a stuffed elephant and get the ear embroidered cheaper somewhere else, but I really don't think you could ask for better quality for the price. The elephant was sturdy and gorgeous, and the embroidery was thick and pretty. I am VERY satisfied with my purchase... and so is my friend! :)
I would also like to add that I ordered my stuff at about 5 p.m. on a Monday night , and it arrived on Wednesday!! And I did the standard 5-7 day shipping! Personalization Mall has ALWAYS been my number one choice for personalized gifts- beautiful prices and QUICK delivery! I have ordered several items and have NEVER been disappointed!
I know this isn't the best picture.. it's a little blurry, but you can see the approximate size and how well the embroidery stands out on the ear. It also comes packaged like this straight out of the box (wrapped in plastic wrap and tied with pink ribbon).