Perfect gift!
By
Lisa R.

(Port Ewen, NY) - August 1, 2012 (
See all reviews by this customer
)
Great quality, shipped faster than it said it would, good size, excellent tin.

Fast and Helpful Customer Service
By
Miranda S.

(Houston, TX) - April 29, 2012 (
See all reviews by this customer
)
I used a picture that is square-shaped, unlike the shape of the puzzle, so I sent customer service an e-mail explaining that I would like to keep the image in it's original shape if possible. Right away I got an e-mail in return asking me if it was okay for them to fill in the extra space with black so as not to ruin the picture by cropping it. The puzzle did not take nearly as long as they said it would to arrive, and it was perfect! The personalized tin is really awesome, too!

Great Present!
By
Amanda S.

(Hampton, VA) - February 25, 2012 (
See all reviews by this customer
)
My boyfriend and I love to do puzzles together so this was the perfect gift for V-day! He loved it, and we both had fun making it, overall a great present. I was also worried the photo quality might not be the best but it turned out great.

Wonderful puzzle
By
Shopper

(Cambridge, MA) - February 8, 2012
This is the second puzzle I have ordered from PersonalizationMall.com as a gift & both times I have been delighted with the products, as I received feedback from my delighted recipients & saw the final result.

Perfect Gift!
By
Shopper

(Auburn, WA) - January 17, 2012
This is the perfect gift for puzzle lovers! the quality was great, and my grandma LOVED IT. I was also impressed with delivery, I wasn't expecting it for 2-3 weeks, and it arrived in less than one, just in time for Christmas :)

Puzzle & Tin
By Shopper (Austin, TX) - January 5, 2012
There are numerous personalized gift sites. The concept is repeatable, and each not much different than the other. Hence, what makes this one stand out? That personalized tin is just great! I don't know if anyone else does it, but I know some don't. The puzzle (our doggie) was wonderful, but it's largely a one-timer. Maybe we shellac it and hang it up, but it's done.

My daughter, however, loves the tin with the same photo of our beloved doggie. She uses it for all her keepsakes, and is proudly displayed by her bed. A really nice twofer, as far as I'm concerned.

Also, the ordering process, communication with the customer, and product delivery were flawless.

Will order from these folks again without hesitation.

Great transaction
By
Casey G.

(Grand Forks, ND) - December 24, 2011 (
See all reviews by this customer
)
Excellent product. Great service. My original order arrived damaged but a couple emails and two days later I had a new one!

Perfect Photo Puzzle
By
Shopper

(trenton, MI) - December 21, 2011
This photo puzzle was amazing! The clarity was good and the picture on the tin holder was an added plus. Highly recommend!

meaningful gift
By
Shopper

(Grand Island, NY) - December 18, 2011
I was was very pleased with the customized puzzle, I ordered my my dad,. Would highly recommend this item for an unusual but thoughtful gift.

Photo Puzzle
By
melissa K.

(Olmsted Falls, OH) - December 15, 2011 (
See all reviews by this customer
)
This gift was a HUGE hit, perfect for the elderly recipient.....an activity and a momento all in one!

My Dad will LOVE this!
This is a Christmas present for my Dad. He's an avid jigsaw puzzle enthusist so I didn't want to get him a puzzle with large pieces. I needed it to have at least 500 pieces to be a challenge for him. That's how I stumbled across PersonalizationMall.com.
I did a web search and looked at all the reviews for each company I found. It looked like so may people were happy with their products that I'd give them a try. I am SO glad I did.
The metal tin is a wonderful way to present this puzzle. Not only will he have a puzzle to work but a beautiful package to display. There were some little tiny dings on a couple of places on the tin but I didn't think they were worth worrying about. The puzzle pieces were nice and thick and comparable to nice quality puzzles I've purchased in the past.
All the other products I ordered from this site were in excellent shape and I will be ordering several things from here in the near future. Thanks for helping me get the perfect holiday gift this year!

What a great gift!
By
Shopper

(maplewood, NJ) - December 4, 2011
It was very nice to see that the puzzle quality is very good! I loved the fact that the picture of the puzzle is on the top of the tin box. A lot of other companies do not provide a picture of the puzzle with the actual puzzle, what makes more challenging to put it together. The only thing I didn't like very much was that the tin box is white on the sides, and I would prefer it was a natural silver color. Not a big deal.

Wizard of Oz Birthday Party
By
Evelyn C.

(Salem, VA) - November 30, 2011 (
See all reviews by this customer
)
The family gathered together over the holiday from three different states and worked this puzzle with every emotion known to man. The quality of the puzzle was excellent and the tin container will be a valued extra to store this treasured keepsake. A puzzle from this site is a great way to recall sweet memories as you work the puzzle over and over again.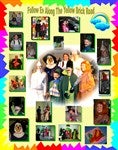 Better than imagined!
By
Kelly B.

(Fair Oaks Ranch, TX) - October 2, 2011 (
See all reviews by this customer
)
This photo puzzle is better than I could have imagined! The photo quality is amazing, and the tin it comes in is just as fabulous!! Seriously, the quality of the puzzle is top notch. I also received my order very quickly. I couldn't be more pleased. This is the first of many orders of products from this site. You won't be disappointed.

Vacation Puzzle
By
Maggie S.

(San Diego, CA) - August 2, 2011 (
See all reviews by this customer
)
I ordered this puzzle for friends of mine in Australia who had taken a trip to Canada and Alaska. My friend sent me one of her favorite pictures and I had your company create a custom puzzle to commemorate their trip. The quality is excellent and the turnaround time was amazing. I will definitely be using your company in the future for all of my custom puzzles. Thanks again!

Great gift.
By
Shopper

(Wheaton, IL) - July 19, 2011
We got a puzzle made from a picture of my father on his boat. It came out great. He loves puzzles and is going to love this. Thanks.

Perfect Anniversary Gift
By
Christina H.

(Brooklyn, NY) - June 13, 2011 (
See all reviews by this customer
)
I purchased this as a first year wedding anniversary gift for my husband. He loves working on gigsaw puzzles with me, and adding our own customized special photo made it that much more special and meaningful. I recieved it quite quickly and in excellent condition, well packaged. The quality of the product was great after examining it. There were no dents on tin container; photo on lid was great quality, print on puzzle pieces were better than I expected. Pieces fit beautifully. He was thrilled, to say the least. I would say this is a great gift idea for just about any occassion which is sure to bring a smile to anyone, and yourself.

Neat gift
By
Shopper

(Houston, TX) - June 13, 2011
This is truly a unique and personal gift, one that I would recommend to puzzle enthusiasts.

Amazing Gift
By
Noha H.

(Springfield Gardens, NY) - April 26, 2011 (
See all reviews by this customer
)
I received it sooner than I expected. The quality of the puzzle pieces is excellent, and the tin box is just amazing. All in all, I am pleased with this purchase and will recommend it to my friends.

Photo Puzzle and Tin
By
Joseph V S.

(Salt Lake City, UT) - February 14, 2011 (
See all reviews by this customer
)
The clarity of the puzzle is great and so is the clarity of the picture on the tin itself. The pieces of the puzzle are small but when you get it together it looks great. We bought this for a marketing presentation but when we received it one of the front office personal liked it so much she ordered a family picture puzzle for her mother.

The shipping time said 2 - 4 weeks.... wrong, it was received in less than 1 week.

Simply the Best!
By
Shopper

(rochdale, MA) - January 23, 2011
I have been ordering from Personalization Mall for 4 years now. They are always the best gift for the occasion and they quality and price cannot be beat.

Birthday Gift for a puzzle maniac
By
Deanne D.

(Placentia, CA) - January 1, 2011 (
See all reviews by this customer
)
It was the perfect gift for someone who had a birthday on New Year's Eve. It wasn't the usual gift and it showed that there was a lot of thought put into it. She loved it!

Jumbp 551 piece puzzle
By
Teresa R.

(Pembroke, MA) - December 29, 2010 (
See all reviews by this customer
)
Perfect!! Given as a christmas gift, everyone was impressed and pleasantly surprised with the puzzle and tin it came in. Perfect gift!

Great Puzzles
By
Elizabeth C.

(San Antonio, TX) - December 22, 2010 (
See all reviews by this customer
)
I ordered two puzzles that are gifts, so I have not put them together, but the tins look great! The pieces also have a nice quality to them! I am sure they will love them!

perfect holiday gift
By
michael S.

(flushing, NY) - December 22, 2010 (
See all reviews by this customer
)
I had "tricked" my secretary to email me the picture of her grand children that she obviously loved. It was her desktop wallpaper. When she got the tin with the puzzle she loved it. The tin alone with the picture was worth it

My only problem is how to match this idea for next year's gift

It looks like a winner
By
Janice K.

(Franklin, NH) - December 12, 2010 (
See all reviews by this customer
)
I love the puzzle tin with nice vivid colors in the picture of our granddaughters. It looks like a quality puzzle that will last for years.

Jumbo 551 - Piece Photo Puzzle & Tin
By
Anne C.

(Greensboro, NC) - July 29, 2010 (
See all reviews by this customer
)
We have not worked the puzzle yet, so I can not comment on its quality at this time. The tin looks fabulous and it arrived in just a few days. I am very pleased with the service and quality of Personalization Mall.com.

Unique idea
By
Krystal S.

(BAYONNE, NJ) - February 23, 2010 (
See all reviews by this customer
)
My husband and just got married and his birthday is on Valentine's Day. I thought this was a great gift the two of us could piece together. This is the largest puzzle they have on their site (meaning the amount of words) and he absolutely loved it!


Love it! Great Value Gift for any occasion!
By
Nacharee H.

(Jacksonville, FL) - January 6, 2010 (
See all reviews by this customer
)
we got it sooner than we were expected, that's good. It came with the tin box with our picture on it, it is like another gift besides the Puzzle. It was very easy to put the Puzzle together. The quality of the picture on the puzzle is great, not poor at all. Now, it is framed and hanging on the wall in my famly room. We were thinking of order more Photo Puzzle. Great Gift! Thanks

Photo Puzzle
By
Sarah J.

(Columbus, OH) - December 22, 2009 (
See all reviews by this customer
)
I bought the photo puzzle as a Christmas gift, so I haven't actually seen the puzzle, I didn't want to open the tin. If the tin is any indication, I'm sure the recipient will LOVE the puzzle! I am anxiously awaiting another Christmas gift I ordered for my sister, I can't wait to get the personalized stationery I got for her. My first order was back in August, a personalized cut-out mat/frame. I could not believe how fast I received it and it was perfect! I really like this website and would recommend it to others!

Awesome Gift
By
Darlene B.

(Homosassa, FL) - December 22, 2009 (
See all reviews by this customer
)
For the person (or persons) who has everything, this personal puzzle was just the ticket. The receiver was so surprised and loved the gift.

product review
the product looks good, however, I am in the process of purchasing it so I won't know until after I receive it.

FIRST ANNIVERSARY
By
David D.

(Georgetown, KY) - October 13, 2009 (
See all reviews by this customer
)
Paper is for the first anniversary. So I ordered a puzzle with our wedding picture on it. My wife LOVES it. The tin it comes in has the picture on it as well. Only problem is how to top this gift for our second anniversary.The quality of the picture is great, the quality of the paper puzzle is good, the tin is real good. This has been a great gift which she enjoys by putting together every once in a while.

Unique Commemorative Gift
By
Karen Marie J.

(Olney, IL) - October 8, 2009 (
See all reviews by this customer
)
RMH Foundation had puzzles made from a photo of the new addition at Richland Memorial Hospital - the photo came out GREAT on the tin and the puzzle.

Since we are making the item available as commemorative gifts for the project, it was important that they be well made and present a pleasing visual remembrance of the event!

Almost a 5 but not quite
By
Jeevan C.

(Canada) - December 27, 2013 (
See all reviews by this customer
)
the picture quality of the puzzle is great. i bought 3 and on two of the puzzles were not cut properly. some pieces have cut marks on them and on one of them its cut so bad that its actually missing a part of the piece; other than that no complaints.

Have them sent to your grandkids house!
By
Shopper

(Howell, MI) - February 8, 2012
I had three of these puzzles made and sent to my three grand childrens homes. They were photos of them with us. They Loved getting the surprise in the mail and the reminder of us. My older grandson (14) said the pieces were flimsy like a cheap puzzle but it was still fun. I would do it again!

Delivered as offered
By
Theodore C.

(Princeton, NJ) - December 29, 2011 (
See all reviews by this customer
)
I have not yet assembled the custom puzzle you made for me, but I really appreciate that you got the order done quickly and I had it for my daughter's Christmas morning. Thanks again.

very cute gift
By
Jennifer K.

(Scarsdale, NY) - February 18, 2011 (
See all reviews by this customer
)
I made the puzzle as a gift for my husband and it was a hit for my whole family. The tin is adorable and the quality of the color of the photo was great. I gave 4 stars because the overal quality was good, but I think over time the puzzle pieces are going to come apart, they are already coming up a tiny bit on some. But it has a good "wow factor" and it's worth the money.

Jigsaw Puzzle is a Great Keepsake!
By
Brent G.

(Minneapolis, MN) - January 7, 2011 (
See all reviews by this customer
)
I had a jigsaw puzzle made of our 7 cats (4 from the past and 3 current) for my wife's Christmas present. The puzzle itself was just right when it arrived, but the picture on the tin cut off a couple of the cats. However, the Mall's staff was very helpful in getting a replacement tin sent to me quickly - great customer service!!

Delivery of the puzzle was very fast, less than a week between order and receipt, even during the Christmas rush. A little on the pricey side, but this keepsake is going to be well worth it over time.

I rated 4 stars because some of the pieces weren't cut all the way through, and I had to carefully separate those pieces so as not to tear the picture. Overall, this was a great gift!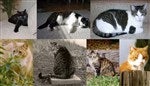 Phote Puzzle and Tin
By
Carolyn M.

(Plano, TX) - November 2, 2010 (
See all reviews by this customer
)
The first photo puzzle and tin we received had a damaged lid. It arrived in a large paper envelope instead of a box. I immediately contacted the company and felt like I was being given the run around. I was asked to photo the damaged lid which was impossible. After several e-mails assuring them that the tin lid was damaged and recapping their guarantee policy, I was told that I would be sent a new one. And I was. It arrived this time in a box and therefore was protected from damage. Anyway, I am satisfied! The idea of the photo puzzle is excellent and it is a good quality puzzle, not cheap. The tin is a great selling feature because the photo is on the lid. My only suggestion is that future puzzles be sent in a box, not a paper envelope. I can assure you that you will have more happy customers than not.