Pleasantly nice
By
Shopper

(Latrobe, PA) - December 5, 2013
We were very pleased with this item. It was reasonably priced and a nice design. The names that were printed on it was a bit light.. Would have preferred a darker color. It is a light weight afghan so can be used year round.

Warm her up
By
Shopper

(Harlingen, TX) - June 18, 2013
Afghan was a big hit with my wife on her 50th birthday. It just happened to match our bedroom comforter/sheet set perfectly. The only thing that was wrong is that one name was left off. I was personalizing this afgan online and called customer service for rush shipping and left off the name of my wife's pet "Louis". She was kind of hurt but she didn't want to return the afgan because it was "beautiful".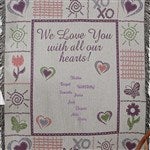 Great lap robe
By
Diane P W.

(Aiken, SC) - December 13, 2012 (
See all reviews by this customer
)
We purchased this for our mom who has Alzheimer's, not knowing if she would even know what it was. Had her immediate grand-children's names on it. I wish we could have put more names on it, as there was plenty of room, and I wish the names weren't in the light color. But when she saw it, her eyes lit up and she wrapped herself up in it like it was the best thing in the world. It was a priceless moment. We were so thrilled! Our sisters say she uses it every day now and won't use any other blanket. Thank you for such a great Afghan!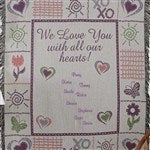 Beautiful
By
Kristy S.

(Fargo, ND) - July 10, 2012 (
See all reviews by this customer
)
I love the blanket. I ordered for my grandmas birthday and can't wait to give it to her. Reason for 4 stars would be that it came with a snag near the first name. I had to gently pull the snag to the top of the blanket which took an hour or so. Also there's so much space for the names that I wish they were a little bigger. Overall, this is a beautiful gift that I know my grandma will enjoy.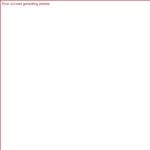 Beautiful
By
Shopper

(Las Vegas, NV) - May 17, 2012
This blanket is beautiful and the names came out amazing, love it. This is my second time in ordering one for my loved ones. Thanks

Mothers Day Gift to Grandma
By
Felicia W.

(Schenectady, NY) - May 15, 2012 (
See all reviews by this customer
)
This was a Mothers Day gift to "mema" from her 8 grandkids. It was a hit! She cried so many tears of joy. I was glad to see this very large blanket was also nice and thick for practical use and it seems it will last forever! Thanks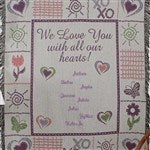 All Our Hearts Personalized Afghan
By
katherine W.

(new carlisle, OH) - May 14, 2012 (
See all reviews by this customer
)
I purchased two of these to be given to my mom and mom in law and personalized each and they fell in love with them.. thank you very much for making their day special!
Kathy

Very nice item!
By
Frances T.

(Snyder, NY) - February 27, 2012 (
See all reviews by this customer
)
This was purchased as a going away gift for a very dear friend. It was constructed very well. I only wish the embroidery of names could have been bigger and a deeper color to make them more vibrant. Other than this, it was the perfect choice for our group and a good price point.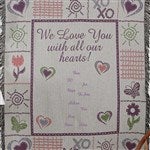 Good quality and well made. The detailing in the personalized names is good too
By
Yvonne B.

(Marshfield, MA) - December 20, 2011 (
See all reviews by this customer
)
I would recommend this item. The shipping was very quick too

Very Nice Throw
By
Shopper

(Birmingham, AL) - December 20, 2011
The throw turned out very nice. Shipping was very quick. My grandmom was very excited to see all the grandkids' names on the throw.

wonderful product
By
sheri S.

(twin falls, ID) - November 29, 2011 (
See all reviews by this customer
)
Purchased this for Grandma of 90 years old. I was happy with the quality and how big the throw actually is. My only suggestion is maybe allowance for a few more names to be embroidered on the blanket. I would recommend this to anyone having a hard time selecting a gift for someone who has everything.

good gift idea
By
Shopper

(Temecula, CA) - October 23, 2011
I bought this for my mother in law and I know she will love it since it's special and from all of us, but I do think near $50 is WAY too expensive. But... it is pretty and a nice gift. If you have less than 4 names I suggest putting in some fillers to take advantage of space... I put XoXoXo in place of a name because without it it looked to blank. This is a good order Spot one: Name Spot 2: Hugs and Kisses Spot 3: Name Spot 4: XoXoXo Spot 5: name or in-between every name XoXoXo. It looks really cute.

Personalized Afghan - All Our Hearts
By
Shopper

(Memphis, TN) - May 13, 2011
Since I'm only a mother of animals, I decided to give myself a present from them, lol! It's a nice afghan, but some of the threads near the names that are embroidered on it are loose. Be extra careful if you ever have to wash it!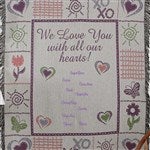 I'm very pleased!
By
Tammi H.

(Panama City Beach, FL) - December 21, 2010 (
See all reviews by this customer
)
I bought this to give as a Christmas gift for my best friend. I can't wait to see her face on Christmas Day when she opens the box. The only reason I didn't give it a (5) is because I thought our names should have been a little bit bigger and maybe a bolder color; but I understand they leave enough room for (10) names. Other than that, the blanket is large enough, heavy enough and says everything I want it to say. I would definitely buy it as a gift again.

We love you with all our hearts
to the best mother in the world,many tears were cried,and many laughs were done but you will always and forever be there for all of us

A great Mother's Day gift!
By
Jen L.

(Meridian, MS) - May 11, 2010 (
See all reviews by this customer
)
I ordered one each for my mom & mother-in-law. They both absolutely LOVED the fact that they can wrap themselves in this cozy afghan & think of all their kids & grandkids. I gave it 4 stars because I haven't seen the blanket in person yet so I can't vouch for its quality. My moms tell me it is nice, though.

Thanks for making such a memorable gift!

excellent product
By
Jamie R.

(Morgantown, IN) - December 5, 2009 (
See all reviews by this customer
)
nice afghan little high price but all in all nice.

GOOD STUFF
NICE GIFT