Happy Customer
By
Shopper

(Watertown, WI) - January 7, 2013
I purchased this mug for my boyfriend. He wanted something unique, so when I found this mug I was ecstatic! I had looked for other personalized items, but this mug seemed the best purchase for my money. Was I right! The mug arrived within a week of purchasing, much to my surprise. The pictures printed on the mug were fantastic! A great quality item for a fantastic price. I will be purchasing from you again. Thanks!

Perfect!!!
By
Shopper

(Boise, ID) - January 2, 2013
I ordered this for a friend last minute that lives out of state...I placed the order, had it shipped to him, and it was delivered on time. My friend received it, and the pictures were printed well and it was in one piece. Thank you for making a Christmas gift perfect!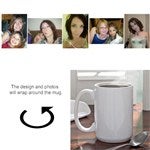 Perfect Photos
By
Kaia C.

(San Diego, CA) - December 26, 2012 (
See all reviews by this customer
)
Photos came out great on mug. The pictures were small but of great quality. You will not regret your purchase.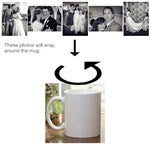 Beautiful personalization
By
Jane R.

(Warren, NH) - December 26, 2012 (
See all reviews by this customer
)
Love all the cups we received. One cup had a small chip but you replaced it no problem. The pictures on the cups were clear and the colors were beautiful. Every one who received a cup for Christmas absolutely loved them. Thank you so much.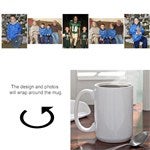 Photo mug perfect for the "all about me" teen
By
Shopper

(Indianapolis, IN) - December 22, 2012
The resolution on my daughter's pictures was excellent-even one shot in low light had good contrast, and the black-and-white effect was very elegant. For a 15-year old, is there anything better than making a gift all about her; I think she'll love the gift. (Now my husband wants one of his own!)

And I couldn't believe the delivery time -- the pictures were uploaded on a Sat. afternoon and it was waiting for me at home Tuesday evening. Really a great experience.

Beautiful product and super fast shipping!!
By
Stacey B.

(Toledo, OH) - December 20, 2012 (
See all reviews by this customer
)
I was looking for a photo mug to put in our family white elephant gift exchange. I looked online at MANY places, but all drugstores and local photo shops seemed to ship theirs out, so I decided to try Personalizationmall.com. I was NOT disappointed. I placed my order on a Saturday and had the mug in my hand by the next Wednesday! Amazing! It's beautiful and will be a huge hit at the gift exchange. Thank you for GREAT service!!! (The quick shipping is especially surprising as I ordered it two weeks before Christmas!)

Makes a Cup of Coffee Even Better!
By
Shawna D.

(West Chester, OH) - December 17, 2012 (
See all reviews by this customer
)
I ordered quite a few of these and I loved being able to personalize the pictures on the mug for each family member. I gave these gifts last year as Christmas gifts and they were such a hit, I decided to do it again this year. The pictures on the mug are very clear. The price is very reasonable and the delivery was very quick. Personalization Mall makes giving thoughful gifts so easy!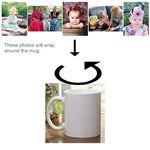 Beautiful
By
Sherry H.

(Lehighton, PA) - December 17, 2012 (
See all reviews by this customer
)
My mother in law always makes certain to mention that she doesnt have pictures of all of her 5 grandpups....well now she will have them in her hand every time she has her daily cup of tea! It is very difficult to find somewhere that you can put 5 pictures on a personalized item. I can NOT wait to see her face when she opens this on Christmas!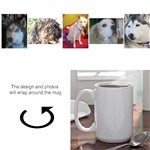 Always satisfied
By
Jillian S.

(Kennebunk, ME) - December 16, 2012 (
See all reviews by this customer
)
Mugs came out perfect just as everything else I have ever bought through this company

Awesome!
By
Katrina M.

(Albion, MI) - December 15, 2012 (
See all reviews by this customer
)
The photo mug turned out extremely well! I've ordered a lot of items from this store and every time they turn out top notch!!

Beautiful mugs
By
Shopper

(Hanover Township, PA) - December 14, 2012
These mugs came out great!!! I ordered 6 mugs total & I love all of them! I would recommend these mugs to all for a great gift or for yourself...

Great gift!
By
Shopper

(Saegertown, PA) - December 10, 2012
I loved this gift and the quality of it. The pictures came out great, were easy to upload and the mug is good quality. The perfect gift for my mom for the holidays!

Coffee or cocoa with loved ones
By
Shopper

(Warren, NH) - December 7, 2012
I absolutely love how well these cups came out. I have a set for each of my kids and 2 of my grandkids. Can't wait to see their faces on Christmas when they unwrap them.

awesome
By
Shopper

(Jacksonville, AR) - October 30, 2012
sent this to my mom of pictures of 5 of the greatest moments, she loved it!

I really love it!
By
Marlo M.

(Zachary, LA) - October 28, 2012 (
See all reviews by this customer
)
I love this mug. I love my children's pictures on it. It came out so good. I love drinking my coffee from this mug. Great product. Even my low quality pictures looked great!


Personalized Coffee Mug
By
Kathleen E.

(Valley Cottage, NY) - October 26, 2012 (
See all reviews by this customer
)
Great gift, pictures look great. I bought 5 all with different pictures and they're wonderful

Terrific Quality
By
Kea D.

(Canada) - October 22, 2012 (
See all reviews by this customer
)
I ordered two of these mugs last year for my parents, I liked them so much I desided to get this one for my daughters other grandmother this year. the pictures are good quality (I used all profesionally taken pictures)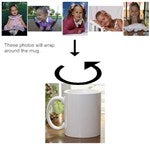 Parents loved them
By
Kea D.

(Canada) - September 12, 2012 (
See all reviews by this customer
)
I ordered two of these mugs for my parents anniversary last year, I knew the pictures would be small as I can see the sample mug, so I used good quality pictures and croped all un-nessasary background, the mug came out wonderful, I have a father who is hard to buy for and a mother who has everything, 5 pictures was great cause I could fit all my kids on it, I might be ordering more this year for my MIL and new ones for my parents with the rest of their grandkids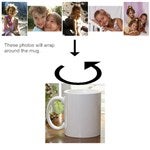 great
By
Shopper

(Owosso, MI) - August 24, 2012
ordered this as a last minute present arrived only 3 days after placing the order. Fast shipping. The mug looks awsome my picutes wernt the best quality but you cant tell that on this mug.

Heartfelt gift for your loved ones!
By
Kim M.

(Austin, TX) - August 2, 2012 (
See all reviews by this customer
)
A beautiful mug each time! This is the 4th mug I have purchased and have been amazed at the vibrance of the photos on each mug! I know this years Christmas gift for grandpa will be a special one! I would recommend this product to everyone.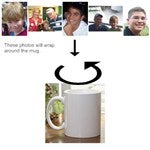 Great Mug for College Bound Students
By
Karen L.

(Spartanburg, SC) - July 31, 2012 (
See all reviews by this customer
)
I purchased 3 of these mugs. The most recent for my cousin, who will be heading to college this Fall. I placed photos that will remind her of home and of how much she will be missed. The others were for my mother and mother-in-law of their first grandson (our James). Pictures turned out great and they loved the mug!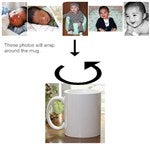 Awesome!
By
CAROLINA P.

(hialeah, FL) - May 24, 2012 (
See all reviews by this customer
)
This is so pretty and for everyday use. The quality is incredible and looks great. We made one with color pictures and one with black & white they both look great.!!! Will buy again and again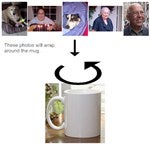 Perfect!
By
Brittani C.

(Canton, OH) - May 19, 2012 (
See all reviews by this customer
)
Small cup but pictures came out perfectly!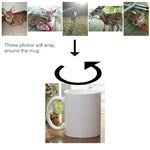 Great gift; photos a bit small.
By
Sherrie R.

(Bronx, NY) - May 15, 2012 (
See all reviews by this customer
)
I loved the gift. To "immortalize" memories on a mug that my grandparents will use every morning is great. I already ordered five different personalized gifts from here. The one tiny complaint (not really a complaint, more like an observation) is that the pictures were printed on so small compared to the space that was available length wise, but I suppose it's so to not obscure the photo. I didn't realize how small the photos would be on the mug. On the website, they look a lot bigger than the actual pictures on the actual item I received. But otherwise, it's absolutely the perfect gift and I'm so glad there is a business that immortalizes memories. My grandmother was overjoyed and thought it was the coolest gift. She is used to the mugs that put the actual picture behind a thin pane of plastic over a mug, that with after many washings, was ruined. This was definitely a treat for her. Thank you for making it possible!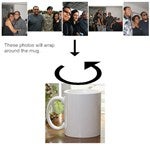 Fantastic Unique Gift
By
Brandi S.

(La Plata, MD) - May 13, 2012 (
See all reviews by this customer
)
This year was a big year for my mom. She's got her oldest moving out of college to start a career, and her youngest moving into college. So we wanted something so she always had her babies with her, but our family is...weird. After searching on several sites,this seemed like the best option. The mug was beautiful and the pictures were crystal clear. Thank you so much for making this Mother's Day so memorable. Definitely will be ordering from here in the future and recommending this site to family and friends.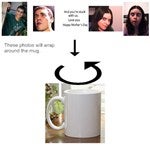 Collage for mother's day
By
Sandra S.

(Miami, FL) - April 21, 2012 (
See all reviews by this customer
)
I'm very happy with the collage. The pictures came out so clear. They did a great job.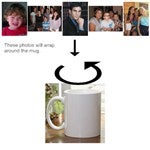 Huge Smiles!
By
Crystal P.

(Downey, CA) - April 17, 2012 (
See all reviews by this customer
)
I put 5 pictures of our beloved dog to give to my sister who moved out and can't see our dog as often. Since I was already ordering, I decided to also get one for my dad. Can't tell you how much they both loved it! Perfect quality, perfect gift! I love this website and have always been pleased with all purchases from start to finish!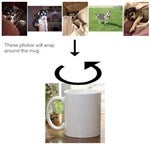 excellent gift
By
Shopper

(Pennellville, NY) - April 6, 2012
purchased for our Mom's and daughter. Personalization Mall has quality cups that, so far don't stain & crack like others. I love the selection. I come to this site for mugs.


Great Present
By
Shopper

(Atlanta, GA) - March 23, 2012
My sister and I designed mugs for our mom for her birthday and she loved them. The photos came out very well and mugs are well made.

great pics
By
Shopper

(streator, IL) - February 27, 2012
the mug turned out great. the color of the pictures were very bright and clear. great job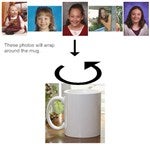 Great gift Idea
By
Shopper

(Lockport, NY) - January 23, 2012
Ordered this gift for my mom's birthday, great way to display her grandchildren while at work. She really loved it!

Great Grandparent Gift
By
Juliet T.

(Park Ridge, IL) - January 2, 2012 (
See all reviews by this customer
)
Looks professional, easy to put together online and you get to preview before submitting.

How you use the product
By
Shopper

(Cheltenham, MD) - January 1, 2012
This personalized coffee mug was a perfect gift! Extremely easy to order with my chosen photos. The recipient was pleasantly surprised by this gift, and stated that it will be a very useful and enjoyable gift for years to come.

Thanks for everything! Happy New Year!

wonderful gift
By
Michael K.

(Clarks Summit, PA) - December 31, 2011 (
See all reviews by this customer
)
The people who received this loved it. I found delivery to be quick and the product to be of excellent quality. Escpecially since it was a week before christmas that it was ordered.

Surprise!
By
Shopper

(Dowagiac, MI) - December 31, 2011
I purchased as a gift this yr. and used photos from facebook. The photos on the mug turned out GREAT! Needless to say this was worth it!!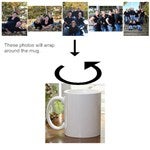 wonderful gift idea
By
Shopper

(Dayton, OH) - December 30, 2011
we ordered this as a gift. it arrived earlier than expected and it was in perfect condition. it was made and packaged with care! My first experience with personalization mall was a good one. we will definitely come back with more orders. :)

Excellent!!
By
Shopper

(San Jose, CA) - December 29, 2011
I ordered two mugs and they both turned out great! And they shipped in time for Christmas!

Good quality
By
Sara S.

(seattle, WA) - December 29, 2011 (
See all reviews by this customer
)
The photos look clear and the mug is solid- not much more to ask for :)

Cute cup!
By
Shopper

(Laredo, TX) - December 29, 2011
This became my sister-in-law's new favorite cup when I had pictures of her baby on it.

Product features
By
Shopper

(Fall River, MA) - December 29, 2011
The Photo Collage Personalized Coffee Mug exceeded my expectations. The photos that I chose to be placed on the mug were clear, the colors were perfect, there were absolutely no flaws at all, and to top it all, personalization was free! I will gladly recommend this product to family and friends and I will continue to be a customer for many years!