Great Gift!
By
Trisha L.

(Philip, SD) - December 19, 2012 (
See all reviews by this customer
)
Ordered 11 of these - 1 of each grandchild, for my parents. They all turned out great and are a good size. Can't wait to watch each child give their personalized gift on Christmas!

Love these!!!!!!!!
By
Shopper

(Burbank, CA) - December 10, 2012
Super Gifts!!!!!!!!!Thanks !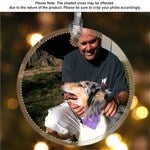 Such a cute ornament/keepsake!
By
Shopper

(Warrington, PA) - December 5, 2012
I am so glad I stumbled upon this ornament! It turned out so cute! I would like to do one every year! The only things that could improve this ornament are if the date (year) could be put on the back and perhaps if it were slightly bigger. Otherwise, it is well made and will be cherished for years to come.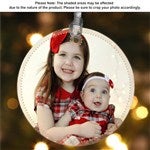 Amazing!
By
Marla S.

(Highlands Ranch, CO) - November 30, 2012 (
See all reviews by this customer
)
The quality is terrific. The clarity of the pictures is perfect. This will not be my last purchase of these beautiful, custom made ornaments. Love them!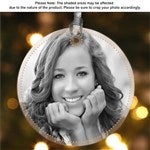 Precious Memories Photo Porcelain Ornament
By
Shopper

(Union, WA) - November 26, 2012
The ornament is really nice. It comes with a nice bag for storage as well. I am very pleased with the ornament.

Special Ornaments
By
Barbara M.

(Stafford, NY) - December 28, 2011 (
See all reviews by this customer
)
These ornaments made our tree extra special this year and I received many compliments on them. I would definitely purchase again.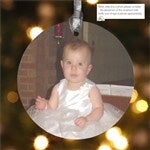 Girlfriends Christmas Dinner
By
Shopper

(New Castle, IN) - December 18, 2011
Every year the girls that I travel with get together for a Christmas exchange. Last year the resturant had a palm tree with chritmas lights. This made for a great photo for memory. I decided this year to take the photo and make all the girls a photo ornament for a table favor. The quality is wonderful and the presentation in the black velvet bag is second to none. I am completly 100% satisified and would recommend to others to make a lasting memory with family and friends with a photo gift ornamenet. The ornanment is made of great quality and is priced reasonable. I plan to make this an annual party favor to all the girls. Thank you for your pride and craftsmanship along with quick delivery. Merry Christmas to all at Personalization Mall.com Jo Mamma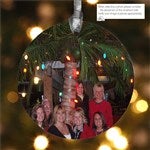 Very Nice
By
colleen L.

(jacksonville, FL) - December 31, 2010 (
See all reviews by this customer
)
These make very special little gifts, I ordered 5 total and everyone loved them. Good quality and makes a special but inexpensive gift.

Porcelain Ornament with Photo
By
April C.

(Centennial, CO) - December 21, 2010 (
See all reviews by this customer
)
I ordered one of these porcelain ornaments to bring my total up so I could get free shipping. I uploaded one of my favorite photos of my granddaughter. When it arrived I was so pleasantly suprised to see that the photo does not look stretched or altered, that it fits perfectly, and the ornament turned out really cute! I think I might have to upload some of my other favorite photos after Christmas and get some made of my own children when they were little. I think it would make a very nice addition to my Christmas tree. I love it!

Precious memories indeed!
By
Julia P.

(Swansboro, NC) - December 18, 2010 (
See all reviews by this customer
)
My second granddaughter was just born and her picture was put in the "A star is born" ornament. I didn't want my first granddaughter (8) to feel left out so I purchased the porcelain photo ornament and with the easy instructions given, I was able to pull up a picture of her from my photo library and had this baby picture put on. The picture covered the entire ornament and each time I see it with her beautiful smile, it is a Precious Memory.

Wonderful Gifts for Grandchildren
By
Margaret B.

(Wiggins, MS) - December 14, 2010 (
See all reviews by this customer
)
The photos are beautiful. I know the children will love them and can remember what they looked like in years to come.

Alex Photo Ornament
By
Dayna L.

(Bedford, KY) - December 10, 2010 (
See all reviews by this customer
)
Everyone fell in love with this ornament. This is our granddaughter's 1st Christmas and I will continue to order 1 each year to decorate my tree with and to see changes that she makes in growing each year. Great gift for grandparents, aunts, uncles, etc.

Great ornament!
By
Melissa B.

(Hanover Park, IL) - December 3, 2010 (
See all reviews by this customer
)
I should have used a better photo, as it had a slightly faded appearance. It still looks great though and no one else will probably even notice.... These would look even better I think, with a black and white photo. I order an ornament with my son's photo every Christmas from this site!

Round photo ornament
By
Shopper

(Bolingbrook, IL) - January 16, 2012
Love it! Wish there's part for font.

Sweet & Sentimental
By
Deena P.

(Las Vegas, NV) - November 10, 2010 (
See all reviews by this customer
)
We have a family tradition of an ornament gift each year so I purchased these for our two daughters 1st Christmas'. I used pics of them in Santa hats & "1st Christmas" onesies. They turned out adorable! I am extremely satisfied and I know our two daughters will appreciate them when they grow up. Even tho I knew the size prior to ordering, I gave it four (vs. five) stars as they are rather small; if they were just a little bigger I think they'd be perfect!

Memories
By
Patricia M.

(Howard Beach, NY) - November 5, 2010 (
See all reviews by this customer
)
This ornament is great to remember a special event of the year gone by. I used it not just for the face but for a special moment.

Nice item
By
Jane H.

(Suwanee, GA) - December 13, 2009 (
See all reviews by this customer
)
I like this a lot, but the ones that can add a few words at the bottom are even nicer. One suggestion would be to darken your photo slightly as the finished product is slightly lighter than the original.

photo ornament
By
Shopper

(Armonk, NY) - December 28, 2012
The picture that I edited came out very orange in the final product. Almost not acceptable.
Also, I would have liked to inscribe on the back, name and or date.

Picture ornaments
By
Yasemin T.

(New York, NY) - January 7, 2010 (
See all reviews by this customer
)
Ornaments were very cute, but the picture was very grainy

WAY TO DARK
By
Shopper

(Frederick, MD) - December 31, 2012
We were extremely disappointed in the ornament we ordered. It was an adorable picture of our grandson and his cat. We didn't intend to give this to him till he was grown up with a tree of his own. The ornament was not useable at all. Not only was it dark it was full of bumps on the surface. On the good side customer relations worked with us to our satisfaction. Everything we have purchased in the past has been first class.