Special Christmas Gift
By
Terri B.

(Fountain Valley, CA) - December 24, 2011 (
See all reviews by this customer
)
I love the Personalized ornaments. I ordered 2 of them with photos of special celebrations this year and they are really nice. The quality is very good and the photos printed on them beautifully. The ornaments are wonderful ways to remember special events or your children as they grow. They make fabulous gifts.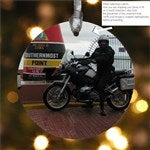 great item!
By
Shopper

(Midlothian, TX) - December 23, 2011
I ordered several of these for Christmas gifts, and they turned out great! Color is nice, much better if you have a high-resolution image. Wish you could add a msg on the back.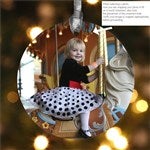 Photo Ornament
By
Michelle S.

(Temperance, MI) - December 23, 2011 (
See all reviews by this customer
)
I love this Ornament! I had a picture of my daughters and it turned out AWESOME! The quality is good, the picture is perfect. It is the perfect addtion to our Christmas tree.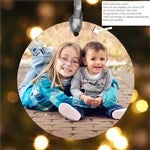 BIG HIT
By
DAWN C.

(COLUMBUS, OH) - December 22, 2011 (
See all reviews by this customer
)
My brother was estatic with the ornament! Will be doing it for everyone next year!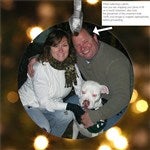 photo ornament
By
Shopper

(Franklinton, NC) - December 21, 2011
Turned out perfectly. Got here so fast!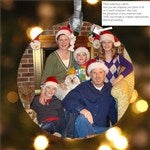 what a great gift idea
By
Mary M.

(Laurel, MD) - December 21, 2011 (
See all reviews by this customer
)
i ended up ordering over a dozen of these - got carried away after the first few arrived and i realized what a really great idea this is. ordered snapshots and this logo. the images look great and because they're so individualized i'm so excited for the people i ordered them for to get them! thank you, PM!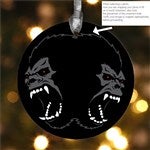 Excellent customer service
By
Shopper

(San Antonio, TX) - December 20, 2011
Excellent customer service, very nice quality item. I had a problem with one order and called customer and they solved the problem right away. The order arrived 3 days before I even expected it! I would order from them again....oh yeah....I did 2 more times in less than a week after my first ornaments arrived.
Thank you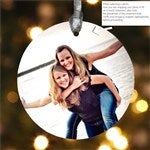 LOVE!!!
By
Alisen C.

(Ft Lewis, WA) - December 19, 2011 (
See all reviews by this customer
)
This is the 3rd year in a row we've ordered these ornaments (have also bought the one with the area to put words on the bottom). We LOVE these! We always have a Christmas picture of our girls put on it. The picture on the ornament looks just like the original photo and turns out just like the preview. We buy one for us and several more as gifts for immediate family. Everyone loves them and my grandmother hangs hers in the kitchen window year round. So happy to have found them on sale this year. Thanks PM!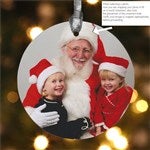 picture ornament
By
CYNTHIA J.

(REDLANDS, CA) - December 18, 2011 (
See all reviews by this customer
)
Very beautiful quality. New photos looked vintage on the ornament which I love.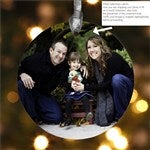 Beautiful!
By
Nicole A.

(Oakdale, PA) - December 18, 2011 (
See all reviews by this customer
)
I make one of these every year with my son's picture on it to give to the grandparents and great grandparents. We have never been disappointed! It is always a hit and they look beautiful on the tree. I also love how it comes with a nice velvet storage pouch.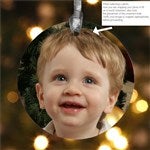 photo ornament
By
joann O.

(buffalo, NY) - December 16, 2011 (
See all reviews by this customer
)
I received this photo ornament fast, ordering was easy I order from Personization Mall every year at least $250.00 worth of items, everyone loves the gifts I give. and it looks like I spent alot, but I didnt! good quality, good picture on product. great for those hard to buy for people. this gift was for a friend who is hard to buy for, so I put his children on the ornament when they went to Thailand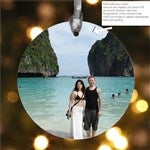 Quality Photo Ornament
By
ReGina J.

(Temple, TX) - December 9, 2011 (
See all reviews by this customer
)
This is the second year that I have ordered from Personalization Mall. Each year I order a photo ornament for my son and wife who are newly married. Last year it was of their engagement. This year it is of their wedding. The work is beautiful. I'm so pleased to give it as a gift. The turn around time is amazing. I will order every year!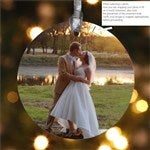 Nice Ornament!
By
Shopper

(Edmond, OK) - December 8, 2011
My ornament turned out pretty cute! This was a great gift idea for my boyfriend for Christmas! The resolution of the picture printed on the ornament could be better, but overall I am happy with it.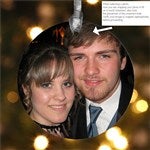 Wonderful Tree Ornament
By
Shopper

(West Orange, NJ) - December 7, 2011
A great rememberance of our dear parents who loved life and the holidays.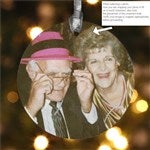 Photo ornament
By
Shopper

(Norman, OK) - November 29, 2011
Photo reproduced very nicely. I did make it a little darker before uploading it, and I think that's partly why it came out so well. Beautiful ornament!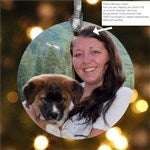 Granddaughter Ornament Beautiful
By
Barbara W.

(Snellville, GA) - November 19, 2011 (
See all reviews by this customer
)
I am so pleased with the ornament. I keep going back to Personalization Mall each year for their products. They are always beautiful.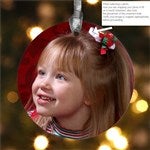 Great Job
By
James G.

(Lake Ronkonkoma, NY) - November 15, 2011 (
See all reviews by this customer
)
The 2 ornaments I ordered came separately wrapped in black velvet pull string bags. The photos looked great and the ornaments are great quality.
Great job, great value.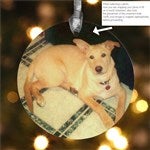 Personalized Photo Ornaments
By
Shopper

(Oak Hill, VA) - October 18, 2011
These ornaments are great and they have always turned out perfect for me. They make great "special gifts" anytime of the year!!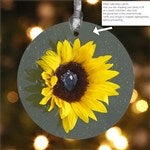 Beautiful
By
Jennifer G.

(Laconia, NH) - April 1, 2014 (
See all reviews by this customer
)
These ornaments will be used as favors for my December wedding and they came out beautiful. The company produces good quality products for a reasonable price and if there's a problem they will promptly and properly take care of it.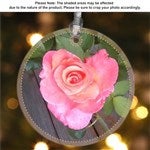 perfect!
By
Shopper

(Macon, GA) - February 21, 2014
The quality of both the picture and the ornament is great! Will buy again!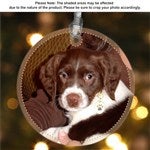 Beautiful Ornament
By
Christy B.

(Aurora, IL) - February 2, 2014 (
See all reviews by this customer
)
I love this personalized ornament. I used a picture of my son's first Christmas and the quality of the photo is great. The preview of the image was exactly what I received...I am very happy with this purchase.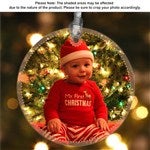 ornaments are keepsakes
By
Judith C.

(Union, NJ) - January 13, 2014 (
See all reviews by this customer
)
Everyone in the family has picture perfect ornaments thanks to PMall. Quality is excellent, pictures are clear, price is right. As our family grows, I order more and more ornaments. I am extremely happy with your products and your service.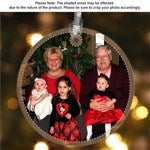 BEAUTIFUL!
By
arely C.

(Inglewood, CA) - January 13, 2014 (
See all reviews by this customer
)
THE ORNAMENT WAS BEAUTIFUL!! I ORDERED THREE AT A GREAT PRICE!
THE ONLY COMMENT IS THAT IT TOOK ABOUT 2 WEEKS FOR MY ORDER TO ARRIVE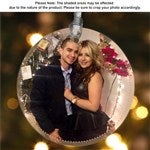 great product!
By
chasity D.

(pensacola, FL) - January 11, 2014 (
See all reviews by this customer
)
I love this ornament! It is beautiful!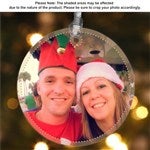 Rosemary's ornaments
By
Rosemary K.

(New York, NY) - January 6, 2014 (
See all reviews by this customer
)
These personalized ornaments were the best I have seen. The whole family loved them. I wish I had known about this when my girls were younger. I would have created an ornament for each year of their life. (I may still do that.) I will be making them every year from now on.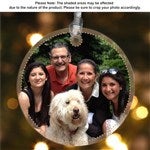 Nice
By
Shopper

(Crofton, MD) - January 2, 2014
Product was exactly as described, personalization looks great. I have ordered this in the past and felt a tad disappointing this year. The ceramic is thicker than in the past (thus heavier) and they now put a personalization mall sticker on the back (It did peel off fairly easily). In the past personalization mall was printed on the back and I thought that was nicer looking. I would still order in the future.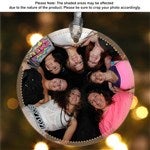 Photo is perfect, looks same on ornament
By Shopper (Sun City Center, FL) - December 31, 2013
I was a bit hesitant that uploading a photo would not turn out as clear as the original photo, but I was very surprised that the photo looks exact. Very good size, photo is clear, colors do not bleed and with doing your editing of the photo is easy. Best personalized ornament I ever purchased. A hint to Personalization Mall--I would have paid more for the ornament if I could add the year. Buy this ornament, you won't be disappointed!!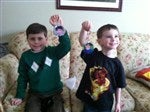 Perfect
By
Kathryn D.

(Newbury Park, CA) - December 27, 2013 (
See all reviews by this customer
)
I happened to fall upon this web-site and am thrilled I did. This was the perfect gift and it turned out beautifully. I will keep this company under my favorites and will buy from again. The ornaments I bought are unique and made a very special gift.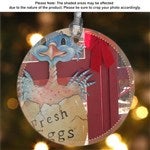 our Christmas tradition
By
LANA J.

(PERU, IA) - December 22, 2013 (
See all reviews by this customer
)
For the last 3 years, I've made a photo ornament for our family. I always choose a photo from our new farm that commemorates the big event of the year.
I've been consistently pleased with each ornament. They are nice and thick. The photo images are always clear with good detail. Having the little bags are great for damage free storage and gift wrapping.
The ornaments from PersonaLization Mall are the best quality I've found anywhere. I plan to do this every year!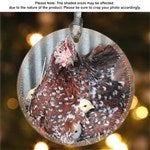 For someone who has everything
By
Shopper

(Leechburg, PA) - December 21, 2013
It seems like the older a person gets, the fewer things are suitable as gifts. Who needs another sweater or slippers? Or candy or fruit? Being a senior myself, I know this to be true. The personalized ornaments look lovely on a tree or a little stand, or just hanging together on a wall. This is a good way to preserve special old pictures. They make a person smile every time they look at them. I think this is a great gift and your company is the best.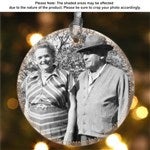 Beautiful and wonderful ornaments
By
Shopper

(north tonawanda, NY) - December 19, 2013
We recently lost a member of NYSP swat team MRT . My sons brother in blue. So I decided to have an ornament made for Xmas for my son and for us . When I opened the package I was amazed at the beauty and wonder so much so I cried. Thank you for a great job.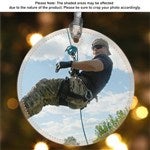 Extensive Variety
By
Suzie D.

(Hobbs, NM) - December 15, 2013 (
See all reviews by this customer
)
The variety of photo ornaments allows me to purchase different styles every year which keeps them fresh and new but still time stamps my family's growth over the years. Superior quality always!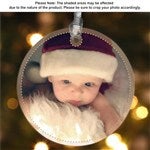 Great quality
By
Shopper

(Williamsville, VT) - December 13, 2013
Love this ornament. I was pleasantly surprised when I received it at the quality of it.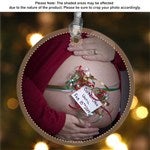 JOY JOY JOY
By
Shopper

(Sadieville, KY) - December 10, 2013
I LOVE MY ORNAMENTS!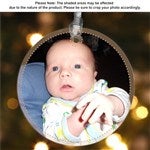 Another one for the tree
By
Shopper

(Plainfield, IN) - December 4, 2013
I am slowly replacing all my ornaments with these photo ones. They are great gifts for grandparents and a great new tradition we have created in our house. Every year we add about 3 more with photos of our favorite moments of that past year. Then every year as we put up the tree we get to reminisce about the previous family memories.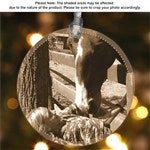 Pleased
By
Kerstin V.

(Marlboro, NY) - December 3, 2013 (
See all reviews by this customer
)
I uploaded a photo taken from my iphone to make this ornament. Quality of finished product is beyond beautiful. Color is so rich. My family was so very pleased with it.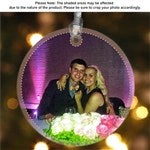 Everyone Loves these!
By
Lydia H.

(Burbank, CA) - November 23, 2013 (
See all reviews by this customer
)
Everyone Loves these! What could be better than a ornament of people and pets you love!..I ordered some for myself ..Many Thanks !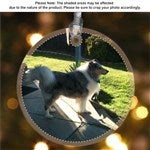 Very Happy
By
Shopper

(Rocky Mount, NC) - November 20, 2013
I have just ordered another ornament from PM. I ran across this website last year and ordered ornaments for my great niece--one for each Christmas. I love each one. The pictures are very clear and they give us a chance to reflect on past Christmases and how much she changes from year to year.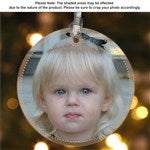 Absolutely Perfect!
By
Michelle G.

(Raymore, MO) - November 4, 2013 (
See all reviews by this customer
)
This ended up being the perfect Christmas gift for my friend! Thank you so much!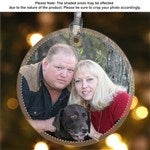 Christmas gift
By
Lynn M S.

(Dixon, KY) - October 14, 2013 (
See all reviews by this customer
)
I ordered one of these with my grandson's photo on it as a gift from him to his parents for Christmas. :) What a memory maker. These make wonderful surprise gifts. :)