precious gift
By
Patti P.

(Aliquippa, PA) - November 9, 2012 (
See all reviews by this customer
)
I love these ornaments. My daughter has purchased them for me in the past. This year, I thought I would return her wonderful idea! We just lost our black lab, Dakota, and I had two made with a close-up of his face in the snow last winter! One for her house/tree and one for us. I also had one made of a close-up of our little girl lab, Delaney. They look amazing on the tree! Depending on the photo you choose, some are even more fantastic than the others.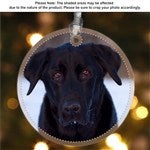 good product
By
Shopper

(Fort Leonardwood, MO) - November 6, 2012
really good product

krista
Very clear picture

Happy but my image may not have been right
By
Colleen H.

(Wallingford, CT) - September 21, 2012 (
See all reviews by this customer
)
I uploaded a round image and it wasn't filling the ornament - might have been too small because it was a round image. Otherwise happy with the quality and everything with it.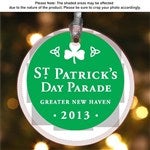 Nice finished product
By
Scott B.

(Kansas City, MO) - February 18, 2012 (
See all reviews by this customer
)
Happy with product, could have done a better job of centering the image but overall very nice. Thank you!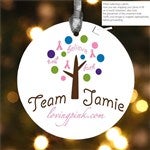 Very Happy with my Purchase!
By
Shopper

(Lawton, OK) - January 14, 2012
I was very happy with my Personalized Ornaments. My only complain is that some of the pictures I tried to use could not even be shrunk to fit onto the ornament layout. Overall, and for the great price, I can't complain. All who received the gift loved it!

photo ornament
By
Deborah P.

(Greenfield, IA) - December 28, 2011 (
See all reviews by this customer
)
This was a great buy but I wish we could of put the year on the back..Our granddaughter loved it...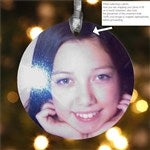 great item!
By
Shopper

(Midlothian, TX) - December 23, 2011
I ordered several of these for Christmas gifts, and they turned out great! Color is nice, much better if you have a high-resolution image. Wish you could add a msg on the back.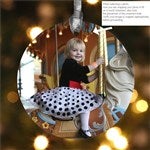 Color Quality So So
By
Shopper

(Novi, MI) - December 19, 2011
I like the ornament but the color of the photo came out not so great. Oh well, only $8.95 so I guess I got what I paid for!

Great gift for Grandmas
By
Renee V.

(Galena, OH) - December 16, 2011 (
See all reviews by this customer
)
This ornament is really cute. I got the bronzed version of my photo. I was a little dissapointed that the photo on the ornament turned out darker than it looked on my computer. It is a little difficult to see a few faces. I still really like it and my mother-in-law is going to love the ornament with her 5 grandkids on it!

hard to accurately crop pictures
i just got the first batch of ornaments i ordered. they are nice, but not as nice as they could be, because it took me hours to enter them that the cord hole would not be through the baby's face. when i tried to crop the pictures, the crop box kept expanding outward, and refused to just expand in one direction, like i am used to in all the photo cropping systems i have used before. finally gave up, and OK'd less than ideal ornament..it has white edges from around the photo where i couldn't crop it out. but the baby's face looks nice. i'll just explain that this system seems more for expert computer users. guess it will make for conversation starters in the future.

Nice Ornament!
By
Shopper

(Edmond, OK) - December 8, 2011
My ornament turned out pretty cute! This was a great gift idea for my boyfriend for Christmas! The resolution of the picture printed on the ornament could be better, but overall I am happy with it.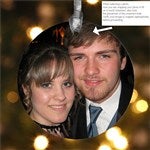 Wonderful memory ornament
By
Heather C.

(Larkspur, CA) - January 8, 2011 (
See all reviews by this customer
)
I ordered 4 ornaments of the exact same photo, which I took quite a long time to crop and center, etc and made sure it was on just right on the round ornament, when I placed the order online. When I received them, 2 were spot on- just as I had made them online, and 2 were just enough off (in varying degrees) that part of one of my children's face was cut off. She still had her eyes and smile, just not her ear of part of her cheek, so it wasn't quite bad enough to go through the hassle of complaining and shipping them back. So I highly recommend when you center your photo to give some extra leeway, in case the person putting the image onto the ornament is not paying enough attention to make sure it is as centered as you would have put it. Other than that, I love these ornaments. Seem fairly durable and I used porcelain paint to write the date etc on the back. I love keepsake ornaments! (I especially am happy with this one since I got it on sale...;-)

Hole placement
By
David L.

(Brookings, OR) - January 1, 2011 (
See all reviews by this customer
)
It would be nice to be able to rotate the photo so the hole has the picture hanging level. Mine is skewed & I got the hole in my head, instead of next to it (which would have it level).

Almost perfect
By
Christy T.

(Columbus, OH) - December 23, 2010 (
See all reviews by this customer
)
I ordered one of these with a picture of my friend and her new baby and everyone LOVED IT! It is a nice ceramic ornament, does not look cheap at all. My friend is even thinking about getting one done every year as her baby grows up. The only con is that the cropping is a little off. The picture goes over the edge a little bit, so you would have to make sure there is enough head room.

Very good-slight problem, but would order from them again.
By
Kim H.

(Winnetka, IL) - December 19, 2009 (
See all reviews by this customer
)
Clarity and color of photo reproduction and quality of ornament are excellent. However, image placement is slightly off center. I sent a perfectly centered round image with enough solid colored background to enable the production crew to adjust if needed. My preview showed perfectly centered. Perhaps a bit of improvement needed in this area of quality control. '

However, I highly recommend and will order from them again.

fun gift idea
By
cathy S.

(channahon, IL) - December 17, 2009 (
See all reviews by this customer
)
I really love this ornament. It will only turn out as good as the photos you use. You need to have fairly close up and high quality digital photos in order for it to be really clear. The ornaments I ordered turned out exactly as the personalization preview showed. OUr camera is a bit older and the pics are a bit grainy, but looks great! I love this gift idea and will definately order again!

good, but not perfect
By
Leslee M.

(Newport, NH) - December 8, 2009 (
See all reviews by this customer
)
I used pictures from my study abroad experience to make my friends some ornaments. They came out nicely, but one of my pictures was a circle already and I spent a lot of time cropping it so it would line up. I ordered two of them and they're close but they're not exactly the same, which is slightly disappointing.

But this is my 4th Christmas using Personalization Mall & I'll use it again.

unique gift
By
Angela F.

(Brooklyn Park, MN) - November 20, 2009 (
See all reviews by this customer
)
This ornament will be a perfect gift for someone that has everything. I felt that the ribbon was a little hard to work with, so I ended up using my own, but the picture looks perfect

Beautiful Gift
By
Margaret B.

(Wiggins, MS) - November 11, 2009 (
See all reviews by this customer
)
I have started a collection for my family. In the future they will be able to look back and remember the good times of their life in photos.