very nice
By
Angela H.

(Virginia Beach , VA) - May 20, 2010 (
See all reviews by this customer
)
I got this for my in-laws 25th wedding anniversary. It is very nice. The only thing I didn't like was all the info is for 2009 and I bought it May 2010, so it dosen't give the difference for 25 years. It should tell you that the info will be for 2009.

Anniversary Chronicle Plaque
By
Janice W.

(Cheektowaga, NY) - October 22, 2009 (
See all reviews by this customer
)
For being a "Personalized Anniversary Chronicle plaque", some of the items listed on the plaque were incorrect.
It's a nice idea for an Anniversary gift. The plaque would have been better if buyers were asked questions to standard questions.

Neat gift
By
Julie L.

(Vernalis, CA) - October 9, 2009 (
See all reviews by this customer
)
This was a really neat gift. Some of the current prices seemed way too low, but I'm pretty sure thats because we are from California and everything is more expensive here. Other then that, I would reccommend it.

Nice gift
By
Shopper

(Burlington, MA) - June 17, 2012
I am happy with the quality of the item although disappointed that I am buying it in 2012 for my anniversary and the date on it it's 2011. I understand that it must be because it's only June but it would be nice to look at that in the future and know that it was a gift for my fifh anniversary in 2012.


Just so-so
By
Shopper

(Saginaw, TX) - June 1, 2012
Is a very nice plaque, but bought it for my parents 50th and the dates aren't correct. It shows 1962-2011, that's only 49 years. Also, the prices on the lists are not current. Am just so-so in my opinion of this item as it has some good things and bad things with it. Not enough attention to overall detail in my opinion.

20th Anniversary
By
Kathy C.

(Tomball, TX) - March 25, 2012 (
See all reviews by this customer
)
I was a little disappointed when I received this item. I purchased it to give to my husband on our 20th Anniversary. Although the product photo showed a 2010 plaque, I thought it would be updated to reflect the current year of 2012 or at least 2011. I will still give it to my husband even though it is only a reflection of 18 years. Otherwise, good quality as always.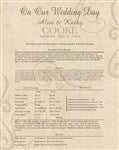 Current year would have made this all that more enjoyable
By
Lisa B.

(Mesa, AZ) - December 14, 2011 (
See all reviews by this customer
)
I really liked this product, however I was disappointed that the comparision date had last years year (2010) printed on it instead of the current year of 2011. I ordered this for my parents 40th Anniversary - and 2011 was/is the 40th year.

Not exactly what I expected
By
Shopper

(Batavia, OH) - October 17, 2011
The plaque is nice but it looks alot smaller than I anticipated..also thought it was going to be a paper version in a frame.

It will be a nice momento for our wedding and 1st Anniversary.

It was OK
By
Amanda B.

(Lake Luzerne, NY) - October 15, 2009 (
See all reviews by this customer
)
I liked the plaque and everything looked good except for the gasoline pricing for then and now. It said that the price of gasoline in 2009 was $1 something. That is incorrect for my area in NY. Is the price before taxes? If so, it should have a disclaimer.

Printing too small
By
Michelle Z.

(Orchard Park, NY) - April 19, 2011 (
See all reviews by this customer
)
I was very disappointed in this. I had such high hopes and was very much looking forward to this gift. It was for my parent's 50th wedding anniversary. The print is very, very tiny, making it very difficult to read. Perhaps if they made this into an 11 x 14 instead of an 8 x 10.

wrong year
By
Shopper

(Lexington, KY) - April 15, 2011
This was a nice gift for my parent's 35th wedding anniversary except that instead of showing 1976-2011 it's showing 1976-2009. The website said it would show the last full year, so I expected 2010, but was surprised to see 2009. My dad, being the music lover that he is, didn't notice the year, but instead noticed that they had the wrong band name listed for the #1 song. IT's a good idea for a gift, too bad they don't get the information correct.

Quality not as nice as I had hoped.
By
Laura R.

(Hillsboro, OH) - October 13, 2009 (
See all reviews by this customer
)
I purchased this item for my parent's 50th wedding anniversary. The item looks very nice in the picture on-line, but I was very disappointed when I received the item. The printing was blurry and hard to read and their names were a different font and much lighter than the rest of the information, making it not blend in as part of the design. Their names looked like they were added as an afterthought, which is not what I had hoped. This is not a framed certificate type of plaque, it is an actual one piece design which looks cheap. I would have preferred a framed type of certificate that they would be happy to display. I would not buy this item again.

disappointed
By
Roberta C.

(Oak Brook, IL) - October 2, 2009 (
See all reviews by this customer
)
I was deeply disappointed with the content of the plaque. It was stated as being "Your Wedding Day". Instead it was your wedding YEAR. The craftsmanship was very good but I was not happy with the gift. I have already talked to customer service and was offerred a replacement gift. I am waiting to hear back from my daughter and son-in-law to decide if they want a replacement.