Bamboo Cutting Board
By
Shopper

(Long Beach, CA) - February 5, 2011
I am very pleased with the size (not too small, not too big), the quality of the wood and the personalizaton. I purchased this for a friend, but may buy one for myself too.

Love the Idea but...
By
Shopper

(Ashburn, VA) - January 7, 2011
I normally don't do reviews but I really liked this idea - I ordered several as Xmas gifts - A bit disappointed with the engraving - although it is written as ordered it does not show up as well as the sample as the letters are not darken as in the product sample and also I don't like the fact that the personalization mall logo is engraved on the back as well - that should really be shown or told up front - I already am paying for the product - I'm not paying for them to advertise to people I give gifts too. If they would remove that I would probably purchase more

Looks Great
By
Ashley R.

(Pittsburgh, PA) - December 27, 2010 (
See all reviews by this customer
)
The cutting board looks really nice and the personalization makes it look expensive. I got it for someone as a gift, so I'm not sure how it holds up after use. But, it looks like it is high quality and would work great.

Great gift idea!
By
Casey R.

(Dallas, TX) - December 21, 2010 (
See all reviews by this customer
)
Great gift idea for any occasion, was a bit smaller than I thought it would be but I didn't look at measurements!

Great product
By
Elizabeth S.

(Lubbock, TX) - December 5, 2010 (
See all reviews by this customer
)
This product was a lot better than I expected when I ordered it. Made a great gift for my sister in law. Thanks.

Great gift
By
Olivia K.

(Maynard, MA) - October 26, 2010 (
See all reviews by this customer
)
I bought this for my brother who was graduating culinary school. He loved the gift and its personalization. The quality is good and the size is perfect. It was a great price. It came with a little ding in the side but I couldn't return it due to time restraints. My brother wasn't bothered by the ding bc being a cutting board, it will acquire many more

Cutting Board
By
Charles R.

(St Clair Shores, MI) - October 14, 2010 (
See all reviews by this customer
)
My wife and I were pleased with your product and the speed which you delivered the product was amazing. We bought it as an engagement present for this Saturday. Thank you for the quality and speed of service.

chopping block
By
Patricia W.

(Silver Creek, NY) - September 17, 2010 (
See all reviews by this customer
)
It looks nice. I have not used it since it is a Christmas gift.

great overall product
By
Keith W.

(Menifee, CA) - September 3, 2010 (
See all reviews by this customer
)
I wished it came a little smoother, but that's ok, I ended up oiling it myself, just wished I didn't have to do it myself.

Beautiful product

So far so good
By
Laura H.

(East Islip, NY) - May 13, 2010 (
See all reviews by this customer
)
Only time will tell in regards to the quality of the actual cutting board but the engraving was nice.

Bamboo cutting board
By
Nancy B.

(North Barrington, IL) - April 27, 2010 (
See all reviews by this customer
)
Very nice. It was a gift and came with in 48 hours of ordering it..

Bamboo Cutting board
By
Dottie A.

(Antioch, CA) - March 31, 2010 (
See all reviews by this customer
)
I am very happy with my purchase!! I would highly recommend this item! It is perfect for a house warming or wedding gift!!

Love it!
By
Yiu Kuen W.

(Fresno, CA) - March 29, 2010 (
See all reviews by this customer
)
I ordered it as a housewarming gift for my friend. I haven't given it to them yet but I'm sure they'll love it. It looks beautiful! Just like what you saw on the picture. The engraved text looked good too. It's going to be a very cool gift. It's a bamboo cutting board so it's not super solid or heavy. But for the price I paid, it's definitely a great buy. It looked very classy too.

Bamboo Cutting Board
By
Robin T.

(Louisville, KY) - March 2, 2010 (
See all reviews by this customer
)
The quality of board was good, some of the letters were missing a little of the black, but other than that, it was good quality. Product was shipped extreamly fast, which was excellent, because it was for a gift a couple days later. Loved the board, will purchase through this company again.

Almost perfect
By
Bernardine G.

(Succasunna, NJ) - December 21, 2009 (
See all reviews by this customer
)
This is a great gift. I got it to give my daughter and her husband for their first house. The personalization looked very classy on this beautiful cuttingboard. This would have gotten 5 stars from me except for one thing. The logo of 'Personalization.com' was ETCHED into the wood on the back of the cutting board. I resented this. Since the recipients will probably use the back of the cutting board to avoid ruining the etching on the front, they will no only always see the etched advertising of Personalization.com but also will get meat, chicken, and other stuff clogged into the etched letters making it more difficult to clean up. I was very 'put off' when I saw 'Personalization.com' etched into the wood and had I known that before purchasing this I would NOT have bought it.

Bamboo Cutting board
By
Kristen B.

(Flagstaff, AZ) - December 14, 2009 (
See all reviews by this customer
)
Great product. Fast turn around time. Came exactly as pictured. Love it, great gift!

Very Nice
By
Lori N.

(Dundas , MN) - October 28, 2009 (
See all reviews by this customer
)
Board is exactly the way I had hoped it would be

Practical
By
Alan P.

(Schaumburg, IL) - October 19, 2009 (
See all reviews by this customer
)
Nice cutting board. Due to the fact that it's wood, we do not use for meats of any kind but it's great for vegetables, fruits, etc. I wish it was a little bigger but I really like the fact that it has handles on each side eliminating the typical: "slide board to the edge of the counter without spilling everything all over the floor" scenario.

a great gift
By
Michael D.

(Port Jefferson Station, NY) - October 16, 2009 (
See all reviews by this customer
)
3rd one I've ordered as gifts and everyone loves this board.
My only suggestion would be - it would be perfect if the entire top had a groove edge all the way around to capture any juices that are drawn when cutting cooked meats. I know this may reduce the imprint area but it will help stop the over spills and I suggest it on all boards.
Thank You
M D

Didn't have the qualities I expected.
By
Shopper

(Lewisburg, WV) - May 7, 2014
The board itself is nice but the way it is finished was not what we expected. 1)the edges are raw, instead of beveled 2) the engraving was not very deep. We are concerned that with use the writing will disappear.

Good, but big LOGO on the back!
By
Shopper

(Cambridge, MA) - December 13, 2012
I loved the cutting board as it is very solid, thick, dark wood (darker than in the picture) and the engraving is very nice, BUT beware that on the back left corner it says 'PersonalizationMall.com'. I was very unhappy with that as the board looks very lovely and handmade until you see this tacky logo. They should show that in the description and it should not be on the product as it really lowers the level of quality. That is my only complaint and otherwise it is very thick, nice wood.

Little Disappointed
By
Shopper

(Newburgh, IN) - December 9, 2012
Ordered the Bamboo Cutting Board for a Xmas present. It was personalized exactly the way I ordered, but the board itself was scratched in several spots. I ordered one last year for a gift, it was perfect, & the person loved it. I'm keeping this one, because it's already personalized & so close to Xmas, but a little embarrassed to give it because of its condition.

Smaller than expected.
By
Shopper

(Boca Raton, FL) - December 6, 2012
Looks great was a great idea but a small cutting board ??

Rustic
By
Shopper

(Wilson, NC) - June 25, 2012
The board was nice and the carving of the words were beautiful. The only thing is looking at the picture, the board looks smooth and it actually feels unfinished (rough). Overall, it was nice.

Personalization fades
By
Shopper

(Hattiesburg, MS) - April 13, 2012
I really like the way the cutting board was made, however after a few days (and a few hand washing) the words faded that I had had engraved on the board. Now you can only read it by holding it up in front of you.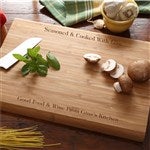 Not so smooth.
By
Yaya M.

(East Chicago, IN) - December 16, 2011 (
See all reviews by this customer
)
The surface was not so smooth. It had a good rough spot. It will make a lovely center piece for an island in your kitchen but not for actually cutting on it.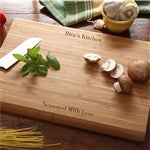 Pretty Good
By
Shopper

(Ocean Ridge, FL) - April 29, 2011
The cutting board is beautiful to look at. Unfortunately I don't think the final sanding was very good, as I have several little splintered pieces of wood all over the surface.

FUNCTIONAL
By
Darla M.

(Port Arthur, TX) - February 11, 2010 (
See all reviews by this customer
)
I purchased this board for a young Newlywed couple. The husband says he and his wife loved it. I didn't want to get the board with the cutout in the middle, because food could get caught in it. I wanted the square board, but would have liked to get a little carved decoration on the sides.

Not centered
By
Greta H.

(Mechanicsville, MD) - March 30, 2014 (
See all reviews by this customer
)
The product itself is pretty nice. It is sturdy and nice bamboo (besides the wood pieces peeling up after a wash). However the engraving was off center half an inch. I contacted customer service and they sent a replacement. The replacement was also off center.

goood gifts
By
Shopper

(gladstone, MI) - February 6, 2012
The cutting board is "nice". I am not overly impressed but perhaps if we oil it I will like it better. It is a gift however so I may allow the receiver to do that. I did love the 2 door mats I ordered previously and the service has been wonderful.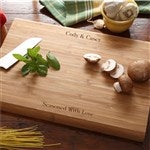 Cutting board
By
Anna K.

(Wheeling, IL) - April 5, 2013 (
See all reviews by this customer
)
Product looks great in the picture but am not able to review the actual product due to the shipping methods used by Personalization Mail are unrealiable.

Very delicate cutting board
By
Shopper

(Ashburn, VA) - February 13, 2013
The knife is leaving a mark evean after oiling. Unable to use as intended. The personalization was good.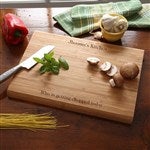 They put their website logo everywhere.
By
Shopper

(PEMBROKE PINES, FL) - September 29, 2012
Their website logo is even engraved onto the back of the board and I have a problem with that. The words are engraved deeply into the surface with the bottom burnt with uneven height. The board looks smoother and better finished in the picture than it actually is.