a great gift
By
Michael D.

(Port Jefferson Station, NY) - October 16, 2009 (
See all reviews by this customer
)
3rd one I've ordered as gifts and everyone loves this board.
My only suggestion would be - it would be perfect if the entire top had a groove edge all the way around to capture any juices that are drawn when cutting cooked meats. I know this may reduce the imprint area but it will help stop the over spills and I suggest it on all boards.
Thank You
M D

Didn't have the qualities I expected.
By
Shopper

(Lewisburg, WV) - May 7, 2014
The board itself is nice but the way it is finished was not what we expected. 1)the edges are raw, instead of beveled 2) the engraving was not very deep. We are concerned that with use the writing will disappear.

Good, but big LOGO on the back!
By
Shopper

(Cambridge, MA) - December 13, 2012
I loved the cutting board as it is very solid, thick, dark wood (darker than in the picture) and the engraving is very nice, BUT beware that on the back left corner it says 'PersonalizationMall.com'. I was very unhappy with that as the board looks very lovely and handmade until you see this tacky logo. They should show that in the description and it should not be on the product as it really lowers the level of quality. That is my only complaint and otherwise it is very thick, nice wood.

Little Disappointed
By
Shopper

(Newburgh, IN) - December 9, 2012
Ordered the Bamboo Cutting Board for a Xmas present. It was personalized exactly the way I ordered, but the board itself was scratched in several spots. I ordered one last year for a gift, it was perfect, & the person loved it. I'm keeping this one, because it's already personalized & so close to Xmas, but a little embarrassed to give it because of its condition.

Smaller than expected.
By
Shopper

(Boca Raton, FL) - December 6, 2012
Looks great was a great idea but a small cutting board ??

Rustic
By
Shopper

(Wilson, NC) - June 25, 2012
The board was nice and the carving of the words were beautiful. The only thing is looking at the picture, the board looks smooth and it actually feels unfinished (rough). Overall, it was nice.

Personalization fades
By
Shopper

(Hattiesburg, MS) - April 13, 2012
I really like the way the cutting board was made, however after a few days (and a few hand washing) the words faded that I had had engraved on the board. Now you can only read it by holding it up in front of you.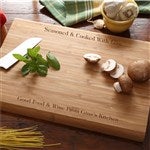 Not so smooth.
By
Yaya M.

(East Chicago, IN) - December 16, 2011 (
See all reviews by this customer
)
The surface was not so smooth. It had a good rough spot. It will make a lovely center piece for an island in your kitchen but not for actually cutting on it.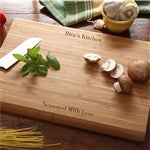 Pretty Good
By
Shopper

(Ocean Ridge, FL) - April 29, 2011
The cutting board is beautiful to look at. Unfortunately I don't think the final sanding was very good, as I have several little splintered pieces of wood all over the surface.

FUNCTIONAL
By
Darla M.

(Port Arthur, TX) - February 11, 2010 (
See all reviews by this customer
)
I purchased this board for a young Newlywed couple. The husband says he and his wife loved it. I didn't want to get the board with the cutout in the middle, because food could get caught in it. I wanted the square board, but would have liked to get a little carved decoration on the sides.

Not centered
By
Greta H.

(Mechanicsville, MD) - March 30, 2014 (
See all reviews by this customer
)
The product itself is pretty nice. It is sturdy and nice bamboo (besides the wood pieces peeling up after a wash). However the engraving was off center half an inch. I contacted customer service and they sent a replacement. The replacement was also off center.

goood gifts
By
Shopper

(gladstone, MI) - February 6, 2012
The cutting board is "nice". I am not overly impressed but perhaps if we oil it I will like it better. It is a gift however so I may allow the receiver to do that. I did love the 2 door mats I ordered previously and the service has been wonderful.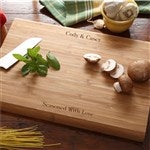 Cutting board
By
Anna K.

(Wheeling, IL) - April 5, 2013 (
See all reviews by this customer
)
Product looks great in the picture but am not able to review the actual product due to the shipping methods used by Personalization Mail are unrealiable.

Very delicate cutting board
By
Shopper

(Ashburn, VA) - February 13, 2013
The knife is leaving a mark evean after oiling. Unable to use as intended. The personalization was good.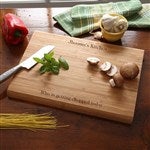 They put their website logo everywhere.
By
Shopper

(PEMBROKE PINES, FL) - September 29, 2012
Their website logo is even engraved onto the back of the board and I have a problem with that. The words are engraved deeply into the surface with the bottom burnt with uneven height. The board looks smoother and better finished in the picture than it actually is.