Lifetime Memory!
By
Tracey T.

(Nederland, TX) - December 18, 2011 (
See all reviews by this customer
)
I purchased a mini photo canvas for my best friend who lives far away from me. On our last get-together we made lifetime memories and had a very funny moment that we turned into our own personal quote. I submitted our quote along with our photo of that moment to create a very special photo canvas thanks to the wonderful products offered by PersonalizationMALL.com!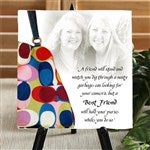 Outstanding Quality
By
Shopper

(Flushing, NY) - July 24, 2011
The mini photo canvas and stand look perfect, for a picture of my Mom, for which it replaced one made of cermaic, that I bumped into and broke, now this one cannot break and will look great for years to come. thank you for a great product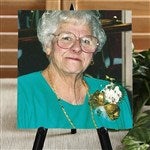 Perfect size
By
Tracy B.

(Milton, VT) - December 6, 2012 (
See all reviews by this customer
)
The size is great if your looking for something to go on a table or shelf.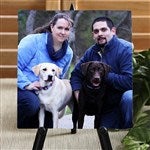 Loved it!
By
Leslie L.

(Doylestown, OH) - December 31, 2011 (
See all reviews by this customer
)
This is a great gift! Bought for my husband to put on his desk at work along with the little mini easel. Couldn't be happier with it.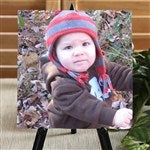 Birthday Gift
I ordered this for a dear friend who live far away and she
LOVED it! It's small but what I wanted.

Perfect!
By
Angela R.

(Big Lake, MN) - April 1, 2010 (
See all reviews by this customer
)
I received one of these in 2008 as a gift...and I had to order another in 2009. So fun to put them together to see how my son has changed in 1 year.
I hope Personalization Mall keeps this item around...I plan to order one each year!

LOVE IT
By
LornaJean B.

(Webster, NH) - May 26, 2010 (
See all reviews by this customer
)
Better than I imagined. I love how I could crop the picture to make what I wanted.

Disappointed
By
Cheri E.

(Weston, FL) - December 10, 2009 (
See all reviews by this customer
)
I am extremely disappointed in the quality of the product I purchased and I am sorry I ordered the Mini Photo Canvas for my husband for Christmas. It was going to be my big surprise, now it is a FLOP! I do not recommend ordering this product, actually I would STOP selling it!

NOT HAPPY
By
Cheri E.

(Weston, FL) - December 7, 2009 (
See all reviews by this customer
)
I would give this zero stars if available. I am very disappointed in the quality of this product and very sorry I wasted $40 of my money on it. DON'T BUY IT....

Great Item
By
Sheryl B.

(Monmouth Jct, NJ) - April 22, 2010 (
See all reviews by this customer
)
I bought this for my Mom for mothers day with a pic of myself and my parents on my wedding day. It is very nice and the quality is great. The photo looks a bit shiny and it may not look right in certain lighting, but i think it's fine and my parents will love it.

Good gift idea
By
Lauren N.

(Port Saint Lucie, FL) - January 2, 2011 (
See all reviews by this customer
)
The canvas shipped very quickly and is an adorable gift idea. It is of great quailty, the only issue I had was that the picture was not cropped exactly how I'd expected and originally wanted but still turned out alright.

Very nice
By
Evelyn D.

(Vineland, NJ) - December 23, 2010 (
See all reviews by this customer
)
The mini canvas is indeed small, but it's a very tasteful way to give a portrait as a gift.

Part of the photo that appeared on the front of the canvas in the preview screen turned out to wrap around to the side in the finished product - not enough to be a problem, just an annoyance (part of a sign is cut off).

Otherwise very nice, high-quality canvas and a unique gift.

Beautiful!
By
Amy M.

(Valrico, FL) - September 9, 2010 (
See all reviews by this customer
)
This item was exactly as described. The colors are radiant and the price is great for the product! It was easy to order too! Love the upload/crop tool!

Very well done
By
Shopper

(Bristow, OK) - November 6, 2012
Photo came out very clear and canvas seems to be very well made. Makes for a cute gift to sit on a desk or such.

ABSOLUTELY AWESOME
By
Shopper

(Sarasota, FL) - December 27, 2011
I could not have picked a better product - this was ABSOLUTELY AWESOME! The quality was like I've previously found in much more expensive art shops. This is my fifth or sixth order from personalizationmall.com, and this product will keep me coming back!

Just as expected!
By
Shopper

(Elroy, WI) - December 19, 2012
I love getting canvas pictures, and this was a perfect gift for my father. I bought this with the easel stand, and it looks wonderful! Fast and secure shipping, as always. Picture looks exactly as previewed.

Perfect!
By
Kathy T.

(Pleasant Valley, NY) - December 18, 2012 (
See all reviews by this customer
)
Came out great! Perfect size to place on a desk or dresser.

beautiful, even better in reality
By
Shopper

(Salisbury, MD) - February 11, 2011
I had to play around with my chosen images for a while to get the best fit, just following the instructions that are automatically given. It was worth the effort, though, and the result is even sweeter than what you can see on-line. The canvas looks soft and textured. Though it is comparatively small, it bounces out nicely wherever you place it, especially with a black and white photograph.

LOVELY PRESENT
THIS WAS MY FIRST ORDER WITH PERSONALIZATION.COM.
NOT ONLY DID IT ARRIVE WITHIN THE WEEK, THE QUALITY WAS FAR BEYOND MY EXPECTATIONS. ONE OF MY PICTURES WAS NOT RECOMMENDED TO BE USED BY THE SITE'S SOFTWARE...I THEN MADE A 6 X 8 OF THE PRINT.. RESUBMITTED THE NEWLY SIZED PIC..AND PLACED THE ORDER...THE SOFTWARE WILL SHOW A FINISHED SAMPLE AND THE FINISHED PRODUCT "WRAPS" THE CANVAS SO WHEN CHOOSING A PICTURE YOU MUST ALLOW FOR A 1/2 TO A INCH WRAP.
I HIGHLY RECOMMEND THIS PRODUCT !

I LOVE this!
By
Shopper

(Norfolk, MA) - December 21, 2011
Choosing to make this regular photo into a 5 x 5 canvas transformed it into a little piece of art! The quality and clarity of this photo to canvas is great and I love the fact that it's small enough to fit most anywhere! You won't be disappointed with this product. Fast shipping too!

Photo was Perfect!
By
M J M.

(Hickory Hills, IL) - December 6, 2011 (
See all reviews by this customer
)
I love to purchase the canvas photos. They are a unique gift to give someone. I have several hanging in my home. Keep up the great work!!!!!