Great gift
By
Shopper

(Jenkintown, PA) - February 21, 2013
Wonderful custom work, beautiful color. i give 4 stars only because my pot had a dense spot of paint/clay right under the Front writing. It could have been avoided by rotating the pot bit to the right before the imprint work was done. Because its right under letters, it draws attention to it greatly. Fast shipping for last minute moms! :)

Purple Flower Pot
By
Shopper

(Largo, FL) - December 20, 2012
I am really happy with the flower pot. The engraving is very nicely done. I wish I had read the size of it - I had a hard time finding a plant already potted to put inside it but that was my own fault.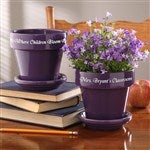 Very nice
By
Shopper

(Apple Valley, CA) - May 11, 2012
It was very nice. Perfect size. There were a few small nicks but nothing big. The lettering was beautiful.

Decent with minor issues
By
Shopper

(Maple Plain, MN) - December 27, 2011
Pot is great. The color was off from what I expected from the website ( I relied on the image more than the description of "Ohio Red"). It also does seem to have a smaller feel to it than the measurements given. Both of these were expected as I read others reviews and these are common issues. Overall, It was a nice Christmas present for my wife to put her amarilis in each year.

Flower pots
By
Lloyd B.

(Marshalltown, IA) - June 20, 2011 (
See all reviews by this customer
)
It was so easy to order and personalize these flower pots for gifts. Everyone we gave the gifts to asked "where did you get that? It's so sweet". We put flowers in the pots before giving.I was pleased with the speed that the order came and how the engraving looked on the side.
My only disappoint was it wasn't a true red color-more of a salmon color.
Will definitely order again.

Nice gift!
By
Shopper

(New Freedom, PA) - May 9, 2011
I have now ordered each of the red and purple and I prefer the purple. The red is like a fire engine red shade I would say, very bold and bright. Both done very well, the pot is etched, it's not just written on. Very nice quality, great teacher gifts!

Wonderful gift for a wonderful teacher
By
Deborah M.

(Boothwyn, PA) - February 6, 2011 (
See all reviews by this customer
)
Bought this as an end of year thank you for my son's teacher. She is fantastic and I wanted to get her something unique that she would treasure. I love the pot, it is a nice size and weight. The engraving is beautiful and I know she will love it. The only issue I have is that the red is not as "red" as it appears in the picture--it is slightly more orange-red. Other than that I love it and can't wait until the end of the year to give it to her. We are going to start a flowering plant in it now with the hope that it will be blossomed in June.

not christmas red color
By
Lena K.

(Plainville, MA) - December 1, 2010 (
See all reviews by this customer
)
It is a very nice pot, with beautiful engraving. Although smaller than I thought.. and if you are expecting a christmas red color, it is not. It has an orange pink tint to it, almost coral. Not the color I was expecting at all or what is shown in the picture.

Happy
By
Jennifer S.

(East Worcester, NY) - May 26, 2010 (
See all reviews by this customer
)
I love the flower pot. I thought they would be a little bigger, but they are the perfect gift for my kids teachers. Thank you so much.

Personal flower pot
By
Wendi M.

(Gurnee, IL) - April 29, 2010 (
See all reviews by this customer
)
I love this for a gift idea for teacher appreciation. The only thing I wish were different is that the color of red was more true red and less tomato red. It is a small pot and picture can be a little misleading, but I prefer it small.

Beautiful gift for teachers!
By
Jessica B.

(Apple Valley, MN) - March 22, 2010 (
See all reviews by this customer
)
Loved the quality and the personalization options for this flower pot. The only reason why I rated it a 4 instead of a 5 is because I thought it was bigger due to the picture. However, it would be perfect for a teachers' room or desk and wouldn't take up too much space. My dtr's teacher LOVED it!


Great gift for teachers
By
Jennifer R.

(Granada Hills, CA) - December 31, 2009 (
See all reviews by this customer
)
My sons teacher loved the personalized flower pot. We added white poinsettias to it. Great gift for a teacher who celebrates Hanukkah.

cute pot
By
Amy D.

(Sterling, IL) - December 6, 2009 (
See all reviews by this customer
)
The pot is adorable ... I did think it would be a little bit bigger in size but other than that it is very cute.

So disappointed in the size
By
Shopper

(Wamego, KS) - May 8, 2012
Although I loved the product and its quality, I was so disappointed in the size. The personalization was well done and the item was of good quality. The picture is misleading and I should have actually measured after reading the measurements that are listed. I would not have ordered the product had I known it would be so small.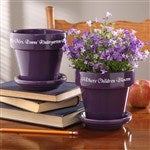 Marilyn
By
Marilyn L.

(Novato, CA) - June 17, 2011 (
See all reviews by this customer
)
Pot was a great idea and is a great gift. Sadly, the writing on ours was not straight and the pot had some chips and scratches. I would have returned it to get a new one, but it was an end of the school year gift for our daughters teacher and a new one would not have arrived in time. So we gave it as it was. Disappointed in the engraving!

Smaller than picture shown
By
Shopper

(Green Bay, WI) - May 31, 2011
I was impressed with the quality of the flower pot and writing, but disappointed with the size of the pot! The picture is very deceiving so we thought it would hold a much larger plant.

small
By
Shopper

(West Bountiful, UT) - May 10, 2011
Although it clearly stated dimensions of the pot, in my mind I thought it would be bigger. It looks great, just small!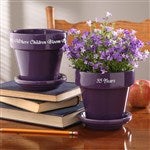 Could have been better
By
Shopper

(Torrington, CT) - May 23, 2011
I have ordered this item a few years ago and had no issues. This time around I was displeased not only once but twice. The quality of this item was fair. It had small holes in the ceramic and in my replacement looked as if it was covered up with purple marker. Perhaps it was just my bad experience, but I will look elsewhere next time!

I'm not thrilled...
I got my personalized pot for a gift to give my 95 year old great grandmother at my wedding rehearsal dinner. I'm not thrilled about it. It's more of an orange-red than a red. The rim around the top isn't even. So the whole thing looks like it's falling over, as if it's melting? The only thing I like about it is the engraving.

disappointed
By
Missie A.

(Pampa, TX) - June 2, 2010 (
See all reviews by this customer
)
never thought that the pot would be as small as it was.