VERY NICE
By
Shopper

(CORPUS CHRISTI, TX) - December 22, 2011
THIS WAS A CHRISTMAS GIFT FOR A CO-WORKER.IT WAS VERY NICE AND NOT TO OVER THE TOP.THANK YOU

Very Nice
By
Shopper

(Stanfield, NC) - December 18, 2011
The mug was very nice looking when I received it. I did think that the pack of hot cocoa would have been bigger (I guess I should have looked at the information a little closer). However, the mug was very simple but beautiful. I have a feeling my parents will enjoy their Christmas present!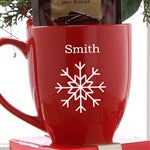 Quality Etching
By
Dawn B.

(Grand Island, NE) - December 4, 2011 (
See all reviews by this customer
)
I like that they do etching vs printing of the names, however, of the 3 cups I received, only two had the hot cocoa mix in them, not a huge deal, but for $24.95 each, I expect to receive what I paid for.

Very nice mug
By
Shopper

(Harold, KY) - January 8, 2011
The coffee mug is very pretty and a good size. The hot cocoa mix is a "single" serving packet - although in the photo it looks like a full size bag of cocoa mix.

very nice mugs
By
Barbara R.

(Baltimore, MD) - December 21, 2010 (
See all reviews by this customer
)
love them

Lovely Winter Mug
By
Marcela K.

(lyndhurst, NJ) - December 14, 2010 (
See all reviews by this customer
)
The mug is a nice simple gift for the holidays, or any winter occasion. The Chocolate was a little squished into the mug making it look wrinkled, but nothing that can't be flattened out. It's going to make a great gift for my sister in law this Christmas!

Nice product
By
Kari S.

(Canada) - December 1, 2010 (
See all reviews by this customer
)
These mugs make great gifts. Brilliant red color and design are great for the holiday season.

Great Christmas Presents for Friends
By
Vee M.

(Tecumseh, OK) - November 30, 2010 (
See all reviews by this customer
)
I have three friends that I worked with for years and each month we get still get together for lunch. For our December luncheon, I thought it would be a good opportunity to give them their Christmas gifts and wanted something you just couldn't buy in a store. Having used Personalization Mall several times in the past and being quite pleased with their products, I turned to them to find personalized gifts for my friends. The red holiday mugs were just perfect since I could chose a different design for each of them. I'm sure they will be just as pleased as I am with their gifts. Thanks, Personalization Mall, for always coming through for me.

Great
By
RONALD G.

(South Richmond Hill, NY) - December 27, 2009 (
See all reviews by this customer
)
I got this for my sister. She loved it, and it arrived on time.

snowflake mugs
By
Barbara C.

(Burlington, WA) - December 16, 2009 (
See all reviews by this customer
)
These turned out nicely but were a bit overpriced for what you got. The mugs are nice they come with 1 packet of cocoa not a box.

Hot Cocoa mug
By
Sharon W.

(Newark, OH) - December 4, 2009 (
See all reviews by this customer
)
Great looking mug...Cocoa a bonus.

Good but could be better
By
Tinesha J.

(Des Moines, IA) - July 15, 2013 (
See all reviews by this customer
)
In the picture it looks like the bag of hot chocolate is the same size as the bags of Ghiradelli chocolate you can buy in the store. Not so much, it's one small bag for one cup of hot chocolate. If the bag had been bigger I would have gone 5 stars because the cup is perfect.

Price
By
Shopper

(Tamarac, FL) - December 15, 2011
As I stated before, the size of the mug, the cocoa and certainly the price were all a bit disappointing. In order, mug is smaller than expected and only single sided decor, only one bag of cocoa and the absurd price are my complaints. Nothing major!

Decent product but flawed personalization
By
Mark S.

(Beaumont, TX) - December 14, 2011 (
See all reviews by this customer
)
This product would have been exactly as expected, but the personalization was off center and too low, as you can see in the photo. Very disappointed. Too close to Christmas to return (plus they sent me the wrong packing slip anyway, I got another customer's packing slip and I don't feel like dealing with the complications that would probably come from that). Luckily, I bought this as "gift wrap" to hold a digital camera I bought and not as the primary gift, so I'm going to give it as is.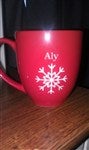 Bistro mugs
By
Shopper

(Herriman, UT) - December 13, 2011
I bought these mugs for my friends thinking they were a lot larger. Most of the regular size mugs are eight to twelve dollars. These are small mugs. It said they fit 16 ounces plus. They do fit 16 oz but just barely. There is no plus. From the price and the picture I thought they would be bigger and I was really disappointed. I don't think these were worth the price I paid, reg $24.95 on sale for $15.95. Last year I bought the cookie jars and they were just what I wanted. I wish I had bought something else for my friends.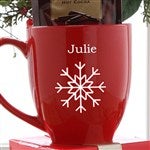 Cute Mug
By
Kathleen B.

(Buford, GA) - September 17, 2011 (
See all reviews by this customer
)
This mug is very cute. The packet of Cocoa is much smaller than I expected, but overall it's a very cute gift! This would be great as a stocking stuffer too.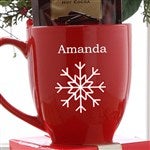 Product satisfaction
By
Lucrezia K.

(Lindenhurst, NY) - December 18, 2010 (
See all reviews by this customer
)
The product is exactly as you adverstise. Very happy

wrong quantity
By
Shopper

(Purcellville, VA) - December 27, 2011
I mistakenly thought I was purchasing 3 mugs because of the picture, so I had the last name put on the mug. If I had realized it was only one mug per purchase I would have used the first name. Ran out of time before Christmas to correct this, so it was a little embarrasing when giving the gift.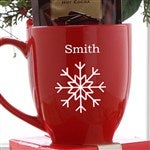 Not what expected
By
Shopper

(Hellertown, PA) - November 16, 2011
The mug is nice but the Ghiradelli Hot Cocoa is very small and looks silly in this mug. The picture does not accurately reflect the amount of the hot cocoa.

disappointing
By
Susanne W.

(Fremont, OH) - December 16, 2009 (
See all reviews by this customer
)
These mugs were bought as gifts for our employees. While it is true that they hold 16 oz, the cups appear "regular sized" and cannot be lifted without spilling the liquid. These mugs were bought on sale - no way were they worth even the sale price!

"Mugs" doesn't mean more than one
By
Andrew G.

(Vancouver, WA) - December 19, 2010 (
See all reviews by this customer
)
Wow, what a misleading product description. Here you see three mugs, and it is described as a set of three. "Set of three" means 1 mug, 1 pack of cocoa, and 1 box that it comes in! When the box came, my son and I knew we had been had. Personalizationmall.com has designed this product description to make you believe you get three mugs. While the 1 mug that came looks really nice (the only reason I'm giving this even 1 star), it wasn't what my son and I thought we were getting my wife. I don't think I will ever order from this site again...or at least we'll make sure we read through all the fine print.