A very special family gift.
By
Lisa M.

(Lodi, WI) - December 26, 2011 (
See all reviews by this customer
)
I cannot even begin to express my joy and happiness with this item. I struggled with a gift idea for my inlaws' and unfortunately waited to the last minute to make a decision. I ordered this on Tuesday... as in December 20th. It was already too late to guarantee by Christmas, so I went into my purchase assuming it would be here Tuesday the 27th at the earliest. Boy was I wrong! It was delivered on Friday, the 23rd!! I'm still shaking my head in disbelief that a custom made/personalized item can be ordered and delivered in 3 days... especially with all the craziness of the holidays in full swing. We did not open the box before it was gifted and when my very hard to please mother in law opened it Christmas Day, I could see a tear in her eye. The picture was lovely! The quality was amazing, and each and every name was crystal clear and easy to read. This was perfection! An amazing A+ to personalizationmall.com. You have gained a customer for life!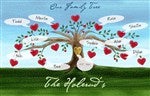 More than I expected
By
Morgan F.

(Freedom, CA) - December 14, 2011 (
See all reviews by this customer
)
I ordered this family tree canvas as a Christmas Present and my expectations were definitely exceeded. Shipping was fast, it came securely bundled in bubble wrap, and the canvas was beautiful with vivid colors. I will definitely be making more purchases from personalizationmall.com!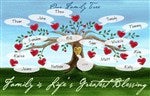 hanging on my moms wall
By
carol B.

(jacksonville, FL) - December 13, 2011 (
See all reviews by this customer
)
I was looking for a family tree for my mom and I was looking all over the place.till i found this love it and every one else loves it I do wish that you could change some things to make it more easy for you to make it how you want maybe add or take away some hearts..but I do love it..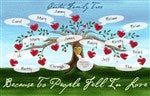 Lovely item
By
Shopper

(Yukon, OK) - November 27, 2011
Bought this for my parents with all their children and grandchildrens names on it. Still plenty of room to add more grandchildren at a later time as they are born. I know they are going to love this.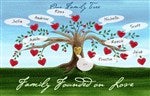 Very Nice!
By
Allison M.

(Conway, SC) - November 15, 2011 (
See all reviews by this customer
)
Beautiful artwork! My only complaint is that you can't customize the number of hearts, so we had some extra. Still super nice and was a perfect gift for my mother-in-law's birthday. This was my first order from personalizationmall.com and I will definitely be a return customer! Shipping was also super fast for a personalized order!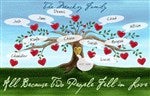 Wow!
By
Kay T.

(Miami, OK) - October 21, 2011 (
See all reviews by this customer
)
With only one child, I had plenty of hearts to add our 'hairy babies" (our beloved dogs) to our Family Tree, including "Our Otis", who was a very much loved 'hairy angel' and member of our family that recently passed away. I also was able to add a favorite verse on the bottom hearts. I ordered the frame which turned out great and is now Ready to Hang. I purchased it for one of my husband's Christmas gifts although we all will be able to cherish it for years to come.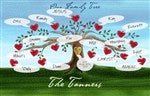 Great gift for family
By
Shopper

(Saint Louis, MO) - June 25, 2011
I gave this as a gift for a dear friend when she moved into a new house. She has 2 daughters & 9 grandchildren, & with their daughter's husbands & themselves...it was just perfect with the 15 hearts!! She just loved it & thought it was such a special gift, which made me feel so happy I found such a meaningful and lovely keepsake as this "Family Tree"! Thank you so much for a beautiful gift, and it came so fast. I just love your website!!

Family Tree
By
traci K.

(tomball, TX) - May 17, 2011 (
See all reviews by this customer
)
I got this for A mothers day gift she LOVED it!!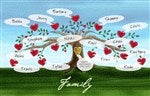 Perfect Gift
By
Angela S.

(Chicago, IL) - May 13, 2011 (
See all reviews by this customer
)
I recently purchased this item for my grandparents. They loved it. The canvas looks as if an artist painted it. Who knows? I assumed it was massed produced but it even had the smell of a fresh painting. Anyone would love this gift. You could even just make the tree names of a group of friends if you don't want to use family. It could be used for a pledge class in a sorority too. Perfect gift for anyone. Get the frame.

Great gift!
By
Shopper

(Geneva, AL) - May 11, 2011
Love it!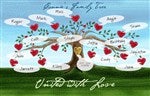 product features
By
Shopper

(houston, TX) - May 10, 2011
The names printed on the leaves were very hard to see. I wish the print had been larger and bolder since I gave it to my elderly parents. Several people commented that they could not make out the wording on the tree trunk.
Makes a nice gift but needs improvement.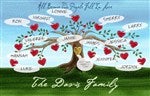 Wonderful
By
Cathleen M.

(Greeley, KS) - March 27, 2011 (
See all reviews by this customer
)
Thank you so much.The platter and canvas are just wonderful.I am completely satisfied.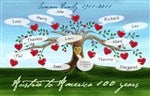 very nice
By
Janet D.

(Princeton, WV) - August 22, 2014 (
See all reviews by this customer
)
I ordered this for my husband and myself for an anniversary gift. I took the advice of someone else who used the extra hearts and put the words HOPE, FAITH, PATIENCE AND LOVE in them. I wish I hadn't done that. It looks like names in there and I don't like it. I am going to try to paint over them and I hope that works. Also, it looks smaller than I thought it would. My son and his gf are the only ones who have seen it and they like it a lot, but felt like me about the extra words.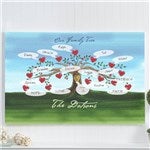 Love it!
By
Sheila W.

(Summerville, SC) - December 27, 2013 (
See all reviews by this customer
)
I created this tree for my "local" parents who are also grandparents to my children. I added all of our names and with the leftover hearts, I filled with love, respect, patience and trust. The wrap was beautiful and the grandparents LOVED the gift for Christmas.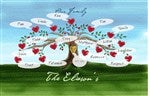 Looks Great
By
Shopper

(Hannibal, MO) - December 25, 2013
Very pleased with this item, looks great so far have been happy with all purchases !,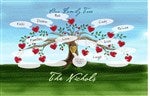 Memorable & Charming
By
Jaclyn W.

(Spring Hill, TN) - December 21, 2013 (
See all reviews by this customer
)
Well made and the color is beautiful! It's a gift for my parents and i can't wait to see their faces!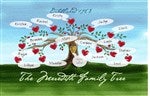 Awesome canvas!!!!!
By
Amber N.

(BELOIT, WI) - May 4, 2013 (
See all reviews by this customer
)
I got this for Mothers Day and it included my husbands name, my name, all seven of our kids, and our six pets. I couldn't be happier!!!! It is so beautiful!!!!!!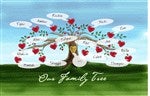 The perfect gift.
By
Joyce R.

(Palmer, AK) - March 22, 2013 (
See all reviews by this customer
)
This was the perfect gift for my 84 year old moms birthday. I had space for the entire family as well as little reminders from years past on the extra hearts. It was so touching to us all. Everyone thought it was hand painted it was so beautiful.
Thank you so much.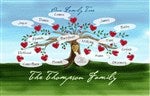 Wonderful gift
By
Shopper

(Georgetown, TX) - January 4, 2013
I bought two of these. One for my mom and one for my mother in law. They loved them!!! The canvas was a lot nicer then I imagined it would be. Would love if we had a little more play room to add more names or have less names so I could buy for others!! Other then that I would recommend this as a gift in a heartbeat!!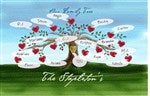 Very Satisfied
By
Shopper

(Amarillo, TX) - December 24, 2012
The canvas that I ordered was not only shipped quickly, but the quality was superb! I was very satisfied, and cannot wait until Christmas morning to see the reaction my mother-in-law has!
The price was very reasonable too!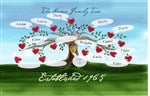 Perfect Christmas Gift
By
Allison C.

(columbia, PA) - December 19, 2012 (
See all reviews by this customer
)
We bought this for our parents as a 'grandchildren tree' and it was beautiful. After placing all of the names, we still had four open spots so we chose to add words such as 'faith' and 'love'.
When this arrived (very quickly I might add) it looked even better than we had hoped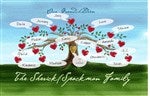 Family
By
Ashley D.

(Dallas, NC) - December 17, 2012 (
See all reviews by this customer
)
I think this is a very thoughtful gift for a family member or even a friend! My grandmother loves this and I recommend this to anyone!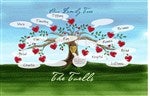 Family Tree Canvas
By
Norma E.

(Kansas City, MO) - December 10, 2012 (
See all reviews by this customer
)
The quality of the product is good and I am excited to give to my mom for Christmas of our Family Tree. Thank you!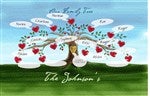 love it
By
linda C.

(shillington, PA) - December 6, 2012 (
See all reviews by this customer
)
I was very pleased when I received my Family Tree Artwork, my father and mother in law are going to love it! I was very happy with the quality..very nice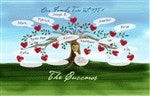 Wonderful!
By
Shopper

(Crawfordville, GA) - June 13, 2012
Ordered the platter and was Very disappointed in it, it was so small. Then turned around and ordered this. It is wonderful!!! Can't speak highly enough of it. It will make a great birthday present for my mother and I know she will love it as much as I do!! Great job! Don't hesitate ordering this. Anyone you give it to will be thrilled (if you don't keep it for yourself!)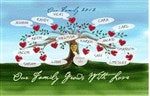 Wonderful Gift
By
April P.

(Oshkosh, WI) - June 3, 2012 (
See all reviews by this customer
)
Bought this for my in laws 35th wedding anniversary and they are absolutely in love with it. What a great find. I dont even know how i came across this site but glad i did!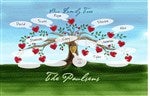 Family Tree Canvas
By
Kyle F.

(Gardnerville, NV) - May 6, 2012 (
See all reviews by this customer
)
I purchased two of these for both my mother and mother in law, and they absolutely loved it! Both commented on the quality of the artwork, and I loved how quickly it arrived to both moms--plenty of time before Mother's Day.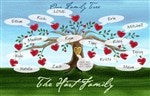 Beautiful
By
shannon C.

(wildomar, CA) - April 27, 2012 (
See all reviews by this customer
)
wanted something new to freshen up our front entrance area. Wow! This piece is so beautiful....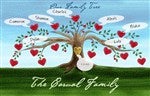 Moms Gift
By
Shanika U.

(Harrisburg, PA) - April 10, 2012 (
See all reviews by this customer
)
I bought this for my mom who was turning 50 & she Loved it . I watched as she cried tears of joy.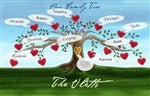 Excellent, quality gift idea
By
Wendy A.

(Dothan, AL) - March 23, 2012 (
See all reviews by this customer
)
Was shopping for gift for my aunt & uncle's 50th Wedding Anniversary and came across this. Loved the idea and that you could put anything you wanted to on it! They loved the canvas, as did everyone else, and I was impressed with the quick delivery! I placed order @1am on Monday & received package on Thursday!
Will definitly shop here again!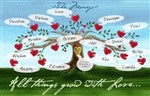 Perfect Gift
By
Shopper

(Bridgewater, IA) - February 10, 2012
Ordered one of these for our parents 40th Wedding anniversary. Loved that we could personalize it and preview it before ordering! They loved the gift!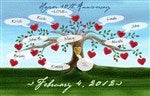 Very good workmanship and quality
By
Robyn M.

(Worthington, WV) - January 4, 2012 (
See all reviews by this customer
)
I was trying to find something for my husband for our 4th wedding anniversary, which is fruits and flowers. I looked at alot of things and kept coming back to this product. I figured it was about as close to fruits and flowers as I was going to get for a guy and I picked right. I loved being able to personalize it and my husband loved it. He has shown it off to all his friends and family. I would definitely buy from this company again as they have very nice and good quality items. Thanks guys for doing such a wonderful job.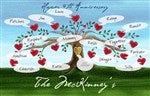 Best Online Shopping Experience I've Ever Had!!
By
Vickie D.

(Lubbock, TX) - February 25, 2010 (
See all reviews by this customer
)
I happened on this site because I was looking for something personal for my daughter-in-laws birthday which was 9 days away. I purchased it on a Monday evening and to my surprise it arrived (with everything I asked for) on Wednesday that same week. I would recommend this site to anyone who wants or needs fast personaliztion service. I have never purchased anything that you did not pay more for the personaliztion than you did the item until now. It was beautiful and my daughter-in-law loved it.

Family Tree
By
Angie B.

(Elba, AL) - December 2, 2010 (
See all reviews by this customer
)
The painting was very professional. All names were spelled right and put exactley where i had them in my order. Beautiful work.

Family Tree
By
Fay R.

(Longview, TX) - January 11, 2010 (
See all reviews by this customer
)
My son and daughter-in-law was extremely happy with their Christmas gift this year-this beautiful family tree made especially for them. Thanks for great products!

So cute!
By
Wendi B.

(St Charles, IA) - January 18, 2010 (
See all reviews by this customer
)
Just gorgeous. I bought this as a wedding gift for my parents and I know they will love it. I also ordered pretty last minute (for a personalized gift) but received with normal shipping in plenty of time.

Perfect present
By
Jennifer C.

(Columbus, OH) - February 22, 2010 (
See all reviews by this customer
)
I got this for my grandparents 50th anniversary. It arrived quickly and is so cute. You won't be disappointed!

A Crowd Pleaser
By
Henry R.

(Coolidge, AZ) - February 24, 2010 (
See all reviews by this customer
)
Couldn't wait to open the box upon arrival. I was so impressed with the clarity and the bold colors. Every one who comes over seems to go right to the picture, read every detail and insists on the information of where it was purchased because they want one too!!! It's so beautiful and so personal. My kids get a huge kick out of seeing all thier names included. I love it!!! Thanks again for all your wonderful products. I'm a customer forever!!!!

Above and beyond my expectations
By
Charisma G.

(Oxnard, CA) - November 24, 2010 (
See all reviews by this customer
)
I absolutely loved my personalized canvas! It exceeded my expectations. Im so anxious to give it already! hehe

Great personalized gift
By
Caryanne K.

(Dryden, NY) - November 17, 2010 (
See all reviews by this customer
)
I got one of these for my nana and added all of her grandchildren's names in the hearts. It looks just like the picture. The names are a bit small, but overall I really like it.