Very Satisfied
By
Shopper

(Amarillo, TX) - December 24, 2012
The canvas that I ordered was not only shipped quickly, but the quality was superb! I was very satisfied, and cannot wait until Christmas morning to see the reaction my mother-in-law has!
The price was very reasonable too!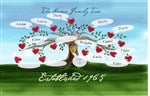 Perfect Christmas Gift
By
Allison C.

(columbia, PA) - December 19, 2012 (
See all reviews by this customer
)
We bought this for our parents as a 'grandchildren tree' and it was beautiful. After placing all of the names, we still had four open spots so we chose to add words such as 'faith' and 'love'.
When this arrived (very quickly I might add) it looked even better than we had hoped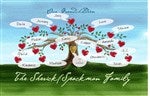 Family
By
Ashley D.

(Dallas, NC) - December 17, 2012 (
See all reviews by this customer
)
I think this is a very thoughtful gift for a family member or even a friend! My grandmother loves this and I recommend this to anyone!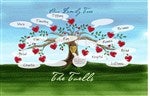 Family Tree Canvas
By
Norma E.

(Kansas City, MO) - December 10, 2012 (
See all reviews by this customer
)
The quality of the product is good and I am excited to give to my mom for Christmas of our Family Tree. Thank you!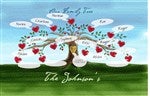 Beautiful
By
Lucia W.

(Escondido, CA) - December 9, 2012 (
See all reviews by this customer
)
Got this for mom for CHristmas... she is going to love it. Great quality.. very nice!

perfect gift
By
Shopper

(Evanston, IN) - November 20, 2012
My parents are hard to buy for, this will be a wonderful surprise for them at Christmas! It shipped and delivered in days. I was thrilled with the quality but not surprised because I have purchased from Personalization Mall in the past. I've never been disappointed.

MORE THAN I EXPECTED!
By
judith M.

(canby, OR) - September 22, 2012 (
See all reviews by this customer
)
YOUR SERVICE AND ACCURACY FAR SURPASSES ANY OTHER STORE.I WAS SO DELIGHTED WHEN I RECEIVED OUR FAMILY TREE. IT IS BEAUTIFUL AND PRECISE THE NAMES ARE EXACTLY THE WAY I WANTED THEM TO BE AND VERY EASY TO READ EACH AND EVERYONE OF THEM. THANK-YOU FOR SUCH PERFECTION. I AM VERY PROUD TO GIVE THEM TO MY FAMILY.

50th Anniversary gift
By
Shopper

(Rensselaer, NY) - September 3, 2012
I bought this to give to my sister and brother-in-law for 50 years of marriage.
I am completely satisfied and it is just beautiful. I love it. I can't wait to have one myself. Don't hesitate at all.

Beautiful
By
Shopper

(east northport, NY) - August 20, 2012
Just beautiful and better than I expected!

Great wall hanging
By
Debi H.

(Sioux City, IA) - August 18, 2012 (
See all reviews by this customer
)
Looks very nice, wish the hearts (with the names on them) were a little larger.
Easy to hang with hardware included. Would recommend to others to purchase.

Great gift for teachers!!!
By
Shopper

(Farmington Hills, MI) - August 1, 2012
Everybody just loved it! What a way to appreciate teacher & great memorable gift to her/him.

Our Family Tree Canvas Art
By
Shopper

(Key Largo, FL) - July 1, 2012
My sister loved this gift! I would definitely order this item for other friends and family in the future.

Wonderful!
By
Shopper

(Crawfordville, GA) - June 13, 2012
Ordered the platter and was Very disappointed in it, it was so small. Then turned around and ordered this. It is wonderful!!! Can't speak highly enough of it. It will make a great birthday present for my mother and I know she will love it as much as I do!! Great job! Don't hesitate ordering this. Anyone you give it to will be thrilled (if you don't keep it for yourself!)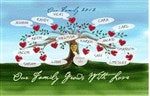 Wonderful Gift
By
April P.

(Oshkosh, WI) - June 3, 2012 (
See all reviews by this customer
)
Bought this for my in laws 35th wedding anniversary and they are absolutely in love with it. What a great find. I dont even know how i came across this site but glad i did!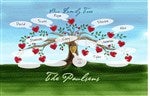 Family Tree
By
Amanda N.

(St. Louis, MO) - May 12, 2012 (
See all reviews by this customer
)
I ordered the family tree for Mothers Day. She LOVED it!

Family Tree Canvas
By
Kyle F.

(Gardnerville, NV) - May 6, 2012 (
See all reviews by this customer
)
I purchased two of these for both my mother and mother in law, and they absolutely loved it! Both commented on the quality of the artwork, and I loved how quickly it arrived to both moms--plenty of time before Mother's Day.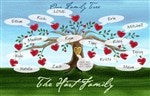 Beautiful
By
shannon C.

(wildomar, CA) - April 27, 2012 (
See all reviews by this customer
)
wanted something new to freshen up our front entrance area. Wow! This piece is so beautiful....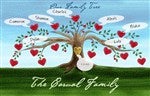 Special Memories
By
Shopper

(Boynton Beach, FL) - April 11, 2012
A unique way to display the family tree and a perfect gift for mom

Moms Gift
By
Shanika U.

(Harrisburg, PA) - April 10, 2012 (
See all reviews by this customer
)
I bought this for my mom who was turning 50 & she Loved it . I watched as she cried tears of joy.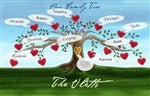 Love it!
By
Shopper

(Tomball, TX) - March 28, 2012
This is a wonderful product. You will not regret buying this.

Excellent, quality gift idea
By
Wendy A.

(Dothan, AL) - March 23, 2012 (
See all reviews by this customer
)
Was shopping for gift for my aunt & uncle's 50th Wedding Anniversary and came across this. Loved the idea and that you could put anything you wanted to on it! They loved the canvas, as did everyone else, and I was impressed with the quick delivery! I placed order @1am on Monday & received package on Thursday!
Will definitly shop here again!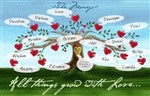 Beautiful!!
By
Shopper

(West Deptford, NJ) - March 19, 2012
The artwork was unique and my parents absolutely loved it!!

Fantastic Customer Service
By
Shopper

(West Des Moines, IA) - March 13, 2012
I received the art in a very timely manner and was very pleased with the quality. However, there were two small blemishes on the frame. I called customer service and was immediately connected with a representative who gave me simple instructions to resolve the problem. The item was replaced at no charge and was shipped very quickly. The new item was perfect! I will definitely recommend this company to others looking for unique gifts. This type of customer service is rare and very much appreciated!

loved it
By
Gloria M.

(Harvest, AL) - March 13, 2012 (
See all reviews by this customer
)
I purchased this for my parents as a gift they loved it, had plenty of room for all family members plus other words like: faith, hope and love.

PERFECT GIFT FOR ANY FAMILY
By
Elizabeth F.

(Middle Village, NY) - March 10, 2012 (
See all reviews by this customer
)
I love this!!!
This was purchased as a gift and my husband loved it.
The colors are exactly as pictured.


Perfect Gift
By
Shopper

(Bridgewater, IA) - February 10, 2012
Ordered one of these for our parents 40th Wedding anniversary. Loved that we could personalize it and preview it before ordering! They loved the gift!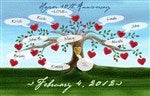 Gorgeous anniversary gift
By
Shopper

(Shrewsbury, MA) - January 10, 2012
This is the perfect anniversary gift for my parents--celebrating their 40th this year! The quality is top-notch and I opted for the framed product, based on other feedback, and I'm glad I did. I'm very pleased with the careful detail and the quality of the items on personalizationmall.com.

Very good workmanship and quality
By
Robyn M.

(Worthington, WV) - January 4, 2012 (
See all reviews by this customer
)
I was trying to find something for my husband for our 4th wedding anniversary, which is fruits and flowers. I looked at alot of things and kept coming back to this product. I figured it was about as close to fruits and flowers as I was going to get for a guy and I picked right. I loved being able to personalize it and my husband loved it. He has shown it off to all his friends and family. I would definitely buy from this company again as they have very nice and good quality items. Thanks guys for doing such a wonderful job.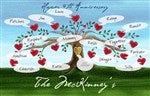 Beautiful family tree
By
Natalie M.

(Batavia, IL) - December 31, 2011 (
See all reviews by this customer
)
Received canvas quickly. It turned out great. Quality product, easy to enter information.

A very special family gift.
By
Lisa M.

(Lodi, WI) - December 26, 2011 (
See all reviews by this customer
)
I cannot even begin to express my joy and happiness with this item. I struggled with a gift idea for my inlaws' and unfortunately waited to the last minute to make a decision. I ordered this on Tuesday... as in December 20th. It was already too late to guarantee by Christmas, so I went into my purchase assuming it would be here Tuesday the 27th at the earliest. Boy was I wrong! It was delivered on Friday, the 23rd!! I'm still shaking my head in disbelief that a custom made/personalized item can be ordered and delivered in 3 days... especially with all the craziness of the holidays in full swing. We did not open the box before it was gifted and when my very hard to please mother in law opened it Christmas Day, I could see a tear in her eye. The picture was lovely! The quality was amazing, and each and every name was crystal clear and easy to read. This was perfection! An amazing A+ to personalizationmall.com. You have gained a customer for life!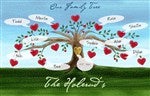 Very Lovely
By
Shopper

(Malakoff, TX) - December 21, 2011
Amazingly beautiful canvas art decor. The young couple I gave it too loved it with their new baby girls name on it. Colors vibrant & very nice. A must for everyone. Service was unbelievably fast getting this during the Holidays.

Beautiful Famil Tree !!
By
Rebecca D.

(Loganville, GA) - December 15, 2011 (
See all reviews by this customer
)
I ordered the Family Tree wall hanging for my brother and his family. I was excited to see how beAutiful it is! I just wish I had ordered the frame to go with it

Priceless
By
Shopper

(Orlando, FL) - December 14, 2011
This is probably one of the best gifts I have ever purchased for someone. the Quality and detail is exquisite!!! It is such a personal and sentimental gift and looks amazing!!!! Definitely something worth buying!!!! LOVE IT!

More than I expected
By
Morgan F.

(Freedom, CA) - December 14, 2011 (
See all reviews by this customer
)
I ordered this family tree canvas as a Christmas Present and my expectations were definitely exceeded. Shipping was fast, it came securely bundled in bubble wrap, and the canvas was beautiful with vivid colors. I will definitely be making more purchases from personalizationmall.com!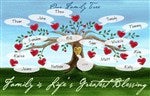 hanging on my moms wall
By
carol B.

(jacksonville, FL) - December 13, 2011 (
See all reviews by this customer
)
I was looking for a family tree for my mom and I was looking all over the place.till i found this love it and every one else loves it I do wish that you could change some things to make it more easy for you to make it how you want maybe add or take away some hearts..but I do love it..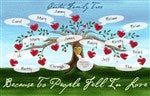 Stunning!
By
Jessica H.

(Westville, IL) - December 9, 2011 (
See all reviews by this customer
)
This is amazing! It even smells like it was freshly painted. I Bought this for my parents for Christmas and I can not wait to give it to them

Beautiful Gift
By
Shopper

(Rhodes, MI) - December 8, 2011
Very pleased with this item. Artwork is pretty, canvas is nice and the personalization was high quality.

Perfect!!!
By
Lisa M.

(pembroke pines, FL) - December 3, 2011 (
See all reviews by this customer
)
Exceeded my expectations. Love it!!

Lovely item
By
Shopper

(Yukon, OK) - November 27, 2011
Bought this for my parents with all their children and grandchildrens names on it. Still plenty of room to add more grandchildren at a later time as they are born. I know they are going to love this.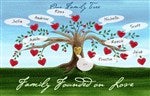 Very Nice!
By
Allison M.

(Conway, SC) - November 15, 2011 (
See all reviews by this customer
)
Beautiful artwork! My only complaint is that you can't customize the number of hearts, so we had some extra. Still super nice and was a perfect gift for my mother-in-law's birthday. This was my first order from personalizationmall.com and I will definitely be a return customer! Shipping was also super fast for a personalized order!