Makes a great memorable Gift
By
MORRIS V.

(Los Angeles, CA) - January 6, 2012 (
See all reviews by this customer
)
The Family Tree made a great gift for my in laws. The user friendly website made it very easy to create the names. Overall a great gift but I would of liked if we can change the font as an option.

Overall very nice
By
Shopper

(Carleton, MI) - June 22, 2011
Overall a very nice family tree. The writing could be a little nicer and the color of the writing on the hearts could be different (white) to make it excellent. But the canvas, frame and size and colors are great. It will make a great gift for not a lot of money!

My In-Laws Loved It:)
By
Monika D.

(Houston, TX) - December 28, 2010 (
See all reviews by this customer
)
The quality of the canvas is GREAT.. the shipping was super fast and I paid for standard shipping!! Only wish it would let you remove or add hearts. I had 2 empty hearts on my tree but one of my sister n laws may have more kids, so that was my reason for purchasing it!! Overall Great:)

Nice for a print on canvas
By
Christyn G.

(Howell, MI) - December 24, 2010 (
See all reviews by this customer
)
I bought the 16x24 size and the names are not too small. I think the small names people are talking about might be on the smaller size. It is a nice picture. It is a printed canvas though, which I expected, but I think if you look at it too quickly you might think it is painted. It is not, it is printed and it feels printed, but it looks very nice and I know my grandparents will love it.

Surprised
By
Kelly D.

(Pottstown, PA) - September 11, 2010 (
See all reviews by this customer
)
I was truly surprised at the fast service that I recieved upon my order. I was able to track the entire mailing process from the time that the product left the store until the very day I recieved the product.So many times we order something from online and it is out of stock what a big disappointment.Well guys I am very satisfied with the punctuality and the product itself.Thank you soooo very much. I will definately use this site again and again.

Pleased
By
Debbie S.

(Pataskala, OH) - August 11, 2010 (
See all reviews by this customer
)
I bought this for my dear friends that were celebrating their 25th wedding anniversary. I was very pleased with how quickly I got this after I ordered it. I had forgetten all about the upcoming event and got on line to the Personalization Mall, I had used them to order many other gifts over the past few years. I ordered this on a Tuesday and it was on my door steps on that Friday! You can't ask for more than that. I was very pleased with the quality of this item. The only thing I might suggest is that the wording on the apples me a little darker, other than that is was beautiful and my friends loved it! All of their guests thought it was wonderful and asked for the information where I got it!

Bought It As A Mother's Day Gift
By
Steven D.

(Henderson, NV) - May 5, 2010 (
See all reviews by this customer
)
It was a little bit thinner than we had hoped, however its a wonderful piece of art. It was shipped quickly and looked great! Perfect addition to a family home!

Great
By
Carrie B.

(kimball, WV) - March 20, 2010 (
See all reviews by this customer
)
I love this item the picture is great and the handwriting is very easy to read. The top and bottom words are centered. I loved it so much I got my hubby to hang it up the same day I got it ! One thing I didnt like is the picture frame it comes in dont have a thing on the back to hang it up so we had to just sit it on 2 nails.

Looks great!
By
kristine A.

(rexburg, ID) - March 2, 2010 (
See all reviews by this customer
)
When I received this item I thought the paint would look cheap,but the quality of paint is great- the canvas was thick too. I would like to order another- great price, great gift idea.

Great gift! Hearts a little small but still able to read.
By
DONNA W.

(Canada) - February 9, 2010 (
See all reviews by this customer
)
I ordered this for my Father-in-law who lives in a Seniors residence. Sometimes he gets a little mixed up when it comes to finding the door to his room since all the doors look alike. So I ordered the 12x18 family tree and it is now mounted on the wall right beside his door. It had just exactly enough "hearts" so that I was able to get all of the core family members recorded. I wish the hearts were just a bit bigger and that the writing was just a bit bigger and clearer. You are able to make out the names but you have to look close. But it is the smallest size and maybe there is no way to remedy this. Otherwise, a great gift and price.

Excellent gift, great price!
By
May L.

(Brooklyn Park, MN) - December 20, 2009 (
See all reviews by this customer
)
Looks nice unframed. Exactly as shown in preview. Would give 5 stars if able to manipulate the hearts to either remove unused hearts, or create sub-tree hearts (e.g. for grandchild).

product features
By
Shopper

(houston, TX) - May 10, 2011
The names printed on the leaves were very hard to see. I wish the print had been larger and bolder since I gave it to my elderly parents. Several people commented that they could not make out the wording on the tree trunk.
Makes a nice gift but needs improvement.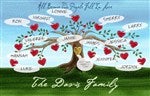 Looked like a picture overly blown up.
By
Tonya R.

(Southgate, MI) - January 10, 2014 (
See all reviews by this customer
)
This was just okay to me. I purchased this for my Mother and Father in-law as a gift. It looks like a picture that was overly blown up and almost a little blurry. I thought that with the script on the top and bottom of the picture that the names would be the same way, and they are just in regular type print and not fancy. I was a little disappointed.

Our Family Tree
By
Alys P.

(Houston, TX) - December 25, 2011 (
See all reviews by this customer
)
I bought this for my sister for Christmas. It's beautiful and of excellent quality. The only problem I had with it is the names on the leaves are hard to see because they are in black and are small. It was delivered in just a few days. Much sooner than I would think for such good quality. I am going to buy another one for my other sister.