Sweet Tie
By
Shopper

(Benbrook, TX) - December 28, 2011
This tie turned out really cute and my dad loved it. He hasn't had it long enough to see how it wears, but the quality of the tie looks well done. The only reason why I rated this as 4 stars instead of 5 is because one cannot customize the colors or fonts of the design and I think those would make a great option.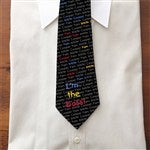 great item
By
Shopper

(RANDOLPH, MA) - December 21, 2011
great item. well made and received very quickly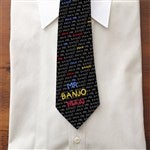 pleased overall
By
Elizabeth H.

(Millry, AL) - December 12, 2011 (
See all reviews by this customer
)
Overall I was very pleased with this product, once I received the correct tie. I was shipped the wrong tie the first time, but the problem was quickly corrected & the correct tie was mailed out promptly. I would definitely recommend this product & plan to purchase from this company again in the future.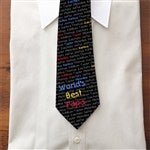 So unique
By
DIANE G.

(EATONTOWN, NJ) - December 8, 2011 (
See all reviews by this customer
)
I ordered two ties for two Tech Support men at work. I put their name, title and one of the departments they work in. I was blown away at how nice they came out. I made the ties into something else than what they were for!! I really have two uniques gifts for these guys and they "will" wear them!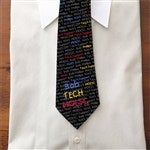 Gift giving Quality
By
Claudia K.

(Snohomish, WA) - November 21, 2011 (
See all reviews by this customer
)
I ordered 2 of these. One had 3 names and one had 5 names printed. The one with 3 names actually turned out pretty well and will make a cute, unique gift. The one with 5 names did not turn out so well as the way the names are laid out is not random enough and there is a diagonal gap which draws the eye before anything else does. It's actually one of those gifts you either never give, or apologize for because it just didn't turn out right.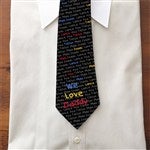 Dad will be so surprised!
By
Shopper

(Ave Maria, FL) - October 14, 2011
This will be a great surprise Christmas present. We have 4 names and are very happy with how it turned out.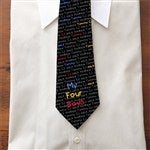 Work Tie
By
Carolyn V.

(Cambridge, OH) - September 2, 2011 (
See all reviews by this customer
)
Excellent tie, looks good, feels good and priced right.
My daughter works in a restaurant that makes you wear a tie. I had the restaurants name put on it and then her name all over. She has gotten many compliments, especially from her boss. Thanks for making such a nice product.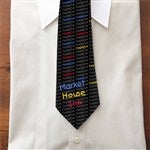 Cute... Cute... Cute!!!!!!
By
Amy H.

(Speedwell, TN) - July 29, 2011 (
See all reviews by this customer
)
My husband now has 2 personalized ties... One with a sweet pic of our kids all over it and now this one with all of our names on it! These ties give him something special to wear and he love them!!! I do wish that I could have made the tie with only our names on it, instead of having to put the 3 line message... That's why I gave it the 4 stars. But we still LOVE IT!!!!!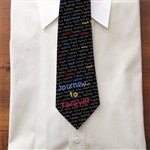 A Father's Day Hit
By
Deborah L K.

(Cedartown, GA) - June 25, 2011 (
See all reviews by this customer
)
My husband and our sons were delighted with these ties. Very nicely done and a constant reminder that they are loved every time they go into their closets. The fabric seems durable and the way the names line up is impressive. Our grands excited pointed out their names outstanding in primary colors on the subdued background of names. Whomever designed this is a genius.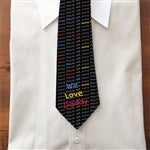 Beautiful!
By
Shopper

(Hope Mills, NC) - June 17, 2011
Excellent, perfect for Father's Day! My mom loved it so much she even purchased one!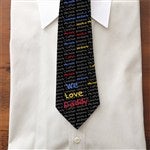 Repeat Order!
By
Shopper

(Deptford, NJ) - June 4, 2011
This tie went over so well that I had to order it for other men in the family with there childrens and grandchildrens names on it. This is the perfect gift for any proud man!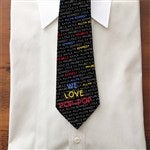 Fabulous Teacher Gift
By
Jennifer P.

(Dobbs Ferry, NY) - April 22, 2011 (
See all reviews by this customer
)
I bought this tie for my daughter's teacher (from the whole class), and was able to have all 21 students' names appear (by using 2 shorter students' names in some of the 12 name lines) as well as a personalization for him. It came just days later, and is perfect! Not to mention it's white (with intermittent and colorful) letters on black, which looks like chalk on a chalkboard. All my friends and students' parents oohed and aahed over the gift. Plus it's something he'll actually be able to use, and cherish for a long time, while remembering his class and students!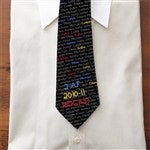 Yes Yes Yes Outstanding
By
Shopper

(Greensboro, NC) - June 26, 2014
My Man is a softly when it comes to grandbaby, so u can just imagine the priceless look on his face when he received this Beautiful, Colorful, Made just him tie. I get him every time. Thank U So Much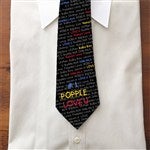 Great Tie for Father's Day!
By
Shopper

(San antonio, TX) - June 16, 2014
I purchased 2 of these ties - and they were a great hit! The quality was better than I expected. The print with the names were clear to read. The I Love Daddy print was bold and stood out great! Had many compliments!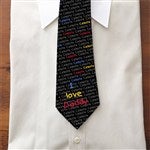 Fathers Day Gift Love it
By
tyeisha G.

(glendale heights, IL) - May 15, 2014 (
See all reviews by this customer
)
I love it its for fathers day and it came super fast would order from again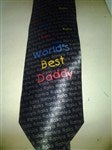 A happy great grandfather
By
andrea W.

(Kennesaw, GA) - April 6, 2014 (
See all reviews by this customer
)
he just LOVES having the family displayed on his tie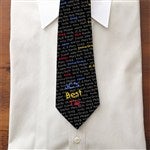 love the tie
By
Shopper

(fisher, WV) - April 1, 2014
As always i loved the tie. Its different and made a great gift. Job well done, i love the items you sell.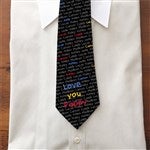 Personalized Neck Tie
By
Betty L.

(Kansas City, MO) - February 28, 2014 (
See all reviews by this customer
)
Perfect gift for my boss who has nine grandchildren. I update him with a new one every time he has a new grandchild. He loves wearing it and very tasteful, not flashy at all.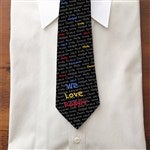 Tie for Pa
By
Brenda W.

(Chicago, IL) - January 4, 2014 (
See all reviews by this customer
)
This is the third tie I have brought for my husband! Grandkids keep coming! Everyone that sees it ask us where we got it.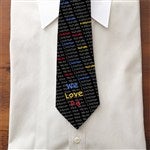 Jafri
By
Syeda J.

(Hicksville, NY) - June 19, 2013 (
See all reviews by this customer
)
The tie turned out to be a great Father's Day gift. It was my husbands first Father's Day so wanted to give him something specials for home to take it to work.

Great item
By
Shopper

(Magnolia, AR) - April 22, 2013
Item arrived quickly and was cute.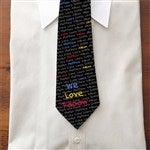 What a Great Idea!!
By
ann C.

(el dorado hills, CA) - March 18, 2013 (
See all reviews by this customer
)
I will be giving this to my Dad for Fathers Day this year. I added all the kids and grandkids on this tie
There were enough spots to put all of us on there. ( 10)
Customer service is exceptional at this company, if anything is wrong they are right there to help!

Nice quality
By
Shopper

(Katy, TX) - December 9, 2012
I bought this for my husband for his birthday. I was impressed of the quality of the tie and how great the names looked. I know he will love it too!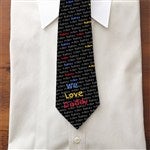 Father's Day 2012
By
Candice H.

(Denver , CO) - October 8, 2012 (
See all reviews by this customer
)
I ordered this tie for my children as a gift to their father for Father's Day and it was a fantastic gift!! My husband loved it, my children loved it, and I loved it too!! He has already worn it to work twice!! Excellent quality as usual from Personalization Mall!!!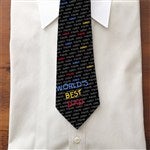 great gift
By
krystine T.

(burlington, NJ) - June 22, 2012 (
See all reviews by this customer
)
loved this idea as a gift for my husband, he loved it.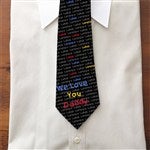 His Little Ones Tie
By
Erin T.

(San Jose, CA) - January 5, 2011 (
See all reviews by this customer
)
Cute idea, but I expected all the names to show on the front of the tie, not just a selected few. put the same name 4 times on top of each other but left out other names, also be prepared the highlighted names (the ones that are in color) also can show up only as either the the beginning or ending of a name also ran names highlighted together. ex MELISSA might show up as meli or PAM as am I was very disappointed that not all the kids name were on the front of the tie yet one of them several times. The kids were looking forward to seeing their name on Papa's tie.

had a blue streak on front of tie
By
Renee F.

(Holland, PA) - February 5, 2010 (
See all reviews by this customer
)
it is barley noticeable, but it is there..I saw it right away, could look like a sharpie mark if my hubby wears it to work.
but other than that, which i am sure is rare, it was nice.

Great gift for Dad or Grandpa
By
Rebekah M.

(Grand Rapids, MI) - November 16, 2010 (
See all reviews by this customer
)
I love, love, love this tie. It is even more attractive in person--classy yet fun. I can't wait to give this to my dad for Christmas. He's going to love having a "We love Grandpa" tie with his gradndaughters' names on it. It's classy enough to wear to work (he's a minister and will be able to preach in it) and could be a casual tie or something dressier because of the gray of the names. The reason I gave it four stars instead of five is because you can't pick which names appear in the colored fonts. It seems that one of my daughters' names appears in yellow more often and seems to stand out more than the other two. Even so, all of them are apparent, and it really is a great gift.

Big hit on Father's Day
By
Shopper

(Lawton, OK) - June 19, 2011
The dads I ordered this for loved them. If there was any exception, they didn't care too much for the back of the tie not being the same color. Overall a great idea for the proud dad.

Great father's day gift
By
Dorothea K.

(Lawton, OK) - June 21, 2011 (
See all reviews by this customer
)
My son is wearing this proudly!

Perfect Gift!
By
Shopper

(South Jordan, UT) - July 5, 2013
Turned out perfect and my dad loves it! The only reason I rated it with 4 stars is because the material on the back of the tie is white and it REALLY should be black. It sticks out alot. But I would still buy this tie again. Great quality material!!

A Tie for papa
By
Lynda H.

(Cottonwood Shores, TX) - June 21, 2014 (
See all reviews by this customer
)
Papa got the tie and liked it I have not seen it.

Pleased with purchase
By
Rachel H.

(Byron, GA) - October 7, 2009 (
See all reviews by this customer
)
I received good feedback from the person I sent it to. Very pleased.

Nice Tie
By
Carissa K.

(Grafton, ND) - March 21, 2012 (
See all reviews by this customer
)
The tie isn't the highest quality, but it's still a great gift. It was a grandpa gift. He was so suprised and impressed that it had his grandkids' names on the tie. It was a hit, he love it!

nice
By
Jessica H.

(Indianapolis, IN) - June 10, 2012 (
See all reviews by this customer
)
This was a Fathers Day gift to my husband from my kids. We haven't given it to him yet but it looks just like it does in the picture. I know he'll love it.it shipped fairly quickly too.

So Cute!
By
Shopper

(Bloomington, IN) - December 20, 2012
I am always impressed by Personalization Mall products. They are easy to order, easy to preview, and always right on time. I purchased this tie for my dad with the grand-kids' names on it. It turned out beautifully! The colors are subdued enough that he can wear it easily. The names alternate which one is highlighted-the only complaint I have is that some of the names are highlighted as they go off the side of the tie so certain names appear to be highlighted more often. Nobody could probably ever tell though unless they looked very closely. Highly recommend as a unique personalized idea!

Nice idea, works best with fewer names
By
Susan C.

(Saint Charles, MO) - December 29, 2009 (
See all reviews by this customer
)
I ordered the tie for a Grandfather for Christmas. I had 8 grandchildrens names which I thought would be just fine since the order form had around 12 fields for names. Unfortunately the tie I received was missing 3 names. I am not sure if they forgot the names or if the way it was made, the names did not display correctly. I sent a note and pictures back to the company. I got the idea of sending pictures from another purchaser who left a review as well. I did get a second tie, and all names now were on it but there are 2 names that won't be visible once the tie is tied. This was a great idea but I wouldn't do it with more than 6 names.

Didn't highlight all the kids' names
By
Leslie S.

(Saint Paul, MN) - April 20, 2010 (
See all reviews by this customer
)
The idea is great but there seems to be a flaw in the computer program that creates the tie. I entered 9 grandchildren's names. All 9 names were visible in the gray lettering but only 8 were highlighted in a color anywhere on the tie. When I contacted customer service they told me there was nothing they could do, that's not how the program was created. So, unfortunately, I have a tie that seems to exclude one of the grandchildren. No fun!

cute idea
By
JULI R.

(ATHENS, TX) - May 24, 2010 (
See all reviews by this customer
)
i loved this tie thought it would be cute idea to put all my kiddos names on there i have five so it was hard to make sure that everyone's name showed up in color at least once was not to impressed with the words on the bottom they look so bright and colorful on comp but came out really dull on tie i took tie and had it embroidered to be bright and colorful but over all still good gift for father's day

Cute, but poor quality
By
Tamara M.

(Kearns, UT) - June 11, 2010 (
See all reviews by this customer
)
The idea of this tie is cute and I'm sure that come Father's Day they will be cherished, but I am disappointed with the quality. For the price, the quality is very poor. The "We Love Daddy" was not near as bright as shown in the picture. To only have one side of the tie be printed on and the other side white, not very appealing. Also, the sheer quality of the tie is poor. I would have expected a much higher quality of fabric for the price I paid.