great present
By
Emily B.

(New York, NY) - May 4, 2012 (
See all reviews by this customer
)
Beautifully constructed.

Love it as always!
By
Shopper

(Pleasant Valley, NY) - April 27, 2012
This is the second one I've ordered. This one is a gift. It's very classy and goes with any decor. Very solid and beautifully engraved piece. You won't be disappointed.

Great Customer Service
By
Shopper

(Combined Locks, WI) - March 31, 2012
I had purchased this frame for a Valentine's Day present and when I received it, the glass was cracked from shipping. I contacted the company and they were happy to send me a new one, free of charge. I received the second frame, and the printing on the frame was already partially rubbed off when I took it out of the box. I'm assuming this due to a malfunction during the production process. I sent a picture of the lettering to the company, who then sent it to the Quality Assurance Team, and once again, they replaced the frame. The third frame I received was beautiful and I absolutely love the quality. To see the lettering more easily, it is best to use a picture with a darker background. Great product overall and the company has great customer service!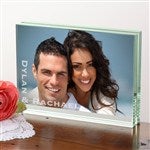 A class act!
By
Shopper

(Brooklyn, NY) - March 26, 2012
Your glass photo block makes such a lovely personalized gift. It suits all ages as it has a timeless look. I've given this gift to a few couples and they were thrilled. Thank you, Personalization Mall!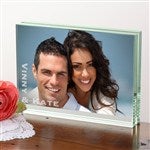 Just right
By
Shopper

(Houston, TX) - February 22, 2012
I was very happy with the picture frame. It looks exactly how I imagined it and it came alot quicker than I expected. All around just great!

Great gift for christmas
By
Shopper

(Miami, FL) - January 3, 2012
I bought this item for a family member and they loved it.

Never dissatisfied
By
Shopper

(Rockaway, NJ) - December 7, 2011
I LOVE this item. I've been waiting for a sale for a while so I could buy it (because I'm cheap!) seriously though, it is worth the price. It's heavy and solid. Not cheap. I bought it for my boyfriend but I might keep it I love it so much! I definitely recommend this product.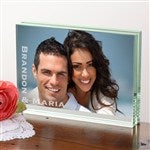 Personalized Glass Photo Block
By
Shopper

(Joliet, IL) - November 30, 2011
I ordered 2 different ones for gifts. They are very high quality. The names are perfect (no mistakes on spelling or scratches on glass) Very beautiful. I would highly recommend!

Beautiful
I loved this picture frame. I ordered the first one as a Christmas present... the second one is going to be for a Wedding present. It was beautifully made and exactly what I was expecting. Great quality.
I have purchased from PersonalizationMall.Com for several years now. I have never ever been disappointed. You won't be either.

Glass photo block
By
Mary B.

(Saint Louis, MO) - August 5, 2011 (
See all reviews by this customer
)
The quality of this photo frame is excellent... but the item is way over-priced, along with expensive shipping costs. The frame (without the engraving) could be purchased for about $5-$10 elsewhere. If this item was not so expensive, I would buy about 10-15 more of them. I definitely would recommend it if you're happy with the price.. a really special keepsake!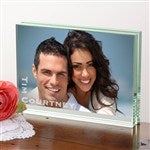 Love these frames!
By
Shopper

(Glendale, AZ) - August 2, 2011
I bought two of the engraved glass block frames for an engagement gift, and they exceeded my expectattions! I absolutely love them, and plan on buying at least 3 more for my adult children. Thank you.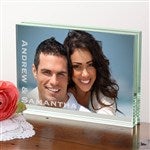 Engagement gift
By
Shopper

(Lebanon, IN) - July 18, 2011
I was looking for a engagement gift for our grandson and his fiance. This looked like a perfect gift for her desk top with both of their names on this Glass Photo Block. They were thrilled with it!

Wonderful gift
By
Shannon L.

(North Liberty, IA) - June 27, 2011 (
See all reviews by this customer
)
I love giving this gift as a wedding present. It is something simple and elegant, and work in most decors. I highly recommend it.

Glass Photo Block
By
Shopper

(Danbury, CT) - June 4, 2011
Great item! perfect with the personalization.. a different way to display a meaningful photo

Engagement gift
By
linda V.

(andover, MA) - May 31, 2011 (
See all reviews by this customer
)
I wanted something a little different for a couple who already has most of their household items. They were so thrilled, as was I. It fits into any decor and isn't a typical engagement frame. I'm always so happy with my choices from your store...not to mention how quickly it was sent.
Linda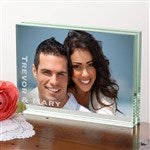 Beautiful Frame
By
LuAnn A.

(Elon, NC) - May 31, 2011 (
See all reviews by this customer
)
Very Heavy Thick Glass Block Frame. Etching was very good quality and plan to buy more for gifts.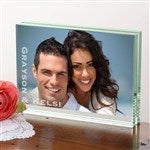 Glass Photo Block
By
Shopper

(Danbury, CT) - May 24, 2011
Great personalized picture frame.. So great that I ordered another one for us!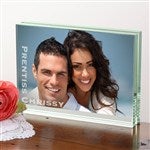 Engagement Gift
By
Lori L.

(Benton, ME) - May 21, 2011 (
See all reviews by this customer
)
I purchased this as an engagement gift for a friend who is getting married for the second time. It is a perfect gift for an established couple who are blending two households. They absolutely loved it and had the perfect photo to put into it. I would suggest that when giving it, you should remove the white paper that comes in it and add a color as the white hides the names that are etched into it. Perhaps give it with a photo in it.

Quality Piece
By
Shopper

(Watertown, SD) - May 21, 2011
This is a quality piece. Well done! It will fit many decorating styles. A perfect bridal shower gift.

kalene
By
Shopper

(manchester, NJ) - April 25, 2011
Purchased this as a 60th Birthday gift for a very special person & she was thrilled with it. Included a special photo from a special trip & it was the perfect gift!

Great Quality
By
Shopper

(Houston, TX) - April 25, 2011
I purchased this as a gift for my boyfriend. As always, I was extremely happy with the product. It's very heavy weight and looks very nice.

Very attractive frame
By
Robin B.

(Vandalia, OH) - April 23, 2011 (
See all reviews by this customer
)
Frame is a nice heavy weight glass and engraving was very well done.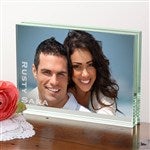 Excellent Quality
By
Kathy T.

(Pleasant Valley, NY) - March 3, 2011 (
See all reviews by this customer
)
This frame will last a lifetime. Very classy and well made. Makes a great gift for anyone. Who wouldn't love a personalized frame. Well worth the money. I've purchased many types of frames on this web site and you won't go wrong with any of them.

My first purchase!
By
brandi E.

(moody, AL) - February 23, 2011 (
See all reviews by this customer
)
i have to admit that i was a little skeptical about purchasing from this site cuz i read a few negative reviews. but it is now apparent to me that those were just isolated incidents.

i have nothing but great things to say about this product & personalizationmall.com! i received my product beautifully personalized and thoroughly wrapped and packaged.

i will definitely be using this site again and again and....well, you get the idea!

thank you for helping make this valentine's so special!

beautiful!
By
Shopper

(oakhurst, NJ) - February 18, 2011
i bought this for my boyfriend as a gift and he loved it! very high quality, heavy glasss, absolutely beautiful! had small problem with it, and vendor was very quick to fix and send me out a new one. couldn't say enough wonderful things!!!!!!!!!!!!!!!

Great Gift
By
Shopper

(Issaquah, WA) - February 15, 2011
This is a perfect gift. Quality is excellent....looks like I spent more than I did.

Great
By
Shopper

(Richmond, IL) - February 12, 2011
This is a very nice glass picture frame. What u see is what u get. It is very nice and the engraving looks amazing!! 5 stars for sure!

Great gift
By
Shopper

(Scarsdale, NY) - February 5, 2011
Looks just like the picture. Engraving came out clear and picture fits in perfect. I would definitely recommend this item!

A Real Bargain
By
Shopper

(Nashville, TN) - January 28, 2011
Great quality, great price, easy to order, fast delivery, a great gift for many occasions!

WONDERFUL GIFT
By
Jacquie P.

(Novato, CA) - August 31, 2010 (
See all reviews by this customer
)
This was a gift for an Anniversary and was very well received. I have found these frames to be one of the very best gifts and the recepients always buy more frames for themselves or as gifts to others. LOVE these frames!!!

our third one
By
john P.

(woodstock, CT) - August 4, 2010 (
See all reviews by this customer
)
my wife loves this frame. we broke one and ordered another one that shipped in pieces so the third's a charm

Beautiful Frame & Excellent Quality!
By
Aleksandra R.

(Wood Dale, IL) - July 28, 2010 (
See all reviews by this customer
)
I bought this frame as an engagement gift and the couple loved it! The quality is excellent as the glass is very sturdy and heavy. The engraving on the side looks very sophisticated. So that the names stand out, I would recommend adding a dark border to the photo or using a photo with a dark background. This was one of my favorite purchases!

Awesome Gift!!!
By
Angelina B.

(Bakersfield, CA) - July 19, 2010 (
See all reviews by this customer
)
Really loved personalizing this gift for an older bride & groom. They asked for no gifts. I didn't obey. They needed something to commemerate their special day together.

a great looking gift
By
Carole S.

(Tinton Falls, NJ) - July 13, 2010 (
See all reviews by this customer
)
Quality GLASS frame...great personal gift...as ususal great service.

Love it
By
Anika W.

(Madison, WI) - July 5, 2010 (
See all reviews by this customer
)
It was easy to order,it was shipped very fast, the price was great and we really love the product. I will def order from that site again.

Elegant Frame
By
DOMINIC M.

(Carpentersville, IL) - June 28, 2010 (
See all reviews by this customer
)
This is one of the best gifts I have purchased. This is definitely a great gift for the couple who has everything! I placed my order over the weekend and received it in 1-2 days! I would definitely buy this item again as a wedding/anniversary gift or just a gift for the couple who has everything! This product is very heavy and looks extremely expensive.

Great
By
Tyler B.

(Sandwich, IL) - June 23, 2010 (
See all reviews by this customer
)
Really great gift for my girlfriend

High quality, attractive frame!
By
Sally S.

(SIlver Spring, MD) - June 10, 2010 (
See all reviews by this customer
)
Extremely pleased with this item! Having read the reviews, I ordered two as gifts and am truly impressed. I agree with the reviewer who commented that this is no flimsy frame: It is solid and heavy, and very good-looking. The laser engraving is attractive -- bold enough to stand out, but subtle enough not to overwhelm the overall design. I hope my friends will be as happy with their gifts as I am to be the "giver."

Love them
By
Lynne M.

(Matawan, NJ) - June 10, 2010 (
See all reviews by this customer
)
I have purchased about 10 of these glass block frames. I have bought for gifts for engagements mostly and of course for myself with my grandchildren's names on them. I also bought them for my son and daughter in law with their childrens names on it. They are perfect gifts and not that expensive. I would greatly appreciate seeing them in a 8x10

Perfect Gift
By
Carmel S.

(Rocky Hill, CT) - June 2, 2010 (
See all reviews by this customer
)
This Frame was a gift for my daughters boyfriend - he turned 18 - He totally loved this frame. Perfect to bring to college to have great memories. Plus I had it in two days. This company was A+ with fast shipping. I will order again.