Cute Mug
By
Patricia F.

(Seabrook, TX) - December 8, 2009 (
See all reviews by this customer
)
I ordered three of these for co-workers and they are very cute. One mug arrived in pieces and another had a blemish on the paint but customer service resolved the problem right away. Great gift.

coffe mug
By
Kris M.

(Greene, NY) - November 23, 2009 (
See all reviews by this customer
)
My niece wanted a mug with her name on it. After looking all over I found this site. I was very pleaed with the product.

A little disappointed
By
Shopper

(Hillsborough, NJ) - April 14, 2012
The workmanship was excellent, but I was disappointed that the name was only on the one side of the mug. The side facing my grandson is blank, as he is right-handed. I would have preferred it be on the opposite side of the mug so that he could see his name as he is using it.

for leftys
By
Linda D.

(Menasha , WI) - December 19, 2011 (
See all reviews by this customer
)
a little confused - when I set the table using the mug for each resident, I need the turn their name AWAY from them if they are righthanded (as is most of America) --- checked all the mugs in my cupboard - if the print is only on one side, it faces YOU when you hold the mug in your right hand -- disappointed as this is a personal gift I purchased (out of my own pocket) for the people that I assist at an assisted living facility -- they will be confused:(

But I really like how they look:)

order got messed up somehow through the final ordering process - still not straightened out --

also this review gets attached to another order for a total of 15 mugs -- with very high shipping:(

oh - and just an fyi -- showed mug to my husband and 17 year son (neither drink coffee) and asked them if there was anything that they 'noticed' about the mug --- they both immediately stated 'for left handed people'

Thanks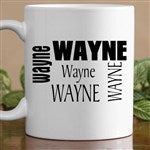 one-sided print only
By
Robert M.

(East Aurora, NY) - December 18, 2009 (
See all reviews by this customer
)
I was disappointed that you only print on one side of the mug. This leaves the other side looking bare and generic. It would be better if the print were on both sides of the mug. People like to see their name while they are sipping. With one side only - the drinker never sees his/her name.

Lighten up the "green"!
By
Roberta S.

(South Bend, IN) - December 6, 2009 (
See all reviews by this customer
)

I was very pleased with the design, but I guess from your web site I thought the forest green would be more green... which was the only choice for a color green. I got the mug for my nephew who loves the color green and I feel the color appears closer to "black" than green. It was a gift for him for Christmas (a request of his for a mug with his name) and I am afraid he will be disappointed with the color.

Roberta

Great Imprint - Size small
By
WENDY A.

(PURCELLVILLE, VA) - November 13, 2009 (
See all reviews by this customer
)
While I'm pleased with the mugs I ordered,the actual size of the mugs are small by todays standards. Wish they were a larger ounce capacity. They look great. Thanks.

only for left-handers
By
Shopper

(seaside, CA) - December 22, 2011
apalled that the graphic is only for left-handed people (righties holding their cup will not see the wording). this should be CLEARLY in the description.

personalized coffee mug
By
Patti R.

(Frisco, TX) - November 14, 2009 (
See all reviews by this customer
)
I bought seven of these mugs as gifts for co-workers. One of the mugs has very bad coffee stains, from the first fill, and has gotten worse as it has been used. I think it might be defective, but makes me cautious of the quality.

Cracked Mugs
By
Troy S.

(East Troy , WI) - January 17, 2011 (
See all reviews by this customer
)
I had two of my mugs come with a crack and didnt last a week..... shame cause I would of bought more....

very disappointing !!!
By
marie B.

(norfolk, VA) - January 1, 2011 (
See all reviews by this customer
)
i ordered this mug to be imprinted in red, but was extremely disappointed to receive a mug that was no where near the vibrant red on the color chart--will venture to say the color might have been a burnt orange. then was surprised to see name imprinted on only one side of the mug--this fact was not stated anywhere on product information--very misleading.

Very disappointed..Not worth it.
By
RAJESH P.

(IRVING, TX) - January 7, 2010 (
See all reviews by this customer
)
I bought this mug for my son.

It's really very cheap quality..The color of the mug is pale. it's not white. It doesn't look the same like the one in the picture.

I will not make a mistake of buying this product again.Think twice before buying.!! Not worth it.