Gem a BIG hit!
By
Claudia C.

(Phoenix, AZ) - May 18, 2010 (
See all reviews by this customer
)
My sister loved her 'diamond' with sentiment and I'm glad I ordered it, thanks!

AWESOME
THIS WAS JUST GREAT!!! i bought it for my girlfriend on her birthday...she hasn't recieved it yet but when it came in mail i was really scared for its size and weight but it was just like a perfect diamond...it is great the engraving in it is just outstanding and it is just like they show it in the picture...it was awesome for its price...who ever looking for a gift get this...its awesome.lol

A gem of a gift
By
Juanita D.

(Delran, NJ) - May 6, 2010 (
See all reviews by this customer
)
This is a beautiful keepsake! Everything about its look and quality is superb. The only flaw is in the box. It would be helpful if the "Personalization Label" were put onto the box instead of on the clear plastic window of the box. When you remove the label so the Gem can be seen upon opening, the glue remains and mars the presentation.


Pleasantly surprised
By
Karen F.

(Kenosha, WI) - April 20, 2010 (
See all reviews by this customer
)
I purchased this "gem" for my parents as a 60th Anniversary keepsake. It arrived within 3 days of placing my on-line order and it is beautiful. I was concerned that it may not be as brilliant and weighty as some other "gems" I had seen on other sites because the cost was so much less on Personalization Mall. It has the look, weight and shine of real crystal. I am very pleased with the quality and the engraving. The fabric lined box with see-through cover is a nice touch. Can't wait to give it to them!

sparkling gem
By
diane G.

(brightwaters, NY) - March 16, 2010 (
See all reviews by this customer
)
This is a beautifull sparkling crystal that we gave to our good friend for her birthday. She loves it and keeps it in her living room where the sun hits it.

Awesome!
By
Terri H.

(Carol Stream, IL) - October 13, 2009 (
See all reviews by this customer
)
This gift is totally awesome! Love it! Quality is awesome. It's such a perfect gift for my sister especially since her nickname is "Gem". Can't wait to give it to her! Your service is great!

Great present
By
Shopper

(San Tan Valley, AZ) - March 17, 2013
I loved the gift I got for my wife's birthday..the etching came out beautifully and the diamond was beautiful! She loved it!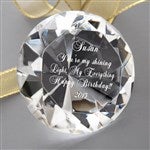 Almost Perfect
By
Shopper

(Sutherland, VA) - October 11, 2011
Item would be a 5 star item, with only one defect but a noticable one. On one of the lines i chose one of the letters was not completely etched making it appear as a different letter entirely. However it was a gift for my wifes birthday and she refuses to return it so shes happy im happy. A little more effort in inspectiing items and this would be flawless.

Nice, heavyweight...but presentation lacks
By
Paul C.

(Sugar Land, TX) - May 4, 2010 (
See all reviews by this customer
)
So the actual glass is nice. It's heavy, as would be expected, so it has a good solid feel to it. The inscription area basically looks exactly like the images portray.

I think for something like this, the presentation is a key part of it. I mean it's not like this thing has a practical use, really...so it's all about the beauty of it. The box it comes in is very cheap and poorly constructed. I would have hoped for it to come packaged in a nicer box. So the poor presentation is why I knocked it down to 4 stars.

Your're a perfect gem.
By
Paul A.

(Alpine, CA) - March 22, 2010 (
See all reviews by this customer
)
I was very pleased with the engraving, it was very readable, and the gem itself was buffed and polished. But, except for the box, it was a little beat up, the clear plastic that is part of the lid,was very scratched and sticky, and it wasn't even glued to the lid. So, when the lid was lifted, the framing of the gem underneath the lid, was left behind. And, the made it look a little tacky. I thought. But, the person who received, really liked it.

Indeed a perfect gem & a perfect gift!!
By
Kartik Rao N.

(Hyderabad, CA) - March 15, 2010 (
See all reviews by this customer
)
This is d first time i'm reviewing a product on the internet. I really loved this gift!! i was a little skeptical when I ordered this about the quality and size; but when I saw it, I was very happy; and i'm pretty sure, the one whom ur sending would lovvve it!!!

Gem
By
Nina W.

(Washington, DC) - March 27, 2012 (
See all reviews by this customer
)
I was very pleased to receive the Diamond Keepsake. It was beautiful when I opened it and presented to my co-worker for her retirement. Thank you for your prompt delivery.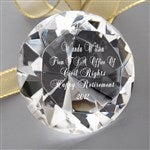 Not as good as I expected
By
Shopper

(Brooklyn, NY) - January 26, 2011
The problem with this item is that engraving is lopsided when you put this diamond on a flat surface. Looks weird. Would not recommend it.