Beautiful piece
By
Janet C.

(Bartow, FL) - October 1, 2013 (
See all reviews by this customer
)
Beautiful piece, just as described, very, very fast service. Will order again

Quality product and great price
By
Shopper

(Charlottesville, VA) - August 24, 2013
After shopping around for a nice recipe box to give as a gift, I found this one to be not only the best price, but also an excellent value. The order arrived very quickly, and when I opened the box, I was pleasantly surprised at the results. The box is prettier than it looks in the picture, and the item has a nice "heft" to it so it looks and feels like quality. Overall I am very pleased with this order and will likely order this item as a gift again. Now I only wish I had ordered the matching cards to go with it.

Good Quality
By
Barbara B.

(Hampton Bays, NY) - August 9, 2013 (
See all reviews by this customer
)
I purchased the Family Favorites Personalized Bamboo Recipe Box. It was not only a good quality but the engraving on it was great. It will make a wonderful Bridal Shower gift for my daughter Keep up the good work.

Beautiful Keepsake
By
Eileen W.

(Greenwich, CT) - July 29, 2013 (
See all reviews by this customer
)
I purchased this as part of a wedding shower gift. I am collecting recipes from relatives and friends of the bride to be and this recipe box will be a beautiful place for her to keep all the cards Hopefully it will be on display in her kitchen.

The box is sturdy, with a nice wood grain and the inscription adds a personal touch. I would definitely recommend this item and will purchase another one for a future gift!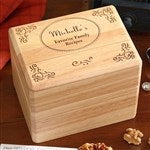 A Gift
By
Susan C.

(Kingsland, GA) - July 8, 2013 (
See all reviews by this customer
)
Was sent to my sister-in-law as a thank you gift. She loves it!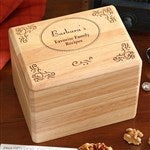 Just loved this recipe box
By
Melanie M.

(State College , PA) - April 26, 2013 (
See all reviews by this customer
)
I was so pleased with this purchase. I gave this along with the personalized recipe cards as part of a shower gift. So many people loved it. This is perfect for those special recipes we all have and would like to pass on one day. I will purchase another when the occasion arises. I was pleased with the quality of the product and also the speed of delivery.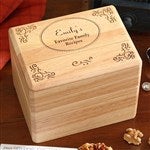 Family favorite
By
Margaret B.

(Bainbridge Island, WA) - April 22, 2013 (
See all reviews by this customer
)
This is the third recipe box I've bought from Personalization Mall because it is a wonderful gift for a mom to give her new daughters-in-law and daughter. After the first gift of this box the others getting married or starting their independent lives have requested it. It's a good size to hold recipes from mom's cookbook to get the new cooks started. Solidly built to last a long, long time.

the perfect recipe box
By
Shopper

(Dania Beach, FL) - April 12, 2013
very nice box, pretty and well made; I like the slot for the card you are using.

Fabulous Christmas Present!
By
Jean D.

(Lakeville, MN) - March 9, 2013 (
See all reviews by this customer
)
I bought 2 of these personalized recipe card boxes. One for my son and one for my daughter. They are 24 and 22 and just starting their lives as adults. My Mom had rosemall painted on a recipe card box for me and since I haven't been able to learn that skill, I ordered these personalized ones. I ordered personalized recipe cards with "From Me" on them and I will fill out our top 25 family favorite recipes. I can't wait to see their faces when they open them this coming Christmas!!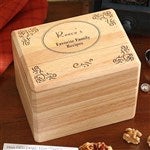 Bride to be loved it!
By
Pamela W.

(Mt. Sterling, OH) - February 11, 2013 (
See all reviews by this customer
)
Wanted to surprise my niece with a gift at her bridal shower that wasn't something she had registered for..... My mom and I bought her several kitchen items and bakeware items and ordered the recipe box with her new name to be....Since she and her hubby to be both cook....we also ordered index cards with the "from the kichen of Samantha and Mitchell" on them. She really liked the surprise! (My mom and I also included a few of her favorite recipes that we make on regular index cards....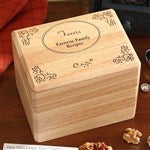 Great gift
By
Dara K.

(San Francisco, CA) - January 28, 2013 (
See all reviews by this customer
)
Gave this as a gift for my mom. She loved how it had a slit to hold the recipe while using it. It was made or good quality wood and the engraving was nice. Quick shipping also a plus!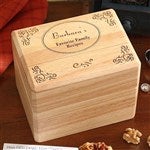 Moms favorite gift
By
Michael N.

(St. Marys, OH) - January 14, 2013 (
See all reviews by this customer
)
It was Christmas Eve and all Mom had really asked for was a new metal recipe box. When she picked her gift up to open she commented on how heavey it was. When she slowly tore away all of the wrappings and opened the box she was amazed at the beautiful wooden box that was personalized with her name on it. She was just elated with it. Her face was a picture to be taken she was very delighted.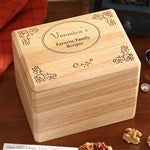 Most useful idea for the kitchen
By
Clifford E.

(Fort Meade, FL) - December 30, 2012 (
See all reviews by this customer
)
product excedes my expectations.A place to store Recipes and being able to place recipe card on lid at angle easy to read.Also a very decorated box of good quality workmanship.Will order again next x-mas for those I know will think it is awsome.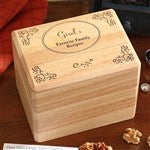 Great quality, price and timely delivery
By
Tiffany B.

(Plano, TX) - December 27, 2012 (
See all reviews by this customer
)
I had a hard time finding a 3by5 box. This one is perfect, although slightly wider than the cards it holds them well and has the built in slit for recipe reading on the lid. Thx for the great product!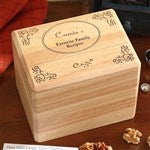 Exactly what I was looking for!
By
Shopper

(Norwalk, IA) - December 12, 2012
My mom wanted a new recipe box for Christmas and my kids wanted to give her one that was "just for her". This fit the bill perfectly! Nice quality -- definitely a piece that will stay in the family

Beautiful Bridal Gift
By
Selma E.

(Taylors, SC) - December 10, 2012 (
See all reviews by this customer
)
When my grandaughter opened the recipe box at her bridal shower, she got tears in her eyes. She was so happy. Little did I know she had been looking for a recipe box, but hadn't found these. She flipped open the box and I had included some of her family favorite recipes. The box appears very well made and the personalization just made it perfect. Everyone at the bridal shower wanted to know where I found such a wonderful gift. PS - the shipping and delivery of the gift was fast.

Great Gift!
By
Shopper

(Independence, OR) - November 12, 2012
I bought this box for my future daughter-in-law and it's wonderful! Large enough that she should get years of filling it up! the personalization is such a good idea, I can see this simple little box becoming a family keepsake!

Wooden recipe box
By
Shopper

(Margate, NJ) - October 30, 2012
Perfect for storing precious family recipes. Delivered within days...couldn't be more pleased with PM service and quality.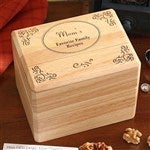 Excellent quality and timely shipment
By
Shopper

(Columbus , OH) - October 20, 2012
I am very pleased with the recipes boxes. They are good quality and I recieved them in a very short time.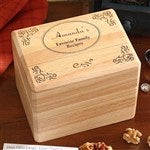 Terrific workmanship.
By
Shopper

(Carver, MA) - October 9, 2012
The recipe box is lovely. It will be stuffed with recipes. Thank you for the prompt service.

Great gift for the cook.
By
Donna B.

(Franklin Square, NY) - October 6, 2012 (
See all reviews by this customer
)
I've given these recipe boxes as gifts many times and receive many compliments on it. It's a gift that all cooks, future brides appreciate.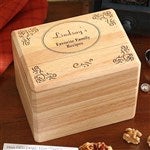 great box - nice gift too - watch size for cards!
By
Shopper

(PONDER , TX) - September 26, 2012
this is a great gift for a bridal shower. if you are hosting have each guest bring a 3x5 index card with a favorite recipe on it to share with the bride.

be careful when selecting the card inserts as this box only holds the 3x5 but the website sells 3x5 and 4x6 sizes. if you are not paying close attention you can choose the wrong one and they won't fit.

she
By
Shopper

(Potomac, MD) - August 25, 2012
Loved it


Wonderful!!
By
Debbie M.

(Washington, PA) - August 5, 2012 (
See all reviews by this customer
)
I was very pleased with this box. It was even nicer than I expected. It will be one of my wedding shower gifts along with the cards and dividers. I cant wait to see her face when she opens it. I know she will love it! It was here in a couple of days. Thank you for your wonderful service and items. I have ordered more than a few things from you and will continue to do so.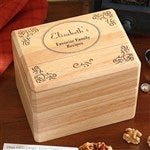 Recipe box
By
Shopper

(Augusta, MO) - August 1, 2012
Great item or. Great price! Bride to be loved it!

So well made
By
Donna B.

(Franklin Square, NY) - March 23, 2012 (
See all reviews by this customer
)
I bought this as an extra gift for a bridal shower and was so thrilled on how beautiful it turned out. The box itself is so well made and durable and with the personalizion adds such a personal touch. This will be a true keepsake for many years for the future bride. I will be ordering more for the holidays for all the girls in the family who love to cook.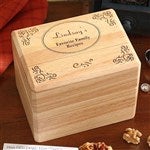 Love it!
By
Lori R.

(Swartz Creek, MI) - February 17, 2012 (
See all reviews by this customer
)
So Nice and super fast shipping. Great shower gift!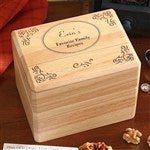 Better than expected
By
Callie K.

(Mechanicsburg, PA) - February 16, 2012 (
See all reviews by this customer
)
I was very impressed with this recipe box. It is nice quality and will hold a ton of recipes. The engraving on the top turned out beautiful.

Love This!
By
Susan M.

(Meredith, NH) - February 7, 2012 (
See all reviews by this customer
)
Great recipe box! Would love to see this made larger to accomodate larder recipe cards!! I would def buy another one!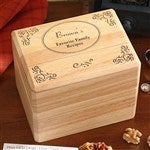 Beautiful recipe box
By
Melissa M.

(Commack, NY) - February 5, 2012 (
See all reviews by this customer
)
Got this for my sister in law's birthday! Beautiful for anyone who basically lives in the kitchen and has their recipes scattered throughout.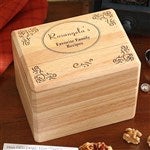 Superior Quality!
By
Shopper

(Fuquay Varina, NC) - January 26, 2012
I purchased this recipe box for my daughter who is in college as she loves to cook for herself and her roommates. I filled it with all her favorite recipes and she was thrilled to receive it! The box construction and engraving were much nicer than I expected. I also like the groove on the lid which allows you to display the recipe while you're working. I'm planning to purchase these boxes in the future for shower and wedding gifts.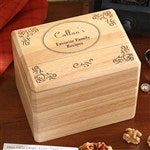 Beautiful wooden recipe box
By
Shopper

(Iron River, WI) - January 20, 2012
This recipe book far exceeded my expectations. The wood is absolutely beautiful in person and the inscription is so precisely carved. I know my daughter and future son-in-law are going to be thrilled with it. Thank you so much!

Even better then I expected!
By
Shopper

(Keaau, HI) - January 17, 2012
Beautiful! Buy the matching recipe cards, my Mom loves them! The personalization is exactly as previewed. My Mom loves wood and the first thing she said was that it smelled so nice lol
It's sturdy and worth every penny. As my Dad calls her Honey, both of my children call her Grandma Honey and after 5 years this is the first thing we were able to personalize with that name, very special.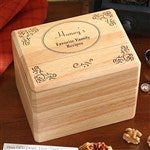 awesome
By
Shopper

(Biglerville, PA) - January 15, 2012
I got this for my mom for her birthday and she loved it!

Quality at its best!
By
Pat K.

(Denham Springs, LA) - January 15, 2012 (
See all reviews by this customer
)
I was extremely satisfied with this recipe box! Very sturdy and very beautiful!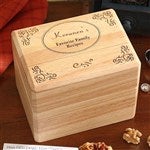 Even nicer than I hoped for!!!
By
Cherita B.

(Puyallup, WA) - January 4, 2012 (
See all reviews by this customer
)
I inherited Grama's wooden recipie box with her hand handwritten recipies and wanted to recreate them for my two cousins. This box was perfect! It is even nicer and heavier than I hoped for. I found some cheaper from another company, but decided to order this one because it just looked like a better quality. I am so glad I did. It will be a lasting keepsake for generations to come in our family.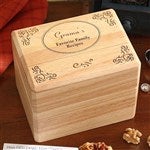 Wonderful!
By
Shopper

(Valparaiso, IN) - January 3, 2012
I got the recipe box and dividers for my Mom for Christmas and she LOVED them. The box is a good size and it is beautiful color. The personalizataion makes it! I would absolutely recommend buying this product.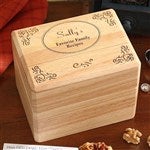 excellent
By
Robin P.

(Deerfield, NY) - January 1, 2012 (
See all reviews by this customer
)
loved it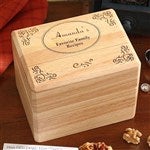 great gift idea for anyone
By
Shopper

(grandville, MI) - December 30, 2011
This recipe box is high quality and better then I expected and a real bargin.
five stars on this item.

helpful discription
By
Betty G.

(Fairfax, VA) - December 28, 2011 (
See all reviews by this customer
)
The only thing that went wrong with my order was I was unaware of the size of the box. I purchased the recipe cards unaware that the box would not hold the cards. I'm not sure if this was my error or that the description wasn't clear enough. I fixed the cards to fit and everyone was happy. My mistake was when I picked the box the cards where shown also, so I assumed they fit the box I was purchasing.