Beautiful!
By
Kathryn M.

(Birmingham, AL) - October 1, 2009 (
See all reviews by this customer
)
This is a very high quality hardwood box, well-made, with rounded corners and a nice finish. The laser engraving is pretty, and it looks exactly like the picture. I also really appreciated being able to see what my choice of engraving would look like online before ordering. Great gift idea!

Mistakes were made
By
john B.

(bolling afb, DC) - December 9, 2012 (
See all reviews by this customer
)
I ordered this for my wife for her birthday. It arrived in a timely matter but my wife's name is Chelsea and the box said Cheryl for some reason. So I called customer service. The lady was very apologetic and friendly and sent a new one with the correct name on it out immediatly. Well the new box came in the mail but one of the hinges was broke. It was a little frustrating to say the least but good thing I still had Cheryl's box because I just took a hinge off of hers and replaced it with the broken one. It's a beautiful recipe box though.

pretty
By
Shopper

(COLUMBUS, MS) - December 29, 2011
My mother loved it

Satisfied
By
Shopper

(Edinburg, TX) - December 29, 2011
I ordered 2 boxes as Christmas gifts and was very happy with them. Products arrived in a very timely manner. Very happy with that. Personalization looked good and boxes were a very nice gift. One of the boxes didn't close completely, there was a small gap, but nothing big. Will definitely shop here again.

Nice box, BUT
By
Shopper

(Etters, PA) - December 12, 2011
Well I ordered this for a gift for my mother and it came incorrectly engraved. (off center by a little over an inch and a half) They quickly issued a replacement and sent it to me in a few days. When I recieved the new box it's staining was messed up. My husband fixed it and now it is a beauitful box just like it shows. I would give it 5 stars if I didn't have so many issues with the engraving error then the staining being messed up. Great Customer Service with fixing mistakes and sending a replacement quickly. Good quality box and STURDY.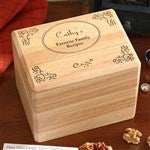 Beautiful Keepsake
By
Angela L.

(North Bergen, NJ) - December 12, 2011 (
See all reviews by this customer
)
Beautiful keepsake that will be cherished for years to come. It added such a wonderful personal touch to my daughter's bridal shower. We received it as promised. Will purchase other items in the future with complete confidence.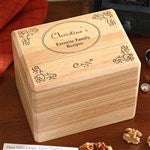 Almost perfect
By
KATHLEEN B.

(FAWN GROVE, PA) - December 23, 2010 (
See all reviews by this customer
)
The box is just beautiful. The only problem I had with it is the glue gave way on the back of the box where the hinges are. All I had to do is reglue it. Hopefully it takes. But as I glued it back together I could see the precise craftsmanship. It is a well made box. It just needs better glue.

...
By
Edward M.

(Palmer, TX) - December 17, 2010 (
See all reviews by this customer
)
I got this Recipe Box for my mother for Christmas. When I opened it i was a little surprised to feel how light it was, it isn't made out of the best wood, but for the amount I spent on it, it's wonderful. If you tap the bottom you can tell it wasn't very expensive, but for people like my mom who has over flowing recipe boxes the size and personalization is great.

A thoughtful gift for any cook
By
Kristina A.

(North Augusta, SC) - May 11, 2010 (
See all reviews by this customer
)
I gave this to my mother-in-law on Mother's Day but it is a wonderful gift for anyone who enjoys cooking. I particularly like the slot where you can place a recipe card on the lid of the box. I wouldn't mind receiving one myself.

Engraving done by a machine
By
Emily D.

(Lost Nation, IA) - January 12, 2010 (
See all reviews by this customer
)
I love the way this box looks. In the picture it doesn't look like it has any finish on it, but it does have a coat of varnish on it which really makes it look nice. The only complaint is that all the engraving on the top looks like it was done by a machine when you look close. Not really that noticable unless you look close, though.

Compliment personalized recipe box well
By
Emily D.

(Lost Nation, IA) - January 12, 2010 (
See all reviews by this customer
)
These cards complimented the personalized recipe box well. The only thing keeping me from giving 5 stars was that the name is printed on the top line where I would put the recipe title at. Otherwise, this is a quality product.

Recipe box
By
Phyllis R.

(Palm Harbor, FL) - December 27, 2009 (
See all reviews by this customer
)
Very nice box.

recipe box
By
donna J.

(tarentum, PA) - December 10, 2009 (
See all reviews by this customer
)
i was happy with the box, but i had made a mistake of putting in a , instead of ' in the name, my bad. but the quality of the box was great.

Happy with recipe box
By
Michele C.

(Scranton, PA) - November 5, 2009 (
See all reviews by this customer
)
I purchased this as a christmas gift for my daughter and am very happy with the product.

SMALL ! ! ! !
By
Shopper

(Sterling, IL) - January 18, 2012
I love this recipe box, it is beautifully made. I bought it for my niece and gave her all of her mom's old recipes. They do not fit in the box. The recipes my sister had were all on index cards and they will not fit. My sister passed away when my neice was 2, she turns 18 this week and I thought it would be a nice keepsake for my neice to have. I just assumed they would fit. the inside of the box measures 4" x 5.5" the index cards are 4"x6"

Haven't received them!
By
Sharon E.

(Burney, CA) - November 15, 2010 (
See all reviews by this customer
)
Still waiting for these items to come!