Great Gift!
By
Candace M.

(Loudon, TN) - May 15, 2011 (
See all reviews by this customer
)
I bought the mug for my mom on Mothers Day. My father has recently passed away so we titled the mug Happy Mothers Day instead of a family name. I had me and my brother, my husband, our 3 children, her father and her 2 dogs and 1 cat put on it She loved it and I did too! It was perfect for the holiday! The only thing I would have liked better is to have had a choice for a bald man....(but my husband loved they did not have a bald figure and he had hair on the mug!) This is a great gift with excellant quality!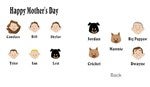 I love it!
By
Erica L.

(Mt. Pleasant, TX) - December 18, 2012 (
See all reviews by this customer
)
I love this mug for my mom. She is a coffee drinker & is going
to love her family faces on this one. You guys are awesome...I have
bought many things from ya'll already & ya'll surprise me every time.
Awesome products.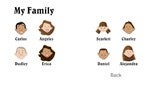 gift
By
Misty C.

(Streamwood, IL) - January 1, 2012 (
See all reviews by this customer
)
This was a gift to my boyfriend's parents. I thought it was really cute and clever. Would have been even better if there were a little more variety as far as the character options.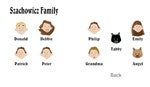 Best Gift
By
Edwin M.

(Wichita, KS) - December 12, 2009 (
See all reviews by this customer
)
I bought 8 of these for a group of friends who graduated high school in 1980. We have been friends since jr. high. We meet several times during the year and at Christmas have a small gift share. My gift was the best! They loved seeing their names on the mug and will be reminded of each of her "Sistas" everyday throughout the year. I loved chosing the pictures and seeing what the mug would look like before I ordered. I felt very secure about my purchase and it was wonderful!
Thanks!

my mug
By
WILLO W.

(CINCINNATI, OH) - December 22, 2009 (
See all reviews by this customer
)
The family i bought the personalized mug for liked it very much,so cute! i will be buying all my personalized gifts with you from now on. GOOD JOB!

Perfect Grandpa Gift for Father's Day
By
Gianna K.

(New Brighton, MN) - June 28, 2010 (
See all reviews by this customer
)
We purchased a mug and put a face on it for each of his grandkids. He was so happy with it! I haven't seen it but it was a fun gift to get delivered!

Character Mug
By
Jessica C.

(Okemos, MI) - November 12, 2009 (
See all reviews by this customer
)
Cute gift- nice product to receive

Great unique gift!
By
Kim M.

(Atlantic Highlands, NJ) - January 7, 2011 (
See all reviews by this customer
)
Easy item to create on this site and my husband loved it! Very affordable and arrived in a timely fashion. Great gift!

Crooked on the mug
By
cindy S.

(richmond, VA) - December 20, 2009 (
See all reviews by this customer
)
The title and characters were put on slightly crooked. I was disappointed.

The personal love for my family
I think when i gift one of your Personalized coffee Mug; im given them my message of love and care; to my family and friends thanks to this quality product.

Totally Pleased
By
Theresa G.

(Eagle River, AK) - June 23, 2011 (
See all reviews by this customer
)
I originally got a cup for my father for father's day and he seemed to enjoy his so I ordered one for my husband. I was greatly impressed with the quality and beauty of the product. I was figuring something cheaply made and rather cheesy to say the least and I was blown away. I will always turn to them for quality gifts when needed. Shipping was fast and easy and I just loved my over all experience with them.

Please don't hesitate to try these guys out, you will not be dissapointed.

Character Coffee Mug
By
Shopper

(Shreveport, LA) - May 13, 2011
These were a hit for the moms and grandmas for Mother's Day, but there is never a wrong time for this type of mug. I gave one to someone with 13 grandchildren! The best $10 I ever spent!

I'm always amazed at(1) how this company shows you exactly what you will be getting; and (2) how they never mess up an order. Thanks, Personalization Mall!

Great coffee mugs!
By
Frances R.

(Rochester, NH) - November 17, 2013 (
See all reviews by this customer
)
Last year I ordered a personalized coffee mug for my son-in-law with his name, his wife, and five children on it. He never got to use it because my daughter claimed it. This year I have sent for one for each of them and I know they'll be thrilled.

Family Mug
By
Madeline V.

(Staten Island, NY) - January 6, 2012 (
See all reviews by this customer
)
I had gotten this mug years ago for my daughter-in-law when their family was four people. They now have a little girl, so it was necessary to up-date the mug. It came out very nice and I'm sure she will love it. I plan to give it to her the next time I see her. Thank you,

Personalization Mall Rocks!!!
By
Shopper

(Salisbury, MD) - May 9, 2011
I love this product and my mom loved it so much. My mom couldn't wait to drink coffee from this cup. The products on this site are so unique and they fit my budget. The ordering process is easy and the shipping times are great. This is the fourth time I've ordered from this site and I will continue to as well as let others know about this site. I love and trust Personalization Mall.com!!

Adorable
By
Shopper

(Cheshire, MA) - January 23, 2011
This mug is SO cute. The faces are so cute. And great to have it produced and shipped so quickly! Definitely would order this again!

gift
I bought as a gift for a friend this christmas , recieved in record time , It looks great - know she
will love it. Very nice

Bought as a gift for mysef
By
Shopper

(Newark, DE) - April 8, 2011
Love having a special mug that reminds me of my grandchildren. Very good quality. Adorable.

Wonderful mug!
By
Sarah F.

(Murphy, TX) - February 6, 2011 (
See all reviews by this customer
)
I wish there were more choices with this mug, but the quality was awesome!

I have a curly-headed daughter and no option was available. We had to go with pigtails instead.

All in all, a great mug, great quality, fast shipping and super cute. I'd buy again!