Great quality
By
Brianna J.

(mount olive, NC) - November 5, 2011 (
See all reviews by this customer
)
Looks like the picture and is just as described.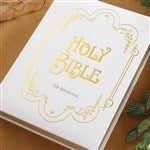 bridal shower gift
By
jacqueline S.

(Mansfield, OH) - August 5, 2011 (
See all reviews by this customer
)
I purchased the family bible for my grandaughters bridal shower. My family immigrated to the U.S. when I was 11- and this bible offers so much of family history to be recorded--and the quality of the bible will allow it to be handed down for future generations - very happy with the overall appearance., biblical content, and personalization.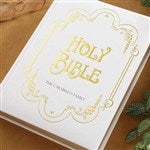 Lifetime memory
By
Shopper

(ludlow, MA) - May 17, 2011
This bible was the talking piece at my daughter's first communion. We had it displayed at the reception and everyone was questioning where it came from and how beautiful it is. This was like a museum quality item. My daughter was so proud and it really made her day very extra special. She even asked to bring it to her school for showing and sharing with her schoolmates. We were so happy with this and will forever be thankful to this website for their service and very importantly their quality in products.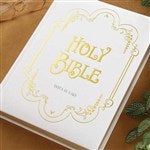 Anniversary Gift
By
Shopper

(Chicago, IL) - April 22, 2011
This bible was given as an anniversary gift to friends. They loved it.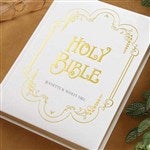 The weeding couple loved it!!
By
Peggy H.

(Kansas City, MO) - May 28, 2013 (
See all reviews by this customer
)
Was very happy with the purchase, Just as described, and they loved it!!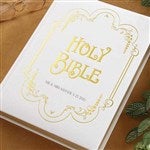 Exceptional Gift
By
Janice B.

(Glenside, PA) - April 19, 2013 (
See all reviews by this customer
)
Thank you for your timely response of the Personalized Bible. I wanted to give it my Granddaughter and she also my Goddaughter for her Confirmation Day. It's a day she's becoming a "Soldier of Christ", therefore this is all she needs when answering all of lifes questions.Growing up , I had my own Bible from my Grandmother and I thought this fitting and its so beautiful with lots of extras to keepsake Family information.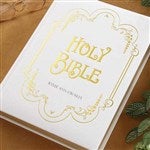 "It is lovely!"
By
Shopper

(Riverside, CA) - August 25, 2012
I had this mailed directly to my best friend on the east coast. I live on the west coast. This is for her daughter's wedding. I asked her to open it, and wrap it for me. She called and said it was lovely. I hope the newlyweds love it!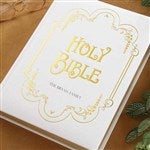 Excellend Bridal Shower Gift
By
Angela R.

(Irwin, PA) - August 19, 2012 (
See all reviews by this customer
)
Personalization has come through for me yet again. I bought this as a keepsake for my very best friends daughter as a bridal shower gift. I didn't want her to remember me 20 years from now for the beautiful crockpot I bought her but instead wanted her to cherish his gift as part of her family for years and years to come. She loved it as did everyone at the shower. THANK YOU Personalization!!!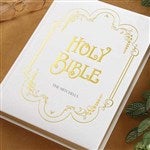 Beautiful!
By
Shopper

(Crescent city, CA) - April 16, 2012
This was beautiful, a perfect addition to any family.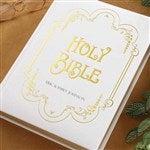 Gorgeous Family Heirloom
By
Lenore M.

(Livonia, MI) - January 16, 2012 (
See all reviews by this customer
)
This Bible is so durable and will last for generations I'm sure. There are so many unique touches, like pages to fill in geneology and wedding verses, as well as beautiful gold outlining every page. There are also several really gorgeous pictures inside, and I hope this will stay in my family for years to come. I'm giving this to my fiance as one of his birthday presents.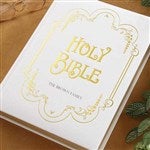 BEAUTIFUL FAMILY BIBLE
By
Patricia J.

(Hopewell Junction, NY) - April 7, 2010 (
See all reviews by this customer
)
I ordered this personalized 4 Generations Family Bible as an
Easter gift for a newly married couple. It goes without saying how delighted they were to receive such a beautiful family Bible and on Easter! The design and quality are SUPERB!


Perfect Gift for 1yr Anniversary!
By
Tina B.

(Mesquite, TX) - March 29, 2010 (
See all reviews by this customer
)
This was the perfect gift to give my daughter and son-in-law on their one year anniversary. Paper is the traditional gift and this Bible not only fit nicely into that category, it was meaningful and will last for many, many years to come!

Smooth
By
jenell S.

(Glen Rose, TX) - October 21, 2009 (
See all reviews by this customer
)
What a great way to shop smooth fast and easy with many great products to choose from no need to fight traffic to go to store to store not knowing what to get when you can make a one stop shop and find something for the entire family..

awesome
By
Carla S.

(Ann Arbor, MI) - April 30, 2010 (
See all reviews by this customer
)
The product was well wrapped and safe when it arrived. Website is very fast with delivery and customer service is great.

A beautiful Bible to pass on to future generations
By
Ruth T.

(Canada) - December 7, 2009 (
See all reviews by this customer
)
This Bible is everything that I wished for in a family Bible. I loved the idea of the family name engraved on the front of the Bible. It will be a lovely family heirloom to pass on to future generations. Overall I was pleased with the online shopping experience and speedy delivery. I would recommend this as a gift for anniversary, wedding or even a baptism keepsake.

very pleased
By
Rebecca B.

(Elizabethville, PA) - December 25, 2009 (
See all reviews by this customer
)
I bought this as a christmas gift for my son and new wife. It is very nice they loved it and it only took 5 days from purchase to arrival. My hat off to you great job THANK YOU

VERY pleased...
By
Richard B.

(Tavares, FL) - February 13, 2010 (
See all reviews by this customer
)
This Bible was the perfect gift for my Daughter & Son-in-Law, both new Christians. And it has taken front-&-center on their coffee table.

King James Version
By
Karen M.

(Green Brook, NJ) - March 2, 2010 (
See all reviews by this customer
)
I was previewing items on your webpage and I clicked on the Personal Catholic Bible. When this came up, I went deeper into the search, and the Holy Bible came up. I did not notice this was not a Catholic Bible (since I was searching the Catholic version) but rather the King James version. My fault for not looking further into it. With that criticism being made, the Holy Bible is beautiful. The quality, format and print are rich and classic. I just wish the version was readily indicated in the picture. Thank you.

Perfect gift for Paper Anniversary
By
Faye F.

(Canada) - December 23, 2009 (
See all reviews by this customer
)
I bought this Bible for my daughter and son-in-law for their 1st anniversary... the first anniversary is paper so it was an appropriate gift and they absolutely LOVED it. I have no doubt it will be a family treasure for many years just as the one my husband and I received on our wedding 30 years ago.

Beautiful!!!
By
Lisa T.

(Sneedville, TN) - October 8, 2009 (
See all reviews by this customer
)
This Bible made a wonderful gift for the bride and groom. They loved it!! My husband and I have had one since marrying over 17 years ago. They are such a timeless keepsake.

unique wedding gift
By
rosalina T.

(trumbull, CT) - July 20, 2010 (
See all reviews by this customer
)
The Bible is beautiful and it will be a memorable gift. I didn't give it a 5 because it should come with a gift box. An item this beautiful definately should have a protective box to treasure it in .

Black Personalization
By
Natalie J.

(Baton Rouge, LA) - July 26, 2010 (
See all reviews by this customer
)
I read a review that the personalization was done in Gold but the color is actually Black. Nice bible though. I recommend it.

Nice wedding anniversary gift, but comes poorly packaged.
By
Jerome G.

(Morristown, NJ) - August 2, 2010 (
See all reviews by this customer
)
The bible arrived in good confdition, carefully wrapped in bubble plastic. However, this is a gift, and I had hoped it would come boxed, ready for gift-giving. Now I have to search for a proper sized box, which was a disappointment.

Family Bible
By
Laura G.

(Glen Ellyn, IL) - June 15, 2010 (
See all reviews by this customer
)
Overall, I am very please with my purchase. The service and delivery was extremely fast, and the Bible is very nice. The personalization of the names could have been in gold and of a more decorative font to match the Bible cover,but overall it is very nice. I looked a lot on-line, and the was a very reasonable cost compared to most I could find.

Christmas Gift
By
Tabatha W.

(CORONA, NY) - January 1, 2012 (
See all reviews by this customer
)
Purchased for my Godbrother and his wife, they are expecting and it was a perfect gift as they start their family.

Very pretty and loved by children I gave it to
By
Phyllis R.

(Silsbee, TX) - October 8, 2009 (
See all reviews by this customer
)
The bible was so nice and my daughter loves the fact that it is for 4 generations and has their name on the front.

great wedding or christening gift
By
Camille J.

(Brooklyn, NY) - October 8, 2009 (
See all reviews by this customer
)
i absolutely love this item. it is my second time giving this gift.all the recipients love them

Lovely bible!
By
Shopper

(Chelan, WA) - August 26, 2013
Very nice! Would definitely give this gift again. Only wish that it had Jesus' words printed in red. Otherwise, we loved it! Did pay to have it gift boxed, we were glad we did! Presentation was very special that way!

very satisfied
By
Melissa E.

(Summer Shade, KY) - October 2, 2009 (
See all reviews by this customer
)
The bible was exacly what I wanted. It has an elegant look yet traditional. The engraving was nice. I thought it could have been done in a different color or script to match the bible. Overall i'm pleased with the product.
I was very pleased with the time it took to get it, just a few days. Thanks.

Very nice Bible
By
Kyndra L.

(Arkadelphia, AR) - May 11, 2010 (
See all reviews by this customer
)
This is nicer than I expected. I thought it would look kind of cheesy in the white and gold, but once I received it I was pleasantly surprised.

The family name didn't stand out so badly as in the picture. It may even be a gold color. The Bible is larger than I expected than it appears in the photo.

I really like it.

The only downside was they stuck a personalizationmall.com sticker right on the front of the Bible. Wasn't too hard to get off, but couldn't believe it! Must have been a mistake...

Wedding Bible
By
Shopper

(PRESIDIO, TX) - January 7, 2012
The newly-weds feel satisfied and blessed with their gift!Thanks!

The best Christmas gift ever!
By
Shopper

(Columbia, SC) - January 13, 2012
Outstanding Bible. My mother loved it. I am planning to purchase one for my home.

Wonderful Gift
By
Shopper

(Fort Walton Beach, FL) - February 21, 2011
This was an amazing gift. It came out beautifully and was a big hit as a wedding gift. It was mailed quickly and I received it in less than a week. Perfect!

Beautiful, Beautiful.
By
Shopper

(Amarillo, TX) - September 5, 2011
I just received my Four Generations Family Bible. It is just as i expected it to be, Beautiful!!! I bought it for my Grandsons wedding in Hawaii the middle of this month and cannot wait to give it to them. I know they are going to be so pleased and so proud to have it. I know they will treasure it for many years to come. Thank you so much for taking so much pride in your products.
Will be ordering again soon.

Nice Wedding gift
By
Shopper

(Jamestown, NY) - June 4, 2012
I thought this was a wedding gift for a God centered couple. I wish it was a little more ornate like the old ones but I like being able have it personalized.



Wonderful Easter Gift
By
Shopper

(Spring City, TN) - March 26, 2013
Ordered this Bible to be shipped directly to my son and his family for Easter. It came quickly and they were so pleased with it, sounded like it was everything and more than described here! They loved it and it is sure to be a treasured keepsake to pass down the generations. Also reasonably priced and the personalization adds that special touch which IMO makes it the perfect gift for any occasion.

Excellent present for someone that just found God
By
Jeanne E.

(East Bethel, MN) - June 9, 2013 (
See all reviews by this customer
)
My son loves his new bible. He showed everyone at the birthday.

Best Wedding Gift Ever
By
Shopper

(New Bern, NC) - June 23, 2012
What a wonderful idea for a newlywed couple starting their life together with God. This Bible is something they can have for their entire marriage and pass down for generations to come. Everything about it is such great quality! It exceeded my expectations!

beautiful!
By
Shopper

(Tulare, CA) - September 16, 2012
it is a wedding gift that came in time!

Wonderful for All Occassions!
By
Shopper

(Union, NJ) - January 29, 2011
I purchased a personalized four generations family Bible for my husband who will graduate from seminary this coming May. As ministers, we have a lot of Bibles, but we did not own our personalized Bible. It's very hard to purchase an adequate gift for a seminary graduate, especially if he owns everything he needs when it comes to robes, communion sets, etc. But then I saw this Bible and immediately knew he would love it! This Bible, furthermore, is a wonderful gift for young families and young couples who are planning to have children. It looks and feels wonderful, and personalization is beautiful as well. I can't wait to give this gift to my husband and start working on the personal pages together with him.