Awesome experience
By
Shopper

(Tallahassee , FL) - February 10, 2014
The shipping was extremely ast, I received my frame with 3 business daa awesome frame. It was a wonderful gift to my married friends nd they loved it!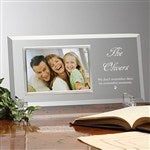 Excellent Quality
By
susan K.

(waltham, MA) - August 18, 2013 (
See all reviews by this customer
)
This glass frame was packaged perfectly, the quality was terrific, and it was everything I expected it to be. It helps a lot to be able to view the finished product before purchasing it. I have already become a repeat customer and plan on using this site in the future.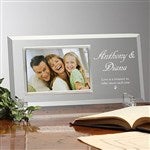 Beautiful Glass Frame
By
Shopper

(Holliston, MA) - July 26, 2013
The 'We Remember Moments Frame' is even more beautiful than expected! Large and beautifully engraved...very impressive! Looks far more expensive than actual cost. A truly beautiful gift that I will be presenting to my best friend with pride.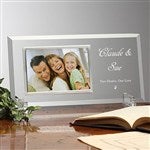 We Remember Moments Personalized Frame
By
Patty Z.

(paramount, CA) - July 19, 2013 (
See all reviews by this customer
)
The frame is really nice and worth the price. This frame was purchased as a wedding gift for a friend in July of 2013. I have purchased this same frame, as a wedding gift for someone else too in 9/2012. I like how I am able to personalize it for the people I am giving it too! One was personalized for a wedding photo and the other for a honeymoon photo.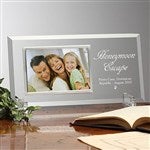 better than I thought
By
Angela L.

(Suwanee, GA) - July 19, 2013 (
See all reviews by this customer
)
I ordered this gift for mylef and a cousin. We both turn 60 this year. I put a photo of the two of us and a nice little message. When it arrived, I was amazed at how large it was. Just perfect! I love it!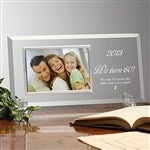 Personalized photo frame
By
Charlene G.

(Lincoln, NE) - February 1, 2013 (
See all reviews by this customer
)
I bought two of these frames and they are perfect. I bought one for my soon to be husband with our saying on it as well as our new granddaughter with her birth info put on it. The wonderful thing about the frame is you can put the picture init that goes with the engraving. I love how each one turned out. Great product very recommended for anyone needing a great gift for any occasion.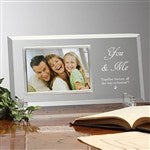 Cheap
By
Shopper

(arlington, TX) - January 29, 2013
The glass with the engraving looks like it came from the dollar store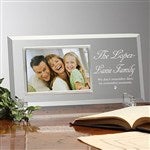 AMAZING!!!!
By
Alejandra H.

(Brighton, CO) - December 23, 2012 (
See all reviews by this customer
)
I bought this as a gift and it turned out AMAZING. I believe I will be back to buy more of these frames. The only thing i didn't like was I only got to say a small amount of words. But other than that it was a great buy. The glass seems sturdy and the engravement was beautiful.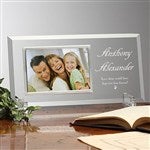 Better than I expected!
By
Shopper

(Canada) - December 7, 2012
I've ordered personalized frames before from other places and have always been satisfied with them but never impressed. This was the first time I was impressed. The frame is really nice and they did an excellent job engraving it. It was shipped and delivered within a week and was packaged very well to ensure no damage to the product. Recommend this frame for sure.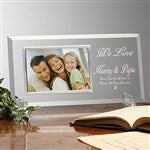 Wonderful...
By
Anastasia T.

(SICKLERVILLE, NJ) - November 18, 2012 (
See all reviews by this customer
)
Very wonderful gift item. Made with thick good glass.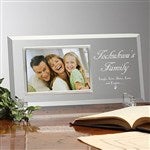 AWESOME
By
Jasmine G.

(Schertz, TX) - November 18, 2012 (
See all reviews by this customer
)
The quality is great and the shipping was very fast. It made a wonderful anniversary gift to my grangparents.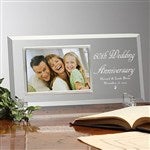 Exceeded My Expectations!
By
Shopper

(Houston, TX) - November 1, 2012
This is the first time that I order from this site and I was not disappointed. The frame was beautiful and the engraving made it very elegant! Loved it!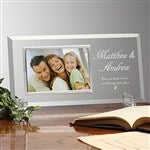 Picture Perfect
By
Maryori W.

(South Bend, IN) - October 27, 2012 (
See all reviews by this customer
)
I got this gift for a friend who had adopted a little girl and added her name to it. I was very impressed with the quality. I got it as a daily deal for only $20, but would pay regular price for it. You will not be disappointed. Im purchasing another for my home and a few for family members. Shipping was also great...super fast!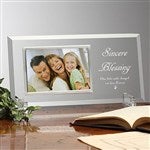 Beautiful
By
Jenny R.

(Green Bay, WI) - August 27, 2012 (
See all reviews by this customer
)
Great product, I've ordered these for other occations as well. I love that you can personalize them for any holiday or occasion!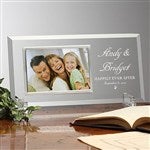 Quality item.
By
Shannon S.

(Dunlap, TN) - March 24, 2012 (
See all reviews by this customer
)
I was very pleased with this item. It was very good quality and was exactly as described and pictured. I had ordered it for my sister-n-law. Her precious nineteen year old daughter and my niece, Brooke, was killed in a car accident on February 19, 2012. I bought this for Teresa to have in her office. I think it makes a very wonderful memorial gift.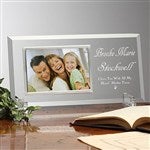 Fantastic Frame
By
Shopper

(Stoddard, WI) - August 13, 2011
This is a beautiful frame made of very heavy glass. The etching looks beautiful and I will be giving it for a wedding gift. I'm sure they will love it.

Amazing customer service
By
Shopper

(Monona, WI) - September 6, 2011
We ordered a large quantity for our wedding guests, based upon previous reviews. Never having purchased from this company, we were a little nervous. However, they turned out beautiful and exceeded our expectations. Plus, at the last minute when we unfortunately found three broken in transit just prior to our event, they immediately reproduced and air-freighted replacements to arrive in time. Outstanding quality product; outstanding customer service. Thank you.

nice item
By
Shopper

(rosemount, MN) - October 18, 2013
worth the price

personalized frame
By
sherry H.

(canton, OH) - November 17, 2009 (
See all reviews by this customer
)
i have bought several items through the years and all of them have been so beautiful and the quality is excellent!

Not Happy Like Before
By
Shopper

(Jamaica, NY) - November 30, 2013
The personalization script was poor in terms of visibility.

A perfect way to acknowledge an important occassion
By
Shopper

(Columbus, OH) - June 4, 2013
This is a classy, unique frame that is just perfect to commemorate an important occasion. Mine arrived in a timely fashion (and I was e-mailed details about shipping, etc) and was perfectly engraved. My only observation is about the orientation of the picture slot. I wanted to frame the invitation event but it was oriented in the opposite direction of the opening. HAd I been able to engrave it in the other direction, I would have given it a '5'!

More than pleased
By
Susan S.

(East Setauket, NY) - May 24, 2010 (
See all reviews by this customer
)
The product was easy to preview. It came promptly. Quality is excellent. A beautiful gift.

Glass frame
By
Gina A.

(Falls Church, VA) - November 30, 2010 (
See all reviews by this customer
)
This frame is incredibly beautiful. We could not be happier with it. It's stunning and very high quality!

Great!
By
molly G.

(cincinnati, OH) - January 11, 2011 (
See all reviews by this customer
)
My personalized frame turned out great! It was quick, too. Great quality, wonderful price. I would definitely order again.

beautiful product
By
Jennifer C.

(Dyersburg, TN) - June 16, 2010 (
See all reviews by this customer
)
bought this product for my parent's 35th wedding anniversary. it arrived quickly and beautiful!! i cannot wait to see my mom's expression when she opens it. will definitely order again from personalization mall, prices are reasonable, multiple products to choose from, and on time delivery.

Just perfect!
By
Ronald B.

(Monett, MO) - September 6, 2010 (
See all reviews by this customer
)
The personalized frame arrived very promptly and in perfect condition. It was personalized just as we ordered it. Our neighbors loved it! We'll definitely be ordering from Personalization Mall again! Thank you.

Love It
By
Shopper

(Bowling Green, KY) - May 27, 2013
Bought this frame as an anniversary present and I absolutely love it. It's more than a frame, it's a memory.


absolutely gorgeous
By
Shopper

(vinton, VA) - May 29, 2013
We ordered this frame and it came out just as described on the website.

Glass picture frame
By
Micheal T.

(Thompson Falls, MT) - December 22, 2012 (
See all reviews by this customer
)
The glass frame was very attractive. Heavy enough so that it did not appear fragile, yet elegant. Great craftmanship,I liked the font used for the engraving.

Frames
By
karey B.

(davenport , IA) - April 22, 2013 (
See all reviews by this customer
)
We have purchased other personelized frames in the past, they make the best wedding gifts. I always use the invitation for the inscription. This one we ordered was for a graduation gift so we chose a different design. It also turned out great and the shipping time was phenomenal. We will continue to use this site for future weddings, births and graduations.

personalized frame
By
Shopper

(Destin, FL) - June 23, 2013
Turned out great! This was only my second time to order from Personalization mall, but both times were extremely positive experiences, from product workmanship to delivery time. I will continue to order from this site.

Just beautiful
By
Racheal O.

(Staten Island , NY) - January 21, 2014 (
See all reviews by this customer
)
I recieved the item in a timely fashion and it was beautiful!!!!! I was extremely excited to give the item as a gift. The parents to be loved it and I am satisfied with my unique babyshower gift!

P.S. The product is a really good size. I thought it was going to be smaller, but I was wrong! The quality of glass is also superb!

Excellent workmanship and beautiful to display
By
Shopper

(Georgetown , TX) - February 8, 2014
This is a beautiful way to display a picture of an event or person that was memorable in your life. It is perfect for a gift.

Great gift idea
By
Marilyn G.

(Goose Creek, SC) - June 27, 2013 (
See all reviews by this customer
)
My husband loved it!

Beautiful
By
Shopper

(East Boston, MA) - November 23, 2013
Just beautiful! PersonalizationMall never fails to amaze me with their memory products! My mother loved seeing my brother's name engraved into the glass with a picture of him beside it. Awesome product!

Very Statisfied
By
Shopper

(Brookville, OH) - June 15, 2012
I was very satisfied with your product. It was everything I expected and more. I received the product within 3 days and that was regular shipping. I would recommend it to anyone.

Great Gift Item!
By
Susan B.

(Nacogdoches, TX) - August 21, 2012 (
See all reviews by this customer
)
I ordered three of these engraved frames for Christmas gifts and I am really pleased with them. I think my family members will love these!

Personalized Glass Frame
By
Shopper

(Abingdon, MD) - March 27, 2012
I purchased this glass frame for a client and it was perfect! It will show well in any room. My client loved it!

Awesome Product
By
Shopper

(Raymore, MO) - April 23, 2012
I love this website!!! I have ordered a couple of items from here and plan on ordering more. Love the service and quality along with the big smiles on people's faces as they open their gifts. Thank you for making "my special occassions" a hugh success.

LOVED IT!!
By
Jodie E.

(McAllen, TX) - September 3, 2012 (
See all reviews by this customer
)
VERY pleased with this frame. GREAT for any occasion. Bought it as a Christmas gift for a family member ~ I'm sure they'll love & treasure it always. Arrival time to my front door was also a bonus ~ it came within the week that I ordered it. I HIGHLY recommend this item you won't be disappointed.... :-)