Front a disappointment
By
Helena H.

(Ephrata, PA) - December 16, 2009 (
See all reviews by this customer
)
The rear is adorable, thus the reason I purchased it for my granddaughter, but the front is so plain. They could've put a little snowflake or something to dress it up a bit. Wouldn't buy it for someone else

Worth the money
By
Jessica K.

(Akron, OH) - November 26, 2009 (
See all reviews by this customer
)
I purchased this romper for my son; it was adorable and exactly what I expected. I like that the front is solid because then the bib won't hid any cute items. It has washed well and am overall happy with this product.

cute but disproportionate
By
Edwina D.

(Sparkman, AR) - August 20, 2013 (
See all reviews by this customer
)
I ordered this for my grand-daughter. It is cute but not pleased with the way it was made. Really big at the top and then gets smaller as it goes. Would have liked it to be straight. Its just really disproportionate.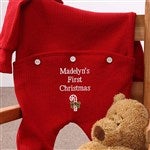 Great - when holding your baby....
By
Sarah J.

(Canada) - October 26, 2011 (
See all reviews by this customer
)
I have yet to meet a baby that is walking for thier first Christmas. This is an adorabele and soft outfit - but since babies are often lying down or sitting on laps - the cuteness of the outfit is missed as its on the bottom. Personalization would be better suited on the front as well.

Shrinks-a lot!!
By
Melissa D.

(Chicago, IL) - September 18, 2011 (
See all reviews by this customer
)
Not true to size cuz once u put it in the wash, it shrinks tremendously.

Cute but not soft at all!
By
Emily B.

(Fairmont, WV) - December 19, 2009 (
See all reviews by this customer
)
It could be a really cute first Christmas outfit or sleeper but its so scratchy that I'm going to have to put a onesie under it. I think they could have done better with the material.

product quality
By
Carol D.

(Philadelphia, PA) - November 12, 2012 (
See all reviews by this customer
)
After receiving this item I gave it to my daughter-in-law before christmas because she always likes to wash the babies new clothes before hand . Well one thing when ordering this item they did say to order larger since it runs small, so I ordered 12 months because of the weight chart and my grandson only wears 6 months. When it arrived I thought it was too big but since we still had 6 more weeks till Christmas I thought he is growing fast so it may be okay . Well she washed it last night and she couldn't believe how much it shrunk, it fits him now barely I know it will not fit at Christmas time. The outfit is cute but the quality is not. So disappointed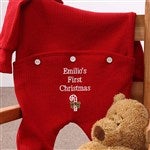 Unrealistic Sizing
By
Patricia F.

(Rolling Meadows, IL) - January 5, 2012 (
See all reviews by this customer
)
I ordered a 18 month size for my 9 month old grandchild. He weighs 18-1/2 lbs, but the sizing was so very off, he was unable to wear this outfit. I ordered a larger size based upon other reviews, washed in cold water and let air dry. There is no way this would have fit his wrists or ankles. The outfit is very cute, did not fade but it was a total waste of money on something he could not wear. I would not recommend this unless you order something three times the size you need.

Way too wide
By
Shopper

(Anacortes, WA) - December 17, 2011
I ordered these First Christmas jammies last year for my 9 month old and loved them. I ordered them again this year for my newborn and they are huge! They're good lengthwise, but as wide as they would be for a much older baby (9-12 months)??? Dissapointing.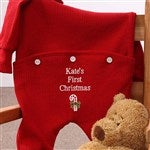 Be careful with sizing
By
Shopper

(Brooklyn, NY) - December 26, 2012
I purchased this for my 18 lbs six month old daughter. I ordered the 6-9 month size. On Christmas Day when we put it on her it was to small. Be careful when selecting the size.

too big
By
Shopper

(Stafford, VA) - December 7, 2011
The item description said 0-3 in size. The actual size is 3 months. My son is a month old and still in newborn clothes. He can wear a few 0-3 items but not 3m. Needless to say, it doesn't fit and won't for a while. Maybe they could be a little more accurate with the size choices.