A lovely gift
By
Shopper

(pinellas park, FL) - January 3, 2013
I got this platter for my daughter-in-law. It was beautiful. She loved it. However, I wish you had a more general background, because here in Florida, we can only use it at Christmas time. I would like one she could use all year.

Touching gift
By
Shopper

(Ellenwood, GA) - January 2, 2012
My friend was pleasantly surprised when she opened her platter. She expressed how much she liked it.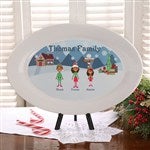 Very cute
By
Shopper

(Milford, MI) - January 2, 2012
Very cute glad I purchased this for my mother for Christmas.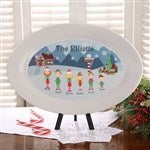 cute options!
By
Shopper

(Flanders, NJ) - December 31, 2011
The platter arrived very well wrapped and fast, considering the holiday rush.
It put a smile on my friends face as soon as she opened it. They recently adopted a puppy and this was such a cute way to welcome the puppy into their family. I think they loved it and I was very pleased with their reaction.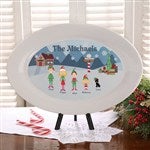 Nice to display
By
Shopper

(New Castle, PA) - December 29, 2011
I just love shopping with Personalization Mall.I have ordered for every occassion. They ship my orders out within a day mostly. Very fast and efficient. I love EVERY item that I have ever purchased. Not one complaint on any of them at all. I had purchased this same platter for my brothers & their families for christmas , and now my son has a wife and family now and I just had to purchase another. (I have not yet made one for myself yet though...) I even purchased the ornaments to match. They are all sooooo cute. Thank you for making such nice products. I will continue shopping with you.

Great looking plate
By
Shopper

(Omaha, NE) - December 22, 2011
I love this plate and the family I gave it to loved it as well. It's a great size and very well made. The characters are fun looking and all the objects in background are too cute. I wish I could have given this a 4.5 however. It was slightly fuzzy - like you're looking through a snow sprayed glass. Not horrible, but could have been clearer. Would purchase again though.

Family Platter
By
Shopper

(Margate, NJ) - December 19, 2011
Makes the perfect family or hostess gift. Nice quality plate and the personalization and color are excellent.

Family plate
By
Shopper

(lafayette, LA) - November 27, 2011
i love my plate. I just wish we had a fish for the pet option.

Holiday Treat!
By
Shopper

(San Clemente, CA) - November 18, 2011
Very cute plate! Very simple and unique present for friends and family. I put some some homemade cookies on the plate and my friend did not see the the design until most of the cookies were gone.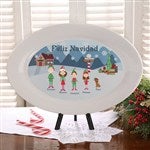 Super cute!
By
Shawn Y.

(Laredo, TX) - July 23, 2011 (
See all reviews by this customer
)
I ordered another platter previously when we had a new addition to our family and loved it so much I ordered one for myself for Christmas.

The quality is great and the personalization if very nicely done.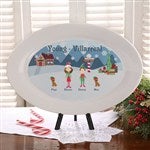 Cute
By
Nichole G.

(Suwanee, GA) - December 30, 2010 (
See all reviews by this customer
)
This platter turned out very cute. This platter is a must have.

Very satisfied
By
Laura W.

(Kenosha, WI) - December 26, 2010 (
See all reviews by this customer
)
I was very happy with this product. It was exactly what I expected.

Adorable
By
Dorianne P.

(Davie, FL) - December 26, 2010 (
See all reviews by this customer
)
When I gave these personalized platters to my friends, they loved them! Your merchandise is top quality and always a crowd pleaser!

So Cute
By
SC C.

(Baltimore, MD) - December 16, 2010 (
See all reviews by this customer
)
Very cute item, but would be nice if you could have more options for people.

The perfect gift
By
SUSAN W.

(MELBOURNE, FL) - December 14, 2010 (
See all reviews by this customer
)
This was a great gift for my sister who does a lot of entertaining over the holidays. The children adored seeing themselves on the platter.

Personalized Winter Family Platter
By
Susan G.

(Bristol, PA) - December 12, 2010 (
See all reviews by this customer
)
This is perfect. I ordered two of these as gifts for my parents and my in laws. They absolutely loved them...

amazing!
By
Casey C.

(Beloit, WI) - November 30, 2010 (
See all reviews by this customer
)
This was the perfect gift for my mother! It is absolutely perfect! Even better than i expected to be, and you can't beat the price!

So personal!!!
By
Rosa M.

(MIAMI, FL) - November 18, 2010 (
See all reviews by this customer
)
It is very hard to give a nice gift that will last and be held dearly. This is such a special gift. Something that is very personal and at the same time shows you cared enough to order it. And it is so pretty.
I ordered it for all our dear family friends!!!

Winter Family Platter
By
Jean D.

(Chatham, NJ) - November 18, 2010 (
See all reviews by this customer
)
This was even nicer then I expected. Really a wonderful gift for the family that I bought it for.

Crowd Pleaser
By
Lisa R.

(Tewksbury, MA) - December 28, 2009 (
See all reviews by this customer
)
I bought this platter for my aunt for Christmas this year and what a wonderful response I received! She loved it and it is a definite crowd pleaser! Definitely a great purchase for the price!

Best Gift of the Season
By
Carri R.

(Fisherville, KY) - December 16, 2009 (
See all reviews by this customer
)
I am so excited to give my best friend this platter for Christmas. It is absolutely adorable and she is going to love it... This is definately the best find of the season for me..I will be back to order more!!

Angela
By
Angela L.

(Brewster , NY) - November 16, 2009 (
See all reviews by this customer
)
I ordered 2 of the winter family platters. What a great job. It looks so festive for christmas. I am very happy with this purchase

super cute
By
Jenna C.

(Pineville, LA) - December 28, 2010 (
See all reviews by this customer
)
this turned out really cute. my sister isnt going to use it, but display it on a plate hanger in her kitchen during the holidays. great gift.

Cute but the imaging quality isn't the best
By
Shopper

(Eatontown, NJ) - December 16, 2011
Bought this for a co-worker and had it personalized with husband, wife and 3 children. While the platter itself is great quality (good weight) the images weren't perfectly clear. It wasn't what I would call blurry either. But, in my opinion, the coloring of the images appears dim. I think the idea is cute but I probably wouldn't purchase this as a gift again in the future.

Much smaller than advertised
By
Shopper

(Cave Creek, AZ) - July 16, 2012
The photo in the ad takes up the entire inside platter, but the one I received is a small photo centered on the platter. Another customer had the same problem & was sent another one, but the problem remained so it was sent back & payment refunded. I'm not going to send it back if the problem can't be corrected. The photo & lettering are clear so I will just keep it.

PRODUCTION OF THIS ITEM HAS CHANGED
By
Shopper

(Pelham Manor, NY) - December 7, 2011
I purchased 3 of these in 2008. They were beautiful!! Exactly, if not better than advertised! I decided to purchase another one this year, and when i received it, it was completely different. On this website, the image on the platter takes up the entire inside of the platter, but when I received it, the image was MUCH smaller. You can tell that the image was shrunk as well as much of the rim of the image being cut off. Not only that, but i compared this new platter to the one currently in my dining room that I purchased in 2008 and WOW the image is completely blurry and dull compared to my old one. Called customer service, they were very nice and sent me a new one but unfortunately it was the same problem. Called customer service again and they refunded me. The woman said that the production of this item may have changed since I last purchased it and she was very sorry. Great website, will buy other items, but unfortunately, not this one.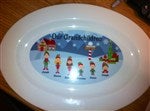 Disappointed
By
Shopper

(Abbott, TX) - November 18, 2011
I was very disappointed in the quality of this product. The picture on the plate is very fuzzy as is the lettering. Not at all like it appears in the picture. I would not recommend it despite the cute presentation in the catalog and online.