Frame
By
Jaunita J.

(warrington, PA) - October 1, 2009 (
See all reviews by this customer
)
I bought this for my husband for his B-day, did black and white pictures of us exactly like the sample picture and it looked really nice. It is a cute frame but its a little overpriced.

Nice, but smaller than I expected
By
Shopper

(Phoenix, AZ) - November 7, 2013
I'm hoping I will be able to find nice photos to fit in the small letters! "/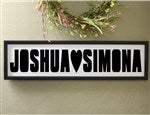 Cool Idea, shotty construction.
By
Shopper

(Joliet, IL) - April 15, 2013
I didn't think this item was TOO cheap of a price, but the construction is pretty cheap. The back does not secure very well, and it is cheap particle board, but it is still cute idea.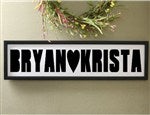 sweetheart frame
By
Shopper

(Clarkston, MI) - February 18, 2013
I love the frame! It came out wonderful only thing was the screws that came with the frame to hang it cracked the frame! Couldnt use the screws had to find a different way to hang the frame! The company might wanna look into this before making more. No one like a cracking aframe!

Cute but kind of a pain in the butt
By
Shopper

(San Francisco, CA) - February 11, 2013
The frame is a really cute idea, but you should definitely know what you're getting yourself into when you buy it. The cutouts are sort of off-size in that a regular 4x6 print will not fill the whole vertical space, leaving you with awkward gaps, unless you use more than one picture for each letter (which looks kind of sloppy). And if you use larger prints, the faces are likely to be covered up by the outline of the letters. I made it work but it took a LONG time to maneuver the photos into just the right spots and trim them to fit. And, in the end, it doesn't look as polished as I would have liked. (I'd recommend printing lots of extras of the photos you want to use in case you cut them wrong the first time.) And don't get your heart set on using certain photos. Some of them inevitably will not look right unless you have a bunch of Os in your names.

Please read reviews before purchasing
By
Shopper

(Birmingham, AL) - July 16, 2012
I want to start off with the positive first. Overall, everything looks nice. However, as I read in previous reviews, our frame had scuffs on each corner on the front side of the frame. I personally believe that the company should take more pride in its work for as many times as I saw this through out the reviews especially for the amount of money being paid to have this done. Please read reviews to determine if this product is for you. If you are looking for a semi nice gift that may have flaws then take the risk and get this. If you are looking for something that will look absolutely perfect upon arrival then skip this gift. I personally hope the manufacture begins to read their reviews and fix things before they start losing customers.


Great Wedding Present
By
Shopper

(Newtown, CT) - August 19, 2011
This makes a great wedding present I turned a bunch of pictures of the couple to black and white and put a red hued one in the heart. My only complaint is that the letters are cut to about 5 inches so the 4x6 pictures i used had a black border around the letters. which doesn't look terrible... but doesn't look awesome.

Picture frame
By
chelsea J.

(colorado springs, CO) - June 22, 2011 (
See all reviews by this customer
)
i was really excited to get this in the mail, and once i opened up the package and looked closely at the frame, you could see were the wood had been chipped and it looked like they colored black sharpie in it. and its very noticeable. thats why im not pleased with the price i paid to get something that has sharpie colored on it, that you can notice.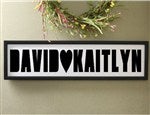 Very cute.
By
Kristin D.

(Nesconset, NY) - March 9, 2010 (
See all reviews by this customer
)
This frame came out really cute, it is pretty flimsy quality though. Once it's up on the wall I'm sure I won't be able to notice though.

Unique and cute idea... poor quality
By
Alison K.

(Bethesda, MD) - March 1, 2010 (
See all reviews by this customer
)
When I found this- I was REALLY excited to get it and make it for my 1 year anniversary with my boyfriend. I was slightly disappointed when it arrived because the quality was very poor. The frame is not wood and it's pretty flimsy. For $40, I was expecting it to be a little nicer.

ok product
By
adriana M.

(sussex, NJ) - February 15, 2010 (
See all reviews by this customer
)
Really cute that its totally personalizable however note that it is not glass in the frame, but plastic.

Great Idea, Cheaply Made
By
Brittany R.

(Mount Pleasant, SC) - February 6, 2010 (
See all reviews by this customer
)
The concept is really awesome.
The mat board cutting is really well done.
The frame is extremely cheap.
Not glass, but plastic cover, if scratched, also very cheap.

My suggestion, if you have the time and money, buy your own mat board, frame, and razor blade and cut it yourself.

not quite what i expected
By
Carol M.

(Senoia, GA) - February 3, 2010 (
See all reviews by this customer
)
For this price i would have thought it was glass not plastic in the frame - disappointing

Nice, but not worth the price.
By
Danielle A.

(Vacaville, CA) - January 27, 2010 (
See all reviews by this customer
)
I just received my frame and its nice, but it's made with very cheap materials and it is very flimsy. The opposite side of the letters have burn marks on the board. It's not very attractive. I give this item a 3 star review because the look of the item is appealing. I am mostly disappointed with the quality of the materials and the way the product is put together.

Photo Collage
By
Catalina M.

(Orange, CA) - January 25, 2010 (
See all reviews by this customer
)
Being able to personalize a photo collage was amazing but the quality of the frame is cheap! The frame is very light and cheaply made. For the price I paid, I should have received a better quality item.

Sweethearts Photo Collage Frame
By
Judy A.

(Shorewood, IL) - December 17, 2009 (
See all reviews by this customer
)
Looks cute but I was very disappointed that it did not have glass in the frame it was just plastic. I will not be ordering any more of these in the future

Sweethearts Photo Collage Frame
By
Gregory A L.

(Mulberry, IN) - November 5, 2009 (
See all reviews by this customer
)
The frame is not at the quality wood one would expect for the price paid. Also it is just a plain black 90 degree angle cut with no design or angles cut in to the wood frame. Overall this will serve the purpose for which it is intended, but somewhat disappointed in the frames plainness.

Letters are too narrow
By
Shopper

(Beaverdale, PA) - October 21, 2011
Althugh I really like the frame and the matting, the letters are way too narrow. I could harldy get a picture in the small space. I would not reccomend this proudct for picture use.

difficult to find correct sized pictures
By
Amber P.

(Brackney, PA) - February 14, 2011 (
See all reviews by this customer
)
at first I was super excited about this purchase but it is nearly impossible to find pictures to fit in the openings. first I tried wallets but they were too small then I ordered 3x5 and the only ones that fit were ones that were horizontally taken. I spent $40 on the frame so I decided to make it work but then I spent an additional $40 just ordering photos to find the ones that work best. so if you and your significant other have a lot of horizontal photos together, this is the photo frame for you, but if not, it's too much work!

frame looks cheap
By
ashley W.

(virginia beach, VA) - September 8, 2010 (
See all reviews by this customer
)
the frame for the picture looks very cheap; before i give the gift i'm going to now get it re-framed by another company.

Fail
By
Amy D.

(Westminster, CA) - April 19, 2010 (
See all reviews by this customer
)
The minute I open the package, my heart sinks. The frame is made of a cheap painted black wood, which looks frail. The cover is not glass, it's a cheap plastic thing which already has a scratch on it. The names have burnt marks from the laser cut and a yellow stain on white frame. Overall, the product is a novel idea but poorly made. For the price it is being sold for, I expect something a little of more quality then this. And since this item is personalized and non-returnable, I expect it to turn out impeccable.

its nice but
By
Katie J.

(Orangevale, CA) - April 2, 2010 (
See all reviews by this customer
)
the lettering was a lot smaller in person than in the picture. but it is cute

not worth the price
By
JENNY G.

(HAYWARD, CA) - January 26, 2010 (
See all reviews by this customer
)
For a grand total of $36 with shipping, this product is not worth for the quality and materials. First of all, the wood frame is cheap looking and second of all the front cover is not glass but soft plastic.

Great concept - Cheap Execution
By
Chris C.

(Fort Mill, SC) - January 14, 2010 (
See all reviews by this customer
)
The concept is great, and the recipient loved the idea and final product, but I was extremely dissatisfied with the quality of the materials. The frame is a very cheap, plastic-like substance, with "scarring" that does not match the overall pattern of the frame. The cut-outs for the letters are quite fragile, so pieces bent/broke off when I opened the frame to put in the photos. For example, the center of the letter G broke off.

Due to the timing of the gift, I could not return it. If I had enough time, however, this would have been returned for sure. I was quite surprised by the lack of quality, as all of the other items I have ordered from Personalization Mall have been quite nice.

Bottom line: I'd avoid this product.

Don't forget to put an asterisk
By
Krista C.

(O'Fallon, IL) - November 22, 2013 (
See all reviews by this customer
)
One of the most important aspects of this frame is the heart in the middle of the names. I did not read the part where you have to put an asterisk between the names. So now I have two frames without the hearts.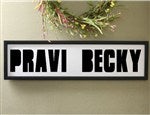 Poor quality
By
Shopper

(Gretna, LA) - November 17, 2013
The picture does a lot of justice for the actual quality. It is very cheaply made and not very durable. If it wasn't so much hassle returning it, it would already be sent back.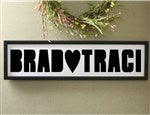 Don't waste your money
By
Shopper

(Flower Mound, TX) - January 28, 2012
Don't waste your money on this cheap looking frame. It was a good idea but when I got the frame the black paint was chipped and looks very cheap.

Cheap Looking
By
Neha P.

(Clearwater, FL) - March 11, 2010 (
See all reviews by this customer
)
I purchased this for a bridal shower gift, paid over $50.00 for it, just got it and I personnal was disappointed. I think it looks cheap--ie the frame. Thought it would have been a better feel. Not a happy customer.