Photo Collage
By
Catalina M.

(Orange, CA) - January 25, 2010 (
See all reviews by this customer
)
Being able to personalize a photo collage was amazing but the quality of the frame is cheap! The frame is very light and cheaply made. For the price I paid, I should have received a better quality item.

Sweethearts Photo Collage Frame
By
Judy A.

(Shorewood, IL) - December 17, 2009 (
See all reviews by this customer
)
Looks cute but I was very disappointed that it did not have glass in the frame it was just plastic. I will not be ordering any more of these in the future

Sweethearts Photo Collage Frame
By
Gregory A L.

(Mulberry, IN) - November 5, 2009 (
See all reviews by this customer
)
The frame is not at the quality wood one would expect for the price paid. Also it is just a plain black 90 degree angle cut with no design or angles cut in to the wood frame. Overall this will serve the purpose for which it is intended, but somewhat disappointed in the frames plainness.

Letters are too narrow
By
Shopper

(Beaverdale, PA) - October 21, 2011
Althugh I really like the frame and the matting, the letters are way too narrow. I could harldy get a picture in the small space. I would not reccomend this proudct for picture use.

difficult to find correct sized pictures
By
Amber P.

(Brackney, PA) - February 14, 2011 (
See all reviews by this customer
)
at first I was super excited about this purchase but it is nearly impossible to find pictures to fit in the openings. first I tried wallets but they were too small then I ordered 3x5 and the only ones that fit were ones that were horizontally taken. I spent $40 on the frame so I decided to make it work but then I spent an additional $40 just ordering photos to find the ones that work best. so if you and your significant other have a lot of horizontal photos together, this is the photo frame for you, but if not, it's too much work!

frame looks cheap
By
ashley W.

(virginia beach, VA) - September 8, 2010 (
See all reviews by this customer
)
the frame for the picture looks very cheap; before i give the gift i'm going to now get it re-framed by another company.

Fail
By
Amy D.

(Westminster, CA) - April 19, 2010 (
See all reviews by this customer
)
The minute I open the package, my heart sinks. The frame is made of a cheap painted black wood, which looks frail. The cover is not glass, it's a cheap plastic thing which already has a scratch on it. The names have burnt marks from the laser cut and a yellow stain on white frame. Overall, the product is a novel idea but poorly made. For the price it is being sold for, I expect something a little of more quality then this. And since this item is personalized and non-returnable, I expect it to turn out impeccable.

its nice but
By
Katie J.

(Orangevale, CA) - April 2, 2010 (
See all reviews by this customer
)
the lettering was a lot smaller in person than in the picture. but it is cute

not worth the price
By
JENNY G.

(HAYWARD, CA) - January 26, 2010 (
See all reviews by this customer
)
For a grand total of $36 with shipping, this product is not worth for the quality and materials. First of all, the wood frame is cheap looking and second of all the front cover is not glass but soft plastic.

Great concept - Cheap Execution
By
Chris C.

(Fort Mill, SC) - January 14, 2010 (
See all reviews by this customer
)
The concept is great, and the recipient loved the idea and final product, but I was extremely dissatisfied with the quality of the materials. The frame is a very cheap, plastic-like substance, with "scarring" that does not match the overall pattern of the frame. The cut-outs for the letters are quite fragile, so pieces bent/broke off when I opened the frame to put in the photos. For example, the center of the letter G broke off.

Due to the timing of the gift, I could not return it. If I had enough time, however, this would have been returned for sure. I was quite surprised by the lack of quality, as all of the other items I have ordered from Personalization Mall have been quite nice.

Bottom line: I'd avoid this product.

Don't forget to put an asterisk
By
Krista C.

(O'Fallon, IL) - November 22, 2013 (
See all reviews by this customer
)
One of the most important aspects of this frame is the heart in the middle of the names. I did not read the part where you have to put an asterisk between the names. So now I have two frames without the hearts.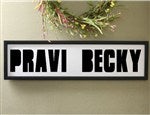 Poor quality
By
Shopper

(Gretna, LA) - November 17, 2013
The picture does a lot of justice for the actual quality. It is very cheaply made and not very durable. If it wasn't so much hassle returning it, it would already be sent back.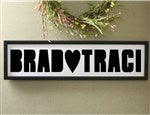 Don't waste your money
By
Shopper

(Flower Mound, TX) - January 28, 2012
Don't waste your money on this cheap looking frame. It was a good idea but when I got the frame the black paint was chipped and looks very cheap.

Cheap Looking
By
Neha P.

(Clearwater, FL) - March 11, 2010 (
See all reviews by this customer
)
I purchased this for a bridal shower gift, paid over $50.00 for it, just got it and I personnal was disappointed. I think it looks cheap--ie the frame. Thought it would have been a better feel. Not a happy customer.