Bigger than I thought
By
Shopper

(Medford, NJ) - December 12, 2011
It came in the mail and wow it was bigger than I thought. But it works none the less, photos are a tad hard to fit into the letter space, so maybe try to plan ahead?

Beautiful - Wood Frame/Glass!
By
Shopper

(Wellington, FL) - December 11, 2011
When this arrived, I was crossing my fingers. I had read the 3-star reviews and was concerned that the frame was going to be "flimsy" and the "plexiglass" would look cheap. I was pleased to find that the frame was solid wood and it wasn't plexiglass! It's beautifully constructed and I know that once we have the pictures in it, it's going to create tears!

Awesome and Unique
By
Shopper

(Reno, NV) - December 8, 2011
It is a very awesome and unique gift; everybody I've shown thinks it looks amazing and one of a kind. Do be warned that a standard 4x6 photo won't be big enough for a single letter, so if that's all you have you'll have to make a collage (which I think looks better, anyway).

Great quality product!
By
Alexa D.

(Thomasville, GA) - December 8, 2011 (
See all reviews by this customer
)
I got a similar one for my mom for her birthday from my daughter, and she LOVED it. I got this one for my husband's parents because their "grandparent names" wouldn't fit on the one I got my mom. I can't wait to give it to them for Christmas. The entire product is very great quality!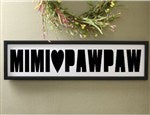 Too cool!
By
Derek N.

(West Sacramento, CA) - November 22, 2011 (
See all reviews by this customer
)
What a neat concept! Choosing the correct photo is the challenge with setting this up! I used all verticals, of course, and color shots! I wish I had used B&W or another tone from Lightroom to make it more uniform. Highly recommended it since our friends totally loved it!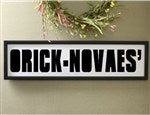 christmas gift
By
Shopper

(philadelphia, PA) - November 21, 2011
I love it. Bought it for my son & new wife for christmas.. love it.. Thanks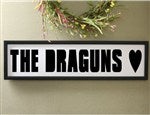 Meaningful Gift!!!
By
Shopper

(Sturgeon Bay, WI) - November 21, 2011
I love this frame. The only thing was that horozontal pictures didn't quite fit so I had to use all vertical pictures. It was a lot bigger than I thought it would be, which was great! And I can't wait to give it to the person I bought it for! Great, great meaningful gift! :)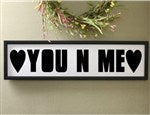 wedding gift
By
barbara D.

(philadelphia, PA) - November 20, 2011 (
See all reviews by this customer
)
I love it. Great job.. Thanks.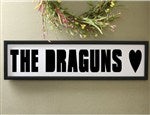 Exactly what I ordered.
By
Shopper

(Waldport, OR) - November 15, 2011
It was exactly what the description displayed. Shipping was very tight with bubble wrap to insure no breakage. Happy with product.

Such a Great Frame!
By
Shopper

(Massapequa, NY) - November 8, 2011
I purchased a very similar frame for my best friend for Christmas last year. Once I saw THAT frame, I knew we HAD to have one. It's such a unique way to display family photos, and special moments. I absolutely LOVE this frame and will be purchasing more as gifts!

Fantastic wedding gift!
By
Evonne E.

(Southaven, MS) - November 1, 2011 (
See all reviews by this customer
)
This is the second time I have ordered this frame & love it. Being able to personalize just right is a major advantage. I used the wedding date. 11*11*11 and the recipients loved it! They had been planning this date for a year and a half. The numbers are seperated by hearts. Soo nice!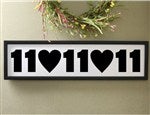 thank you
By
Shopper

(Flemingsburg, KY) - October 24, 2011
The product was exactly as advertised. It was just what we were looking for and can not wait to give it to our daughter upon graduation. Thank you very much.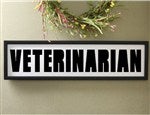 Loved it!!
By
Amanda S.

(Durham, NC) - October 21, 2011 (
See all reviews by this customer
)
This makes such a great gift for a variety of purposes-graduation, wedding, Christmas! Bought 2 and can't wait to give them away!

BEAUTIFUL
By
Shopper

(Verona, PA) - October 6, 2011
I purchased this for a gift for my daughter from our dogs. Well need less to say this gift was the talk of the party. Everyone wanted my dogs to buy them presents on their birthday. The quality is outstanding.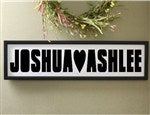 Exactly what I expected
By
Lacey A.

(San Luis Obispo, CA) - October 4, 2011 (
See all reviews by this customer
)
The preview of the item is exactly what I received. Very happy with the product, came nicely packaged as well to protect the frame & glass. Ordered it as a wedding gift. Hope they enjoy it!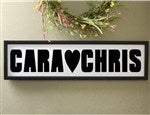 Nice Wedding Gift
By
Kelly S.

(Midlothian, IL) - October 4, 2011 (
See all reviews by this customer
)
This was a beautiful wedding gift for my friends. I was their photographer and upon giving them photos, I also gave them this and filled with photos! Perfect!

Great gift!
By
Shopper

(Onset, MA) - October 4, 2011
This makes the cutest gift for an engaged couple, shower gift, or wedding. It was packed well, arrived quickly and is super cute. I will definitely purchase again.

Sweethearts Photo Collage Frame
By
Shopper

(Abilene, TX) - October 3, 2011
I ordered this frame and when it arrived I thought it was even more adorable in person. Once you put in your favorite pictures, this photo collage frame is super cute! It's very unique and is personalized to create that perfect, unforgettable gift. I recommend this item to anyone who's looking for that perfect anniversary or birthday gift. Personalizationmall.com ships in a timely manner; I only had to wait about 4 or 5 days for this to come in the mail. Great service.

Just as Pictured
By
Shopper

(Canada) - September 18, 2011
Arrived fast and exactly as described. Wish they sent to Canada because I would order many more for gifts! Had to send to friend in the US. Going to look great at my wedding!!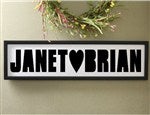 Love this!
By
LORI W.

(CENTRE HALL, PA) - September 12, 2011 (
See all reviews by this customer
)
I originally bought this frame for my husband's birthday and this was by far his favorite gift. The fact that it is persnoalized for you makes it more special than any run-of-the-mill store bought frame. I was so impressed with our frame, that I ordered one for my cousin's wedding...it may be my next go-to gift for weddings now! Both of my orders were processed quickly and were in perfect condition when then arrived. The only improvements on this item would be glass instead of plexiglass and a variety of frame colors.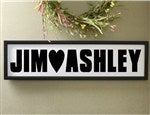 WOW!
By
Shopper

(West Chester, OH) - September 5, 2011
I ordered this personalized frame for a very close friends 10th anniversary. It came remarkably fast and is beautiful. This is my first time ordering from Personalzation Mall.com, but it certainly will not be my last!

Favorite gift!
By
Shopper

(Wethersfield, CT) - August 5, 2011
I bought this as a part house warming/wedding gift for my best friend. She loved it! The design created was their last name with a heart and wedding date. The product quality was superb. The shipping arrived early. The price was the least expensive on my Internet searches. I'm completely satisfied with my purchase and have already begun searching the site for the next gift to order! Highly highly Recommend! Thank you!!

for a wedding gift
By
Shopper

(Belfast, TN) - July 24, 2011
Awesome photo frame, looks exactly like what is in the picture.

great gift
By
Shopper

(Bayside, NY) - July 22, 2011
creative and fun gift for any occasion

Sweethearts Photo Collage
By
Shopper

(La Grande, OR) - July 18, 2011
I ordered a couple of these frames for wedding presents and was more than pleased with the result. I found the price to be very reasonable for the great quality and specialty of personalization. I received my order very promptly, and each of my orders was done perfectly. I would definitely purchase again!

AWESOME
By
Shopper

(Sterling Heights, MI) - July 18, 2011
I was wondering how this frame thing would turn out... instead of using our first names, I used "The<3Seftons".

I have to admit it's pretty **** cool. I'm very impressed, I almost don't want to put pictures in it because it's so cool with the black letters and white background....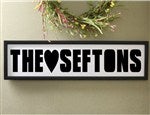 LOVE this idea!!!
By
Shopper

(Lake Mary, FL) - July 16, 2011
I bought this frame for my friend's birthday and love it! Nice frame, detailed letters cut out, easy to place pics, perfect gift!!! Thank u guys xo

Beautiful
By
Shopper

(Staten Island, NY) - July 12, 2011
Beautiful frame, great gift (you can download photos from someones FB to make a unique surprise collage)

Great Choice! Very satisfied!
By
Shopper

(Arlington, TX) - July 10, 2011
the product was as exactly as it was pictured online. great craftsmanship and super fast shipping! i love it :-)

Memories ever lasting
By
Shopper

(Canada) - July 10, 2011
I purcahsed this gift to display at work. I filled it with pictures over the years and it looks great. I'm sure everyone will love it. Just a note, trying to display group pictures did prove to be difficult and faces were cut due to the lettering.

Awesome wedding shower gift
By
Shopper

(Webster Groves, MO) - July 7, 2011
I have purchased this item for 4 different wedding shower gifts! I love to see the brides face when she sees this awesome present! I suggest it for everyone!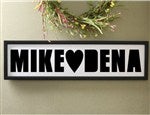 Great product and customer service
By
Aubrey S.

(Mesa, AZ) - July 5, 2011 (
See all reviews by this customer
)
This item first came to me broken, but I placed a call to customer service and they shipped a new one out to me right away! I am so pleased with this product! Great buy!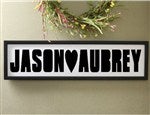 Awesome Wedding Present!
By
Shopper

(Elizabethtown, KY) - July 4, 2011
I have purchased this frame for several weddings! Always a great present.

Great Father's Day Present
By
Shopper

(Princeton, NJ) - June 22, 2011
I got this for my husband for Father's Day. I did "The (heart) Our Last Name" He said it was the best present he ever received. I filled it with pictures of our sons as babies. Looks amazing. It is a lot of work, though. I am an art teacher and it still took me a long time to get it finished.

Love Them ~
By
Shopper

(Western Springs, IL) - June 13, 2011
We really had fun with them ~ We have 5 so far ...
They look great as a group.
We used them for all are used sport tickets stubs ...

White Sox, Chicago Cubs, Blackhawks ...ect ect

Next we're going with Vacations...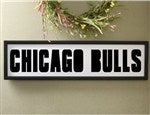 Exactly what was shown
By
Jennifer H.

(Valencia, CA) - May 11, 2011 (
See all reviews by this customer
)
Love it!

Fabulous!!
By
Aimee T.

(Coram, NY) - April 15, 2011 (
See all reviews by this customer
)
I made this for my cousins for a baby boy they have grown to love. They call him lil man, and I know they will just love this frame!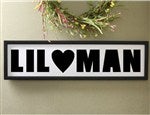 Great gift, many choices
By
Amanda D.

(Cheboygan, MI) - April 10, 2011 (
See all reviews by this customer
)
This frame makes an awesome and personal gift! The letters seem thin at first but this only broadens the choice of pictures. You don't need studio headshots, just fun action shots taken from a medium distance look great!

Mom & Dad loved it!
By
Rhoda T.

(Las Vegas, NV) - April 7, 2011 (
See all reviews by this customer
)
I purchased this frame as an anniversary gift to my parents. They were so excited when they pulled out the frame and saw that it had their names on it! They love pictures and this was perfect to display photos of the two of them throughout the years. The frame looks just as it does on the website and because the letters are big it makes it easier to put pictures in and not to mention putting a lot of them in as well. I definitely recommend this as a gift for anyone and any occasion!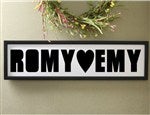 Website was completely helpful!
By
Shopper

(Franklin Square, NY) - March 29, 2011
I ordered the sweetheart frame for my brother's engagment. When it arrived, I saw that there was a small chip in the frame. I called and told personalizationmall.com and they immediately sent over a new frame with no hassle on my end at all. I got the new frame in plenty of time and used their idea of black and white photos to fill the frame and it was a big hit!