Daughter loved!!!
By
Tara B.

(Huntington Beach, CA) - December 30, 2011 (
See all reviews by this customer
)
Got this for my daughter and soon to be son-in-law, they loved it!!! My husband and I have something similar that we keep over our bed and I thought this would be great to carry on the tradition.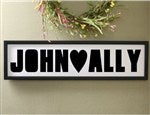 Love them (purchased 2)
By
Shopper

(Brentwood, NY) - December 14, 2011
cute, unique and fun!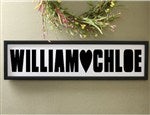 Great quality product!
By
Alexa D.

(Thomasville, GA) - December 8, 2011 (
See all reviews by this customer
)
I got a similar one for my mom for her birthday from my daughter, and she LOVED it. I got this one for my husband's parents because their "grandparent names" wouldn't fit on the one I got my mom. I can't wait to give it to them for Christmas. The entire product is very great quality!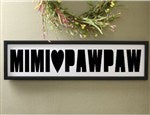 Too cool!
By
Derek N.

(West Sacramento, CA) - November 22, 2011 (
See all reviews by this customer
)
What a neat concept! Choosing the correct photo is the challenge with setting this up! I used all verticals, of course, and color shots! I wish I had used B&W or another tone from Lightroom to make it more uniform. Highly recommended it since our friends totally loved it!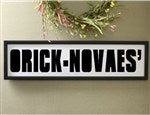 christmas gift
By
Shopper

(philadelphia, PA) - November 21, 2011
I love it. Bought it for my son & new wife for christmas.. love it.. Thanks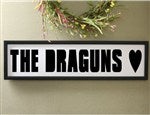 Meaningful Gift!!!
By
Shopper

(Sturgeon Bay, WI) - November 21, 2011
I love this frame. The only thing was that horozontal pictures didn't quite fit so I had to use all vertical pictures. It was a lot bigger than I thought it would be, which was great! And I can't wait to give it to the person I bought it for! Great, great meaningful gift! :)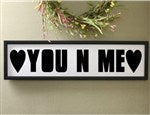 wedding gift
By
barbara D.

(philadelphia, PA) - November 20, 2011 (
See all reviews by this customer
)
I love it. Great job.. Thanks.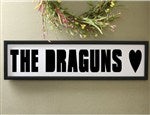 Great Gift for Newly Weds
By
Shopper

(Hercules, CA) - November 19, 2011
A very simple but clever idea for displaying photos. Good quality.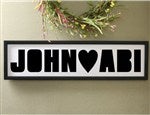 Fantastic wedding gift!
By
Evonne E.

(Southaven, MS) - November 1, 2011 (
See all reviews by this customer
)
This is the second time I have ordered this frame & love it. Being able to personalize just right is a major advantage. I used the wedding date. 11*11*11 and the recipients loved it! They had been planning this date for a year and a half. The numbers are seperated by hearts. Soo nice!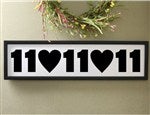 thank you
By
Shopper

(Flemingsburg, KY) - October 24, 2011
The product was exactly as advertised. It was just what we were looking for and can not wait to give it to our daughter upon graduation. Thank you very much.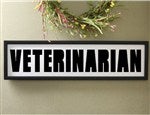 BEAUTIFUL
By
Shopper

(Verona, PA) - October 6, 2011
I purchased this for a gift for my daughter from our dogs. Well need less to say this gift was the talk of the party. Everyone wanted my dogs to buy them presents on their birthday. The quality is outstanding.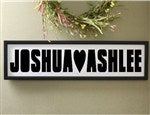 Exactly what I expected
By
Lacey A.

(San Luis Obispo, CA) - October 4, 2011 (
See all reviews by this customer
)
The preview of the item is exactly what I received. Very happy with the product, came nicely packaged as well to protect the frame & glass. Ordered it as a wedding gift. Hope they enjoy it!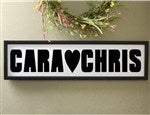 Just as Pictured
By
Shopper

(Canada) - September 18, 2011
Arrived fast and exactly as described. Wish they sent to Canada because I would order many more for gifts! Had to send to friend in the US. Going to look great at my wedding!!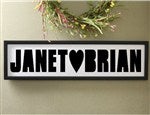 Love this!
By
LORI W.

(CENTRE HALL, PA) - September 12, 2011 (
See all reviews by this customer
)
I originally bought this frame for my husband's birthday and this was by far his favorite gift. The fact that it is persnoalized for you makes it more special than any run-of-the-mill store bought frame. I was so impressed with our frame, that I ordered one for my cousin's wedding...it may be my next go-to gift for weddings now! Both of my orders were processed quickly and were in perfect condition when then arrived. The only improvements on this item would be glass instead of plexiglass and a variety of frame colors.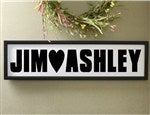 AWESOME
By
Shopper

(Sterling Heights, MI) - July 18, 2011
I was wondering how this frame thing would turn out... instead of using our first names, I used "The<3Seftons".

I have to admit it's pretty **** cool. I'm very impressed, I almost don't want to put pictures in it because it's so cool with the black letters and white background....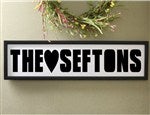 Awesome wedding shower gift
By
Shopper

(Webster Groves, MO) - July 7, 2011
I have purchased this item for 4 different wedding shower gifts! I love to see the brides face when she sees this awesome present! I suggest it for everyone!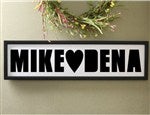 Great product and customer service
By
Aubrey S.

(Mesa, AZ) - July 5, 2011 (
See all reviews by this customer
)
This item first came to me broken, but I placed a call to customer service and they shipped a new one out to me right away! I am so pleased with this product! Great buy!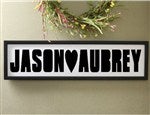 Picture frame
By
chelsea J.

(colorado springs, CO) - June 22, 2011 (
See all reviews by this customer
)
i was really excited to get this in the mail, and once i opened up the package and looked closely at the frame, you could see were the wood had been chipped and it looked like they colored black sharpie in it. and its very noticeable. thats why im not pleased with the price i paid to get something that has sharpie colored on it, that you can notice.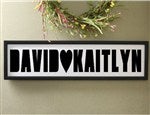 Love Them ~
By
Shopper

(Western Springs, IL) - June 13, 2011
We really had fun with them ~ We have 5 so far ...
They look great as a group.
We used them for all are used sport tickets stubs ...

White Sox, Chicago Cubs, Blackhawks ...ect ect

Next we're going with Vacations...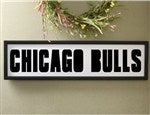 Fabulous!!
By
Aimee T.

(Coram, NY) - April 15, 2011 (
See all reviews by this customer
)
I made this for my cousins for a baby boy they have grown to love. They call him lil man, and I know they will just love this frame!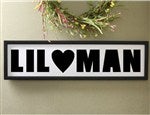 Mom & Dad loved it!
By
Rhoda T.

(Las Vegas, NV) - April 7, 2011 (
See all reviews by this customer
)
I purchased this frame as an anniversary gift to my parents. They were so excited when they pulled out the frame and saw that it had their names on it! They love pictures and this was perfect to display photos of the two of them throughout the years. The frame looks just as it does on the website and because the letters are big it makes it easier to put pictures in and not to mention putting a lot of them in as well. I definitely recommend this as a gift for anyone and any occasion!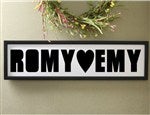 Nice
By
Shopper

(Owings, MD) - April 3, 2011
Personalization was accurate, shipped very quickly, arrived in great condition. For the price wish the frame was a little nicer but it's not bad.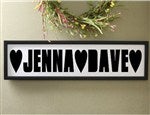 Website was completely helpful!
By
Shopper

(Franklin Square, NY) - March 29, 2011
I ordered the sweetheart frame for my brother's engagment. When it arrived, I saw that there was a small chip in the frame. I called and told personalizationmall.com and they immediately sent over a new frame with no hassle on my end at all. I got the new frame in plenty of time and used their idea of black and white photos to fill the frame and it was a big hit!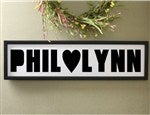 Honestly,
By
Sarah H.

(Troutman, NC) - February 28, 2011 (
See all reviews by this customer
)
I purchased this picture frame for my boyfriend for Valentine's Day. I was a little skeptical after I had already entered my credit card number, because I didn't read the reviews until afterwards. I had seen where a lot of people had said that the glass in the frame was plastic, and the outside looked very cheap.
My frame had real glass in it, and the black part of the frame did not look as cheap as I expected. The only downfall I have about this product was that I practically had to butcher my pictures just to get them to fit between the letters and actually have mine and my boyfriends face be visible through the frame. Other than spending an extra hour of my time, I think it is well worth it!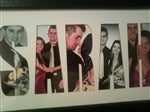 Don't forget to put an asterisk
By
Krista C.

(O'Fallon, IL) - November 22, 2013 (
See all reviews by this customer
)
One of the most important aspects of this frame is the heart in the middle of the names. I did not read the part where you have to put an asterisk between the names. So now I have two frames without the hearts.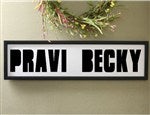 Poor quality
By
Shopper

(Gretna, LA) - November 17, 2013
The picture does a lot of justice for the actual quality. It is very cheaply made and not very durable. If it wasn't so much hassle returning it, it would already be sent back.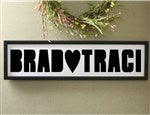 Nice, but smaller than I expected
By
Shopper

(Phoenix, AZ) - November 7, 2013
I'm hoping I will be able to find nice photos to fit in the small letters! "/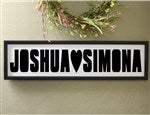 Gift was prefect for my anniversary gift
By
Valerie S.

(Whittier, CA) - October 13, 2013 (
See all reviews by this customer
)
I loved everything and this web site. Plus my order came in fast.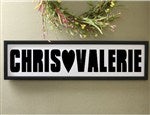 Wonderful!
By
Shopper

(Temple, PA) - October 6, 2013
Wonderful product! Quick shipping! Thank you so much!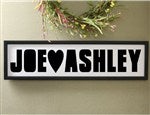 Anniversery gift!
By
Shopper

(phoenix, AZ) - October 4, 2013
I loved this product! Very fast shipping as well! I got my anniversery date instead of names and it looked great! I will definetly buy more products from this website!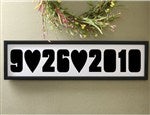 Very pleased
By
Shopper

(SHEFFIELD, PA) - September 12, 2013
This is exactly what I wanted and as described. :)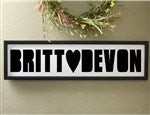 Great anniversary gift
By
Rickey J.

(Little Rock, AR) - September 5, 2013 (
See all reviews by this customer
)
I ordered this for my girlfriend for our anniversary and she loved it. It's currently hanging in our bedroom. No pictures have been added to it yet but we are in the process of taking pictures to fill it up. Highly highly recommended!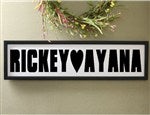 Loved it!
By
Shopper

(Boca Raton, FL) - August 20, 2013
It was perfect ~ keep in mind you'll have to use small pictures to fit.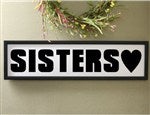 Really sweet gift idea
By
Shopper

(Shorewood, WI) - August 12, 2013
Product arrived quickly exactly as described. My friend loved this gift.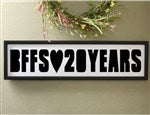 GusLo
By
LORRAINE D.

(RANCHO CUCAMONGA , CA) - August 4, 2013 (
See all reviews by this customer
)
loved the finished product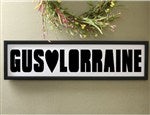 Great sign!
By
Shopper

(Lowell, IN) - July 23, 2013
The seller did a great job with the gift and it shipped quickly! I was very impressed and love that this gift is a little bit more personal than something that can be bought at a large retail store!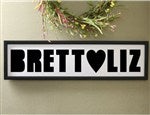 Good size
By
Shopper

(Calistoga, CA) - July 20, 2013
The product arrived fast, and was just like the picture shows.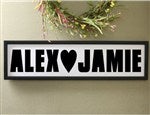 It was a hit!!
By
Shopper

(Leander, TX) - June 30, 2013
I ordered this and sent direct to my husbands niece. I have not seen it myself, but she said she absolutely loved it!!! She lost her mom a yr ago and still having such a hard time, so I did something special for her, she will be able to add her on pics of her mom. She really liked it. I will be ordering again.
Signed, Tx Aunt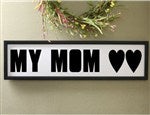 Nice Personal Touch
By
Lindi J A.

(Canada) - June 18, 2013 (
See all reviews by this customer
)
I got this frame for my brother for his anniversary. I've bought frames with words before ("Memories," "The Bay," etc.) but this is the first frame I've seen that could be personalized. The frame turned out just as it did in the preview photo, and it was still in one piece when it got to my brother. I will probably use this for other gifts as well.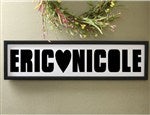 Great
By
Shopper

(Hendersonville, TN) - June 2, 2013
My girlfriend thought this was the sweetest thing I've ever gotten her.
Very satisfied with my purchase.