Not Grandma- they call her Sissy
By
amanda P.

(collinsville, OK) - May 12, 2013 (
See all reviews by this customer
)
I made this shirt for my Mother in law from my children for mothers day.It came out looking Fantastic! My kids call her Sissy so finding something with that name on it is pretty hard. I am so grateful for personalization mall for allowing her to have the name she loves to hear on something. And of coarse she cried when she received her shirt from her sweet grandson(who is 3) and her grand daughter(who is 1). Happy Mothers day!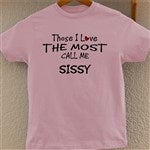 Great Gift & Fast Process!
By
Shopper

(West Hempstead, NY) - February 10, 2013
I am expecting my 3rd child and my family decided to throw me another baby shower! I scoured the internet looking for gift options to say "thank you" to my family who has everything. The quality of the shirt is quite good and the personalization is perfect! My mother is going to LOVE to wear this shirt to the hospital to meet another one of her flock! LOL. "Namma" is how my 3 year old says Grandma and she loves it! Personalization Mall was also SO FAST! I ordered around midnite and it was shipped the next day! I was shocked! I had about 10 gifts to buy and I was able to get 4 of them expertly done at Personalization Mall. Not my first time and won't be my last!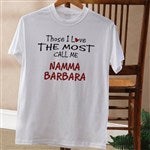 Great for grandparents!
By
Shopper

(Rockford, IL) - February 5, 2013
The coffee mug is of fine quality and a good size. The personalization is bold and easy to read. I bought two of these mugs as housewarming gifts for a husband and wife who are grandparents, and personalized with each of the names they chose for their grandchildren to call them.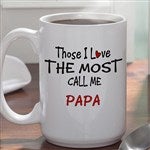 Aquality
By
Shopper

(Acworth, GA) - January 19, 2013
Love the personalized cups.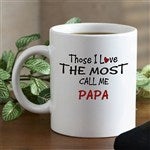 Picked this item quick - for sister Mary
By
Shopper

(Magnolia, TX) - January 5, 2013
I just saw this item and it was perfect. Due to multiple marriages, etc., my sister, Mary, is known to her two grandchildren as Nana Mary (there are other Nana's in the family but only one Nana Mary. Great gift for her - so quick - and she loves it! Thanks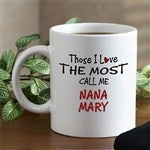 Just perfect for the grandmother that isn't called Grandma
By
Lynette G.

(New Cumberland, PA) - January 4, 2010 (
See all reviews by this customer
)
Nice quality and even better, this item lets you get the title correct for your family! Whether grandmothers are called Grandma, Baba, Nana or whatever, you can specify it correctly for on this nice sweatshirt. In our family, grandmothers are called Baba. Most times, we have to settle for "grandma", so it was awesome to be able to give my sister a Baba sweatshirt! She really loved it!

Super Cute
By
aliyah R.

(philadelphia, PA) - May 3, 2010 (
See all reviews by this customer
)
Great Mother's Day gift. Speedy Shipping and super price.

Very Pleased
By
Patricia M.

(Pittsboro, NC) - February 12, 2010 (
See all reviews by this customer
)
Was not sure what to expect. When the sweatshirts arrived, I took one out and was amazed at the quality of the shirt as well as the customization. I will keep this website handy for future purchases.

Sizes
By
jennifer D.

(lockport, IL) - October 29, 2010 (
See all reviews by this customer
)
Although the quality came out well, I was suprised how big the adult small was...having this made for a petite great-grandmother created a sweatshirt she could swim in...maybe having a petite option would help...

Almost perfect
By
AMY S.

(NEW PALESTINE, IN) - May 7, 2010 (
See all reviews by this customer
)
There was a chip in the bottom of the mug. It can barely be seen when the mug is sitting on a table, but I know it's there and I know the person I bought it for is going to notice as well. I am hoping that the cuteness of the gift overrides the chipped bottom, but it was disappointing to receive an imperfect mug. This was a last min. gift and there is no time to return it and get a new one.

Precious
By
Tammy B.

(High Point, NC) - June 8, 2011 (
See all reviews by this customer
)
My kids grandparents loved their mugs. One grandmother uses hers everyday with a smile, the other just looks and stares thinking they are too precious to use. Really nice something to say...you were thought about.

Something special
By
Arlene J A.

(Magnolia, TX) - December 4, 2009 (
See all reviews by this customer
)
I purchased the Nana Mary cup for my sister - who is called "Nana Mary" by her grandchildren. (you can get other names). I thought this was very unique and I'm sure she will love it and feel special when she uses it. Also on sale! Can't beat that.

Those I Love Most...
By
Shopper

(Searcy, AR) - December 26, 2013
EXACTLY what I ordered! Shipped immediately! Thank you!!!

Great gift
By
Christine V.

(Sassle Brook, NJ) - May 16, 2014 (
See all reviews by this customer
)
Arrived on time and made a fantastic gift!

My favorite shirt
By
Kathleen K.

(Kirkland, WA) - April 8, 2013 (
See all reviews by this customer
)
I love the tee shirt and so do my grandchildren.

shipped fast & product as decribed from preview
By
Shopper

(Bentonville, AR) - January 16, 2013
Product in good condition & exactly what I projected

Great!
By
Danielle O.

(Hubbard, OH) - December 16, 2010 (
See all reviews by this customer
)
Love it! And so will my Grams!

AWESOME
By
Salasah K.

(Amityville, NY) - May 10, 2010 (
See all reviews by this customer
)
I order gifts every year from personalization mall sometimes twice a year.. .they make the best gifts ever and the quality is awesome ! The shirts never shrink and the print never fades .. my in-laws look forward to their personalized gifts every mother's & father's day now. My mother-in-law loved her shirt this year and said where do you find things like this they are so special and unique. I told her I don't want to tell or everyone may steal my idea.. but my father-in-law is the best he told be he can't wait till father's day because he knows he will have one just like it. I do this for them every year and he looks forward to his matching shirt. I love your personalized items and they always come on time or sooner... You guys are AWESOME !!!

very nice
By
Shopper

(Gaines, PA) - July 25, 2011
mug looked really nice. made a great gift

Pleased
By
Katy H.

(Hewitt, TX) - December 24, 2010 (
See all reviews by this customer
)
This coffee mug came out adorable and I know my grandma will love it so much! I have purchased things for her in the past and they always bring a tear:)