So Cute!!
By
Jennifer K.

(Canada) - December 10, 2013 (
See all reviews by this customer
)
Great product! So cute ~ a great Christmas gift for your special little person :)

Babies 1sts
By
Shopper

(Rensselaer, NY) - October 5, 2013
Very cute, my granddaughter will love them.

Hearts on the bum for my little one!
By
Shopper

(Spruce Head, ME) - February 13, 2013
I purchased this romper for my new grandson for his first Valentine's Day. It was the perfect gift. Everyone thought it was adorable, even his sister, who is nine. Mom loved the color and the fit. It is truly a well-made, well-embroidered, personalized, one-of-a-kind romper. I highly recommend it!

Valentine's Day
By
Shopper

(Fort Lauderdale, FL) - April 14, 2012
Adorable romper - gift for our grandson. Arrived on time and the quality was great.

Completely satisfied
By
Shopper

(Bronx, NY) - February 10, 2012
This item was a gift for a friends baby girl. While most people gave envelopes with gift cards or cash, my gift was a huge hit because, even though there was no effort on my part, it appeared as if I spent a lot of time creating this thoughtful gift. I credit you with all the work and will be back for more personalized gifts!
Joe

Christmas Romper
By Shopper (Ashland, VA) - January 18, 2012
I bought the christmas version of this romper just last month and it was a huge hit! I got so many compliments on it and everyone wanted to know where I got it from. Super cute and Nice Quality. Will be putting this little keepsake away for the future if my son ever has a son of his own.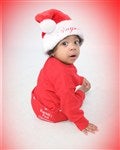 romper
By
Deborah P.

(Rochester, IN) - April 12, 2011 (
See all reviews by this customer
)
Adorable!!! Very nice job on embroidery and a nice quality romper.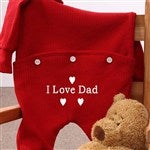 Loved it
By
Marla W.

(Philadelphia, PA) - February 17, 2011 (
See all reviews by this customer
)
Ordered this item for my 4 month old grandson and I absolutely loved it !!!!

Too cute
By
Shopper

(Columbus, OH) - February 16, 2011
This was a valentine present. We just love it!

Lil' Sweetheart Embroidered Romper
By
Peg B.

(Raleigh, NC) - December 14, 2010 (
See all reviews by this customer
)
This is one of the cutest things I've ordered from you. I also love that I could
choose to have the hearts on it which covers Christmas and Valentines!

Too Cute!!!
By
Kelli C.

(Monroe, LA) - February 18, 2010 (
See all reviews by this customer
)
I loved it. I also bought one similar to this at Christmas. Both were adorable.

Very Nice!
By
Wanda R.

(Conyers, GA) - January 25, 2010 (
See all reviews by this customer
)
Thanks again for such a great job. The personalization was perfect and I received the item very fast. Would recommend.

Not pleased
By
Shopper

(Bowling Green , KY) - May 7, 2013
I was disappointed in the look/size of the romper. I'm not sure it's going to fit a six month old. I bought the 6/9 months. It also looks like its made for a baby body builder.
I was pleased with the embroidery. That's it, though.