Engraved Baseball
By
Shopper

(lansdale, PA) - August 16, 2014
I bought these as commemorative gifts for senior players. Great gift. Players and parents were quite surprised with such a touching keepsake gift. Quality and shipping was awesome. I will definitely return in future years.

Great!!!
By
Shopper

(Hialeah, FL) - May 10, 2013
This is amazing. Such good quality in the glass. I absolutely love it! This is an anniversary present and I am sure he will love it! Defiantly recommended for everyone!

Fabulous
By
Cathryn P.

(Chula Vista, CA) - May 6, 2012 (
See all reviews by this customer
)
Perfect for my niece's new baby; whose room was decorted in a sports theme....fabulous. It looks even more spectacular than the picture, Fabulous quality!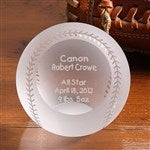 Baby Gift
By
Shopper

(Cleveland, AL) - April 23, 2012
I was very pleased with my order!

FAST!
By
Chris M.

(Pottstown, PA) - March 12, 2012 (
See all reviews by this customer
)
Super Fast and the product was nicer than I was expecting.

Great Product and Service
By
Shopper

(Wellington, FL) - December 12, 2011
Great service.

Great Item!!!
By
Carol C.

(Shelton, CT) - July 31, 2011 (
See all reviews by this customer
)
This item was perfect! A special gift for the little guy in your life.
It was delivered quickly and perfect! The item is great but PersonalizationMall.com is even better. They are quick, take pride in their products and have excellent customer service! Do not hesitate to purchase from this website-they are 2nd to none!!!

Great Thank You gift
By
Cathy G.

(Fayetteville, GA) - May 2, 2011 (
See all reviews by this customer
)
Great gift. Classy looking. We used this as a thank you for the volunteers for the baseball team.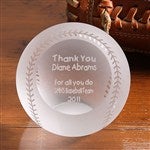 Adorable gift!
By
Shopper

(Oak Park, IL) - March 4, 2011
Thus gift us adorable! The engraving was great! The parents loved this gift! Very pleased!

grandson's birthday gift
By
MISSY M.

(BUFFALO, NY) - January 28, 2011 (
See all reviews by this customer
)
I am pleased with the quality and the size of the baseball, and it came in a very nice box with velvet in it. I was not expecting that. The personalization was nice, besides the #1 I had added. I expected a # look and it was a straight line that looked more like a small (L)to me. I would recommend someone getting this. A very nice gift.

Future Star
By
Linda S.

(Worcester, MA) - December 22, 2010 (
See all reviews by this customer
)
This is perfect for the room of our furture baseball star
Thank You and will be recommending this and other items to friends

Great Birth Announcement
By
Molly M.

(Kirkland, WA) - December 19, 2010 (
See all reviews by this customer
)
I worked for a MLB team for many years and received almost every conceivable type of baseball trinket and in turn thought I had given most as well! I went searching for a "Girlie" gift as opposed to an engraved bat and saw this...I switched the top line to "First Pitch" (as it was the first baby but with nine innings you could do almost any combination for the arrival of most babies in their ranking of arrival!) It is DARLING and the quality stands up to the worlds most famous of crystal baseball gifts that I have received over the years. It was received (by a MLB family) and they LOVED it! Thank you so much!! Not to mention to price was amazing and it arrived in record time!! A great gift for boys or girls! :)

excellent product
By
Debbie D.

(Fort Wayne, IN) - October 25, 2010 (
See all reviews by this customer
)
I ordered it for the birth of my grandson. It arrived so quickly with standard mail and the quality was excellent. The engraving was very easy to read. My son put it on his desk at work. I would order again.

Welcome Slugger Baseball
By
Gwen C.

(Rio Rancho, NM) - July 28, 2010 (
See all reviews by this customer
)
This is a wonderful gift for my grandson for memories. It looks just like the picture on website. It shipped really fast. I ordered some personalized items from another company the same day and am still waiting for the items to ship. Great product and service. Thanks

Such a nice, personal gift!
By
Ron M.

(Noble, OK) - May 11, 2010 (
See all reviews by this customer
)
This is the second slugger baseball I have ordered. This is a keepsake for a lifetime. I can't wait until my two nephews who received these look back in 25 years and see what they weighed when they were born.
I hesitated getting the same gift for my second nephew who was born last month. It's the nicest gift you offer by far, plus it's not the same (different engraving)!
The quality is second to none. I would recommend this gift for any boy. Now you need to come up with something "equal" for the girls.

Awesome
By
Joanne P.

(Clay, NY) - October 2, 2009 (
See all reviews by this customer
)
I have purchased two of these...One for my Grandson who was thirteen months old when he was ring bearer in our wedding and one for our newest grand nephew....I personalized each one differently but they arrived and I was very pleased with both selections....For the newborn we put his first and middle name on the top lines and then date of birth, weight and length....Everyone thought they were great ideas for the both because they were a unique gift that the boys will always treasure....Awesome quality and delivery....

Slugger Baseball
By
Gloria E.

(Lakewood , NJ) - November 2, 2009 (
See all reviews by this customer
)
I iked the baseball but I was disappointed in the inscription. It is not very ledgable. You can hardly see the writing. You should improve by using silver or gold in the lettering. im sure you cna improve it somehow.!!!