Nice but small
By
Shopper

(Pewaukee, WI) - October 15, 2012
Purchased this for my husband to keep his personal effects in. The box itself is not very big and therefore barely holds a watch. The watch had to be scrunched down and there is not much room for anything else. There is enough room for maybe a few rings and a necklace and/or bracelet. Not very roomy.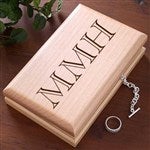 Love it!
By
Shopper

(Mesquite, TX) - October 11, 2012
Great gift and great price ! Really nice!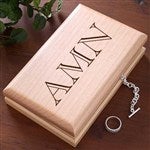 Awesome Valet Box
By
Shopper

(MOLINE, IL) - September 22, 2012
Ordered this for a friend that was down in the dumps. He absolutely loved it. He often threw his watch, rings, and change on his bureau. Now he has a 'special' place for them. And the monogramming added a nice touch!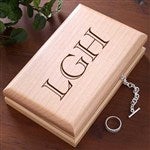 Great gift
By
Ashley C.

(Chicago, IL) - April 3, 2012 (
See all reviews by this customer
)
I purchased this item for my boyfriend, and he really likes it. He constantly leaves items like his keys, wallet, chapstick, and other trinkets around the house, and it drives me crazy. Therefore, this purchase was more for me than him.:) Needless to say, we both love it because of the great quality and style.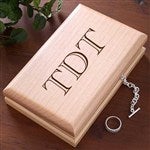 Great
By
Barbara A.

(Memphis, TN) - February 15, 2012 (
See all reviews by this customer
)
This is an excellent gift for the price, quality and style.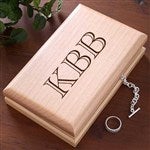 BEAUTIFUL
By
Shopper

(Bells, TN) - February 15, 2012
THE VALET BOX WAS GORGEOUS. I COULDN'T BE MORE HAPPIER WITH THE QUALITY OF WORK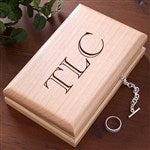 Great
By
Diane C.

(Amherst, OH) - March 10, 2010 (
See all reviews by this customer
)
Have to say my son is very picky and usually doesn't except too many gifts from "MOM". I have to say that he will like the valet box because he has moved out on his own and now needs organization! He needed the box!! It looks great. Thank you.

Nice Valet Box
By
Latricia C.

(Flint, MI) - May 18, 2010 (
See all reviews by this customer
)
This valet box makes a nice gift for a boyfriend, bother, father or a good friend. The engraving was flawlessly done, and it came in a timely manner.

good
By
Shopper

(Inverness, FL) - February 7, 2011
Bought for an 8 year old- perfect for younger person. Box quality good but not fond of the plastic insert- would of prefered no insert to plastic.

Nice item
By
Angela H.

(Greenbrier, TN) - December 12, 2009 (
See all reviews by this customer
)
I bought this for my son-in-law for Christmas. It is smaller than I thought it woudl be, and the tray inside is not very deep, but the box itself is a nice personalized item for the dresser or nighttable.

Not the most manly of gifts
By
Shopper

(San Diego, CA) - December 7, 2012
I got this as a gift for my dad, but was less than pleased when I opened it up. It's very dainty, and any jewelry he wears would be too big to fit inside of this with the lid closed. Also, the engraved initials were off-center.

Just ok
By
Shopper

(La Madera, NM) - February 9, 2013
I thought this would be better quality, Inside is just plastic. El-cheapo.

nice
By
Shopper

(Tellico Plains, TN) - March 2, 2012
nice box

Best Man gift.
By
MARGARET Q.

(MORGANTON, NC) - January 19, 2013 (
See all reviews by this customer
)
I was thrilled to find this engravable box for our best man. The quality of the box is great, the engraving was perfect, but the divider on the inside was a plastic, which to me cheapened the quality... I would suggest finding a heavier divider.

light weight
By
Shopper

(Anaheim, CA) - November 14, 2012
design is nice and engraving is nice but wood is light weight-gives it a cheap quality feel to it.

small and sweet
By
Shopper

(Phoenix, AZ) - June 26, 2011
You can fit 3 watches in weird angles. I got this for a friend instead of a watch box. The writing is pretty.

engraved box
By
Jennifer P.

(Yanceyville, NC) - December 17, 2011 (
See all reviews by this customer
)
perfect present for my husband was just what I was looking for and not made in china! I would think it would be better without the tray
inside
maybe just a lining would be more beneficial for a man. thanks again.

Beautiful gift
By
Shopper

(Broadview Heights, OH) - May 28, 2011
Very nice quality! The engraving was perfect. I'd order this item again for gift-giving!!

Perfect gift for the man of your life
By
Jordan V.

(Santa Rosa, CA) - February 8, 2011 (
See all reviews by this customer
)
I really liked this gift because you know how when men come home they will set their car keys, loose change and drivers license all in different places. So this hopefully keeps it all together so when they leave the next day they know where all their stuff is : )

Great for travel and home
By
Phyllis D.

(Slidell, LA) - September 30, 2012 (
See all reviews by this customer
)
I was happily suprised about the Valet Box when it arrived. The look is much better that the picture on the internet. The feel of the wood makes this valet piece very special. I would recommend this piece now only for men but for anyone that would appreciate a small valet chest.

Quality
By
Becky H.

(Tupelo, MS) - February 13, 2012 (
See all reviews by this customer
)
Very nice valet box, for coins, jewelry etc. As always quality and budget wise, I will continue to shop with PersonalizationMall.com....can't go wrong and always something for that special someone....

It's perfect!
By
Shopper

(Gladstone, OR) - February 6, 2012
My son wanted a nice covered box that didn't look feminine, that he could keep his heirloom jewelry in. This one is just perfect! It is very well made, the compartments are well lined and just the right size, and the carved initials on the outside of the box are beautiful. The hinges used to open and close the box are of very high quality as well. Great value for the price. I'm so excited to give it to him, I know he will love it also!

Love it!!!
By
Jeff H.

(Lancaster, CA) - October 8, 2009 (
See all reviews by this customer
)
I love this item! It's such a classy addition to my master bathroom and it's so practical!

cute and practical!
By
Shopper

(Pago Pago, HI) - January 7, 2014
nice woodwork and etching/engravement. it was smaller than i thought, but dimensions were listed in the item description.

Nice Wood
By
Shopper

(Weatherford, TX) - November 15, 2011
The engraving was nice and the quality of the wood is good. Not impressed with the quality of the inside. That plasic felt lined insert is not as nice as I would like it to be. But we still are going to send it to some clients for birthdays.

Satisfaction
By
Shopper

(Philadelphia, PA) - February 2, 2011
The Men's Personalized Valet Box is beautiful. Very well constructed. Would definitely recommend this item.

Wonderful
By
Donna K.

(Riverside, CA) - September 16, 2010 (
See all reviews by this customer
)
This is the 4th one of these that I have bought and everyone I give it to just loves it. It's a great gift to buy for a man that has everything.

Very Well Done
By
Jean S.

(Flemington, NJ) - April 22, 2010 (
See all reviews by this customer
)
I hope my grandson keeps this for a long time. I will be ordering more of these.