Awesomee!!
By
Shopper

(Houston, TX) - February 22, 2012
My boyfriend loved it, he said it was different and that he didn't expect it hahaha :p I want it to keep it but I couldn't it was his Valentines gift haha.

Very Special Memory and Special Delivery
By
Shopper

(Cantonment, FL) - January 9, 2012
It was 3 days before Christmas and we lost our beloved dog Tank. The following day I was on your web site and wanted to get this canvis for my son to put on his desk. You were advertising that orders placed by noon that day would be guaranteed delivery by Christmas Eve,that was the next day! Actually I didn't believe that would apply to the canvis picture so I called to verify. The representive confirmed that yes for the smaller size it would be here tomorrow. I decided to go for it and place the ordered. My husband had made a bet with me that it wouldn't show up until after Christmas. It was 11:10am on Christmas Eve when the door bell rang and I knew it was the Fed Ex guy! My husband couldn't believe it actualy came. The picture is beautiful, I just cried. Of course I wont one for myself now. He was the best dog ever.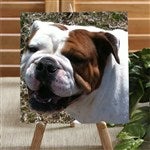 Revised
By
Barbara S.

(Davie, FL) - December 27, 2011 (
See all reviews by this customer
)
Let me say I am double impressed that PersonalizationMall.com simply by reading a posted review took care of a product issue without my having to contact them. I had a minute defect on something I ordered ... not worth making a call or returning something... they read it and without my requesting it sent me a brand new print in perfect condition. I don't know of any other online retailer that would do that. I am now 100% happy with the entire purchase and highly recommend this site for purchases. It's nice to see great customer service these days!!!!

Beautiful, professional job!
By
Shopper

(Putnam Valley, NY) - December 13, 2011
I was thrilled when I received the canvas print! It's going to be a huge hit when we give it as a Christmas gift to our dear friends. Who wouldn't like to see themselves on canvas.

I'm an artist, and did not have time to paint a portrait of our friends, but this was the next best thing. They are sure to love it. So happy with the finished product.

GO TO GIFT
By
Jaimi H.

(Lutz, FL) - December 4, 2011 (
See all reviews by this customer
)
With facebook profile pictures so easy to pull off someone's site this is such an awesome gift! I can open a friend's page, copy a picture i know they love since it's their profile pic and apply to this canvas. Every friend I give this to loves it! The quality is wonderful - and at an amazing price. My photographer sells these for $150.oo and personalization malls is just as good if not bettter. It wraps around the side and looks beautiful on a shelf. I give them to all my friends when they have babies for their nursery rooms!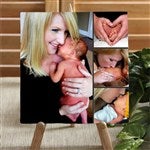 Loved It
By
Rhonda U.

(Oklahoma City, OK) - December 28, 2010 (
See all reviews by this customer
)
What a unique gift! Perfect size for a desk - something a little different than just a regular photo. Definitely an item that will get people's attention! Very pleased with the quality.

Perfect Gift!
By
Amy D.

(Waterbury, CT) - December 23, 2010 (
See all reviews by this customer
)
The quality of the picture on canvas was outstanding. It came out beautiful. I would recommend this item to anyone and everyone!

great product
By
Karlynda B.

(Bothell, WA) - October 26, 2010 (
See all reviews by this customer
)
This is the second time I've ordered a mini photo canvas print as a gift and they have been very well received! The quality is fantastic and the people I have given it to have LOVED it. My best friend's boss asked me for the website so he could give them as gifts to his employees.

Beautiful!
By
Amy M.

(Valrico, FL) - September 9, 2010 (
See all reviews by this customer
)
I am extremely pleased with my recent purchase. It is so lovely!

Picture Perfect
By
Erin H.

(Cheltenham, PA) - February 16, 2010 (
See all reviews by this customer
)
I was ecstatic when I came across these canvas'!!! I love canvas photographs. It's more of an artsy way to display pictures.

I wanted to give my bridesmaids a unique, personal picture as a gift and was so happy when I came across this! Instead of a cheesy frame with a regular 'ol photo, the canvas (along with the easel sold on this site) beautifully displays, permanently, a happy memory shared between friends.

I have since bought many more canvas prints to decorate my home with!! Some are hanging on walls, others displayed on the easels, while others simply placed on shelves, partly leaning on the wall behind it.

My only caution would be that you have to be very careful when cropping your pictures. One or two of my canvas pictures looked like they were cropped perfectly online, but you have to take into consideration that the picture is folded around the frame.
Even the two pictures that were cropped too much still look great!!

I recommend this product 100% :)

LOVED IT!
By
Jackie H.

(Oswego, IL) - October 2, 2009 (
See all reviews by this customer
)
I purchased the mini canvas print and I LOVE IT! It looks so awesome! I cannot wait to give it to my aunt and uncle! Very nicely done!