Very nice!
By
Doreen H.

(Manchester, NH) - August 10, 2013 (
See all reviews by this customer
)
The quality of the workmanship on the outside of the recipe box is very nice. The inscription is accurate, the wood is lovely. I only gave four stars because the inside cover has a flaw - if it was on the bottom of the box it wouldn't be so bad, but since that will be the first thing noticeable when the box is opened, I was slightly disappointed. Since it is for a wedding I am attending today, I can't send it back and it isn't THAT bad. Just a bit disappointing on an otherwise beautiful piece of craftsmanship.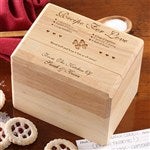 Such a cute gift
By
Shopper

(Port Washington, WI) - February 9, 2013
I bought this for my soon-to-be daughter-in-law, who always asks me for recipes. It's well made and the personalization looks great.

Lovely cards
By
Kristene G.

(Mountain View, CA) - October 19, 2012 (
See all reviews by this customer
)
My only complaint is that there are no separators in the set--nothing that lets you sort by type of recipe or alphabetically, etc. Otherwise the cards are very cute and exactly as advertised.

Love it!
By
Shopper

(Frankfort, IL) - March 21, 2012
Very nice box. Quality wood, a little cheap on the hinges, but overall good.

Cute
By
Mary F.

(Woodland Park , NJ) - January 31, 2011 (
See all reviews by this customer
)
I ordered these recipe cards to go with the recipe card box. They are really cute. The only thing is that I wish they had lines on both sides of the card. I don't think recipe cards usually have lines on both sides, but it would be helpful.

Beautiful box, but...
By
Michelle D.

(Wrightstown, NJ) - September 19, 2010 (
See all reviews by this customer
)
I received this box very quickly (3 days after ordering!) and it is beautiful. I purchased it for myself, but it would make a lovely wedding gift as well.
The niche in the lid is just deep enough to hold the card and won't obscured the bottom line of text.
My only complaint is that it is advertised as holding 1,000 3x5 index cards. I have 420 currently in the box and it is almost full. I would say it may fit 500 at the max.

Beautiful!
By
Rachel B.

(Lebanon, PA) - June 14, 2010 (
See all reviews by this customer
)
This box is beautifully made! I needed a new recipie box and my husband picked this one out for me! the only thing that surprised me was that it isnt as heavy as i thought it would be! otherwise its a great box!!

Recipe box
By
Carol V.

(Pgh, PA) - April 6, 2010 (
See all reviews by this customer
)
This is a nice gift but my box has a small dent in the wood. I need it for a shower gift so I dont have time to send it back. I hope no one will notice the dent. I think the recipe boxes should come with cards.

jc
By
John P.

(Darlington, PA) - February 17, 2010 (
See all reviews by this customer
)
perfect little gift

Mixed Reviews
By
Shopper

(Stoughton, WI) - November 20, 2012
I received the box I ordered and was very impressed with the box itself - the engraving was nice however when I opened the box the back fell off. However it was possible to glue it back together and I think it will make a nice christmas gift.

Size Issues
By
Laura W.

(Orland Park, IL) - September 30, 2011 (
See all reviews by this customer
)
I love the box, it is absolutely beautiful. The issue I have is that the box is described as 4" x 6", which it is, but the inside is not.

I ordered recipe index cards and personalized recipe cards in size 4" x 6" and now they are too big. In addition, I believe the 3" x 5" size might be a little too small.

This has been very disappointing.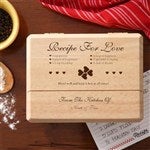 cute
By
Shopper

(Royal Oak, MI) - August 2, 2011
The recipe cards are cute - however I feel they should be slightly bigger to fit better in the box

NOT REAL HAPPY
By
vernon C.

(irving, TX) - June 19, 2010 (
See all reviews by this customer
)
The lid of the box was very nice, but the hinges used were put on slightly wrong which makes the lid or top stand open when you close the top. The top pops back open some, which means that the back edges of the box are touching before the front edge of box lays flat. Also the inside right edge of box has been chipped some.. Overall I am not pleased for the PRICE to get this item. I am a furniture repairman and I do know what I'm seeing..

Personalized Wood Recipe Box
By
Kathryn L.

(Tucson, AZ) - January 23, 2011 (
See all reviews by this customer
)
This recipe box surely is beautiful, but the hinge area looks weak and I'm concerned about how long it will last.